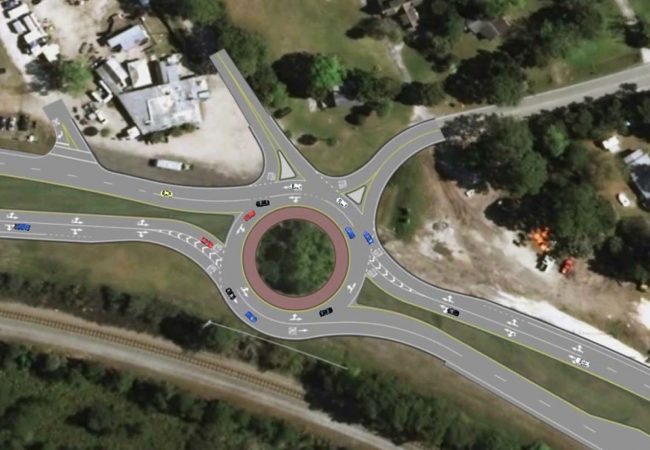 Palm Coast and Flagler County residents are not exactly strangers to roundabouts. There are two of them in Palm Coast's Town center, and though traffic is low there, neither roundabout has been the scene of a critical or fatal crash for the decade and a half they've been there.
That's saying something significant about the devices' safety, their chief selling point and the reason Florida's Department of Transportation is increasingly taking to roundabouts, and why it's hosting a much-anticipated public hearing this evening at 5:30 p.m. in Bunnell (at the Community Baptist Church, 956 S. Old Dixie Highway) to unveil its plan for a roundabout at the intersection of U.S. 1 and Old Dixie Highway, one of the most dangerous intersections in the county.
Thanks in large part to Flagler County Sheriff Rick Staly's pressure on state and county officials for some kind of rapid action to improve safety there, that roundabout will be under construction in July or August, according to tonight's presentation, obtained by FlaglerLive. (See the full presentation below.)
The transportation department is also in the design phase of roundabouts at the intersection of State Road 11 and County Road 304, better known as Cody's Corner, as well as at U.S. 1 and Matanzas Woods Parkway, both also among the most dangerous, crash-ridden intersections in the county.
The history of the intersection of U.S. 1 and Old Dixie Highway is written in shards, twisted metal, broken limbs and lost lives. Last year alone, one crash took five lives in a single car, another ended the life of a biker, and several resulted in lost limbs and lives altered forever by injury and trauma. The certainty about that intersection is that unless it changes character, nothing is going to change about its lethality. That's where the roundabout comes in. Like all roundabouts, it is intended to improve traffic safety, reduce fatalities, and improve traffic flow on U.S. 1. The roundabout will calm traffic by reducing speeds but keep traffic flowing: there are no traffic lights. Landscaping will elevate the central island, thus reducing headlight glare at night.
The transportation department says roundabouts reduce fatalities by 90 percent and injuries by 68 percent. Those aren't modest numbers. They reflect the drastic reduction of typical points of conflict at intersections—from 32 conflict points at regular intersections, with each of those points a potential point of impact between cars, to just eight conflict points. The numbers beg the question: why aren't there more roundabouts?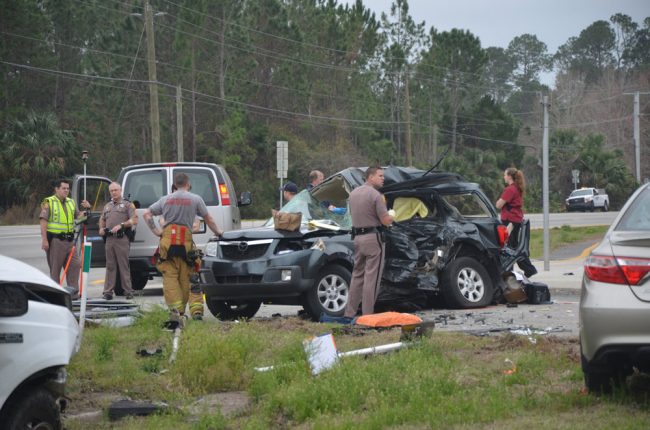 The question isn't posed as much in the Northeast, where they're more frequent or in Europe, where they're everywhere: it's possible to travel dozens of miles across semi-urban areas in Europe and not once encounter a traffic light. Roundabouts not only improve flow by reducing stop-and-go traffic, but reduce wear and tear on vehicles and help the environment by reducing fuel burning wasted at red lights. Further, roundabouts diminish taxpayers' costs not just in the deployment of first responders, but in the reduction of intersection maintenance costs for traffic devices and electricity.
Yet roundabouts in the South can trigger much hostility, usually from people not used to them. That hostility is likely to be heard this evening.
"I think that they're going to hear a mixed response in the community on their planned solution," Staly said in an interview this morning. He has his own reservations about roundabouts, but he's not opposed. "I'm a common-sense sheriff, but I'm not a traffic engineer, so while I think the traffic light is the best way to go, and less expensive, I'll defer to FDOT because they're the experts on traffic engineering, and I'll thank them for moving it up from a 20-21 schedule to a 2018 schedule." The roundabout had originally been slated for development in 2021.
"No telling how many lives will be saved with a solution that didn't wait another three years," Staly said. "And I'm glad I was able to use the office of the sheriff to try to push FDOT to take this intersection as a serious problem."
---
"It looks like the philosophy is, we know we're still going to have wrecks, but let's make them not as severe."
---
The problem results from an intersection with four different roads and a bar's busy parking lot often frequented by bikers all converging on a single intersection: there's U.S. 1 running north and south with traffic usually blowing well past the 55 mph speed limit, there's Old Dixie Highway ending at U.S. 1 from the east, there's County Road 305 ,merging into Old Dixie Highway just a few steps from U.S. 1, creating a situation with two successive stop signs and adding to the confusion, there is the White Eagle Lounge parking lot that stretches within the triangle of U.S. 1, Old Dixie and 325, and, a very short distance to the north, there is Trojan Road, also ending at U.S. 1. If someone was intentionally designing a trick-ridden, dangerous intersection, this would be a textbook example.
The proposed roundabout will no, longer have 325 intersecting with Old Dixie. Rather, both those roads will separately merge into the roundabout, but traffic flowing from either of the smaller roads onto U.S. 1 will no longer T-bone into it. It will instead merge in a curve, and eastbound traffic will be clearly split from westbound traffic by islands and markings. If someone is coming from Old Dixie and looking to make a turn to go south onto U.S. 1, that driver will first have to merge right into the roundabout, circle most of its distance, then flow into the southbound lanes of U.S. 1. There may be some hazardous points of contact, as with traffic emerging from Old Dixie to make a northbound turn onto U.S. 1: there could be some conflict with traffic driving north on U.S. 1 and looking to make a right on 325. And it's not yet clear from the plan the transportation department provided how the parking lot of the White Eagle Lounge plays into the flows. It appears that the parking lot will no longer have direct access onto U.S. 1, but would have to flow traffic to 325 or to Trojan Road first.
The full median opening at Trojan Road and U.S. 1 will be closed, but a median opening 900 feet north of the intersection will be modified to allow for U-turns, which are safer than direct left turns as the transportation department says they reduce fatalities by 27 percent and crash rates by 18 percent.
"It seems to me that what DOT is focusing more on," Staly said, "is to lower the likelihood of fatalities, which is obviously good, and lower the number of injuries, so it looks like the philosophy is, we know we're still going to have wrecks, but let's make them not as severe. That's the impression I have."
The entire project extends half a mile north and south of Old Dixie Highway on U.S. 1. And none of it will need additional right-of-way acquisition, nor will the East Florida Railroad line be affected.
"It's like any other things, there's benefits and there's disadvantages for anything you do," says Faith al-Khatib, the Flagler County Engineer. "For me it's very hard to say, I'm used to these roundabouts, using them in Europe and the Middle East. I feel it'll work out." It'll be a matter of educating drivers, al-Khatib said. "I heard there's a lot of people against them. I don't know if it's change, or if they have some kind of bad experience, maybe it was a wrong design, so it'll be real interesting to listen to the community tonight."
It's all about design, both al-Khatib and Sean Castello, Palm Coast's traffic engineer, say. Castello has had the experience of the two Town Center roundabouts over the years.
"I do find they're effective and they do work when they're designed and built properly," Castello said this morning. "They work very well. We have a couple here in Town Center, and recently, especially with the increase in traffic throughout the entire city, we know that we have to work on improving the roundabouts we have here in Town Center, so we have begun discussing budgeting improvements." Those would entail reducing the roundabouts' lanes from two lanes to one, thus more effectively guiding drivers rather than leaving them to guess which lane they should be in to make a turn. Currently, many a driver takes the inside lane, only to cut across the outside lane to exit. That's a dangerous maneuver and goes against roundabout etiquette.
"The way a proper roundabout is designed and built is that it'll channelize traffic to where you want it to go," Castello said. "If you go to the newer, larger roundabouts that have been built throughout the state of Florida or even in Europe, they do have lanes that channel you where you want to go, so when you enter the roundabout it gives you specific direction as to where to go, and it sends you there."
---
Castello said he hasn't had a chance to give the U.S. 1 roundabout a deeper analysis than a glancing look yet. Asked how drivers could be educated on the use of roundabouts, he said: "Obviously we'd need to make sure that drivers, when they're just starting to learn how to drive, that they learn how to use a roundabout. As far as existing drivers and those folks that are not used to roundabouts and don't know, that's a harder question. The only thing we could really think of is better signage maybe, maybe getting in contact with local media and local news to kind of maybe give a brief segment or a write-up about the proper way to drive one. But it would be really important I think for new drivers to at least teach them that now."
Staly remembers the first time he was confronted with a roundabout. He was leaving Logan Airport in Boston to go see his sister in Maine. It turned into that famous scene from Chevy Chase's "European Vacation," when the Griswolds get stuck in a London roundabout. "I'm a Florida boy I've got my mother in the car," Staly recalled, "it took me three circles to get into the lane I needed to get into to exit." He then told his sister he could see why "every car in Massachusetts is banged up."
Banged up, yes, but still rolling, its occupants still safe: that's the difference transportation experts are willing to live with, and see everyone else live with, as drivers are taught to merge in and out of roundabouts. After all, there was only comedy in that Chevy Chase scene, no tragedy.
Just as tonight's hearing was beginning, the Sheriff's Office was reporting a crash with injuries, with lanes blocked southbound. Injuries were grave enough to call on Flagler County Fire Flight, the emergency helicopter called in only for traumatic, critical injuries. The location: U.S. 1 and Old Dixie Highway.


The Full Transportation Department Presentation at Tonight's Public Hearing
Click to access SR_5_Roundabout_FINA_Public_Hearing_Slides.pdf