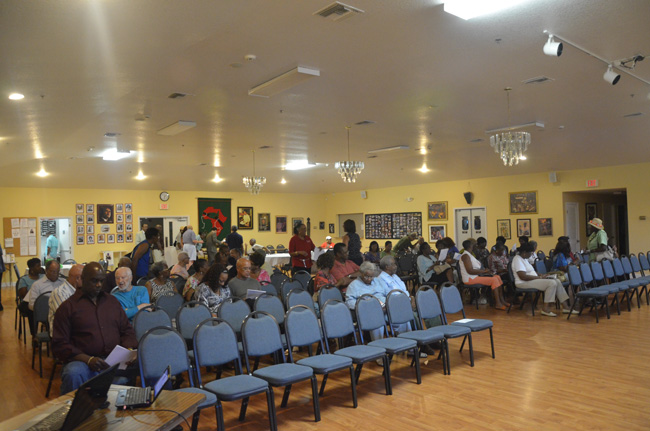 It happened Tuesday evening at an NAACP event at the African-American Cultural Society in Palm Coast, where Sheriff Jim Manfre was the scheduled speaker. Manfre was to speak about the unrest in Ferguson, Mo., following the police shooting of an unarmed teen on Aug. 9.
Flagler County Commissioner Frank Meeker was sitting toward the back of the large assembly hall, by himself, reviewing emails on his iPad before the beginning of the meeting.
Commissioner Nate McLaughlin was a distance away, speaking with Supervisor of Elections Kimberle Weeks and Pastor Sims Jones about election matters. Two deputies were in the very back of the room. Around that time, Duane Weeks, the supervisor's 56-year-old husband, approached Meeker from behind and placed a hand on Meeker's shoulder.
Suddenly, McLaughlin said, there was a commotion.
"He stood up," McLaughlin said, referring to Meeker, "and what I heard in my assumption was a very frustrated tone of voice, turned around and looked at Mr. Weeks and said, 'are you threatening me?' at least twice. I turned, Pastor Jones turned around kind of quick, and oh, what happened there? It was kind of a surprising thing."
The two deputies in the back of the room "were watching the situation, too," McLaughlin said, but as soon as Meeker had raised his voice to ask Weeks if he was threatening him, Weeks walked away, McLaughlin said, and the situation was diffused.
Meeker would not speak of the incident. "I'm not overly concerned about anything that was going on, I just assume I'd let it go," Meeker said. "I'm not a vindictive person. I don't go looking for trouble."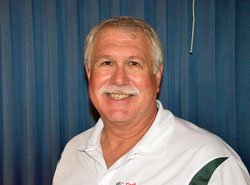 But Meeker did speak of the incident with several local former and current officials or prominent members of the community other than McLaughlin, including four who confirmed the incident as McLaughlin described it, adding details to what had led up to Meeker standing up.
"Frank told me his side this morning at the Eggs and Issues event," Kimble Medley, a long-time critic of Kimberle Weeks who ran against her two years ago, said. "Frank was seated. Duane Weeks came up to him from behind and grabbed his neck, applying pressure. He bent down to ask Frank if he knew who he was. When Frank said, 'you're Kim Weeks's husband,' Duane Weeks said, and I am paraphrasing, 'no one says that about my wife and if you do it again I'll kick your ass.' Frank asked if Duane was threatening him. Weeks then wanted to take it outside and that's when Frank asked again, in a voice loud enough for the room to hear, are you threatening a public official?'"
Duane Weeks was referring to an offensive way Meeker had spoken about Kimberle Weeks during an offhand moment in an interview in mid-August, a remark for which Meeker then apologized, including an apology in a written statement.
Bruce van Deusen, the insurance broker and financial consultant, who was at the meeting and spoke with Meeker afterward, described it as Medley did. "Both might want to downplay the event, but it did happen," Van Deusen said. "As the speaker, Jim Manfre was there but way across the room." He said the event was over before he saw Meeker sitting next to a sheriff's deputy.
Another official to whom Meeker described the event said Meeker was threatened "a few times" before Weeks asked him to step outside, and after telling Meeker to "never call my wife the B word again."
Under Florida law, it is a third-degree felony to threaten a public servant.
Reached at his office–Duane Weeks is a general manager at Hollar and Greene, the produce distribution company in western Flagler–Weeks was asked what had taken place with Meeker. "Not a thing," Weeks replied curtly, and immediately hung up. Kimberle Weeks did not respond to a call or an email about the matter, though she had not been near the altercation. Later in the meeting, she addressed the assembly on election-related issues. Weeks has been in a stand-off with Palm Coast over questions of authority over the Palm Coast Community Center, which the city now provides to the supervisor to accommodate early voting.
Weeks has also been in conflict with the County Commission, most recently, as reported today in the Palm Coast Observer and last week by WNZF, over the taping of a conversation she carried out without the knowledge of the participants–County Attorney Al Hadeed and Commissioner Charlie Ericksen–which the county administration has termed "illegal." She had been in various other conflicts with the county before the primary, alleging, without evidence, that the county was "interfering" with the election. It was in that context of roiling conflict and mounting frustration with Weeks that Meeker had uttered his offhand remark in August. George Hanns, the chairman of the Couinty Commission and a member of the county Canvassing Board, of which Weeks is also a member, has since questioned the integrity of the last election and pointedly criticized Weeks's methods.
Linda Haywood, president of the NAACP, was getting ready for the event Tuesday evening but did not witness the altercation. She said she'd since become aware of it. "They did not make a scene, so however it was handled it was handled very quickly," Haywood said. "I saw Kimberle standing in the back, she gave information about the ballot and the different districts that had multiple ballots or different ballots. I saw Meeker sitting next to sheriff's deputy. That's all I saw."
Paula Priester, a sheriff's office's deputy and public information officer, had sat next to Meeker. She said she was unaware of a confrontation, and had sat there merely because it was an open seat. Meeker himself left the meeting as it was still unfolding, to make a prior commitment. He is running for re-election. He called it a "crazy election season" during a brief interview Wednesday. "It's going to get worse."