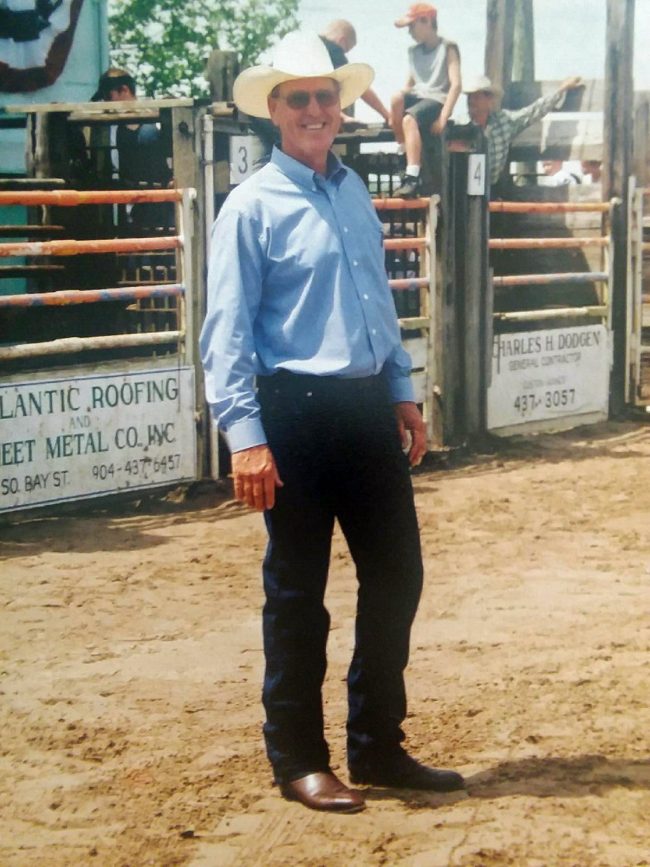 Services note: The family will receive friends on Sunday, July 15, 2018 from 3 to 5 p.m. at Craig-Flagler Palms Funeral Home, 511 Old Kings Road South, Flagler Beach. A memorial service will be held on Monday, July 16, at 11 a.m. at the First United Methodist Church.

Trevor Tucker tells the story of how his late grandfather Leslie Tucker was once seen pulled over on the side of the road in West Flagler, talking with someone around lunchtime. The persons who saw them was driving back at dinner time, and there were the two men, still talking. That was the Tucker way.
Like father, like son: Leslie passed on that love of talking to his son Leslie Martin Tucker Jr., known as Martin to his family and friends, who also speak fondly of the west Flagler rancher and owner of Sun Country Pest Control  as a man who could strike up a conversation any time, anywhere, with anyone, about any subject under the sun, and carry on his conversations as if time were suspended.
"He would talk to you as long as you wanted to talk. He was a talker," says Elbert Tucker, one of his 26 first cousins and a member of the Bunnell City Commission. "He was not afraid to talk. He was just a good person."
Leslie Martin Tucker Jr. died Wednesday, July 11, at age 70 unexpectedly but peacefully, his son Trevor Tucker said. He died of an aortic aneurysm.
Trevor and his brother Bret had been in business together with their father at the pest control company for years.
"He was a wonderful man, he was probably the best father I could ever ask for," said Trevor Tucker, who chairs the Flagler County School Board, where he's served since 2010. Struggling through emotions, Tucker spoke of his and his brother's fortune, not only growing up with their father but working with him and spending as much time as they had with him over the years. "I was blessed to have that opportunity to spend as much time with my father, I think anyone who knew him would say he was a kind, caring, loving man."
He described his father as caring for others "almost to a fault," and of course of his love of conversation about any subject, which enabled him to get to know strangers and, in exchange, share the wealth of history he knew about ranching and other Flagler characteristics: his family had moved to the Haw Creek area during the Depression, moving their cattle from Christmas, Fla., after fencing ended the free-ranging of cattle across the state, Tucker said. Sisco Deen, the Flagler County Historical Society historian and archivist, places the Tuckers' move to the county in 1931, making them part of the county's oldest families.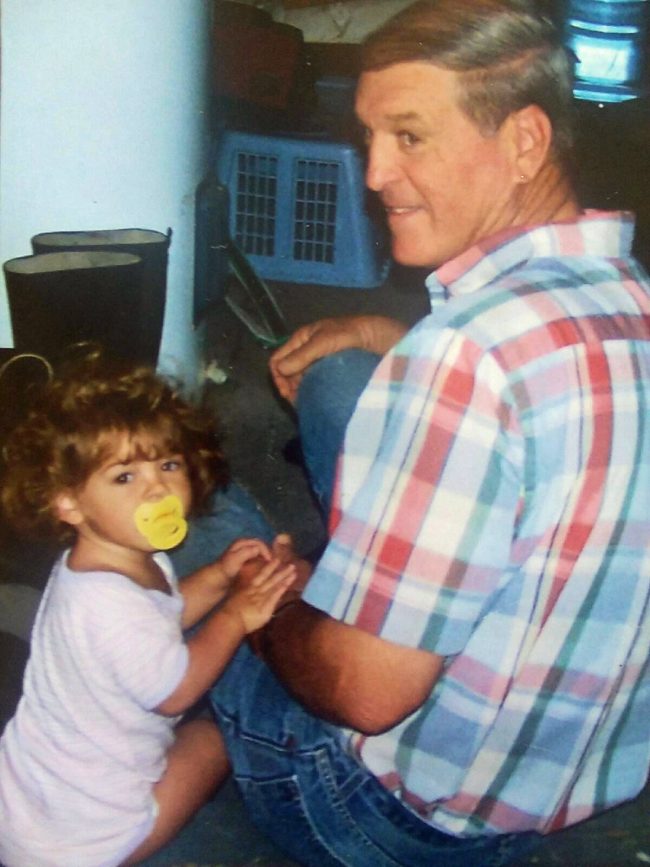 "Debbie and I were shocked and saddened to learn of Martin's unexpected passing," Flagler County Sheriff Rick Staly said. "He was a great friend and loyal supporter that I would often see at breakfast on Thursdays at the Redd Gator Cafe and always enjoyed our conversations. He was part of a pioneering family in Flagler County and we extend our deepest sympathy and prayers to the Tucker family."
Jay Gardner, the Flagler County property appraiser, describes his family's roots in the community as fresh in comparison, even though the Gardners have been in Flagler over 30 years. He said the Tuckers are "pillars" of West Flagler. "I'll miss bumping into him at lunchtime," Gardner said of Martin, who loved to hang out at the Red Gator in Bunnell. "I won't get to see him and chat with him."
Gardner lost his father, James Gardner, the ITT builder, a little over a year ago, though he said he'd had time to prepare: his father's health had long been in decline. "I guess," Gardner said, "this was obviously a sudden unexpected kind of thing which obviously makes it so hard on the family, it's not like they had time to prepare or knew it was coming."
It was just five years ago that Elbert and Martin Tucker—fellow-ranchers–stopped playing basketball. Elbert, born a year before Martin, described how Martin had fought in the infantry in Vietnam, had survived a shrapnel injury to the chest and finished out his tour then owned a meat-packing plant in Seville with Leslie Sr. for over 20 years before starting Sun Country Pest Control. Except for his stint in the military and college in Tampa (he graduated from the University of South Florida), he'd lived in Flagler the rest of his life.
"We when we were in high school we played football and basketball together, we played basketball at Haw Creek Community center 15 years," Elbert said. "We quit about five years ago. We played together, we just grew up together. When my daddy and my mom went out, we'd spend the night with Uncle Leslie and Aunt Doris," and hang out with Martin, the youngest of six boys. "We worked cows together, bailed hay together, we grew up together."
Martin Tucker's name was also long associated with Flagler's Cattlemen's Association and the Flagler County Fair, and had served on the Flagler County Planning Board. In 2003 he was the honoree at the 48th annual Cracker Day at the Fairgrounds. That year his love of basketball went a step too far: he was on crutches for a few weeks, recovering from an ankle injury sustained on the court. A few years earlier at the county fair he proved to be one of those rare double-winners in separate raffles, winning a chainsaw in one, joking that he'd be certain to win the second raffle, and soon proving himself right: he won and took away a 245-pound hog. "I've never won a lottery," he said at the time in disbelief. Naturally friends and family then begged him to play the lottery for them.
Martin and Elbert Tucker were fellow-committeemen in 2006 when they were urging the County Commission to build a covered arena and auditorium at the Fairgrounds, an effort that fell short that June when the commission voted to reverse an earlier approval of the project.
His obituary, provided by the Tucker family, is below.

Leslie Martin Tucker, Jr.
Martin was born on June 18, 1948 in Daytona Beach, the son of Leslie Tucker Sr. and Doris Sizemore Tucker.  He passed away on Wednesday, July 11, 2018.
He is survived by his wife, Suzanne, two sons Bret (Stephanie) and Trevor (Brooke), and five grandchildren: Shannon, Brianna, Colton, Hailey and Garrett; three sisters: Carla Taylor, Leah (Orlando) Montes, Betty Hayden, two brothers-in-law, John Wadsworth, Warren (Mary) Camp and 15 nieces and nephews. Besides his parents, he was preceded in death by his sister, Elayne Wadsworth, and a brother-in-law, Buddy Taylor.
Following high school, Martin served two years in the infantry during the Vietnam War, receiving a purple heart and the rank of Staff Sergeant.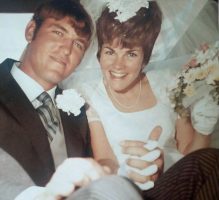 He was a graduate of the University of South Florida.
He enjoyed living in Haw Creek where he grew up working in the cattle industry and continued that passion throughout life. He often visited with friends, laughing and sharing stories.
He loved to fish, read, talk politics and breakfasted often at the "Red Gator". He loved children, and they loved him. He owned Sun Country Pest Control with his sons, and enjoyed getting to know his customers.
He was a member of the First United Methodist Church, Cattleman's Association, past officer of the Flagler County Fair Board and served on the Flagler County Planning Board.
The family will receive friends on Sunday, July 15, 2018 from 3 to 5 p.m. at Craig-Flagler Palms Funeral Home, 511 Old Kings Road South, Flagler Beach. A memorial service will be held on Monday, July 16, at 11 a.m. at the First United Methodist Church.
In lieu of flowers, donations in his memory may be made to: First United Methodist Church Memorial Fund, The Methodist Children's Home or the Trinity Presbyterian Church Youth Program.
Condolences may be sent to www.craigflaglerpalms.com