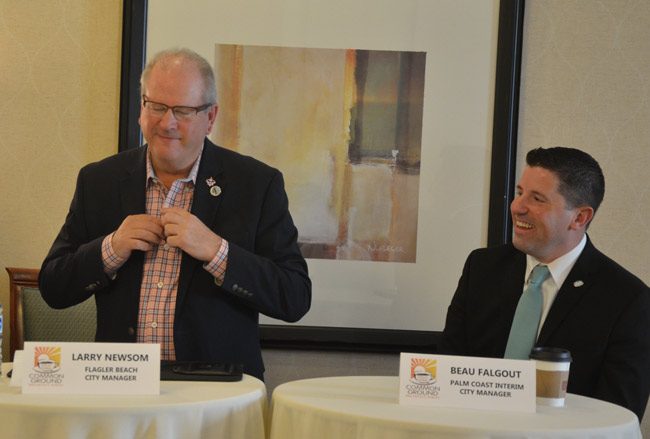 Something big, something that had grown habitual and a bit smothering over the years, was missing when Flagler County's top government executives gathered to talk updates and brag about their respective domains at this morning's Common Ground breakfast at the Palm Coast Hilton: egos.
Not that new-kid-on-the-block Alvin Jackson of Bunnell doesn't have any: it's part of his over-the-top marketing strategy (he thinks Bunnell can top Money Magazine's list of best places to live), or that Larry Newsom of Flagler Beach can't muster it when he needs to nudge Jackson back to reality ("he's very good at giving sermons," Newsom said of Jackson), though neither comes across as more than genially competitive. Gone was the defensiveness of ex-County Administrator Craig Coffey, or the sniffing condescensions of ex-City Manager Jim Landon, two men who for 11 years gave Flagler its least-gay marriage of cutthroat one-upmanship.
"I feel like I'm the last man standing," Newsom said to laughter from the Chamber of Commerce's near-full house audience, a reference to the carnage of the last several months that left three city or county executives fired or forcibly resigned. "But I keep U-Hall on speed dial. By the way I've got four of my board members here. I love you guys." It was that kind of morning.
Adding Interim Palm Coast Manager Beau Falgout to the mix had you wondering where that knowledgeable and humorous humility had been hiding all these years (why, in Landon's shadow of course).
"I've been with the city for 12 years I think this month," Falgout said. "Thought I would work for Palm Coast for about two years and go off to the next big thing. I was looking to try to go overseas and do some planning in Dubai in U.A.E., but life hits you. You fall in love with the place you work, you fall in love with your wife here, you buy a house, you have a kid, you have two kids, and all of a sudden you're the interim city manager of Palm Coast. Yeah, that all happened." By then he had the room in stitches. "Of course I'm on the longest job interview known to man. Started in September. I'm competing, so I tell my wife every time I leave the four walls of our house, I'm being interviewed by someone in this community for this position." A new city manager may be named in early March.
Completing the picture at the other end of the panel was the always-unassuming County Commission Chairman Don O'Brien, standing in for the yet-to-be-named interim administrator, let alone the yet-to-be-searched-for permanent administrator as Flagler County government keeps trying to hug an eroding shore.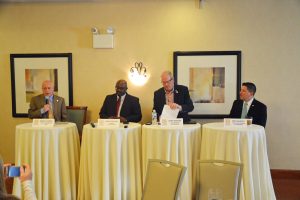 So some of the most revealing insights of this Common Ground breakfast had as much to do with the four amigos' updates as with the unspoken but obviously new dynamic forming in the county, with new leadership unencumbered by the political and vainglorious baggage that had accumulated over a decade, even though the top two most powerful government executives have yet to be named. Unquestionably, it's not business as usual as much as it is unusual business, with elected officials and their executives chomping at the bit to get projects done and remake their part of the center of the universe.
O'Brien was first up with his updates, speaking of the 24 applicants to the interim position who will be sorted through over Superbowl weekend. A meeting is set for Monday to draw up a shortlist. He assured the audience that the county is still functioning, spoke of the 16-month-long dune-rebuilding project approaching its conclusion in April, teased about a lot of "exciting" things happening in economic development that, as always, government officials keep secret until the last legal minute, and promised "we will have a resolution on the sheriff's operations building," that bane and plague on Flagler since last year.
What that resolution will be, however, O'Brien didn't say: the Sheriff's Office is having a hard enough time at the moment figuring out where it'll park its operations' ranks for the next year or three as a permanent solution is sought. Operations are split between the county courthouse and the old operations center, and there's been friction at the courthouse over accommodating the ranks' longer, more cohesive stay. But O'Brien didn't touch on that.
Jackson was next, starting his sermon with his usual effusions: "It is another great day in beautiful Flagler County, where Bunnell is the center of the universe," he said. Newsom sat cross-armed and grinning next to him, likely formulating a retort. Jackson then delved into his city's milestones in 2018, starting with the retirement of long-time City Clerk Sandi Bolser, whose last year on the job was made unhappy by clashes with then-Manager Dan Davis, whom the commission fired in part over those clashes. Jackson skimmed over the details. He then spoke of the city's completion of another charter review, its results going before voters in march, his own start as manager in October, the city's two dozen values, recent growth at Grand Reserve, and so on.
---
"I feel like I'm the last man standing. But I keep U-Hall on speed dial."
---
Jackson's favorite word is "strategic." It's the sort of word government officials have trouble making concrete and understandable even when they try: "It's about thinking strategically, not thinking potholes," Jackson said, "but thinking strategically, where we need to be in five, 10, 15 years," though it turned out that fixing gaping potholes in the city's utility and stormwater systems is very much part of where the city needs to be.
Jackson did not tell the audience what his city commission approved Monday: a $338,552 splurge on two no-bid contracts to firms that will draw up a "Master Utility Plan" for the city. (Jackson in an interview earlier this week said bidding out the contracts wasn't necessary because the two firms are already working with the city.) The city intends to dip into its reserves and its utility impact fees to pay for the plan, which drew minimal discussion. ("We thought this project was going to come in way in excess of $400,000," Commissioner John Rogers said Monday. "The fact of the matter is, it's going to be paid for with impact fee money and with…" He wasn't sure, turning over the end of his sentence to the city's finance chief, who filled in with reserves and $10,000 from the general fund.)
In Flagler Beach, the focus this year will be the A1A reconstruction project at the south end of town and the building of a seawall at the north end of town, both of which will impact local business. "We know it's not going to be a pretty project, Central Avenue is going to be impacted again," Newsom said. The contractor is motivated by a $1 million bonus, if the project is completed within 300 days.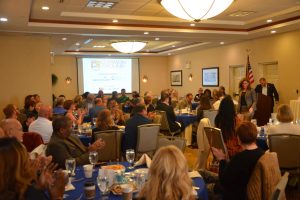 "I can promise you, the restaurant owners, they haven't recovered from Matthew, they haven't recovered from Irma," Newsom said, "and now we're throwing this at them. But we don't have a choice, because the money's out there. The money has to be spent, or the money will go away. And to add insult to injury, when they're done, along working with the county, we're coming in with beach renourishment, and so it's going to be a tough couple of years again for the local economy on Flagler Beach." He said the city will make it through "because let's face it, people love to come to Flagler Beach." He paused, and patting Jackson on the shoulder, added, "just like they do Bunnell, and Palm Coast."
Falgout, like Jackson, used a clicker to go through a projected presentation for his update, touching on the city's recently designated innovation zone in Town Center, the addition of a traffic unit to the city's sheriff's ranks, stormwater improvements on the horizon, cell towers. "When I first started working in Palm Coast, no one wanted a cell tower anywhere near them," Falgout said. "If they got one, they wanted it to look like a tree or a flagpole. Nowadays, most people will let you put it on top of their roof if it gives them more bars." The city is not going that far, but adding three towers this year through a private contractor, at the contractor's cost.
Chamber President Jorge Gutierrez, who moderated the panel, took a few questions afterward, a couple of them wondering about relations between the cities. Newsom took the opportunity to speak about a challenge all governments face: retaining talent. "Part of my strategic plan is retention," Newsom said. "In all due respect to these two gentlemen and to the county, I don't want to lose my employees after I train them to these guys, I want to keep them in Flagler Beach. But I'm always looking at their employees to steal those guys too."
Another unspoken but obvious reality sharpened by this morning's panel is that despite near-total turnover, county and city executive jobs are still dominated by men, some of whom perpetuate old-school assumptions–though not just men do so: last week at a special meeting of the county commission, Sally Sherman, the departing deputy county administrator whose last day is today (likely for real this time), twice had to be corrected by a commissioner when she referred to prospective applicants to the top job exclusively as men. (Ironically, the entire county commission is made up of men.) When Jackson concluded the panel with a comment of his own about economic development, his prototypical scenario featured a male CEO who checks his decision to move to a city or not with his wife. The reverse possibility appears not to have occurred to him.