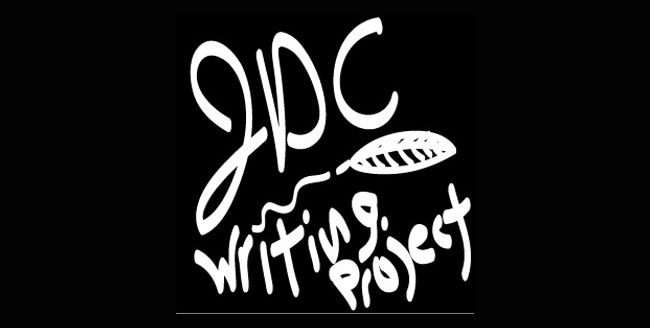 Today: Mostly cloudy. Chance of showers in the morning, then showers likely and slight chance of thunderstorms in the afternoon. Highs in the mid 70s. East winds 5 to 10 mph shifting to the west in the afternoon. Chance of rain 70 percent. Tonight: Mostly cloudy. A 30 percent chance of showers in the evening. Lows in the mid 50s. West winds 5 to 10 mph. Details here.
Drought Index is at 392.
Today's tides: at the beaches, at the Intracoastal Waterway.
Today's document from the National Archives.
The OED's Word of the Day: Lang Reed, n..
The Live Community Calendar
Today's jail bookings.
Today's Briefing: Quick Links

"Wait, you're from the settlements? But then who's eft to beat up the Arabs? Just kidding! You know I'm kidding, right? Go ahead and grab your compensation right now. Take $20 million so you can buy swing sets and gumballs for the cultural center in memory of Baruch Goldstein, the murd–oops, I mean the saint, may God avenge his blood. Not enough? No problem! Take another acre and another goat, take a whole herd of goats, take the whole cattle industry, take the whole country, for God's sake! Oh, that's right, you already did!".
–David Grossman, from A Horse Walks into a Bar: A novel

Note: all government meetings noticed below are free and open to the public unless otherwise indicated. Many can be heard or seen live through each agency's website.
The Sheriff's daily incident reports and jail bookings are posted here.
Keep in mind: March is Women's History Month, and Bike Week begins Friday, March 10, and runs through Sunday, March 19: Please look both ways, twice, be safe, and look out for the safety of others.. It is also Spring Break all week for Flagler County Schools.
Take the Flagler County School Superintendent Survey: The school district is inviting residents, including students and faculty, to fill out this survey, letting school board members know what kind of superintendent you want to replace Jacob Oliva, who is leaving in June. This survey will be live until early March. It takes about 10 minutes. It's anonymous. Fill it out here.
The Flagler County Emergency Medical Services Advisory Board meets at 9:30 a.m. at the Emergency Operations Center, 1769 E. Moody Blvd., Building 3, Bunnell.
The Flagler County Commission meets in workshop at 1 p.m. to review the state of the county government's budget. The meeting is in the administrator's conference room in the third floor of the Government Services Building in Bunnell.
The Bunnell City Commission meets at 7 p.m. at City Hall, 201 West Moody Boulevard. Commissioners are expected to approve the appointment of Ron Bolser, formerly of Flagler County Fire Rescue, as Bunnell's new part-time fire chief to replace the retiring Derek Fraser. Bolser is married to Sandi Bolser, the Bunnell city clerk. John Sowell, the new city commissioner elected last week, and John Rogers, who won re-election, are not to be sworn-in until the first meeting in April.
Josh Crews Writing Club at the Princess Place Preserve: "History, Mystery and More!" from 9 a.m. to 2:30 p.m. every day this week through Thursday. The Josh Crews Creative Writing Club in various Flagler schools grabs young writers and helps them develop in their own writing skills. It is open to all students from grades 4-6th. At the end of the years students have a chance to have their writing published. The club is named for the late Josh Crews, an avid reader and writer.
F. Scott Fitzgerald: Today the New Yorker publishes a long-lost story by one of the great American writers of the 1920s. See the story here.
Mostly useless information: The Battle of Badr, where the Prophet Muhammad's army defeated the Quraysh families of Mecca, is reputed to have been the turning point for Islam, launching the new religion on its vertiginous century-and-a-half-long expansion across the Middle East. The success of the Muslim army was largely due to two factors: the political and military weakness of post-antiquity societies, which had frayed beyond recognition in the wake of the diminished Roman Empire (except for the Byzantine Empire, then on the rise), and the fact that, a few exceptional massacres aside, Muslims did not require conversion so much as booty, thus ensuring that numerous cultures and creeds along the way would either submit or pay tribute: many converted, many did not, giving rise as much to Islam as the pluralism of cultures and religions it would tolerate in its first many centuries. Until its mid- to late-20th century perversions, Islam would remain far more tolerant and congenial to minority religions in its realm than Christianity would be for a millennia and a half of nearly uninterrupted slaughter of "heretics." In 1639 on this date, Harvard College took its name from John Harvard, and in 1845, Felix Mendelssohn's great Violin Concerto in E Minor, Op. 64, his most considerable orchestral work, premiered in Leipzig. See a complete performance by Hillary Hahn here or by Ray Chen below.

Open Registration for the 2017 Summer Camp at the Flagler County Youth Center for incoming 6th to 9th grade students is now open. To register, click here. The cost for the 2017 Summer Camp is $160 for the 1st child and $125 for every additional child. All payments must be made within 10 business days of submitting this form or you will have to re register. Please note spaces will be reserved on a first pay, first serve basis. Payment may be in Cash or a Check/Money order made out to FPCHS. Payment can either be dropped off or mailed to:
Flagler County Youth Center
5500 East Highway 100
Palm Coast, FL 32164
Please include a note with who the payment is for. If you have any questions please email [email protected] or call 386-437-7540 Ext.5102
Flagler Palm Coast Kiwanis Special Grant Awards: The final application deadline is March 31. Grants submitted after that date cannot be considered. Non-Profit Organizations and Schools that work with children are eligible to receive a grant for their proposal. Awards are given in amounts up to 5,000 dollars. Due to limited resources, not all projects can expect funding. Applications may be obtained on the FPC Kiwanis. Org website. All applications must be completed on the forms provided, though additional pages may be attached. An important requirement is that the grant not be the primary source of funding for the proposed project. Instructions on where to submit the electronic application are on the application letter with the download. The form is not interactive.

In Florida and in State Government:
Note: Some proceedings below can be followed live on the Florida Channel. Most legislative proceedings can be followed through the Senate or House websites.

Retired basketball star Earvin "Magic" Johnson is scheduled to meet with the Senate Democratic caucus. (9 a.m., 200 Senate Office Building, the Capitol.)
Elected secretary of state: The House Oversight, Transparency & Administration Subcommittee will take up a proposed constitutional amendment (HJR 811), filed by Rep. Gayle Harrell, R-Stuart, that would lead to voters electing the secretary of state and making the position part of the Florida Cabinet. (1 p.m., Morris Hall, House Office Building, the Capitol.)
Another pitch for secrecy: The House Post-Secondary Education Subcommittee will consider a bill (HB 351), filed by Rep. Bob Rommel, R-Naples, that would create public-records exemptions for information about applicants for top jobs at state universities and colleges. The bill would shield from disclosure information about applicants for president, provost or dean positions. (1 p.m., Mashburn Hall, House Office Building, the Capitol.)
Sanctuary cities: The House Civil Justice & Claims Subcommittee will consider a proposal (HB 697), filed by Rep. Larry Metz, R-Yalaha, that would crack down on local governments that don't comply with federal immigration laws — an issue involving what are known as "sanctuary cities." (Monday, 1:30 p.m., 404 House Office Building, the Capitol.)
Welfare drug-testing: The House Children, Families & Seniors Subcommittee will take up several bills, including a measure (HB 1117), filed by Rep. Chris Latvala, R-Clearwater, that would require drug tests for public-assistance applicants who have drug-related criminal records. The proposal would affect applicants for benefits in the Temporary Assistance for Needy Families, or TANF, program. (2 p.m., 12 House Office Building, the Capitol.)
House Democrats will meet to choose their leader for the 2018-2020 legislative term. (6:30 p.m., House Democratic Office, Room 316, the Capitol.)
Unemployment numbers are released at 10 a.m. for Florida and Flagler.
•
–Compiled by the News Service of Florida and FlaglerLive

In Coming Days in Palm Coast, Flagler and the Occasional Beyond:
♦ March 17: Lunch N' Lecture Series 11 a.m.-12:30 p.m. at Palm Coast City Hall, 160 Lake Ave. This month's topic: "Can I recycle this?" The lecture and lunch are free, but pre-registration is required (while space available) by 11 a.m. March 15: www.palmcoastgov.com/register. More info: 386-986-2323.
♦ March 17: The Gargiulo Art Foundation's 2016 Artist of the Year, Judi Wormeck, is featured in a month-long show at Ocean Art Gallery in Flagler Beach with an opening reception from 6 to 9 p.m. The event is free and open to all, at 206 Moody Boulevard (State Road 100) in Flagler Beach. Tom Gargiulo will present a Gallery Walk and a Q&A on March 30 at 6 p.m., and Judi Wormeck will have a demonstration on March 30 at 6 p.m. Gallery hours are Tuesday through Sunday, noon to 6 p.m.
♦ March 18: NCCAA Youth Sports Clinic, 9 a.m. check-in, with clinic from 9:30-11:30 a.m. at Indian Trails Sports Complex, 5445 Belle Terre Pkwy. and Palm Harbor Golf Club, 100 Cooper Lane. 6-16 year olds will enjoy free soccer, baseball, volleyball, basketball and golf instruction offered by professional coaches and collegiate athletes representing the National Christian College Athletic Association. Register online at www.palmcoastgov.com/register . More info: 386-986-2323.
♦ March 21: Food Truck Tuesday, 5-8 p.m. at Central Park in Town Center, 975 Central Ave, Palm Coast. Purchase and enjoy delicious cuisine available from food trucks situated along Park Street next to Central Park. Free entertainment is also provided. Proceeds this month will benefit the Parks & Recreation summer camp scholarship fund. More info: www.palmcoast.gov.com/foodtruck or call 386-986-2323.
♦ March 22: The boy Scouts Council holds its Golden Eagle Dinner at 6 p.m. at Hammock Beach Resort, honoring Bob Cuff, now a Palm coast City council member.
♦ March 23: Tom Gargiulo will present a Gallery Walk and a Q&A on the works of 2016 Artist of the Year Judi Wormek, at 6 p.m. at Ocean Art Gallery, 206 Moody Boulevard (State Road 100) in Flagler Beach.
♦ March 28: The Flagler Forum, the discussion group organized by Ed Fuller, hosts a panel discussion featuring Flagler County's local media, including Palm Coast Observer Editor Brian McMillan, Flagler Broadcasting-WNZF General Manager David Ayres, Daytona Beach news-Journal Editor Pat Rice, and FlaglerLive Editor Pierre Tristam, at the Hilton Garden Inn, Palm Coast, at 6:30 p.m.
♦ March 30: The Flagler County Chamber of Commerce's Common Ground Breakfast at 8 a.m. at Grand Haven Country Club features a panel including Palm Coast Observer Editor Brian McMillan, Flagler Broadcasting-WNZF General Manager David Ayres, Daytona Beach news-Journal Editor Pat Rice, and FlaglerLive Editor Pierre Tristam.
♦ March 30: Flagler County schools' summer camps and activities expo, from 5:30 to 7:30 p.m. at the Buddy Taylor Middle School-Wadsworth Elementary cafeteria.
♦ March 30: 2016 Artist of the Year Judi Wormek presents a demonstration of her work at 6 p.m. at Ocean Art Gallery, 206 Moody Boulevard (State Road 100) in Flagler Beach.
♦ April 26: Anyone whose child has died is invited to an informal meeting to consider eventually establishing a local chapter of The Compassionate Friends, a nonprofit self-help bereavement support organization for families that have experienced the death of a child. There are some 650 such chapters across the country. The meeting will be from 6:30 to 8 p.m. at Florida Hospital Flagler in classrooms A&B. for more information, call John Brady at 610/428-3139. To learn more about The Compassionate Friends, visit their national website at www.compassionatefriends.org. The meeting is open to all parents, grandparents, and siblings over age 18 who has suffered the loss of a child of any age.
♦ May 16: The Florida Judicial Qualifications Commission holds a hearing the the case of Circuit Judge Scott DuPont, who faces several charges of misconduct during his 2016 re-election election campaign. He has admitted wrongdoing. The 9 a.m. hearing is taking place in courtroom 406-7 at the Duval County Courthouse, 501 W. Adams Street, Jacksonville, before a six-member panel: Eugene Pettis, Steven P. DeLuca, Robert Morris, Michele Cummings, Harry Duncanson (a lay member of the commission) and Jerome S. Osteryoung.

The puzzling way Republicans want to replace the individual mandate, explained with a cartoon https://t.co/G1rGwi2RoO pic.twitter.com/LURhHUDz3f

— Vox (@voxdotcom) March 12, 2017
The problem in Washington is not a Deep State; the problem is a shallow man: https://t.co/cB7JXNmldS pic.twitter.com/wPWb6AgxTZ

— The New Yorker (@NewYorker) March 12, 2017
Sean Hannity commits "sins of omission," is "anti-journalism," and his disdain hurts viewers, says @brianstelter https://t.co/msCTSCt8zX

— CNN (@CNN) March 12, 2017
Looks as if Steve Bannon lied under oath to claim Florida residence, avoiding taxes, acc to great WashPost reporting https://t.co/oqi2BCqEWP

— Nicholas Kristof (@NickKristof) March 11, 2017
Green Card Warrior: My Quest for Legal Immigration in an Illegals' System by Nick Adams – digested read https://t.co/E75j0aoJvq

— The Guardian (@guardian) March 12, 2017
Once the queen of the skies, the 747 will soon be just a flying truck https://t.co/wjld93gmll pic.twitter.com/aHvS1Dk6qO

— Orlando Sentinel (@orlandosentinel) March 12, 2017


Palm Coast Construction and Development Progress Reports
The following is an update of ongoing permitting, construction and development projects in Palm Coast, through Feb. 24 (the city administration's full week in review is here):
Click to access development-february-22-2017.pdf

Road and Interstate Construction:

Ray Chen Performs Mendelssohn's Violin Concerto in E minor, Op. 64
Previous Codas:
The Well Tempered Clavier, Book 1,HJ Lim, Piano