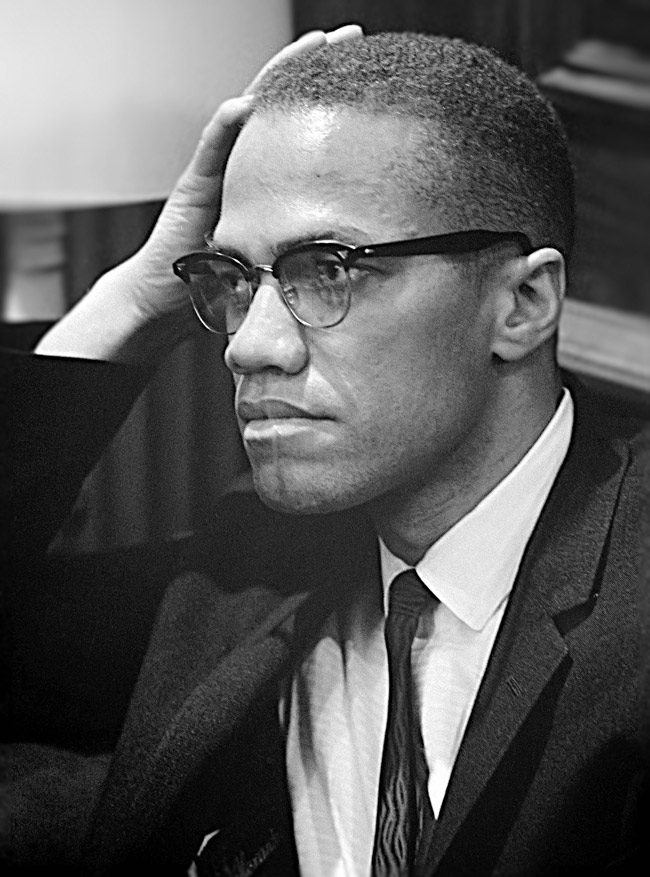 Today: Partly cloudy in the morning then becoming mostly cloudy. Patchy fog in the morning. Highs in the upper 70s. Southeast winds 10 to 15 mph. Tonight: Partly cloudy in the evening, then mostly cloudy with a 20 percent chance of showers after midnight. Lows in the upper 50s. Southeast winds 5 to 10 mph. Details here.
Drought Index is at 390.
Today's tides: at the beaches, at the Intracoastal Waterway.
Today's document from the National Archives.
The OED's Word of the Day: Queenomania, n..
The Live Community Calendar
Today's jail bookings.
Today's Briefing: Quick Links

"So all I'm saying is: I absolutely believe the situation can be changed. But I don't think it can be changed by white people taking a hypocritical approach, pretending that it is not as bad as it is, and by Black leaders, so-called responsible leaders, taking a hypocritical approach, trying to make white people think that Black people are patient and long-suffering and are willing to sit around here a long time, or a great deal of time longer, until the problem is made better."
–Malcolm X in his last radio appearance, on WINS in New York, Feb. 18, 1965, three days before his assassination, from February 1965: The Final Speeches (Malcolm X speeches & writings)

Note: all government meetings noticed below are free and open to the public unless otherwise indicated. Many can be heard or seen live through each agency's website.
The Sheriff's daily incident reports and jail bookings are posted here.

Take the Flagler County School Superintendent Survey: The school district is inviting residents, including students and faculty, to fill out this survey, letting school board members know what kind of superintendent you want to replace Jacob Oliva, who is leaving in June. This survey will be live until early March. It takes about 10 minutes. It's anonymous. Fill it out here.
The Palm Coast City Council meets at 9 a.m. at City Hall in Town Center. The agenda is mostly routine. Two land-use issues have been rescheduled because the items were incorrectly advertised.
The Flagler County School Board meets at 5 p.m. in board chambers at the Government Services Building. Crossing guards will be recognized. The board is expected to discuss the responsibilities of the citizens' advisory committee appointed to aid in the search for a new school superintendent. See those responsibilities here.
The Bunnell Planning Board meets at 7 p.m. at City Hall at 201 West Moody Boulevard.
Mostly useless information: Just a week earlier Malcolm X's family home had been firebombed. He had been in a toxic battle with the Nation of Islam, the likely perpetrator of the terrorist attack, though Malcolm himself was also suspected: he faced eviction. Three days before his assassination he told the New York Post's Timothy Lee (that was when the Post was a liberal newspaper, long before its acquisition by the foxy Rupert Murdoch) that "There is a conspiracy to kill me because the racists know that I now believe the only way to help the Black man in this country is unity among Black people and white people." On Feb. 21, 1965, he began a scheduled lecture at Harlem's Audubon Ballroom when, after a planted, distracting incendiary smoke bomb went off at the rear of the hall, William Bradley, who'd been sitting in the front row, walked up to Malcolm, and from 15 feet away, brought out a sawed off shotgun from under his coat, aimed, and fired. He struck Malcolm's left side, "cutting a seven-inch-wide circle around his heart and left chest," wrote Manning Marable in "Malcolm X," the seminal 2011 biography. "This was the kill shot, the blow that executed Malcolm X." At that moment the United States lost the third of five of the generation's greatest leaders to assassination. Medgar Evers and John F. Kennedy had been assassinated in 1963. Martin Luther King would be assassinated in 1968. So would Robert F. Kennedy. Liberalism never truly recovered. Louis Farrakhan, leader of the Nation of Islam, would concede the Nation's role in Malcolm's assassination in a 60 Minutes interview in 2000. Feb. 21 is also Nina Simone's birthday. She was born in 1933, and would go on to perform the "Martin Luther King Jr. Suite."

In Florida and in State Government:
Note: Some proceedings below can be followed live on the Florida Channel. Most legislative proceedings can be followed through the Senate or House websites.

Lobbying ban: The House Rules & Policy Committee will consider a proposed constitutional amendment (HJR 7001), filed by Rep. Larry Metz, R-Yalaha, that would extend from two to six years a ban on lobbying by former lawmakers and other state officials. (8:30 a.m., 404 House Office Building, the Capitol.)
Autism training for cops: The Senate Children, Families and Elder Affairs Committee will consider a proposal (SB 154), filed by Sen. Perry Thurston, D-Fort Lauderdale, that would require the Florida Department of Law Enforcement to set up a training program focused on autism spectrum disorder. (Tuesday, 9 a.m., 401 Senate Office Building, the Capitol.)
Visit Florida: Ken Lawson, president and CEO of the tourism-marketing agency Visit Florida, will appear before the Senate Commerce and Tourism Committee. (9 a.m., 110 Senate Office Building, the Capitol.)
Public-record exemption: The Senate Criminal Justice Committee will consider a proposal (SB 550), filed by Chairman Randolph Bracy, D-Orlando, that would create a public-records exemption to shield from disclosure the identities of witnesses in murder cases. (9 a.m., 37 Senate Office Building, the Capitol.)
School Recess: The Senate Education Committee will take up a bill (SB 78), filed by Sen. Anitere Flores, R-Miami, that would require elementary-school children to have 20 minutes of "unstructured, free-play" recess each day. (9 a.m., 412 Knott Building, the Capitol.)
Uber: The House Government Accountability Committee will take up a series of bills, including a proposal (HB 221), filed by Rep. Chris Sprowls, R-Palm Harbor, and Rep. James Grant, R-Tampa, that would set statewide regulations for ridesharing companies such as Uber and Lyft. (10 a.m., Morris Hall, House Office Building, the Capitol.)
Solar: The Senate Community Affairs Committee will consider a proposal (SB 90), filed by Sen. Jeff Brandes, R-St. Petersburg, that would carry out a constitutional amendment aimed at providing a renewable-energy tax break. (12:30 p.m., 301 Senate Office Building, the Capitol.)
Enterprise Florida: The House Appropriations Committee will consider a proposal (HB 7005) that would abolish the economic-development agency Enterprise Florida and tourism marketer Visit Florida. House Speaker Richard Corcoran, R-Land O' Lakes, is a major critic of the agencies. (1 p.m., 212 Knott Building, the Capitol.)
Judicial term limits: The House Judiciary Committee will take up a series of issues, including a proposed constitutional amendment (HJR 1), filed by Rep. Jennifer Sullivan, R-Mount Dora, that would impose term limits for Florida Supreme Court justices and appeals-court judges. (4 p.m., 404 House Office Building, the Capitol.)
–Compiled by the News Service of Florida and FlaglerLive

In Coming Days in Palm Coast, Flagler and the Occasional Beyond:
♦ Feb. 23: County Administrator Craig Coffey is the speaker at the Flagler Chamber's Common Ground Breakfast Series at the Hilton Garden Inn, in Palm Coast. Registration begins at 7:45 a.m., breakfast is at 8 a.m. $20 for members in advance. Email [email protected] or go here for more information. Details here and here.
♦ Feb. 27: Flagler County Stamp and Coin Club holds its monthly meeting at the VFW Post 8696 47 N. Old Kings Road. Doors open at 4:30 p.m., the meeting starts at 6. The 90 minutes before the meeting is for anyone wishing to buy, sell or trade stamps and coins. The club's meeting is from 6 to 7:30 p.m. There is a live auction of coins and stamps at the end of the meeting. The club is open for members and the general public who are interested in stamp and coin collecting and investing. Free stamp and coin evaluations at all our meetings. For more information visit the web site here.


♦ Feb. 28: Join the Flagler County Education Foundation's 14th annual Mardi Gras gala at Halifax Plantation, 3400 Clubhouse Drive, Ormond Beach, at 6 p.m. This is one of the foundation's annual fundraisers. Tickets are $100 per person. Click here to register or call today at 386/437.7526 for event details. Get a chance to talk to Joe Rizzo, the new executive director, and learn more about Flagler county schools.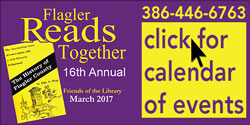 ♦ March 3: It's the kick-off of the annual Flagler Reads Together, the Friends of the Library's annual communal reading event that focuses on a single book and encourages everyone in the county to read it. This time it's as local as it gets: the book is the late Jack Clegg's "The History of Flagler County," in conjunction with Flagler County's centennial celebrations. The month-long Flagler Reads Together kicks off on March 3 at 2 p.m. at the Flagler County Public Library's main meeting room with a presentation by the Flagler County Historical Society's Sisco Deen. It's free.
♦ March 3: Fourth annual Flagler County Job Fair, from 11 a.m. to 3 p.m. at the Palm Coast Campus of Daytona State College, 3000 Palm Coast Pkwy SE, Building 3. There are more than 40 businesses registered, with more signing up daily, offering over 360 jobs. Last year over 400 job seekers attended the event, which was hosted by the Flagler County Department of Economic Opportunity, CareerSourceFV, Daytona State College and the Flagler County Chamber of Commerce. A full listing of companies is available at www.flaglercountyjobfair.com or by accessing the mobile app by searching the app store for Flagler Volusia Job Fair Plus.
♦ March 3: Flagler Beach's 10th Annual Pinewood Derby Race, as part of Flagler Beach's First Friday. Awards will be presented for the fastest and most creative designed cars in the adult and children's categories. Get your kit and then… Design it, build it, race it. Rules are here, and your registration form is here.
♦ March 4: 13th Annual Stamp and Coin Show and Chinese Auction, 10 a.m. to 3 p.m., Elk's Lodge #2709 53 N. Old Kings Road, Palm Coast. Flagler County Stamp and Coin Club, Inc. will hold its 13th Annual Stamp and Coin show This show is open to the general public and everyone interested in stamps and coins. There will be dealers to give free evaluations of your stamp collections and silver and gold coins. Come early and bring your friends. Door prizes every 30 minutes, beginning at 10:30 a.,m. and ending at 2:30 p.m. All proceeds from the Chinese Auction support the FCS&CC youth programs. Hugh variety of items to submit bids. The club is a 501(c)(3) non profit and is the only non profit stamp and coin club in Flagler County. Free parking and admission. Visit the web site for more information and contact.
♦ March 4: First of two kayaking trips organized by Flagler County's Centennial Committee, this one, the Haw Creek paddle, is scheduled for launch at 9 a.m. from Russell Landing County Park. Registrations are needed in advance and registrations for the trip close on February 20th. The registration is $15 and each person registering will get a competition style tee shirt commemorating the County's Centennial. When kayakers arrive at Bull Creek Park a special lunch will be offered for participants who opt for the $11 lunch. Registration for both trips, instructions and detailed directions can be found on the www.flaglercounty.org website or on facebook at www.facebook.com/FlaglerCountyCentennial. Interested kayakers can contact the committee at [email protected]. The second trip is planned for a 9 a.m. launch Saturday April 22 from Longs Landing City Park.
♦ March 7: Bunnell and Flagler Beach hold their municipal elections.
♦ March 10: Flagler Reads Together event (the Friends of the Library's annual communal reading event that focuses on a single book and encourages everyone in the county to read it: the late Jack Clegg's "The History of Flagler County," in conjunction with Flagler County's centennial celebrations). The March 10 event, at 2 p.m. in the Doug Cisney Room at the Flagler County Public Library on Palm Coast Parkway, is a presentation by Bob Stone addressing the Cattle industry in Florida. Folklorist and media producer Bob Stone's multi-media presentation explores and celebrates the history and culture of the nation's oldest cattle ranching state from the colonial period to the 21st century. You will see and hear all aspects of Florida cattle ranching traditions including material culture such as Cracker cow-whips and unique ranch gate designs, swamp cabbage and other foodways, cowboy church and Cracker cowboy funerals, Seminole ranching past and present, occupational skills such as roping and branding, our vibrant rodeo culture, side-splitting cowboy poetry, feisty cow-dogs, and much more.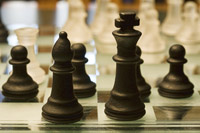 ♦ March 10-12: 2017 Florida State Scholastic Chess Championship, at the Wyndham Hotel on International Drive in Orlando. This is also the qualifier for the Denker, Barber and National Girls Tournament Champions. This year each of these 3 events are awarding a $5,000 scholarship good for any university or college in the Country to the top finisher in each event. The top finishers will also get qualifying spots in the World Youth Tournament. Online entry and more information are available at www.floridachess.org.
♦ March 22: The boy Scouts Council holds its Golden Eagle Dinner at 6 p.m. at Hammock Beach Resort, honoring Bob Cuff, now a Palm coast City council member.
♦ March 28: The Flagler Forum, the discussion group organized by Ed Fuller, hosts a panel discussion featuring Flagler County's local media, including Palm Coast Observer Editor Brian McMillan and FlaglerLive Editor Pierre Tristam, at the Hilton Garden Inn, Palm Coast, at 6:30 p.m.



Palm Coast Construction and Development Progress Reports
The following is an update of ongoing permitting, construction and development projects in Palm Coast, through Jan. 13 (the city administration's full week in review is here):
Click to access developments-feb-3-2017.pdf

Road and Interstate Construction:

Sheku Kanneh-Mason Performs Leonard Cohen's "Hallelujah," Arranged By Tom Hodge
[With thanks to Anita Moeder]
Previous Codas: