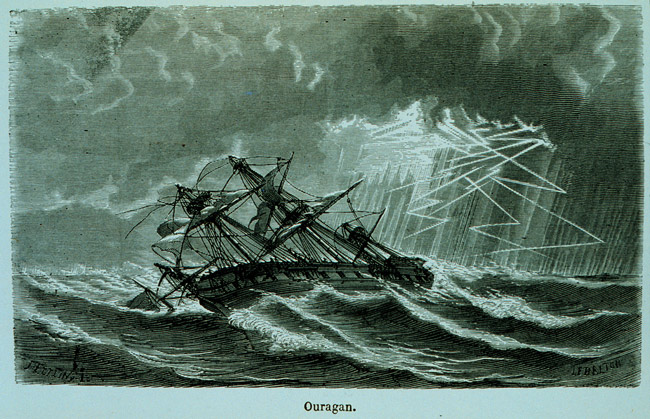 Today's Live Wire: Quick Links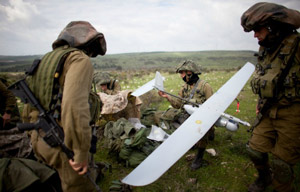 From the Washington Post: "Al-Qaeda's leadership has assigned cells of engineers to find ways to shoot down, jam or remotely hijack U.S. drones, hoping to exploit the technological vulnerabilities of a weapons system that has inflicted huge losses upon the terrorist network, according to top-secret U.S. intelligence documents. […] Al-Qaeda commanders are hoping a technological breakthrough can curb the U.S. drone campaign, which has killed an estimated 3,000 people over the past decade. The airstrikes have forced ­al-Qaeda operatives and other militants to take extreme measures to limit their movements in Pakistan, Afghanistan, Yemen, Somalia and other places. But the drone attacks have also taken a heavy toll on civilians, generating a bitter popular backlash against U.S. policies toward those countries. Details of al-Qaeda's attempts to fight back against the drone campaign are contained in a classified intelligence report provided to The Washington Post by Edward Snowden, the fugitive former National Security Agency contractor. The top-secret report, titled "Threats to Unmanned Aerial Vehicles," is a summary of dozens of intelligence assessments posted by U.S. spy agencies since 2006. […] U.S. spy agencies have concluded that al-Qaeda faces "substantial" challenges in devising an effective way to attack drones, according to the top-secret report disclosed by Snowden. Still, U.S. officials and aviation experts acknowledge that unmanned aircraft have a weak spot: the satellite links and remote controls that enable pilots to fly them from thousands of miles away. In July 2010, a U.S. spy agency intercepted electronic communications indicating that senior al-Qaeda leaders had distributed a "strategy guide" to operatives around the world advising them how "to anticipate and defeat" unmanned aircraft. The Defense Intelligence Agency (DIA) reported that al-Qaeda was sponsoring simultaneous research projects to develop jammers to interfere with GPS signals and infrared tags that drone operators rely on to pinpoint missile targets. Other projects in the works included the development of observation balloons and small radio-controlled aircraft, or hobby planes, which insurgents apparently saw as having potential for monitoring the flight patterns of U.S. drones, according to the report." The full story.
See Also: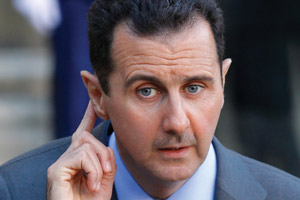 From the Orlando Sentinel: "Central Florida's most liberal congressman, Alan Grayson, is vocal in opposing any plan for the United States to bomb Syria. The region's most conservative member, Bill Posey, also is against using military force. The stances of these two men — who rarely agree on anything — show the challenge President Barack Obama faces in winning congressional endorsement of military intervention in Syria. Grayson, D-Orlando, is the area's most outspoken critic of intervention, appearing non-stop on cable news shows and launching an online petition against a Syrian attack that had attracted about 26,000 supporters by late Tuesday afternoon. "What is being proposed is a 'humanitarian' war," said Grayson, challenging the White House rationale that a missile strike would deter, or at least punish, the regime of Syrian President Bashar al-Assad for its suspected use of chemical weapons against civilians, including children. "In general, we have to get away from this notion that every time we see something we don't like in the world, we bomb it." […] The opposition from Grayson and Posey echoes broad public skepticism about the U.S. getting involved in the bloody two-year Syrian civil war. A new poll from The Washington Post and ABC News found that Americans were against a strike by a margin of 59-to-36 percent." The full story.
See Also:

Pit Bull Argument Leads to Death in Jacksonville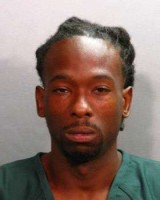 Shades of the argument between Flagler Beach's Paul Miller and Dana Mulhall over Miller's dogs back in 2012, which led Miller to murder Mulhall. This is from Jacksonville: "Police said an argument over a pit bull ended in the stabbing death of a 25-year-old Jacksonville man Saturday at a Southside apartment complex.
As police were responding to the Avesta Baymeadows apartments on Old Baymeadows Road, where stabbing victim Joseph Micah Premo was being helped by rescue workers, a man matching the description of the assailant was seen leaving in a taxi, Lt. Rob Schoonover said Tuesday. Police stopped the cab and detained Tyehimba Yazid Fort, 32, of the 4200 block of West Moncrief Road. Schoonover said Fort owned a pit bull that he gave to Premo, who gave the dog to a third person. He said Fort and Premo argued over the dog and a fight erupted.
Premo, who lived at the apartment complex, was stabbed several times. He was taken to UF Health Jacksonville, where he died. Fort was charged with murder Saturday." From the Times-Union.
See Also:

Twitter Grime: Who Follows Whom in Washington
From New York Magazine: "Twitter has become such an integral medium for political communication that, according to our count, 97 percent of members of Congress now have an official Twitter presence. But Twitter is a two-way street — you spread your message, and you listen to what others have to say. So who are members of the House and Senate (or, doubtless more often, their staffs) listening to on Twitter? Daily Intelligencer decided to find out: With help from the wizards at Twiangulate, we identified every congressional Twitter account, then analyzed which other accounts they follow most often. Read on for rankings of which news organizations, journalists, and other politicians members of Congress follow, and which congressmen and women have the most and least followers. The takeaway, on Twitter as in life: The two parties don't listen to each other very much."
Salon's analysis: "But when the most-followed lists are separated by party affiliation, interesting trends emerge. Republicans are more in lockstep in their following habits. 71 percent of Democrats follow the White House, the most-followed account for the Dems. Seventy-two percent of Republicans follow Eric Cantor, the seventh most followed account for the GOP. (John Boehner is the most-followed, with 88.7 percent of Republican members.) The Heritage Foundation has more elected Republican followers — 70.4 percent of members — than any actual media outlet or reporter. Even Politico. Even the Wall Street Journal. There's no comparable organization in the top 20 for the Democrats."
Here's a sample. New York has a fuller breakdown.

See Also:

What Camus Understood About the Middle East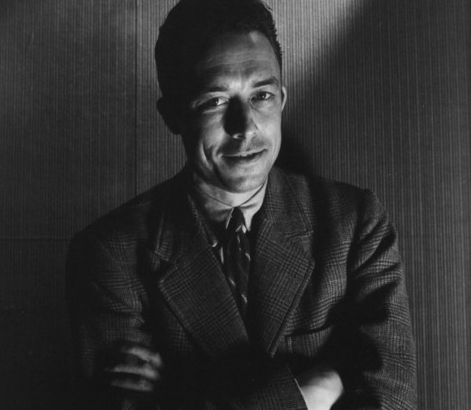 Paul Berman reviewing a new edition of Camus' Algerian Chronicles in the New Republic: "He knew that, to a great many of his readers in France, whose knowledge of Algerian affairs seemed to him laughable, the French Algerians appeared to be singularly unattractive. "If you read certain newspapers, you get the impression that Algeria is a land of a million whip-wielding, cigar-chomping colonists driving around in Cadillacs." But, on the contrary, an overwhelming majority of French Algerians, 80 percent of them, were workers and small-businessmen. They were people who enjoyed a standard of living superior to that of their Arab neighbors, but inferior to that of ordinary workers in France—humble people, significantly poorer than Camus' left-wing critics in France, the haughty intellectuals. They were different from the French populations in Tunisia and Morocco. The French populations in those other countries were relatively new, and none too numerous. But the French Algerians were an old and well-established community, with roots tracing back into the mid-nineteenth century. And, after many a generation in Algeria, those roots had mingled in the Algerian soil and the people themselves had sprouted, as it were, leafy cultural traits of their own. […] The great achievement in Camus' Algerian journalism from a literary standpoint was to strike a warm and affectionate tone and to remain faithful to it almost as an act of defiance, even as the two communities sank into ever deeper mutual ugliness. […] Camus' view of the French Algerians allowed him to make an observation about the Arab nationalists that somehow escaped and still escapes his critics and detractors. In the eyes of the anti-colonial dogmatists, the FLN expressed a political and geographical truth, which was the legitimate desire of indigenous people to govern themselves. This was a great truth, but, in the eyes of the dogmatists, the great truth dwarfed any conceivable doubts or worries about the revolutionary cause that somebody might reasonably entertain. Camus entertained doubts and worries, even so. In the nationalist ranks, he saw people whom he respected, but also he noticed an aspiration for a new imperialism in place of the old imperialism of the French. The new imperialism was, in his phrase, an "Islamic empire," and its inspiration came from Cairo. This meant the revolutionary Arabist doctrines of Gamal al-Nasser, the Egyptian dictator—though Camus surely had in mind the broader revolutionary ideology that was also upheld, in slightly different ways, by the FLN, the Baathists, and various other people who, like Nasser in the course of the 1950s, tilted their nationalist and Islamic doctrines ever more closely to the Soviet Union, which was advancing its own new imperialism. […] In our own time, the one example of ethnic or religious expulsion in the broader region that does manage to attract the attention of the world has been the case of the Palestinians. But this example has come to figure so prominently in the conscience of the world chiefly because the fate of the Palestinians can be presented, satisfactorily in some people's eyes, although not in everyone's, as still another crime of the imperialist powers. And then the prominence of the Palestinian tragedy in world opinion, by appearing to reinforce the anti-colonialist dogma, has served only to occlude, with the willing complicity of entire regiments of observers and commentators, the many other and sometimes larger and continuing expulsions and mass flights. The visibility of the one tragedy has contributed to the invisibility of the others. And the multiple tragedies across the region have finally cast a shadow over the supposedly victorious populations, who, in chasing away their neighbors, have managed only to impoverish their own lives and culture—as Camus predicted in 1958." The full essay.
See Also:

Sit back, relax, abandon all hopes of getting any work done, and watch the greatest at work:
See Also:

Majority Opposed to Defunding Obamacare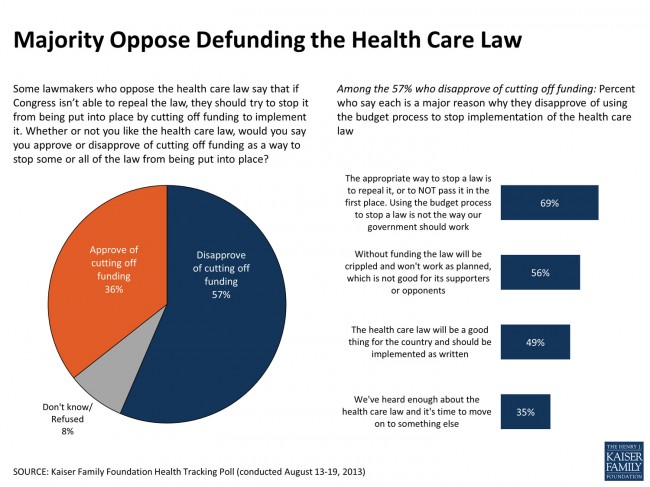 From the Kaiser Family Foundation: "The most commonly chosen reason for opposition to defunding the ACA is that "using the budget process to stop a law is not the way our government should work," (named as a major reason by 69 percent in this group), followed by a belief that "without funding the law will be crippled and won't work as planned," (56 percent) and feeling that the law will be "a good thing for the country" (49 percent). Fewer (35 percent) say their main reason for opposing defunding efforts is that they've "heard enough about the health care law and it's time to move on to something else." See the full tracking poll on the state of the law.
See Also:

Women Doctors Make $50,000 Less Than Men
From Bloomberg: "Female physicians in the U.S. continue to earn less than their male counterparts, with the pay gap widening during the past two decades to more than $50,000 annually in 2010, researchers said.
Women doctors had a median annual income of $165,278 from 2006 to 2010, compared with yearly earnings of $221,297 for male physicians, according to the report published today in JAMA Internal Medicine. While the annual pay for women doctors has increased since the median of $134,995 in 1990, it's only now beginning to approach the $168,795 annually earned by men 20 years ago, the researchers found. […] The study used data from the Current Population Survey and couldn't adjust for a physician's specialty or practice type, which may account for some of the gender pay gap, the researchers said. It's important to understand the pay disparity regardless because there is no definitive way to know everything that plays a role in those employment decisions, they said."
See Also:

From the Daily Beast: "The watershed moment came last September, when the FDA approved a clinical trial on the use of LSD to treat anxiety in cancer patients. According to the Multidisciplinary Association for Psychedelic Studies (or MAPS), it was the first time since the 1960s that a medical study involving LSD was permitted by the federal government. MAPS Director Rick Doblin called it "a symbol that the psychedelic renaissance is here." MAPS reached its fundraising goal of $225,000 in April, and will soon run its LSD trials in Switzerland, where it's easier to legally obtain acid. The FDA's approval is crucial, however, because it means it will accept the data that comes out of the Swiss trials. If those results prove the drug works, the agency will then run similar tests for safety and effectiveness. Doblin thinks that because of this ruling, it's highly possible that within 10 years LSD prescriptions for treating anxiety associated with life-threatening illnesses could be available in America. Several other clinical trials involving LSD are also under way, one of them at Harvard's McLean Hospital. […] Though the FDA won't comment on investigational drug applications specifically, a spokesperson told The Daily Beast, "We do review applications for psychedelic drugs. They are held to the same standards as other drugs considered for FDA approval. And now there are some studies that have been permitted to proceed."" The full story.
See Also:

This is "Images Du Monde Visionaire," though you don't need to know French to understand this "educational film produced in 1963 by the film department of Swiss pharmaceutical company Sandoz (best known for synthesizing LSD in 1938) in order to demonstrate the hallucinogenic effects of mescaline and hashish. [The film] it shares many traits with some of the more interesting efforts in avant-garde film making of its time. Maybe the most remarkable about it is that it is the only venture in film of notable French writer and painter Henri Michaux who wrote several accounts of his experiments with drugs." (From Strange Attractor.)
See Also: