You're welcome to send your Live Wire news tips or suggestions to [email protected].
Today's Live Wire: Quick Links


A friend writes:
"I first met "Ben" on Saturday, while I was out for my early morning bike ride. I came across him and his personal belongings, sitting on a bench along a local recreational path. The belongings included a few food items, a blanket, opened finger gloves, a jug of water, a few apples, some clothing, and a small grocery cart for the belongings. He told me that he wore the wheels off his prior cart. You ask, just who is Ben? Ben is a typical homeless individual living on the streets of Flagler County.
"For those of you who know about homeless individuals, there is nothing typical about any of them, other than being survivors. I met a homeless man last year in Bunnell who claimed to have been homeless for over 16 years. He had recently received a used camper from a relative to use. He put his belongings in it and slept outside on most nights. Many are homeless because they want to be, many because of circumstances that they had no control over. But they all have a dream. Ben's dream is to own a three-wheeled bicycle, with a basket, to travel down to Daytona Beach then head to the West Coast of Florida, where he believes apartment rentals will be more affordable. He is right now waiting for a nearby bicycle shop to open so that he can use his Social Security check to buy the bike. Oh, did I mention that "Ben" is about 70 years old (although it's difficult to guess ones age), and is a below-knee amputee, with an old, outdated prosthesis and a cane?
I said Good Bye to Ben and went on to finish my Saturday bike ride. Sunday morning I biked the same route, hoping to run into him. I had some money in my outfit this time. Not to my surprise, he was exactly where I'd left him the previous day. This time though, he'd received a few more items that had been dropped off by other concerned residents: A youth sized sleeping bag that he told me only kept him warm up to his waist, cookies, bottles of water and more apples. He was still sporting his John Deere hat. He told me that he had been up since 2 a.m. watching the traffic, and got a lot of pleasure out of that. He kept saying that he hoped that Wednesday comes quickly so that he could buy his bike and get on the road. I asked what he would do if the bike was already sold. He told me that he would instead go to PC bike, as he knew they had one. This showed me that he not only has a plan, but a back-up. We talked for a few more minutes before I went on my way. He never once asked me for any money. I left him with some anyway."
See Also:

Bill Delbrugge's Doggy Halloween
Former School Superintendent Bill Delbrugge in Cairo seems to have had a hell of a Halloween with his Egyptian friends: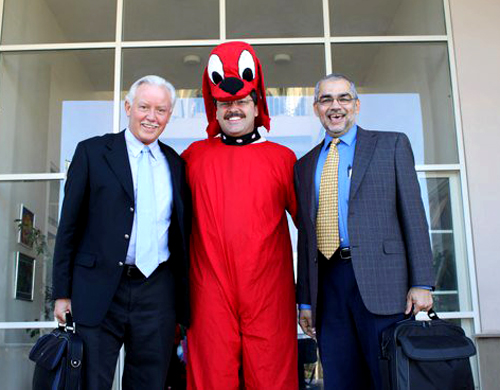 See Bill's full photo gallery.
See Also:

Obama's Popularity Still Ahead of Reagan's At Similar Points in Their Terms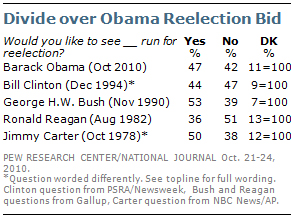 From Pew: "Two years ahead of the next presidential election, the public is divided over whether Barack Obama should run for a second term as president. About half (47%) say they would like to see Obama run again in 2012, while 42% say they would not. This is better than the outlook for Ronald Reagan in August 1982; at that point, just 36% of the public said they wanted to see Reagan – who subsequently went on to win his second term by an 18-point margin – run for reelection. The latest Pew Research/National Journal Congressional Connection poll, sponsored by SHRM, conducted October 21-24 among 1,006 adults, finds that the 47% who currently say they would like Obama to run again is comparable to public opinion about Bill Clinton on a similar question following the 1994 midterm elections (44% thought Clinton should seek the 1996 Democratic nomination, 47% did not). Opinions about whether Obama should run again reflect his overall approval rating. In the most recent Pew Research Center survey, 46% approved of Obama's job performance. This was also the case for Clinton in December 1994, shortly after that year's midterm elections (41% approval)." The full report.
See Also:

No America, Government Doesn't Suck
Hard to believe for some, but truer than tea stains. From Miller-McCune: "You can imagine, if you work in public service, you're giving your heart to something you believe in," he said, "and to have people bash you every day, it's not fun," says Steve Ressler. "A third-generation public servant, he is quite certain its organizers have his colleagues pegged all wrong. And while anti-government sentiment seems to be at its apex these days — catching in its sights institutions and individuals alike — he decided to plan a counter event, timed this weekend to riff off of Jon Stewart's mock-serious Washington "Rally to Restore Sanity." Ressler is calling his event — to borrow the lofty language of his accusers — the "Government Doesn't Suck" march. Planned signs include: "Government is awesome." "I'm not red tape." "Chicks dig govies." "What if Gov. was one of us?" […] Many critics may not even realize they're bashing these people. But when politicians preach about slashing "wasteful government," they're implicating millions of government workers in the waste. And when angry activists shout about "taking back our government," it is in fact from an army of apolitical fellow citizens, not a monolith of party power, that they would take it." The full story.
See Also:
Are Federal Employees Overpaid?

Florida's High Stakes Election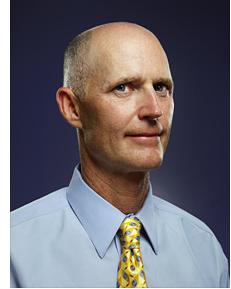 From Gary Fineout in the Herald Tribune: "the election's impact on a state with a million residents out of work and hundreds of thousands of homes in foreclosure looms far more prominently than all that campaign vitriol filling airwaves and mailboxes. […] Crist's decision to leave office after just one term to run for a Senate seat helped spark a frenzied run for governor and marked the first time in more than 100 years that both the governor and all the seats on the Cabinet were open at the same time. […] Republicans hope to win a veto-proof majority in the Legislature. If that happens, it could clear the way for legislation deregulating insurance companies, restricting abortions and eliminating teacher tenure — all measures Crist vetoed in the past two years. Republican Rick Scott is running on a plan to cut property taxes 19 percent, including billions for schools, and phase out the state's corporate income tax — all at a time when Florida is already facing a multibillion-dollar budget shortfall. A Republican sweep could give Scott a mandate to push through the plan, which Scott says will revive the state's economy, but which critics say is no more than another attempt at trickle-down economics. The key to the race: Which party can get its voters to the polls. […] Many experts believe Amendment 4, if approved, will be the biggest change to development law in the state's history." The full story.

See Also:

Can Civilization Survive Without God? Hitchens vs. Hitchens
The Hitchen brothers (Christopher and Peter) don't like each other very much but have lately been debating each other. Christopher, who's dying of cancer: "I don't think my own tenor has changed. The relationship I have with Peter is very well encapsulated in the fragment of his book that Michael read at the beginning. I mean, if you want to know, if anything, my contempt for the forced consolation of religion has increased since I became aware that I probably don't have very long to live. But it's not a thing I want to make a particular point on in this argument. […] I do resent, always have resented, the idea that it should in some way be assumed that now that you may be terrified, say, or miserable or, as it might be, depressed, surely now would be a perfect time for you to abandon the principles of a lifetime. I've always thought this to be rather a repulsive mode of approach, and there's a disgusting history of people either attempting to inflict deathbed conversions on people like Thomas Paine in their extremity or making up lies about it afterwards, as they did about Charles Darwin and many others. That I find wholly contemptible.
Peter: "Look, one of the things that I remember discovering with the most happiness in my life, round about the age of 11 or 12, was that it was possible to disagree without anger or rancor. And in fact, it's actually more pleasant to do so. I've always thought that, and I really don't see the point in spoiling a good argument by getting angry with your opponent. And he has been my opponent for most of my life. I certainly have in the past been angry with him, but I would say that that is over." The full transcript.
Watch the video:
See Also:

R.L. Stein: Scariest Thing on Halloween? Grown-Ups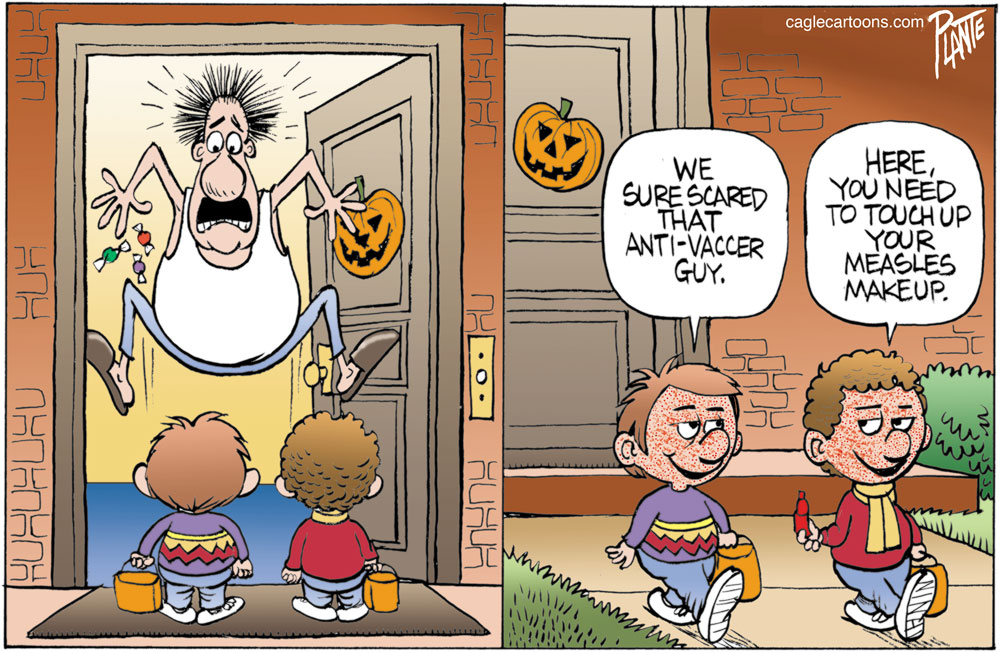 R.L. Stein had an excellent column in The Times: "Of course, much has been written about how this generation of American adults doesn't want to give up its inner child. I don't have to spell out the evidence — it's everywhere — that grownups want to be kids for as long as they can possibly get away with it. And who can blame us? But … no kids admitted to a Halloween haunted house? Talk about a hatchet blow to the head. My brain exploded with vivid images of my own childhood Halloweens. […] as I recall, the special excitement of Halloween didn't come from candy or costumes or dark, whispery streets. The overwhelming thrill came from going out of the house at night and wandering freely around the neighborhood with no parents. Halloween was a night of incredible freedom. I've written dozens of Halloween books for children, and I try to capture those memories and that feeling of liberation. So it was alarming to think that adults were taking the holiday away from kids. Was it really happening? […] Farther down Broadway, I saw a Halloween costume store. Yes, you guessed it — there were no princess costumes with sparkling tiaras, no duck costumes with fuzzy tails. I saw a lot of flimsy negligees as well as studded black leather outfits with handcuffs and whips. A popular item seemed to be fakeblack, curly chest hair for men." The full column.
See Also: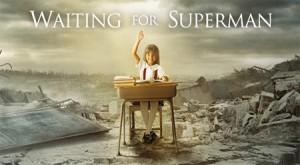 Diane Ravitch sets the record straight on "Waiting for 'Superman,'" the tendentious Davis Guggenheim documentary about charter schools. From the New York Review of Books: "Some fact-checking is in order, and the place to start is with the film's quiet acknowledgment that only one in five charter schools is able to get the "amazing results" that it celebrates. Nothing more is said about this astonishing statistic. It is drawn from a national study of charter schools by Stanford economist Margaret Raymond (the wife of Hanushek). Known as the CREDO study, it evaluated student progress on math tests in half the nation's five thousand charter schools and concluded that 17 percent were superior to a matched traditional public school; 37 percent were worse than the public school; and the remaining 46 percent had academic gains no different from that of a similar public school. The proportion of charters that get amazing results is far smaller than 17 percent.Why did Davis Guggenheim pay no attention to the charter schools that are run by incompetent leaders or corporations mainly concerned to make money? Why propound to an unknowing public the myth that charter schools are the answer to our educational woes, when the filmmaker knows that there are twice as many failing charters as there are successful ones? Why not give an honest accounting?
"The propagandistic nature of Waiting for "Superman" is revealed by Guggenheim's complete indifference to the wide variation among charter schools. There are excellent charter schools, just as there are excellent public schools. Why did he not also inquire into the charter chains that are mired in unsavory real estate deals, or take his camera to the charters where most students are getting lower scores than those in the neighborhood public schools? Why did he not report on the charter principals who have been indicted for embezzlement, or the charters that blur the line between church and state? Why did he not look into the charter schools whose leaders are paid $300,000–$400,000 a year to oversee small numbers of schools and students? Guggenheim seems to believe that teachers alone can overcome the effects of student poverty, even though there are countless studies that demonstrate the link between income and test scores. […] there is a relative consensus: teachers statistically account for around 10–20 percent of achievement outcomes. Teachers are the most important factor within schools. But the same body of research shows that nonschool factors matter even more than teachers. According to University of Washington economist Dan Goldhaber, about 60 percent of achievement is explained by nonschool factors, such as family income. […]
"The film never acknowledges that charter schools were created mainly at the instigation of Albert Shanker, the president of the American Federation of Teachers from 1974 to 1997. […] In 1993, Shanker turned against the charter school idea when he realized that for-profit organizations saw it as a business opportunity and were advancing an agenda of school privatization. […] Today, charter schools are promoted not as ways to collaborate with public schools but as competitors that will force them to get better or go out of business. In fact, they have become the force for privatization that Shanker feared." The full essay.
See Also:

Markowitz Special: Bill Evans on Jazz
See Also: