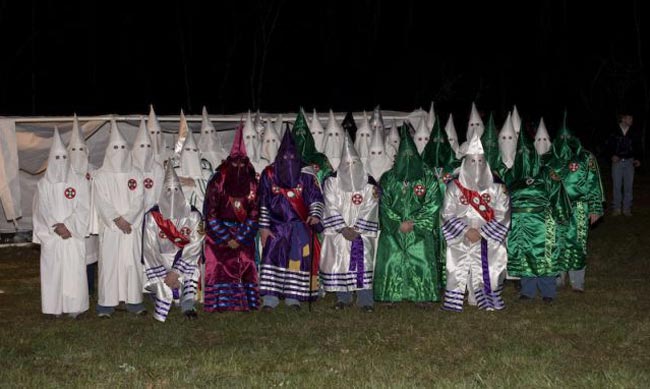 At 8 a.m. on Sunday morning (April 4), David Morris walked out to his driveway on Ulaturn Trail, off of Seminole Woods in south Palm Coast, to find this: "Twenty reasons WHY you (if qualified) should join, and Support the United Northern & Southern Knights of the Ku Klux Klan." (Number 5: "There are no laws against such an organization." Number 9: "It is an organization composed of native born, White, Chirtsina-minded American citizens of sound mind and good moral character" [sic.]. And coming in at Number 16: "It will, with your help, stop the destruction of our moral culture [sic.] by homosexuals."
The freshly minted three-page packet included a Happy Easter message and a page-long diatribe about and against undocumented immigrants, headlined, "Illegal Immigration Is A Crime!" (Illegal immigration is not, in fact, a crime; it is a civil infraction.)
The flier was signed by the United Northern and Southern Knight of the Ku Klux Klan, and included the hooded group's web address (unskkkk.com).
---
Click On:
United Norther & Southern Knights' Web Site
---
---
The Southern Poverty Law Center, which tracks hate groups across the United States, documents the presence of five KKK organizations in Florida, including a chapter of the United Northern and Southern Knights in Hampton, a two-street hamlet north of Gainesville. Florida's 51 hate groups rank the state third only to California's 60 and Texas' 66 on the nation's "Hate Map."
Morris, who is white and spoke of no problems with anyone in the neighborhood, took the packet to the Flagler County Sheriff's Office on April 5. According to the case report, "David just wanted […] the sheriff's office aware of the literature and did not want to complete a written sworn statement." Sheriff's Offfice dispatch was instructed to give Morris' address on Ulaturn Trail extra watch.
A resident of Palm Coast's Z section, also along Seminole Woods, reported to the Sheriff's Office that KKK fliers were dropped there. The Sheriff's Office had no evidence of those fliers as of Wednesday, but Orlando's Channel 9 quoted Z-section resident Gene Johnson as saying that he'd seen the pastel-colored fliers on every driveway while taking a walk on Easter morning. Johnson also told the station that he picked up a lot of fliers before people could read them.
The KKK "Packet" left on Ulaturn Trail is accurate in one regard: there is nothing illegal about the KKK as an organization, and there would be nothing illegal about KKK recruiting. Neither city or county ordinances nor law enforcement may prevent it (any more than ordinances or police may prevent, say, hate-group assemblies or demonstrations), as long as the activity is conducted lawfully.
On January 8, the Orlando Sentinel reported on Cole Thornton, Imperial Wizard of the United Northern and Southern Knights of the Ku Klux Klan–based in Englewood–who declared that the organization includes a number of Central Florida law enforcement officers because of the KKK's "rigid standards and its adherence to a strict moral code."
Alachua County detention officer Wayne Kerschner had been fired when his employer discovered that he was a member of the KKK.