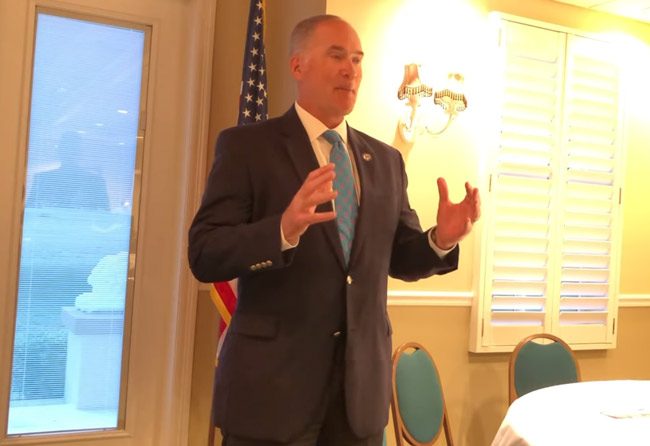 Give John Ward credit. At least he did not say that some of his best friends are Puerto Ricans. What this Boston Brahmin wannabe and recent Florida transplant trying to buy himself a congressional seat here did say is revolting enough. But again, in fairness to Ward, he does not seem to know what the word "democratic" means, let alone what Puerto Rico's place in our democracy happens to be. He's not the first. Which makes him an ideal candidate for Congress in these days of re-emerging discrimination and selective supremacy.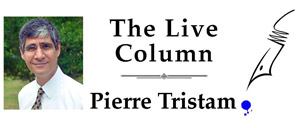 Ward is one of three Republicans running for the 6th congressional district seat nominally held by Ron DeSantis since 2013. The district includes all of Flagler and parts of Volusia and St. Johns. Ward, a businessman who inherited his father's wealth–"I stand with Trump," Ward says with experience–was appearing alongside Fred Costello, another candidate, at a small forum hosted by a Mount Dora Republican Club last week when a man in the audience asked the candidates this question: "A lot of Puerto Ricans have moved either temporarily or permanently to Florida. How do you respond to them when they say that they need more help and that the aid to Puerto Rico is not enough?"
Ward never quite answered the question. Not the aid part, anyway. What he did say amounted to what he said in a rejoinder to Costello later: "I want to get 'em home." But before he got there he gave us a tour of his bigotry, ignorance, contempt, pompousness, and back to bigotry. Here's his answer in full:
"So, first of all I don't think they should be allowed to register to vote. And you know it's not lost on me that I think the Democrat [sic.] Party's really hoping that they can change how the voting registers in a lot of the counties in the district and I don't think they should be allowed to do that. Secondly, I've a good friend who actually runs Tote Maritime, which is one of the largest shipping concerns that runs the route here from up in Jacksonville, over to Puerto Rico, so I get pretty current updates on what's going on in Puerto Rico. I think the situation is improving a lot there, and where I'm going with that comment is, we should be looking to put the Puerto Ricans back in their homes, right? So the idea that they can come to the mainland United States, I don't necessarily have a problem with that, but I think we should be thinking about it in terms of getting them back home, and providing the capital and resources to rebuild Puerto Rico, which I honestly think is where they belong."
First off it's not the "Democrat Party." Republicans since the 1940s have tried to slur Democrats by lobotomizing the word's adjective to make it sound less, well, democratic. Ironic, considering Republicans' infatuation with voter-suppression laws and neo-Black Codes. But as slurs go, that one was among Ward's milder ones.
His opening line was more nakedly offensive: "I don't think they should be allowed to register to vote." To say this about 3.3 million U.S. citizens requires impressive doses of ignorance and prejudice. True, since Puerto Ricans became citizens in 1917, they've been disenfranchised in every presidential election for living in a territory rather than a state, and the second-class status has been compounded by the mainland continually denying Puerto Rico statehood or representation with voting power in Congress. But just as any American who moves residency to Puerto Rico loses the ability to vote in presidential elections, any Puerto Rican moving residency to one of the 50 states gains it. That's the law. Whether or how new arrivals register is their business. At least Ward doesn't "necessarily have a problem" with them coming to the United States. Up to a point.
Since to Ward all Puerto Ricans seem to look, sound, and vote alike (giving minorities their own individuality as human and thinking beings isn't a reactionary's strong suit, as Roseanne Barr reminded us in her latest 15 seconds of bile), he's assuming that they're all coming to Florida to register as Democrats, because really that's the priority for those who've managed the crossing to get away from Hurricane Maria's devastation. They've lost home, family, job, life. But all along through howls and loss they kept their eyes on the prize: that Democratic registration card at Kaiti Lenhart's office. You can tell from the moist marks of naked Latino feet fraying carpet since September, obviously.
But let's assume "they" were doing exactly that. In what way are Puerto Rican migrants to Florida different from, say, migrants from Oklahoma, Alabama, New York, or, like Ward himself, Acton, Massachusetts? Would Ward tell his snow-weary neighbors from Massachusetts who decide to make the move to Florida to go home once they've had a few days in the sun? Would he tell Hawaiian volcano victims or California wildfire escapees to go back where they belong after a while? Would he discourage anyone moving from anywhere in the United States to start a life in Florida? Judge their motives? Demean their rights? Question their politics? Of course not.
Unless they're Puerto Ricans. Because they don't "belong" here. They "belong" in Puerto Rico. Ward's own word. In 2018 Florida.
For a moment there I really thought I was hearing those imbecilic nativists who thought during Reconstruction that they could "repatriate" freed slaves back to Africa, which, to quote Ward repeating their exact words from a century and a half ago, "I honestly think is where they belong." The bigotry is the same, down to that supremacist language and the fear of the ballot in more bronzed hands.
Costello posted the video of the exchange and denounced Ward's statement (see the full reply below). But he wasn't much better–not just with his version of contempt–"Do I want them coming here and registering Democart? Of course not"–but with his vile and misinformed judgments about Puerto Ricans' motives as driven not by escaping ruin, not by their ambition and ability to enrich Florida, but their implied predisposition to leech off the system: "Now, where I draw the line is government should not be paying them to continue to live off of government. If they want to move here and get jobs and live here, fine." I wonder how many Flagler voters he'd insult that way for receiving a FEMA check, a Medicare subsidy, a mortgage-interest deduction, all three of which Costello or his family likely benefit from firsthand.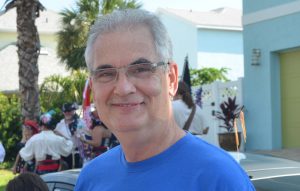 Costello was race-baiting just as much as Ward was. He just did it more slickly, tactically dropping his code words the way a guy who's been around politics for many years knows how.
What neither of these men did was unreservedly and unconditionally speak of Puerto Ricans the way they'd speak of their white-skinned, proudly English-only neighbors in Ormond Beach or Ponte Vedra Beach, Ward's alleged home (he doesn't actually live in the district he's running for). Just as strikingly, only one person in the audience of perhaps two dozen at the Ward and Costello show–an attorney who studied in Puerto Rico–called them out.
Beyond that, some articles, some calls for Ward (and only Ward) to quit his campaign, but not much else. No serious outcry, at least not yet. No groups cancelling their Ward invitations, certainly no denunciations by his party. No surprise, either. For Republicans in the Age of Trump, it's bigotry as usual. And from Ward? "I stand by what I said."
So much for welcoming our new neighbors from Puerto Rico, whose numbers thankfully add to our previous neighbors from the island, in Palm Coast especially: this town would be even more insipid than it is without its Latin and other-colored migrants. And now that men like Costello and Ward have made their caste systems clear, I do hope that as many of the recent arrivals to the 6th Congressional District register and act Democratic, in every sense of the term: their vote could be the difference in a disturbingly toxic region where too many of us, not just Puerto Ricans, are made to feel like we don't belong.

Here's Fred Costello's full response to Ward: "I absolutely disagree. Puerto Ricans are citizens of the United States of America. They have a right to go anywhere in the United States. Do I want them coming here and registering Democart? Of course not. I want them to understand that they moved here for opportunity. They moved to Florida because they wanted to take care of their families, and if they want individual liberty and personal responsibility and equal opportunity, we the Republican Party need to show them why we're the party that they need to gravitate to. But, I believe a resident citizen of Florida should be able to go to any state. I believe a resident citizen that lives in Puerto Rico should be able to come somewhere. Now, where I draw the line is government should not be paying them to continue to live off of government. If they want to move here and get jobs and live here, fine. The time has come when we have finished the humanitarian effort that was the right thing to do to give them an opportunity to–their government down there, the Democrat-led government down there allowed their infrastructure to be totally decimated. It's not their fault. It's not the citizen's fault that left, so they had a right to come, they don't have a right to continue to receive benefits from our government."

Pierre Tristam is FlaglerLive's editor. Reach him by email here or follow him @PierreTristam.