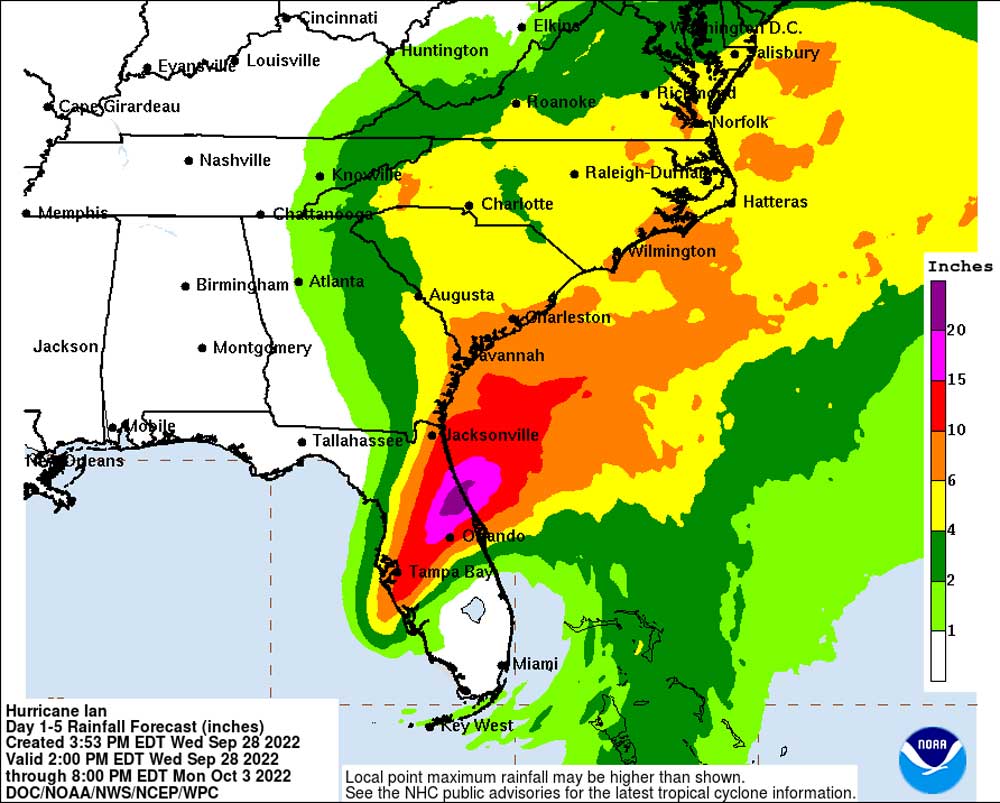 Last Updated: 9:45 p.m.
Previous days' Ian coverage: Sunday | Monday | Tuesday
Wednesday, 9:45 p.m.–Ian was sustaining hurricane-force winds five hours into the storm's slow churn into the Florida Peninsula Wednesday night, with winds still at 115 miles per hour at 8 p.m. as it moved toward Orlando at a painful crawl of 8 miles per hour: the slower the movement, the more damage and the more flooding along the way. Ian was still a Category 2 hurricane even though it was well inland.
It provoked a storm surge of 12 feet as it made landfall during the afternoon and started to knock out power for what became nearly 2 million customers by 9 p.m. That number will grow far larger over the next 36 hours.
Ian's latest path has not changed markedly since the 5 a.m. forecast, continuing a path that has its eye passing just south of Daytona Beach early Thursday afternoon. The storm will then swing north, passing offshore of Flagler County. But by then its rain bands will have already battered Flagler significantly, as they started to do before sundown today. Heavy rain has continued in Palm Coast, Flagler Beach and the rest of the county, and was expected to continue, with increasing intensity, through the night. Winds were to pick up intensity as well.

Wednesday, 5:40 p.m.–Hurricane Ian made landfall on Fort Myers Beach, a barrier island, at 3:05 p.m. as a catastrophic Category 4 hurricane with 150 miles per hour wind. It then struck the mainland just south of Punta Gorda, near where Hurricane Charlie hit 18 years ago, at 4:35 p.m.
It knocked out power for hundreds of thousands of residents for every few miles it advanced and cut a path of destruction as it continued inland as a powerful hurricane, heading for Florida's east coast south of Palm Coast by Thursday afternoon.
There were 1.1 million power outages as of 5:45 p.m., a number that was growing rapidly.
The National Hurricane Center's 5 p.m. forecast again shifted the hurricane's path slightly south. But the most populated side of Flagler County, including all of Palm Coast, Flagler Beach and Beverly Beach, remain in the cone of probability, and rain potentials are still high, if not higher, than in previous forecasts.




"Unfortunately, while the the track is different," Jonathan Lord, director of Flagler County Emergency Management, said nearing 5 p.m., "we are smack dab in that cone. The biggest fear about the rain is it's not relieving us of any pressure on the rain. We're sitting where we might have localized areas of up to 20 inches in spots and that has not let up. That's actually become more solid in the eyes of the Weather Service. Unfortunately, this storm is not yielding for us."
Late this afternoon Lord declared a curfew in effect for the entirety of Flagler County starting at 8 p.m. tonight, through 7 a.m. Thursday, and repeating on that pattern until further notice. Some exemptions apply, and while residents must be in their homes by 8 p.m., Lord said people leaving the hospital after visitations, or people leaving work to get home may be pulled over, but will not be penalized.
A curfew violation is a second degree misdemeanor (the lowest-level misdemeanor on the books), but still carries the potential for a $500 fine and (or) up to 60 days in jail. The curfew is in effect countywide, Lord said, to take account of the fact that some areas have been evacuated–namely, the barrier island and parts of the county east of I-95 and around western Flagler. Property must be protected, he said.
Tropical storm-force winds are expected in Flagler starting tonight–probably not until late tonight, Lord said, with heavier rains progressively adding to already filling swales in the county.



The National Weather Service in Jacksonville said that as Ian continues to slowly move north-northeast across the Florida Peninsula tonight, North-Central Florida and coastal Northeast Florida and Southeast Georgia will see rounds of heavy rainfall with wind gusts to tropical storm force. Periods of heavy rain will continue through Friday. Because of the very slow motion of the storm, "we're looking at widespread 15-20″ of rain in Flagler County, 8-15″ in coastal Northeast Florida and North-Central Florida, and 5-9″ in coastal Southeast Georgia," the weather service said.
With elevated tides being trapped in the St. Johns by persistent onshore winds and storm surge slowly adding up as well, coastal flooding will become increasingly dangerous along the Atlantic coastline, the Intracoastal Waterway and the St. Johns River.
None of that is what local residents wanted to hear, ironically, as the storm's eye appeared to move away from Flagler. For all that, conditions where the hurricane made landfall and continued inland at 140 miles per hour are far worse.
"Overwhelmingly, it's been that surge that has been the biggest issue and the flooding that has resulted," Gov. Ron DeSantis said at 5:45 p.m., speaking from the state's emergency operations center. "In some areas we think it's hit 12 feet. Now it is our meteorologists' view that the storm surge has likely peaked and will likely be less in the coming hours than it has been up to this point. But we know that this has been a big storm and it's done a lot of damage and it is going to continue to move through the state of Florida. you're going to see hurricane-force winds in places in Central Florida perhaps. It's clearly a very strong tropical storm, all the way until it exits the Florida peninsula in the Atlantic."
DeSantis mentioned Flagler and St. Johns Counties as the places far from the storm (for now) that have already issued evacuation orders for parts of their geography, signaling the power of the storm. "This is way, way, way bigger than Charlie," DeSantis said of the 2004 hurricane that struck Florida as a Category 4. Ian "was as strong as Charlie coming in but Charlie was much smaller."




Kevin Guthrie, the director of Florida's Emergency Management division, urged residents not to play at being responders: "We do not want individuals self-deploying out on their own. That is very, very dangerous," Guthrie, a former Flagler County emergency management director, said. "Leave that to the professionals that are trained in how to do that. Do not take your personal boat out in these situations. We do not want to have to respond to yet another problem."
DeSantis had mentioned that after Irma, only seven people had been killed directly as a result of storm activity, but more than 70 people died subsequently because of judgment errors, mishandling electric generators, for example, wading into flood waters, handling wires.
Guthrie said there may have been "hundreds" of calls from people who had not evacuated, looking for help, but he said he could not quantify the actual number just yet.
"Just because you're not in a quote flood zone does not mean that you're not at risk of a catastrophic event like this," DeSantis said.
This is a developing update. More soon. Previous updates are below.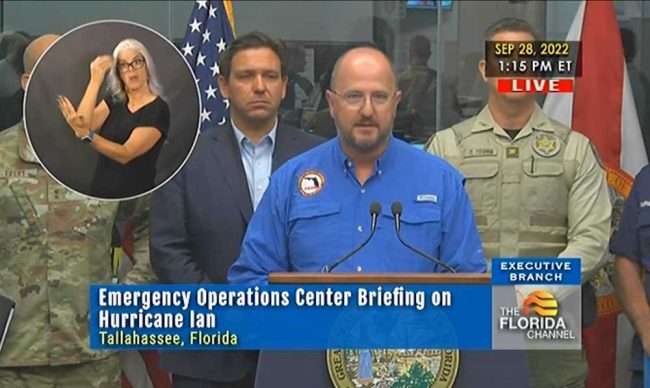 'Massive' Recovery Pledged as Cat 4 Hurricane Ian Slams Florida, Cutting Northeast Path to Volusia-Flagler
Wednesday, 2 p.m.–The first images of flooded Fort Myers–of streets invisible under torrents of waters, of sunken vehicles and capsized boats, of inundated homes and of wind whipping palm trees–were streaming at the same time as Florida Emergency Management Director Kevin Guthrie and Gov. Ron DeSantis addressed the state in their latest briefing on Hurricane Ian shortly after 1 p.m. today.




The first power outages to 200,000 customers were reported, but that was likely to be a fraction of outages ahead.
"Charley was a fraction of the size of this particular storm," Guthrie–a former Flagler County emergency management director–said, referring to Hurricane Charley in 2004, which made landfall in Punta Gorda in South Florida as a Category 4 hurricane and killed 10 people. It was almost the same area that Hurricane Ivan is now pounding. There are no reports of injuries yet in Florida. At least two people died from storm-related causes in Cuba, whose 11 million people were left without power.
"It seems like over the last 12 to 24 hours every time you look at this storm, it's been bad news, it gets stronger, it gets larger, and, you know, we really appreciate people's concern for Florida," DeSantis said. "This is this is a really, really significant storm. It will be one of the storms people always remember when they think about Southwest Florida, probably be the big one that they always remember."
The governor said most people heeded evacuation orders. Some stayed. "There is going to be a massive effort as soon as it passes southwest Florida to be able to get out recon the area and identify areas where there may be a need of rescue services," DeSantis said.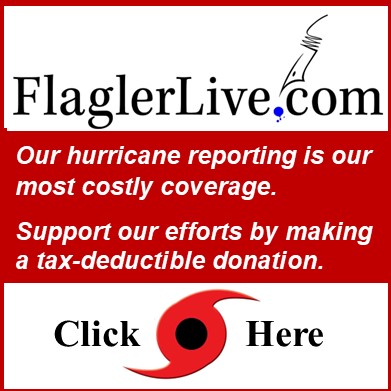 "I know a lot of those barrier island communities the county's discontinued services and so they were incentivized to get in maybe a more comfortable environment," the governor said, "but some of those people just made that decision to stay, and the local officials were not going to grab them by the shirt collar and drag them out of their own house." He continued: "Nevertheless, as much as you may disagree with that decision. If there's people in harm's way when this storm passes that need help. We're going to be out there helping folks I mean that's just the way we're going to do it."
An evacuation order has bene issued to Flagler County residents on the barrier island from Flagler Beach to Marineland, and to residents in low-lying areas east of John Anderson Highway and along Lambert Avenue in Flagler Beach, among other places.




Some 42,000 linemen and women from 27 states are in Florida, ready to start electric repairs as soon as it is safe to enter storm-ravaged areas. That's double the number present after Hurricane Irma in 2017. The Florida Department of Transportation has 1,200 employees on standby to perform cut-through operations in areas plagued by downed trees and power lines. Supplies will be brought in by plane, boat and high-water vehicles.
The state has staged 100 portable cell towers ready to be deployed into Southwest Florida. Guthrie has asked for additional high-water vehicles from the Department of Defense. The National Guard has activated 4,611 Florida personnel ready to deploy plus 2,000 from other states. They'll have nine Chinook helicopters at their disposal and an additional 22 helicopters will be coming in after landfall in the next 24 hours, the governor said.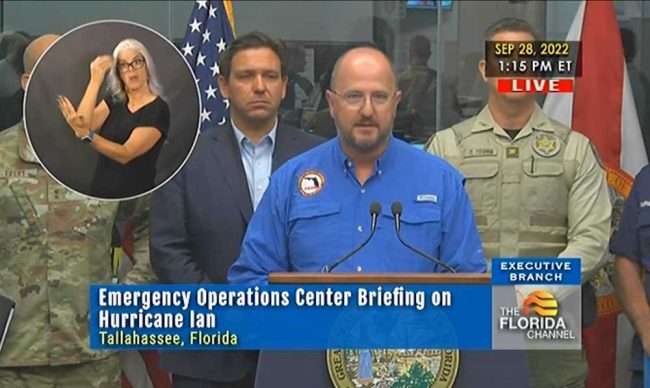 The Guard will have five urban search and rescue teams deployed in the immediate area of the hurricane's path.
In total, the governor said, "we have nearly 250 aircraft, more than 1,600 high water vehicles and more than 300 boats of all drafts and sizes including 250 already in the major impacted areas, and nearly 50 that are staged and ready to come in as needed. These include smaller rescue oriented boats, air boats and larger boats that will be delivering supplies by water if need be."
DeSantis will request an immediate federal disaster declaration covering all 67 Florida counties, which would reimburse 100 percent of storm-related costs incurred in the first 60 days of storm and post-storm activities.




More than 7,000 patients and residents have been evacuated from nursing homes, assisted living facilities and hospitals , including 350 patients from 15 hospitals, in the path of the storm so far, said Simone Marstiller, the secretary for the Agency for Healthcare Administration
"This is going to be a rough patch here for the rest of today and into tomorrow. But you know, we understand how significant this storm is. Yes, there'll be an immediate response. Yes, there'll be things that happen with recovery. Eventually there won't be much media attention on this as the weeks and months go on. But we understand a storm of this magnitude is going to require an effort over an extended period of time."
Previous updates are below.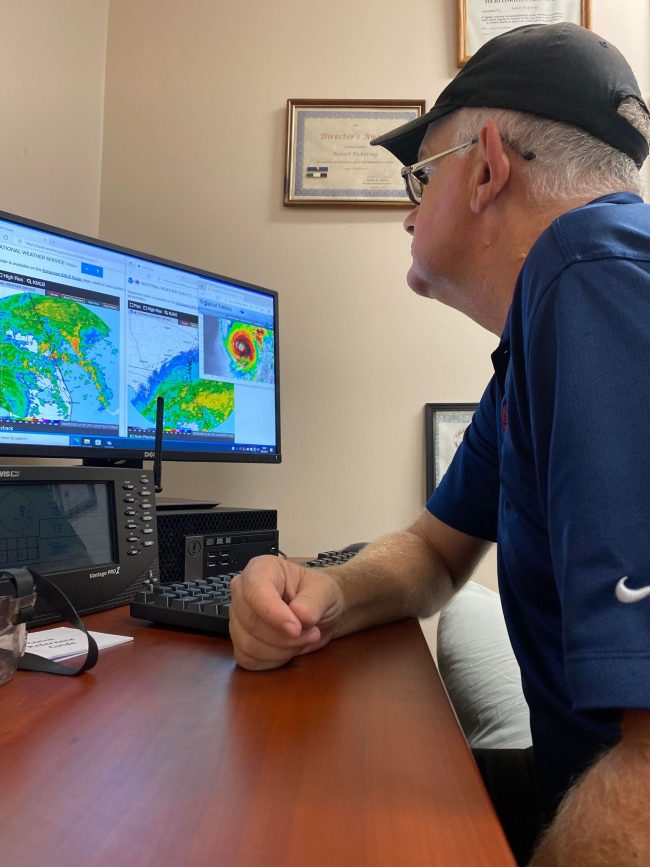 Cat 4 Hurricane Ian Brings 'Catastrophic' Storm Surge and Floods, Shifting Path Southeast of Flagler
Wednesday, 11:15 a.m.–The National Hurricane Center at 11 a.m. Wednesday extended hurricane warnings to portions of Florida's east coast, including the stretch of what NHC refers to as the south Santee River to the Flagler-Volusia County line.
The reason: Hurricane Ian is making landfall as a nearly Category 5 hurricane. It has not only strengthened in the last few hours. It has also organized itself better, which means it will remain a hurricane longer as it travels inland, after making landfall somewhere in Charlotte County in the next hour or two (between 11 a.m. and 1 p.m.).




At 11 a.m. Wednesday, the storm was 45 miles southwest of  Naples, it had slowed down a bit to 9 miles per hour–also bad news for areas on its receiving end–from  10 miles per hour at dawn. NHC described it as "an extremely dangerous eyewall" moving onshore.
"One important change is that Ian is likely to remain more intact as it crosses the Florida peninsula (due to both its stronger initial wind speed and its faster forecast forward speed)," NHC's 11 a.m. advisory stated, "and this now increases the threat of hurricane-force winds on the east coast of Florida. This necessitates the issuance of a Hurricane Warning on the east coast of central Florida."
That opens yet another possibility: the re-strengthening of what by then could be Hurricane Ian as it crosses over warm Atlantic Ocean waters, making its way north toward the South Carolina coast around Savannah. Meanwhile, "catastrophic wind damage," as NHC describes it, has begun along the southwestern coast of Florida, where a storm surge of up to 18 feet is expected in addition to up to three feet of rain.




"Hurricane conditions are possible from northeastern Florida to portions of South Carolina on Thursday and Friday, and a Hurricane Watch has been issued for that area" NHC warns.
Preparations for the special needs shelter at Rymfire Elementary in Palm Coast are complete, the Department of Health's Bob Snyder said late this morning, with the first guests expected at 1 p.m.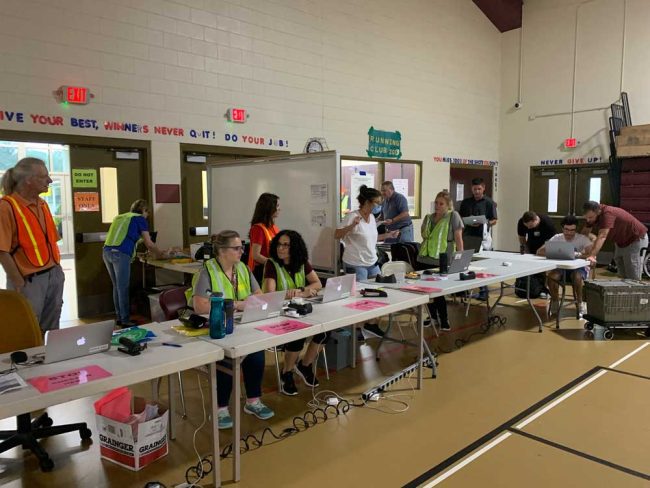 The special needs shelter is ready to receive up to 200 people, with 150 cots set up and a staff of no fewer than 80 Department of Health employees split in two 12-hour shifts to care for people with special needs. The school district's own staffers are preparing meals for all, at no cost. Flagler Volunteer Services is also providing a corps of volunteers to run the shelter, Snyder said.
A general population shelter will open at 1 p.m. at Bunnell Elementary.
At AdventHealth Palm Coast, the hospital has stockpiled thousands of gallons of water and generators are standing by to run the hospital on emergency power if necessary, according to a hospital statement issued late this morning. Sandbags are prepared should they be needed to secure doors and windows.
"The safety of our patients, visitors and team members is of the utmost importance," said Dr. Neil Finkler, Chief Clinical Officer of AdventHealth's Central Florida Division. "Our patients can rest assured that the hospital is a safe place, that we are fully staffed and will continue to deliver our advanced level of care throughout Hurricane Ian. All of our hospitals and freestanding ERs are open for our community's emergent health needs."
But residents are reminded that hospitals are not public shelters. The hospital system strongly encourages potential visitors to consider the advice of emergency officials to stay off the roads and remain at home until the storm passes, rather than visit loved ones at the hospital.
Wednesday, 7:30 a.m.–Hurricane Ian early Wednesday morning was a Category 4 hurricane with winds of 155 miles per hour as it neared landfall near Port Charlotte on the southwest coast of Florida. The storm is expected to continue inland as a hurricane for dozens of miles before degrading into a tropical storm as it crosses Central Florida over the next 48 hours.




In the area of landfall this afternoon, the National Hurricane Center warns, "we are now forecasting a catastrophic storm surge of 12 to 16 ft." and "destructive waves"  from Englewood to Bonita Beach, along with "catastrophic wind damage" beginning in the next few hours.
In a further warning, "heavy rainfall will spread across the Florida peninsula through Thursday and reach portions of the Southeast U.S. later this week and this weekend. Widespread, life-threatening catastrophic flooding is expected across portions of central Florida with considerable flooding in southern Florida, northern Florida, southeastern Georgia and coastal South Carolina. Widespread, prolonged major and record river flooding expected across central Florida."
Courts, government offices, schools and many businesses are either closed or closing today in  Flagler and much of Central Florida in anticipation of Hurricane Ian's impacts. The Flagler County Emergency Management issued evacuations orders for Flagler Beach and the rest of the barrier island, as well as portions of the mainland east of I-95, such as low-lying areas along the Intracoastal, this morning. A special needs shelter opens at Rymfyre Elementary at 1 p.m. So does a general population shelter at Bunnell Elementary. Additional shelters will open as needed.
Effective at 1 p.m. today, residents and visitors in mobile homes and RVs countywide are required to evacuate. Zone A, the barrier island from Flagler Beach to Marineland, as well as  low-lying areas in Zone B – the Bulowville neighborhoods east of John Anderson Highway and the Palm Drive and Lambert Avenue neighborhoods–are also in the evacuation zone. Non-elevated homes in the low-lying areas of our Zone F, which is the area surrounding and near Crescent Lake and Dead Lake to include Daytona North are also in the evacuation order.




The storm's current track, according to the National Hurricane Center, has shifted slightly east and south, compared to its track on Tuesday. At this point Flagler would be on the western side of the storm, as Ian is now expected to cross from near Orlando to the Atlantic Ocean closer to Daytona Beach than to Flagler Beach. The storm would reach Flagler County in the earliest hours of Friday.
"The shift it made is not huge," Jonathan Lord, Flagler County's emergency management director, said early this morning. "As you know, I always say ignore that center dotted line. It's really just a middle area of that cone. For us, it hasn't changed the fact that we are solidly near the middle of that cone.  Good thing is, it seems to have bought us a little time before we see the arrival of tropical storm-force winds. So the most likely arrival is not till late tonight. Earliest possible is this afternoon." But the likeliest is really 11 p.m.
"However, it doesn't mean we won't get bands in the afternoon," Lord said, referring to bands of rain. "But the bands come and go and it's going to build from there."




While forecast models continue to diverge, forecasters call for severe local impacts. The storm flooded the Florida keys before moving north. Rain accumulations in the next days are still expected to range between 10 and 15 inches in Flagler. The chance of tropical storm-force winds in Flagler remains in the 80 to 90 percent range. The storm surge along the St. Johns River is predicted at 3 to 5 feet, and at up to 6 feet along the already battered and dune-eroded Flagler shore, putting State Road A1A once again at risk of damage.
There are also "a few to several tornadoes possible," according to the National Weather Service in Jacksonville. That threat is especially pronounced in a zone from palm Coast to Jacksonville, and inland.
Locally, a storm surge warning was in effect from the Flagler-Volusia county line to the St. Mary's River, and for the St. Johns River. That means there's is a danger of life-threatening flooding from rising water moving inland from the coastline, or from water bodies such as the Intracoastal Waterway.
While Flagler may now be on the west side of the storm, which would result in a somewhat lesser rain, "I wouldn't hedge my bets on that," Lord said. "We are lucky that the chances that center when it comes near us or over us is very unlikely to be a hurricane. Nonetheless that center one way or another is going to be over us or very near us. And at that point, whether you're on the west side or eastside, because we're so close, it doesn't really make a huge difference. And because of the size of the storm, and the rain is coming before the center gets here, unfortunately  being to the west doesn't really benefit us."




The surge is coinciding with major high tides, especially around 11 a.m. Thursday and noon Friday. The National Hurricane Center has raised the flash-flooding probability for vast swaths of Central to southwestern Florida, including all of Flagler County, to at least 70 percent. On Tuesday, local officials compared the coming floods to those caused by Hurricane Irma in 2017, when it reached Flagler as a tropical storm and caused the Intracoastal to back into land. Some 400 homes were flooded and damaged.
The animated map below (click on the image for the animation) shows expected rain accumulation over the next three days: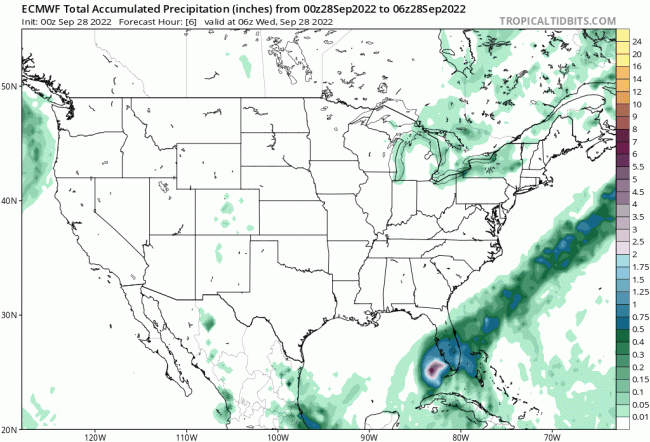 Wednesday morning at 5 Hurricane Ian was 75 miles southwest of Naples, with sustained winds of 140 miles per hour, moving northeast at 10 miles per hour. Ian is expected to slow down and make landfall today.
There is strong agreement between forecasting models for the next 24 hours, but there is some divergence over the storm track as it nears the east coast of Florida.
Flagler County in the initial days of the storm is relying on its responders–firefighters, law enforcement, emergency management. If the county needs additional help, there are options: National Guard personnel based at the flagler County airport, or other first responders either from Florida or from other states, who would respond through mutual aid compacts.
"I am more than excited and happy that we literally have the guard in our county, and I know they are staffing up that facility," Lord said. "So it is very comforting to know that if we have a need and request them from the state, that obviously the state is going to pick the unit that's closest to the requesting county. It only makes our lives that much better."
Here's the latest briefing from the National Weather Service in Jacksonville:
nws-jax-briefing (1)

[This is a developing story. More soon.]