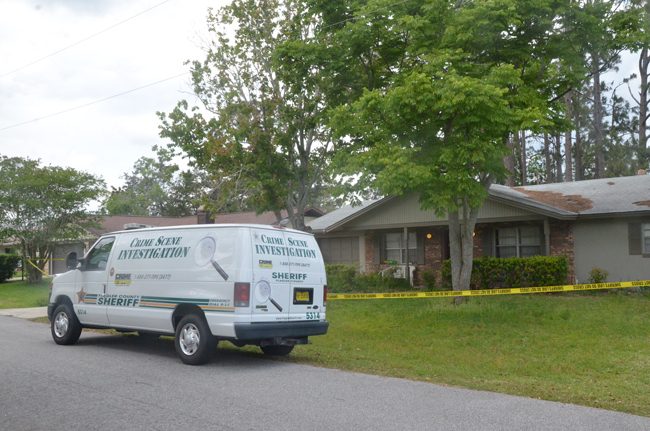 Last Updated: 7:40 p.m.
Brandi Celenza, 25, died of a gunshot today at 23 Felter Lane in Palm Coast in what authorities at the scene are describing as a suspicious incident–for now. That means it may be a suicide, a homicide or an accident.
"It's definitely suspicious and we're going to treat everything like this as a homicide until we prove different," a Flagler County Sheriff's sergeant in command of the scene said early this afternoon, outside the house. At the time, detectives and crime scene investigators had not yet gone into the house as they were waiting for a warrant.
Neighbors said the family at 23 Felter had moved in only two or three months ago, and consisted of a young couple and two young children, a boy of around 6, who had just recently started playing with a boy of the same age across the street, and a girl a couple of years older, though neighbors said they hadn't seen the girl lately.
Celenza on her Facebook page had described herself as "happily married for a year" to Keith Johansen and going by the name of Brandi Johansen. (They were married in May 2017.) "I love being in this mans arms i never have to worry about anything," she had captioned a picture of herself with Johansent in 2015. That year, Keith Johansen had faced two misdemeanor counts of violating an injunction for protection against domestic violence filed by the then-27-year-old mother of a child the 27 year old had in common with Keith. The violation-of-injunction charges were eventually dismissed.
There were two other people in the house at the time of the shooting on Felter Lane, a younger boy and an adult.
The older Palm Coast neighborhood of close-cropped houses, and Felter Lane especially, includes many young families, whose children even today were playing in front yards while other families, such as the one immediately across the street from 23 Felter, were enjoying the day in their yards with barbecue and other typical Saturday activities–until afternoon storms sent everyone inside. None of the neighbors interviewed today said they'd heard anything resembling a gunshot.
Authorities swarmed to the scene in late morning.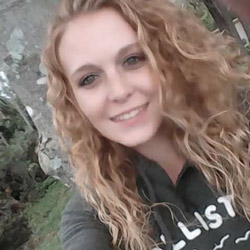 The house is owned by Palm Coast residents but had been on the market as a rental for a long time, neighbors said, before the young family moved in.
Sheriff Rick Staly had been at the scene earlier. The language the sergeant used, and the circumstances surrounding the incident, are similar to the language Staly had used in the early hours after the death of a woman on Point Pleasant in Palm Coast in mid-January, a death later termed a homicide. Michael Cummings was charged with second-degree murder in the death of his ex-wife, Faith Cummings, three days later. No gun was involved in that incident.
"I do have impressions but I don't want to hinder the investigation at this point," Staly said of the Felter Lane case, "that's why we're thoroughly investigating this to determine exactly what occurred." But he stressed that–as was the case on Point Pleasant immediately after the death was reported–the community has no reason to fear about anything or anyone.
"We believe we have every potential witness that we need to determine what happened, identified," Staly said.
He explained the approach of the investigators, who had to track down a judge on-call for the warrant: "There's no urgency to get into that house any longer, the exigent circumstances passed so now the time is on our side to go slow and methodical to determine what occurred." Things take longer on the weekend, when a judge is not necessarily readily available and the medical examiner may take longer to get to the scene, though several sheriff's units were lined up on Felter Lane.
It was past 6 p.m. when a warrant was secured and detectives and crime scene investigators made their way into the house.
Staly said it will likely be next week, when the medical examiner has determined the official cause of death, before more is known. "It takes time and you only have one chance to do it right," he said.
But the investigation so far was distinctly different than a typical suicide investigation, which usually takes a few hours and wraps up with a relatively certain determination of "no foul play" quickly. That has not been the case here, for now.
Celenza was not a newcomer to Palm Coast. She had previously lived on Farmbrook Lane, not far from her more current home, and on Fortune Lane, where her parents Joseph and Candy have owned a house for at least a decade and a half.