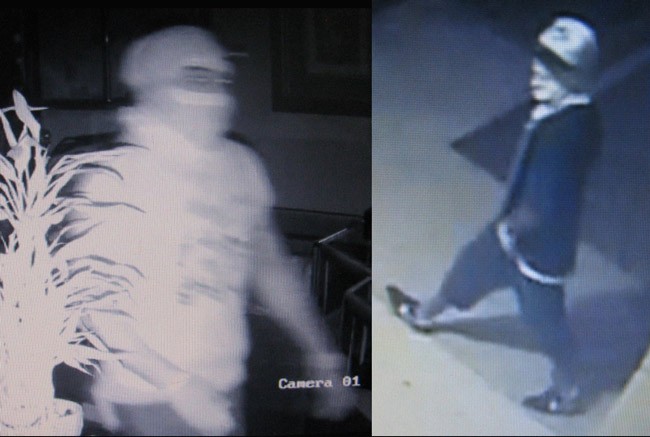 The Flagler County Sheriff's Office Friday released video of last week's burglary at Greg Lynn Jewelers in Palm Coast and tied the two suspects to at least four more similar incidents, two of them in Daytona Beach.
The jewelry store burglary unfolded after one of the suspects threw a cinder block through a window and entered the store with the second suspect. The man is seen in the vidoe throwing the cinder block, then walking in through the shattered panel and being shortly followed by the second suspect. The two men appear to have known the lay of the store: they each confidently go to work, rapidly emptying cabinets on either side of the store, and walking out in less than two minutes.
The two got away with about $6,000 in merchandise. The first suspect is described as black, 6 feet tall, thin build, wearing a black long-sleeved shirt, blue athletic shorts, white shoes and black and light brown gloves, with tattoos on both wrists. The second suspect is also black, 6 feet tall, medium build, wearing a white long-sleeved shirt, black shorts and shoes, and blue gloves.
A similar burglary took place shortly afterward at the Hess station at 6701 South U.S. 1. Daytona Beach detectives believe the same suspects are involved in at least two recent incidents, one on July 9 at 12:55 a.m. at Citgo, 895 N. Nova Road, and another on July 12. In the Citgo burglary, two black men attempted to steal money from the ATM machine. A stolen black Dodge truck was possibly involved, detectives said. On July 12, in an incident at 1437 S. Ridgewood Ave., a Discount Market, a Dodge truck was used to break a door and two black suspects were seen, Daytona Beach Police Detective Elizabeth Daniel said.
This morning around 3 a.m., yet another burglary attempt took place at Flagler Plaza, the same shopping center where Greg Lynn Jewelers is located, when Ace Hardware was targeted, though the would-be burglars did not make entry into the store. A report of that incident was requested but has not yet been provided.
Anyone with information about these incidents is urged to call Detective Joe Costello at the Flagler County Sheriff's Office Investigative Services Division at (386) 586-4801 in reference to case 2015-70536. In Daytona Beach, call Detective Elizabeth Daniel, 386-671-5218 or email [email protected].
The videos and the previous story appear below.

Greg Lynn Jewelers, Sharps Liquor and Hess in Palm Coast and Bunnell Targets of Burglaries Overnight
July 10–The Flagler County Sheriff's Office is investigating three potentially related incidents that occurred early this morning–at Greg Lynn Jewelers and Sharps Liquor in the Winn-Dixie shopping center on State Road 100, and at the Hess gas station and convenience store a distance away on U.S. 1 in Bunnell.
For the first two, deputies received two alarm calls approximately two minutes apart from each of the businesses, which have elaborate security systems. The first alarm call came in at 2:38 a.m. from Sharps, at 103 Flagler Plaza Drive. The second came in at 2:40 a.m. from Greg Lynn Jewelers at 101 Flagler Plaza Drive–the store next-door to Sharps.
The sheriff's office issued a news release about the burglaries around noon today.
Deputies arrived on scene minutes later to investigate both. At Sharps', deputies found that persons unknown threw a rock against the east side door, though no entry was made. At the jewelry store, deputies discovered that the glass next to the entrance door was shattered and people made entry to the business. Once inside, they took approximately $6,000 in jewelry.
Store video surveillance was able to show where two black male suspects, both of whom had their faces covered.
No suspects were located at either location. (As soon as footage is obtained from the store, it will be made available, the Sheriff's Office said.)
The final burglary was not reported until 5:12 a.m. when the Sheriff's Office received a call from a store employee of the Hess Station located at 6701 South US Highway 1 in Bunnell. There, the front glass door had been shattered. An ATM machine and some 40 cartons of cigarettes were stolen.
The incident could have occurred any time between 11:30 p.m. Thursday and when the call was made this morning. No suspects were identified or located.
Sharps has been the target of burglaries and robberies five times since October 2011, the last time in 2013, when it was the target of an armed robbery.
Anyone with information about these incidents, or any crime in Flagler County is urged to call the Flagler County Sheriff's Office Investigative Services Division at (386) 586-4801, or remain anonymous and be eligible for a reward by calling Crime Stoppers at 1-(888) 277-8477.