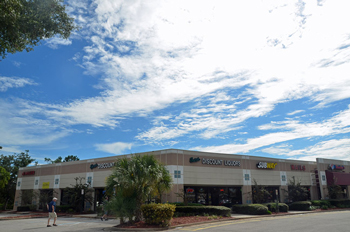 It's happened again. Sharps Liquor in the Flagler Plaza shopping center in Palm Coast was robbed. This latest robbery–the third since October 2011–happened under a bright sun on a busy shopping day almost at high noon, at 11:17 this morning.
Flagler County Sheriff's deputies are looking for a dark gray, newer model Camaro believed to be possibly connected with the robbery, the sheriff's office said in a release issued early this afternoon.
According to the release, initial information indicates that at around 11:17 this morning, a white male, entered the Sharps Liquor Store at 103 Flagler Plaza Drive. The suspect was wearing dark gray gym pants with white stripes about two inches wide down the legs, a dark hoody over his head, a mask that covered his mouth and nose, dark black sunglasses and black gloves with white stripes.
The man then pulled a gun, ordered the clerk to sit down and then took an unknown amount of money from the register. There were no customers in the store at the time and no one was injured.
Surveillance video showed the man fled the store, jumping into the Camaro, which then headed south on Old Kings Road.
Anyone with information on this incident is asked to contact the Sheriff's Office at (386) 313-4911.
On Oct. 1, the same store was the target of an armed robbery by two black men, both in their early 30s, in later afternoon. They got away with some cash and a $100 bottle of Hennessy, one of the better French cognacs on the market.
Last Oct. 31, at mid-morning, the same store was targeted by a man who grabbed the store clerk at gunpoint and ordered her to hand over money. The assailant, later identified as Jacquez Roland of Service Tree Place in Palm Coast, was arrested and charged with a series of armed burglaries, including one at the Microtel on Old Kings Road. He'd allegedly used a zip tie to tie his victims in each of the burglaries.