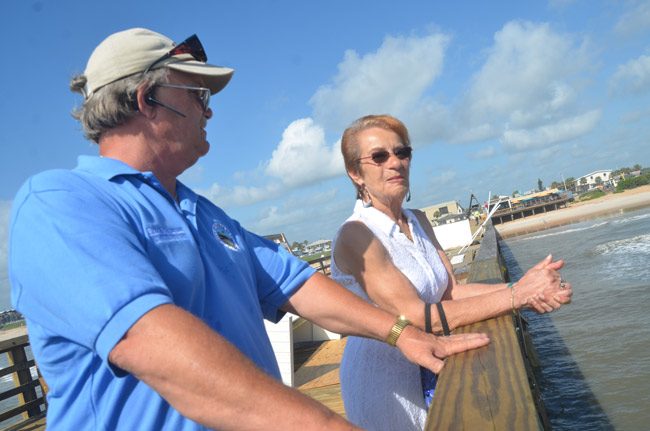 Update: The Flagler Beach City Commission voted 3-2 Thursday evening to adopt the prohibition on medical pot dispensaries, with Jane Mealy, Joy McGrew and Marshal Shupe for the ban, Kim Carney and Rick Belhumeur against.
Last November, Florida voters by an overwhelming margin approved a constitutional amendment legalizing medical marijuana. Flagler Beach voters did so by a 70 percent margin, in line with the state.
The Flagler Beach City Commission is now preparing to carve the city out of the constitutional right and ban medical pot dispensaries outright.
The city's planning board on July 11 voted to recommend the ban. The city commission takes up the ban this evening on first reading. It had agreed to consider the ordinance in a mere nine-minute discussion at the tail end of its last commission hearing, at close to 10 p.m., on June 22, before an empty chamber. That was not so much a discussion of the commission as a brief explanation by Drew Smith, the city's attorney, of the new medical marijuana law the Legislature passed in special session just weeks ago in June.
Smith had taken it upon himself to draft the ban ordinance already. He brought it up at the June 22 meeting and asked commissioners if they wanted him to proceed with it, given the new law's options: cities and counties may either ban dispensaries outright, or they must allow them to operate in the same locations as they do pharmacies. The only difference is a minimum 500-foot buffer between dispensaries and schools.
In the brief discussion, commissioners mumbled their consensus to go forward with the ban ordinance even though Smith also acknowledged the legal risk of a ban: "This was a constitutional amendment," he told commissioners. "We dealt with it with adult entertainment, we dealt with it with tattoo parlors where the courts have said, this is a constitutional right, you can't just ban it in your city. And I worry that if on a challenge somewhere down the road, a court could say, you can't just ban this in your city, which, if we all go through and ban it, then we've kind of are left with all or nothing."
Smith said he'd dealt with the issue by building in an "automatic waiting period," he said, should the city's ban be struck down or invalidated by a subsequent law. That would be a 90-day moratorium on applications to open a dispensary. But the waiting period is meaningless: it is a speculative palliative that only underscores the city's legal haze as it heads toward adoption of the ban, one intended for commissioners to be able to claim they have an out, when in fact, they do not: any provision in any ordinance could be invalidated, and it is customary for local governments to adapt in reasonable time. The end result of the proposal is in fact a ban that would go in effect as early as July 27, when it would be adopted on second reading.
If it does, it places Flagler Beach at the forefront of cities taking the prohibition approach.
The city is doing so even a majority of the commission, including its chairman, Jane Mealy, favor medical marijuana. But the rationale put forth does not rest on evidence or economics as much as on discredited and discriminatory assumptions that still draw parallels between marijuana and harder drugs. Mealy went as far as making a gravely spurious connection between marijuana and opioids: up to 65,000 people's deaths have been connected to opioids in 2016. None has been to marijuana, whether medical or recreational.
"I'm a truly believer in it—I know people with Parkinson's and people with terrible pain who would benefit from it but I wouldn't want Flagler Beach to be the medical marijuana center of northeast Florida," Mealy said.
She explained: "The way the state set it up, what finally convinced me to support what the [planning] board approved and what we had recommended to begin with, if the county and Palm Coast and Bunnell and everybody else in Flagler County banned the dispensaries, let's say the treatment centers X is, I don't know, in Palatka, and they're allowed to have 25 dispensaries, all 25 of them could end up in Flagler Beach if everybody else all around us banned them. So while I would not be opposed to having one in Flagler Beach, having 25 would be a little bit of overkill. So until the state realizes what they've done, if they ever do, I think this is the best way to go." Mealy said the state wrote the law in a way that set up local governments to fail, leaving them no choice.
It's not clear how a local government would "fail" if it were to attract numerous new businesses in the form of medical pot dispensaries—or how the market itself would not control the number of dispensaries by the age-old rule of supply and demand. In Gainesville, for example, the city never imposed a moratorium on dispensaries even before the Legislature offered up its special session regulations. One dispensary opened there. None other.
Legislators were under fire from the likes of attorney John Morgan, who's led the campaign for medical marijuana, because they were placing too many restrictions on the dispensing of pot after voters approved the constitutional amendment. The breakthrough in the last special session was enabled once legislators agreed not to place undue limits on dispensaries. Misinformation and mischaracterizations about the amendment—and about marijuana—continue to shadow the debate and, now, policy.
The proposed Flagler Beach ordinance states, for example, that the city's preference would have been to locate dispensaries exclusively in industrial zones—in other words, to treat dispensaries like strip joints. But strip joints draw their constitutional protection only by inference from the First Amendment's right to free expression, including lewd or distasteful expression. Medical pot dispensaries draw their protection from an explicit constitutional protection that just as explicitly links medical pot to the "health, safety, and welfare" of Floridians—the same "health, safety and welfare" Flagler Beach claims to be protecting by banning the dispensaries.
The words are in the city ordinance's preamble: "The City Commission of the City of Flagler Beach finds it to be in the best interest of the health, safety, and welfare of the residents, businesses, and visitors of the City of Flagler Beach to prohibit medical marijuana treatment centers within the jurisdictional boundaries of the City at this time."
The ordinance offers no evidence to support the claim. Nor did commissioners at their June meeting, nor did their attorney, nor did Mealy in the interview today. Even though Mealy supports medical marijuana, she said she was "afraid it's going to grow into something more as it did in Colorado and Oregon, which I'm not in favor of. Again the state has created an untenable situation for us." Colorado and Washington have legalized recreational marijuana, as have Alaska, California, Maine, Massachusetts, Nevada, Oregon. Many more states have decriminalized it, and 29 states have legalized at least medical marijuana. (See details here.)
Flagler Beach City Manager Larry Newsom put a little distance between himself and the commission's decision, saying this was the commission's issue, not his recommendation: he was entirely silent when Smith, the city attorney, presented his proposed ban in June, and hasn't spoken publicly about the proposal since. In an interview this morning he said the commission was trying to position itself safely in relation to its zoning laws.
"I don't think long term the city intends to go against the will of the people, but I won't speak for the commission. I put it on the agenda, but I'm not the one who's the driving force for this," Newsom said. He recognized the medical pot industry's economic value. "Potentially it could actually be a pretty decent tax base like tobacco and alcohol. I think it's too early in the game."
He added: "There's a lot of misconceptions that these facilities—and I'm speculating—that these facilities are going to attract customers that may not be desirable. I don't know. Everything I've seen on TV, they're very clean facilities, they function like pharmacies, but they're still some unknowns."
Flagler Beach would also be acting on sheer speculation when it comes to other local governments' motives. While Bunnell has generally taken a strict, no-pot approach whenever it could, the Palm Coast City Council has been more open to exploring the potential business benefits of medical pot. Palm Coast Council member Nick Klufas had been opposed to a moratorium in the city until his colleagues' unanimity convinced him to join them, but on the premise that the city's moratorium was only intended to give the administration time to adapt to the new legal landscape—not on the assumption that medical pot dispensaries would be banned in the city.
A few weeks ago the Palm Coast council again discussed the issue, and again reflected a generally open approach to medical pot, with the exception of Steven Nobile, the council member least favoring medical pot. But even Nobile did not speak in outright opposition to medical pot. The city is expected to take up options at a workshop later this month.
"I'm more along the thought that this is what voters asked for and we need to ensure that we're allowing patients who need access to med marijuana to have access to that," Klufas said in an interview today. He called Flagler Beach's approach "disconcerting."
Mealy was asked whether, if Palm Coast were to allow dispensaries, she would change her mind about opening up the city, as the fear of it becoming pot central would have evaporated. "That would allay my fears somewhat," Mealy said, "but I'm really looking to the state to say, this was not the way this should have gone. I guess I'm waiting for John Morgan to step up."
The expectation of Morgan's actions is perplexing, given Morgan's favoring of more, not less, permissive approaches to pot. (Morgan is expected to run for governor in 2018.)
The Flagler Beach City Commission is not necessarily of one mind on medical pot. Rick Belhumeur was initially unsure how to take the ordinance, but on reflection, he said: "Maybe people are thinking they're afraid people are going to swarm Flagler Beach to buy their pot, but that's not what it is. If it was smokable stuff then maybe that would be different but I don't totally understand the reasoning behind it."
He then drew on personal knowledge to defend dispensaries: "Somebody would have to give me a really, really good reason not to, but I don't think I'd be against it," he said, referring to allowing dispensaries. He then spoke of a Vietnam veteran he knows in town and the veteran's use of marijuana. "That's how he gets through everyday," Belhumeur said. "Of course he burns his. But I just leave him alone. He was a radio man in Vietnam, I just can't envision what he's been through. They were the Number One targets, take the radio man out, so that was kind of before all this PTSD stuff. People didn't come back from Vietnam with that as an excuse, although they went through the same scenario of not worse. I can't imagine walking through a jungle and being scared with every step you take. But he's got medical issues related to Agent Orange and his leg has kind of crippled up, so he really has pain issues. Something like that would be good for him, he wouldn't have to break the law and go buy his burnable pot."
Eric Cooley, owner of the Flagler Beach 7-Eleven, a near-permanent presence at city government meetings and civic and volunteer initiatives, many of them of his own making, spoke to the planning board of his opposition to the proposed ordinance, noting some of the tobacco and alcohol products on sale at his store can be more harmful than medical pot.
Asked about the proposal today, he said he was compelled to address the matter from a moral perspective. "First," he said, "there is no logical reason to ban a medicine that has been approved by both doctors and voters and is tightly regulated by the government. There simply is no risk involved to justify this ordinance. The state gave local municipalities the ability to regulate these in the same manner as a pharmacy, which makes sense. This industry is designed to bring cures to folks with debilitating medical conditions. To make these individuals travel in order to get the cures they need is counter-productive and that would leave many of the people needing this under undue hardships. In addition Flagler Beach voted for this item so it is imperative our elected officials remember it is their job to adhere to the will of the people. This topic is not about what five people sitting up front want. This topic has already been debated and voted on. Marching orders where put in place when the November election closed."

Flagler Beach's Proposed Medical Marijuana Prohibition Ordinance (2017)