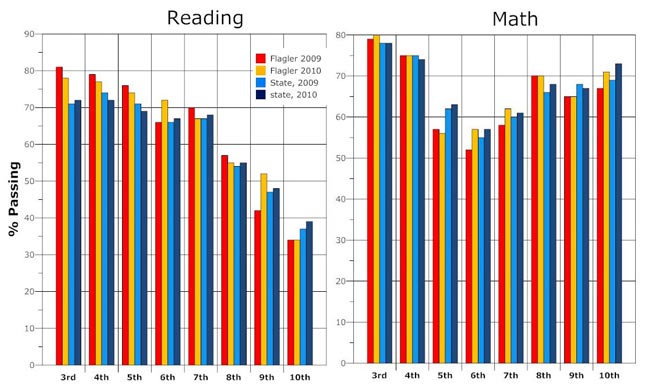 The Florida Comprehensive Assessment Test scores were finally released on Tuesday for districts and individual schools across Florida. Flagler County's results were not quite worth the wait.
Every grade but the 6th and 9th posted declines in reading, though the improvements in 6th and 9th grade were significant. The district did better in math, either improving or holding steady in all grades except the 5th, where students lost one percentage point over 2009.
Two significant bright spots: Flagler Palm Coast High School, which scored an overall "D" its last time out, improved its 10th grade reading scores from 31 percent proficiency last year (or 10th graders passing the test, and therefore qualifying for graduation two years later) to 35 percent this year, exceeding the district average by one point. But Flagler 10th graders are still well below the state average of 39 percent who pass their first time out. The high school's 10th graders vastly improved in math over last year's crop, too: 73 percent got a passing grade or better, compared to 65 percent last year. Reading and math grades are critical: without a passing grade in both, students may not graduate.
Ninth graders at FPC did exceedingly better in reading, too, improving proficiency rates from 41 percent last year to 52 percent this year, the single-largest jump in reading in any discipline, in any grade, the district. Ninth graders' successful math rate at FPC declined by one point, from 67 to 66 percent, but 10th graders improved their math rate from 65 percent to 73 percent, a significant jump that helped the district overall improve from 67 to 71 (in the 10th grade math category). In all, improvements at FPC suggest that the school's "D," which it got last year, is history.
But reading in 10th grade remains a dismal story no matter how you look at it. Just 35 percent of FPC's 10th graders scored a 3 or above this year. It's up from 31 percent, but that's like being up from catacombs (a word 75 percent of 10th graders likely would not understand, but should). Matanzas' 10th graders took a big slouch downward, from 42 percent passing at 3 or above last year to 36 percent this year. Overall, just 34 percent of the district's 10th graders are proficient. A slightly larger proportion actually passed, and may qualify for graduation, because in 10th grade, the state plays games with the scoring system, lowering the bar of a passing grade below that of actual proficiency, otherwise too many 10th graders would despair and quit. The state's thinking is to deceive them a bit longer and let them despair after they graduate.
The decline in reading abilities isn't a Flagler specialty, but a Florida specialty. Look at the graph above. It's a literacy nosedive as students sprout up and bulk up.
For better news, go back to middle school.
Buddy Taylor Middle School's 7th graders scored the single-biggest jump in math in any grade with a nine-point improvement, from 54 percent to 63 percent. Matanzas High School's 9th graders scored an equally big jump in reading, from 47 percent to 56 percent.
Keep in mind that it's not quite a fair comparison: comparing one class to another doesn't take in account vast differences between classes. It's entirely possible that one class is more intellectually endowed than another, just as social and economic conditions may affect one class more than another. Rymfire Elementary's students have been especially buffeted by transience as a result of the housing crash. So it's not entirely a reflection of the school's quality itself that grades decline year over year–just as it's not necessarily a reflection of the school if grades improve. Many factors play into the results either way, which is why, the state's high-stakes obsession with those scores aside, FCAT scores should be kept in perspective.
It's equally notable that, while Florida may take pride in its scores, with big majorities of its students appearing to be proficient in reading, math and writing (except in high school), Floridians fare far more poorly when compared to national standards. Most would fail national proficiency standards either in math or in reading and writing.
That, too, should be kept in mind as you take in some statewide back-patting highlights, as reported by the state Department of Education:
The percentage of students scoring proficient and above in reading increased by one point in grades 6 (67 percent), 7 (68 percent), 8 (55 percent), and 9 (48 percent), and two points in grade 10 (39 percent).

The percentage of students scoring proficient and above in mathematics increased by one point in grades 5 (63 percent) and 7 (61 percent), two points in grades 6 (57 percent) and 8 (68 percent), and four points in grade 10 (73 percent).
The percentage of students scoring proficient and above in science increased by three points in grade 5 (49 percent), two points in grade 8 (43 percent), and one point in grade 11 (38 percent).
You can check school-by school 2010 results in math and reading, with comparisons to previous years going back to 2006. The individual school reports are being posted gradually. Check back soon if your school is not yet on the list. Just click on the school in the chart below:
FCAT Report Cards By School
FlaglerLive thanks Flagler County Schools' Jim Devine, without whose help these reports would not have been possible.