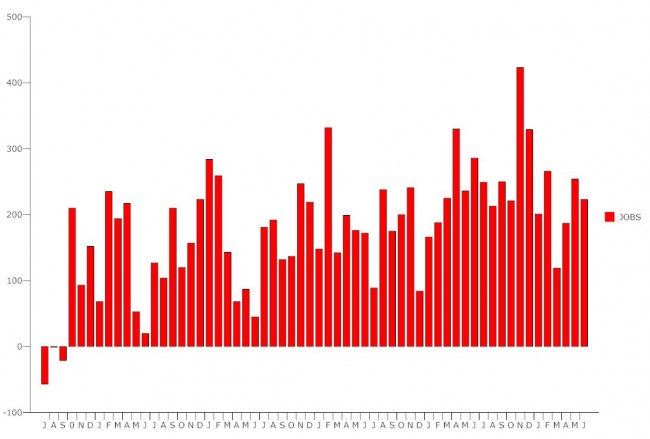 The American economy is on cruise control, and not all for the good.
Except for March and April, when job creation dipped to 119,000 and 187,000, the economy has added 200,000 jobs a month or more for the past 15 months, continuing the sort of extended performance last seen in 1999, when the economy neared full employment.
It's not there yet, having still more ground to make up after the Great Recession. But in June, the economy added 223,000 jobs, lowering the unemployment rate two decimal points, to 5.3 percent, its lowest level since April 2008, when it was 5 percent and heading up. Figures for April and May were revised downward, however, shedding 60,000 jobs, though the total for those two months remains a healthy 441,000 jobs.
And the declining unemployment rate was helped by a negative factor: The civilian labor force shrank by 432,000 in June, following an increase of similar magnitude in May. The labor force participation rate declined by 0.3 percentage point, to 62.6 percent in June, keeping it at historically low levels. But the numbers also reflect a trend long expected: the migration of retiring baby boomers off the work rolls.
Another unimpressive performance: wages remained flat in June, with average hourly earnings at $24.95 for the second month in a row, keeping average hourly earnings' improvements at barely 2 percent for the year, not enough to overcome the cost of inflation. For all the economy's overall improvements, when it comes to the majority of workers, there are no improvements where it matters: in families' standards of living.
The number of unemployed people declined by 375,000, to 8.3 million. The more accurate measure of unemployment and underemployment, which includes the number of people working part-time because they cannot find full-time work, or because their hours have been cut back against their will, is 10.5 percent, a decline from May's 10.8 percent. There were 6.5 million people working part-time in June because they couldn't work full-time. The number of long-term unemployed (those jobless for 27 weeks or more), who account for a quarter of the ranks of the unemployed, declined by 381,000 to 2.1 million.