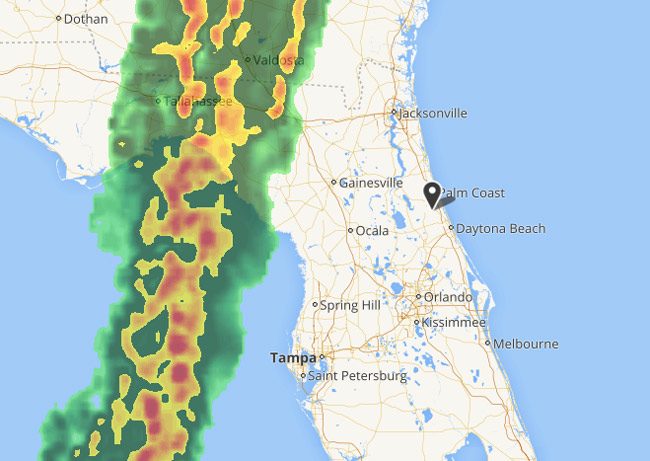 5 p.m. update: The National Weather Service cancelled the tornado watch as of 5 p.m., but more precipitation and scattered storms were still expected in early evening.
The National Weather Service has placed Flagler, St. Johns, Putnam and 14 other counties in north and northeast Florida under a tornado watch Sunday until 6 p.m. The weather service issued the watch at 10:10 this morning.
The weather service is predicting a line of severe storms rolling over northeast Florida from the west around mid-afternoon to early evening. The squall line is expected to produce locally heavy rainfall of 1 to 2 inches, with locally heavier amounts, and winds of 30-40 mph.
"The strongest storms will be capable of large hail and brief tornadoes," the weather service cautions, "especially over eastern counties during the mid-late afternoon." The threat time is primarily mid-morning through early afternoon West of Waycross, Ga.– Gainesville, Fla. line, and mid-late afternoon east of that line.
Here's a brief explanation of the difference between tornado watch and a tornado warning from the weather service:
Tornado Watch
: Be Prepared! Tornadoes are possible in and near the watch area. Review and discuss your emergency plans and check supplies and your safe room. Be ready to act quickly if a warning is issued or you suspect a tornado is approaching. Acting early helps to save lives! Watches are issued by the
Storm Prediction Center
for counties where tornadoes may occur. The watch area is typically large, covering numerous counties or even states.
Tornado Warning: Take Action!
A tornado has been sighted or indicated by weather radar. There is imminent danger to life and property. Move to an interior room on the lowest floor of a sturdy building. Avoid windows. If in a mobile home, a vehicle, or outdoors, move to the closest substantial shelter and protect yourself from flying debris. Warnings are issued by your
local forecast office
. Warnings typically encompass a much smaller area (around the size of a city or small county) that may be impacted by a tornado identified by a forecaster on
Radar
or by a
trained spotter
/law enforcement who is watching the storm.
Useful links:
NWS Jacksonville Webpage: weather.gov/jax
NWS Jacksoville Facebook: facebook.com/US.NationalWeatherService.Jacksonville.gov
NWS Jacksonville Twitter: twitter.com/NWSJacksonville
Sign up for Weather Alerts: inws.wrh.noaa.gov/