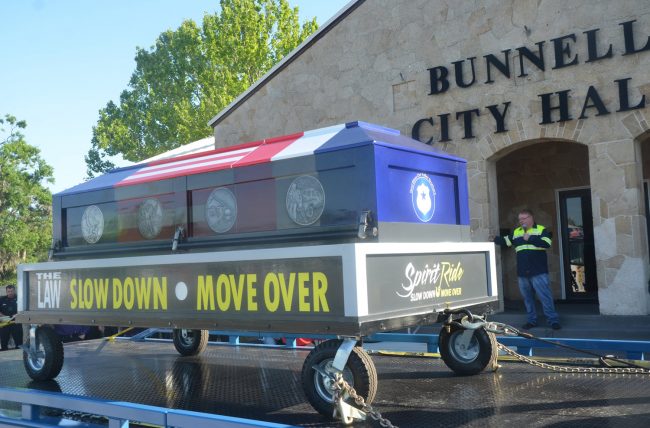 On Monday a tow truck operator in Washington, D.C., lost a leg after a car struck him on I-395. Last week Allison Huffman, a 38-year-old Tampa woman, pleaded guilty to striking and killing a tow truck operator on a bridge and driving on. Last month, hundreds of tow truck operators gathered for a funeral in an Andover, Mass., procession honoring one of their own, killed while responding to a crash.
John Rogers, owner of John's Towing and Bunnell's vice mayor, this morning recalled a colleague from Holly Hill's Arrow Wrecker called Frank Ish. Rogers had worked a scene with Ish at the same time, on State Road 100 and I-95, back in the 1990s. A couple of nights later, Ish was working a scene on I-4, in a median, offloading the cargo of a semi that had overturned. A 17-year-old driver careened into the median and ran over Ish. "He was dead instantly," Rogers said. "Ish was in that casket after that."
Rogers pointed to the symbolic casket in front of him, on the flat-bed of a tow truck, parked this morning at the old Bunnell City Hall as it was half-ringed by dozens of people, many of them tow truck operators wearing yellow shirts, many of them firefighters, cops, deputies and other responders. Round the lake just beyond where the casket was parked another half-ring formed, that of some 15 tow trucks from different regional companies that were taking part in the Spirit Ride's processions today, with further stops in Deltona and Heathrow.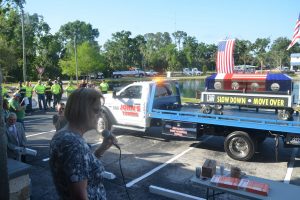 The casket was part of American Towman's Spirit Ride pilgrimage through more than 200 cities and towns across the country through the year, an effort to bring attention to the dangers emergency responders face every day, the deaths and injuries they incur, and the importance of the Move Over law, which requires drivers to move over at least a lane when passing a zone where emergency responders or roadside laborers are working.
"We are here to make awareness and let it be known that our cause for the Spirit Ride is not just for the towing and recovery men and women that are on the side of the road," Rogers said, opening the ceremony from the steps of the old city hall, "but it's also for our first responders, for law enforcement, for our firefighters, for our ambulance workers, for our construction workers, and we're here to bring awareness to the motoring public that we do want to go home at night to our families."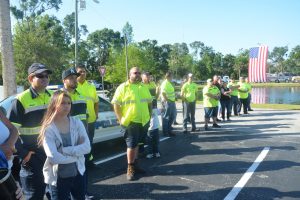 Reliable numbers are difficult to come by, but Mike Corbin, the songwriter who is driving the Spirit Ride coach with his wife Ilce across thousands of miles—and who was himself severely injured at roadside in a hit-and-run when he'd stopped to help a stranded motorist 19 years ago in Rockland County, N.Y.—says about 100 first responders are killed at roadside every year, 60 of them tow operators. So far this year 14 operators have been killed, he says. It's only recently, though the efforts of American Towman, the magazine, that more attention was brought to tow operators' less glamorous, often snubbed but particularly dangerous work. Starting in 2009, the International Towing and Recovery Hall of Fame Museum in Chattanooga, Tenn., dedicated the Wall of the Fallen honoring towers killed in the line of duty.
Corbin—a carpenter who built the coffin for American Towman–gets a lot of reactions when he's driving along, from other drivers who take the casket to be part of a real funeral. "Which is really the purpose of this. It could be a real funeral," he says. "Someone is in there. The spirits of the fallen are in there. It helps really, hopefully helps, at least someone realize that they have to move over and slow down. That's the purpose."
All 50 states now have Move Over laws. New Mexico last June became the 50th state to enact the law.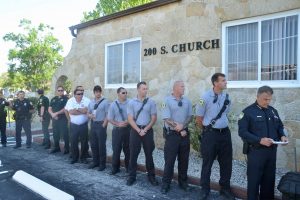 "I love the flag and I love my first responders," Bunnell Mayor Catherine Robinson told the crowd at this morning's ceremony. "That includes the county's first responders, the firefighters, the police department, my firefighters, the people who work on the streets, the people who keep our streets safe, our city employees who are out there on the side of the roads, mowing, repairing and taking care of things, they go to work every day and expect to do their job and come home at the end of the day." But sometimes, the mayor said, referring to emergency responders' work as a higher calling, "that doesn't happen, and we need to be mindful of the work that everyone does, the first responders, the tow company, the people who work the wrecks. We see them all the time. I-4, it's a death trap out there from I-4 to I-95."
Others spoke, including County Commissioner Nate McLaughlin, Bunnell City Manager Dan Davis and Police Chief Tom Foster, Sheriff's Cmdr. Gerald Ditolla and Flagler County Fire Rescue Chief Don Petito. "The amount of car accidents on our roadways has increased so much over the last couple of years," Petito said, "now we take extra precautions. What we ask everybody to do is not get so frustrated when they're stuck in traffic because you see a big fire truck blocking the traffic, especially law enforcement, it's because we're trying to keep everybody safe. So when you see that, realize that's what's going on, and we'll get that road open as quick as we can."
Later this morning a Flagler Sheriff's Office detail escorted the casket and the rest of the procession to the Flagler-Volusia County line, where the procession was then escorted by 10 units of the Volusia County Sheriff's Office to its next stop in Deltona. Rogers drove the tow truck bearing the casket.