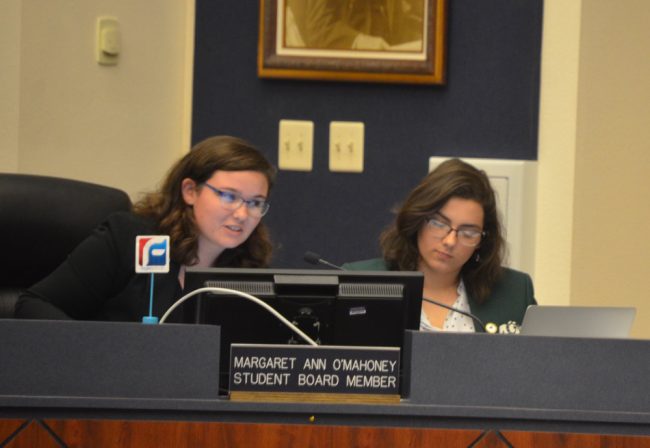 The Flagler County School Board Tuesday approved a three-year, $55,500 contract with Vermont-based Social Sentinel to troll eight different types of social media accounts in and around Flagler schools and issue alerts to district staff when certain key words indicating suicidal thoughts, crime or other mischief are detected.
The approval followed a 50-minute discussion with Heather Harer, a sales director for Social Sentinel, including numerous questions from board members and more particularly and pointedly from the two student board members—Margaret O'Mahoney and Jessica Middleton.
Harer, however, while repeatedly and obsequiously flattering of the board, skirted around key questions, including a question posed at least three times in different ways by either elected or student board members: how Social Sentinel differentiates between surveilling students' social media accounts and those of faculty, employees or the public at large, and to what extent its surveillance is or is not limited to school campuses. Harer answered in general terms, using a lot of technical language—"it's got multi layers, so we have what we call a local digital footprint of exactly who your district is, and that's your school district, and within that footprint we build out information very comprehensively about your school buildings, your locations, we use association-based information to understand exactly who you are as a school district to differentiate between our other clients, so that's how the information pulls"–but never answering the question more directly than that.
In effect, the surveillance applies a wide net to geographically-tagged social media account without necessarily distinguishing between students, faculty, visitors, passers-by or neighbors. It is the first time the school district is implementing a surveillance system that potentially–if systematically–breaches campus limits and treads into the community at large, placing district officials in a para-policing posture, if only as adjuncts to law enforcement.
Contrary to certain public assumptions, the system has nothing to do with monitoring school-issued computers, whose network is already equipped with its own filtering system. Social Sentinel is not about hardware but posted data, whatever the means or the medium, as long as the data is publicly visible in any one of the social media platforms it scours, whether the postings issue from school-based computers, from smart phones, from residents', employees' or visitors' computers and smart phones.
O'Mahoney questioned how Social Sentinel could differentiate between anonymous or pseudonymous social media accounts and those of actual students. Board member Colleen Conklin kept Harer from answering, saying those alerts are turned over to law enforcement, which, Conklin said, based on her own experience, "has the capability of doing that."
O'Mahoney and Middleton had been concerned about the lack of student or parental involvement in discussions leading to the contractual proposal with Social Sentinel: the board only learned about it in a workshop on April 3, and discussed it for about 30 minutes then before considering its approval Tuesday evening. Johnson was candid: "Because of not wanting to breach the security measures that we're trying to take here to ensure our students and staff will be safe, we have not gone to the public with this." He did not explain how being transparent about a company that ostensibly does its work transparently, and by relying exclusively on publicly accessible information, would have breached student or staff security.
Conklin, never previously known as an advocate of secrecy, was more blunt: "Lot of districts that adopt this never even talk about it publicly, because it kind of defeats the purpose almost, sorta, right?"
Social Sentinel has contracted with 12 sources such as Facebook, Twitter, Instagram, YouTube and other such public platforms to scour data and use what it calls its "threat library" of 450,000 key words or phrases that, combined with context and source, may trigger a threat "alert" to clients—in this case, what will be five to eight district-based administrators who will receive the alerts and decide how to handle them.
The student board members asked what specific process is in place to handle the alerts. But neither the administration nor the board explained what that process would be, nor were the district employees responsible for handling the alerts named.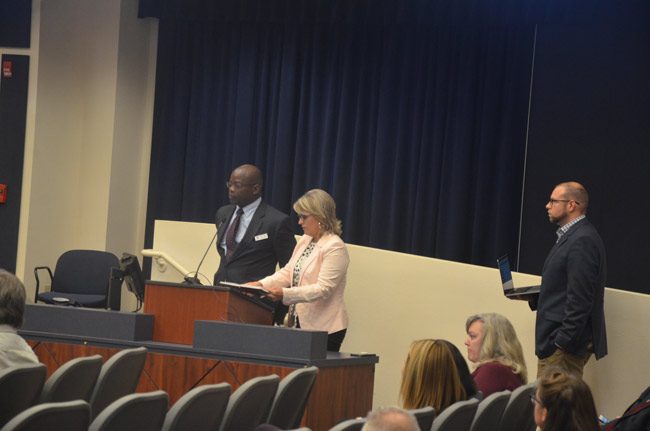 Social Sentinel does not troll private messaging systems like Snapchat or private messages on Facebook, nor can it detect pseudonymous accounts—social media accounts created by individuals who invent names or pretend to be located in one place as opposed to another.
"It's really contingent upon the school district to make sure the information is handled properly," School Board member Andy Dance said, noting the absence of procedures at the moment that outline those procedures (an absence the student board members noted as well). On April 3 Dance had requested that Sentinel provide its own list of "safeguards" on its system's uses and applications, and some references from other users or clients. Social Sentinel provided neither, claiming (without providing that evidence) it has contracts with some 250 school districts, colleges, universities or local law enforcement. Board members—and the public—were limited to brochure-type assurances from the company. Even then, the explanations were vague.
"One of your comments in the brochure you handed out," Dance asked Harer, "you referred to respecting the community's right to privacy and association by incorporating constraints that ensure your users are not targeting individuals or groups and are unable to go on fishing expeditions. So explain that, for the security of the public, how it's targeted and how we're not going on these fishing individuals or targeting individuals or groups."
Harer's response was remarkably meandering, and did not answer the question: "Just as you just read, you know, it's about respectful understanding and listening, it's looking at the First and Fourth Amendments, being able to understand what people's rights are, and we're only dealing with public accessible data, so right there, that's information—I was talking to a client the other day and one of the comment that they made to me was, 'It occurred to me before I started using Social Sentinel that we were the only people who weren't aware of this information,' so, meaning, you know, you could have, whether it'd be anyone who's making these threats, they probably have a following and send out, you know, sometimes it's 500, sometimes it's 1,500, so think about it as, if someone's making a threat on your district and 1,500 people have already received that, but who hasn't received it? The most important group, the group that could do something to deter that. Timing is essential these times. It is critical that we understand this language of harm or threat and that you the right people are able to put and deploy processes in place so that you can alleviate that. And so I think about this in situations where it was explained to me, now what it does is it puts a proactive approach into you and how you're doing, you know, business, basically, within your school. You're not now going to react."
Dance did not follow up. The students did.
"This is something that the students are confused about," Middleton said. "I know that there's a certain level of expectation nowadays for students to have, what they're posting is monitored. We're taught from the age of middle school that what we post colleges can see, workplaces can see, our school district can see, but I think there's a concern about what exactly this program is doing and how efficient it's going to be rather than trusting the voice of the students."
The selling point for the system—for Superintendent Jim Tager, School Board member Colleen Conklin and senior administrator Earl Johnson, the point man on the contract–is primarily to address issues of mental health, including suicide prevention. Johnson said he spoke to an administrator in another school district (which he did not name) and reported that the district through Social Sentinel had identified four students who had appeared to be threatening suicide. "My question to him was, do you think you saved the lives of four students?" Johnson told the board. "And his response was, I can't say I saved the lives of four students because I don't know what would have happened, the end result, however we still have those four students in our school district and they're doing very well at this time."
Tager, a former principal, stressed that point: "The one thing that always sticks with me is I've had students who have committed suicide and we have a high suicide rate here," he said. "There's not a price you can tell me on one student's life, so this is something to look toward and it is an innovative possibility."
"I would hate to have any other people that are worried about their privacy be the next victim," board member Janet McDonald said. "It's a valuable tool that the community can embrace because of its neutrality."
The $18,500-a-year contract is "locked in for three years," according to Johnson: Tuesday evening was the first time the public was hearing about the three-year commitment. The contract will be paid for with revenue from the half-penny sales surtax that voters approved several years ago. Voters approved the surtax to enrich the district's technology and technology-related curriculum. The referendum was silent on surveillance contracts.
The item drew no public comment at the meeting.

The Social Sentinel Proposal (2018)