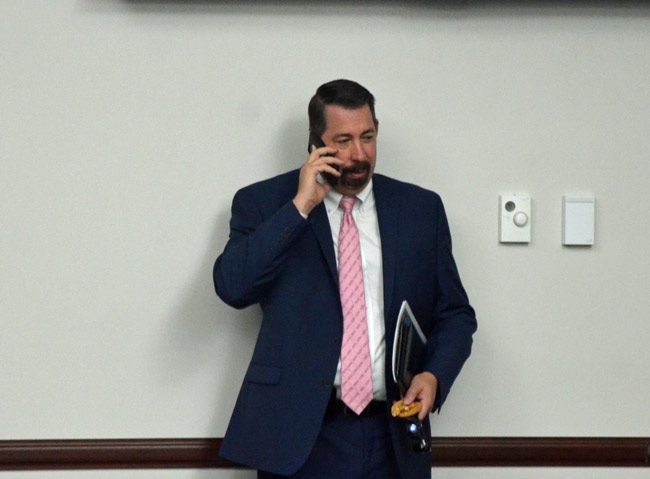 Earlier this week FlaglerLive reported that Sally Sherman, Flagler County's 59-year-old deputy administrator, had "retired" from the position she'd held for 10 years on Feb. 28, with a salary of $138,468, and returned the next day as a consultant, with a salary of $148,740, as an employee of a faith-based employment agency called JMI Staffing Solutions.
New details uncovered indicate that to retain Sherman as a worker in Flagler government, taxpayers are actually paying $190,000 a year: $148,740 as her salary, plus an additional $41,642 to the private company for making Sherman available as a "consultant" (since she's barred by law from being a county employee).
On top of that, she gets $68,172 in annual retirement pay, bringing the total annual cost to taxpayers to $258,554 for the year.
If Sherman had stuck to her pledge to retire in accordance with state retirement rules, the cost to taxpayers would have been limited to her retirement check of $68,172. Contrary to claims that it is a wash for her to keep working, Flagler County is paying nearly $200,000 more to ensure that she still works here.
Her salary as a consultant was provided by a county spokesperson when asked in early May: "She is paid $71.51 per hour for a 40-hour work week," or $148,740 for the year, a 7 percent increase from her salary when she was a county employee.
In fact, Flagler County government is paying JMI Staffing Solutions $190,382 for the year, according to documents obtained by FlaglerLive. County Administrator Craig Coffey signed that agreement with JMI three weeks before Sherman's last day as a county employee, on Feb. 8. The agreement and its included raise never went before the County Commission.
The county has been paying JMI weekly increments of $3,661.20. County commissioners say they were aware of the arrangement with JMI, but not of the the detailed figures involved even though the commission approves warrants reflecting the payments at the commission's bi-monthly meetings.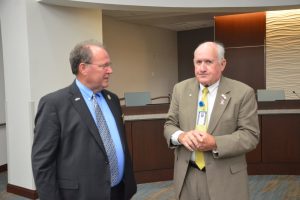 "This is a ridiculous situation we put ourselves in," Flagler County Commissioner Dave Sullivan said Friday. "There's no way you can explain to people on a $40,000 salary why a second in command is getting a $200,000 salary. Did I let it happen? Yes, I'm one of the guilty parties. But remember, the only two people that we control really are the county administrator and our lawyer, Al Hadeed. Everything else goes under the county administrator. We were foolish–I was foolish, I'm not going to speak for the other commissioners–I was foolish to let this happen. There should have been a better way to carry this out. Sally Sherman is an excellent employee but she's not worth what we're paying at this point, and we should have advertised and let the chips fall where they may."
The county administration is not advertising the deputy county administrator's position, seemingly leaving it vacant so Sherman can reclaim it when her year "out" is up. Coffey told some of the commissioners, including Commissioners Don O'Brien and Nate McLaughlin, that was the plan.
Commissioners approved the original contract with JMI at an August 1, 2016 meeting, when the contract was slipped onto the consent agenda as a one-page memo from Coffey, without back-up materials. The item reflected a "piggy-back" on a Manatee County contract with four firms, JMI being just one among them, and was described as providing "temporary employment services" and "may include assisting the county in recruitment/sourcing efforts for county hard to fill positions in departments." It gave Coffey authority to conduct hirings through purchase orders.
Sherman's plans were well known long before then. The plan to use JMI to return Sherman to work was not mentioned. (See the Manatee contract Flagler piggy-backed and commissioners approved here. It was provided to FlaglerLive Friday on request from the county, but contains no Flagler officials' signatures.)
At the time, Commissioners Don O'Brien, Dave Sullivan and Greg Hansen had not yet been elected or appointed to the commission.
Sherman "retired" because she was in the Florida Retirement System's Deferred Retirement Option program, which requires of all participants to retire from their government post after being in DROP four years, and bars returning to work in an FRS agency for at least a year. DROP was designed to give participants an incentive to retire by guaranteeing generous interest payments on four years' worth of accrued retirement pay the participant can then claim upon retirement.
Sherman's DROP payout was $330,148.
After revelations that thousands of employees were retiring only to return to work within weeks, the law was tightened in 2009, instituting the one-year requirement, expressly to prevent former employees from returning to the same job and "double-dipping" as they were drawing retirement benefits and the DROP incentive, while preventing younger workers from getting a chance to move up in the ranks.
In addition to the DROP payout, and her pay through JMI, Sherman is drawing $68,172 a year in retirement, by itself more than the overwhelming majority of rank-and-file salaries of government workers, cops, firefighters, teachers and the like.
Sherman is able to still work for Flagler, essentially doing much of what she was doing before but for a few cosmetic alterations, by being termed a "consultant" who works for JMI rather than for the county, thus enabling her and the county to skirt the law's intent.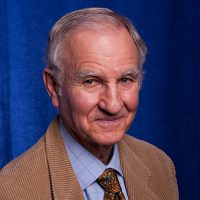 "This would seem to be a gap in what the Legislature had in mind in creating the DROP program," said Joseph Little, a retired professor of law at the University of Florida, who's taught government for 50 years (and was in DROP himself). "Because obviously these people haven't really dropped, they haven't really retired, as what the DROP program was intended to do was to force senior people get out of the system and let other people come in, and plainly that's not happening in this case."
Sherman and Coffey defended the approach, saying she is a valuable, hard-working employee with a "skill set" the county is benefiting from, and that the method is commonly applied elsewhere, which is true.
But the cost to retain Sherman is vastly more than even commissioners knew when they were briefed on the arrangement several months ago. "I assumed it to be a wash in terms of her coming off the payroll and her coming on as a consultant," Commissioner Don O'Brien said. "I didn't know anything about the numbers."
"I don't know that she got a raise," McLaughlin said. "We pay the consulting firm. I don't know what they pay her." The other commissioners were also not told of her raise.
The bi-weekly warrants state explicitly that the payments to JMI are for the senior special projects coordinator, Sherman's ostensibly temporary title.
And commissioners in early May approved yet another potential increase to Sherman's salary, to $155,000, if and when she returns as a deputy county administrator. Again, both McLaughlin and O'Brien said they were not aware that they had approved a raise for Sherman, only a salary range that ensured that Faith al-Khatib county engineer could be awarded that same rate of pay (she was).
After studying the documentation behind the numbers, O'Brien said the current sum the county is paying JMI appears to reflect the equivalent of base pay plus social security plus health care plus retirement benefits, each in roughly additional $10,000 increments, plus the profit-margin fee for the staffing company. But he had one concern: "It looks like they wrote this contract based on a salary of $148,000. I don't know how we get from $138,000 to $148,000 without getting some clarification from Craig on that," O'Brien said: the $10,000 pay raise for Sherman was never discussed with commissioners.
Public employees who participate in DROP do so on the understanding that they will not cost the government additional retirement benefits, other than the actual retirement check they're drawing. By including a $10,000 increment in Sherman's costs for further retirement benefits, that evades the purpose of DROP's requirements as well. The exact details of her contract with JMI are not clear beyond the "fringe benefits" she is entitled to with the company.
But by any measure, taxpayers are footing an enormous bill in order to keep Sherman employed, and to "save" her spot as an assistant county administrator when her year outside the government system is over.
Payments to JMI for Sherman began in mid-March and have continued since, but those were not the first payments to JMI. The county contracted with JMI starting in late 2016, and last fiscal year paid the company a total of $83,088 for "staffing services" mostly at the Florida Agriculture Museum, with about $6,700 of that for staffing at Emergency Management.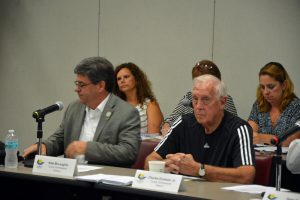 Payments to JMI, according to its contract with the county, reflect "all costs to include salaries, office operation, transportation, equipment, overhead, general and administrative, incidental expenses, fringe benefits and operating margin."
Coffey did not respond to text and phone messages Friday.
In a series of interviews with all five county commissioners between Thursday and Friday, three showed some level of discomfort with the Sherman arrangement–Sullivan, O'Brien and Ericksen–but only Sullivan went as far as saying that the arrangement should be ended.
Sullivan went on recent experience: He serves as the commission's representative on the Northeast Florida Regional Council. He was at a council meeting this week, serving on its budget committee. The council's chief executive is retiring. The organization's administration put forth a proposal to look for a replacement internally first, then possibly hire a head-hunter and publicly announce the position. "We rejected that, said no, you can't do that," Sullivan said. "I said you have to show us what the salary range is, and you have to go out publicly, and you have to address the qualifications. So we turned down the staff proposal and went this way. That may or may not have anything to do with this, with Sally Sherman."
He offered that analogy on Thursday. In a subsequent interview on Friday, he was more blunt about the Sherman arrangement. "I don't see how in this part of the county with the population we have, how you can justify this other than say what was done was legal."
Sullivan, who retired from the Navy, refuses to participate in the county's health plan or in the Florida Retirement System, even though he is entitled to both as a commissioner, because he doesn't want to double-dip.
"There's no way you can justify this to the public. There's no way," Sullivan said. "The only solution here would be for Sally to resign. That's the only solution."
None of the commissioners questioned Sherman's work ethic. To the contrary: they all praised her hard-working habits and two spoke of her being the first in and last out at the Government Services Building, at least among administrators.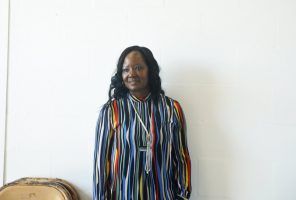 O'Brien defended the county administrator's authority to administer without interference from the commission. "He gets to choose who he wants to have work for him or help him, so that's not my call to make," O'Brien said. "I hold him accountable and if he's not getting the results then he has to answer for it, but as to who he employs or who he hires, that's not my job."
But he addressed the principle behind the arrangement such as Sherman's–without naming her specifically, but looking at the state as a whole–much more critically. "I don't like it," O'Brien said. "A lot of people around the state don't like it because it suppresses upward mobility of younger employees that are looking for advancement, because these jobs get stymied because people don't retire or they come back into the system, and it's not right. But it happens all over the state of Florida. There's a bunch of employees in Flagler County that are in the same situation that Sally is."
True, but those employees have actually stayed the required year out of the system before returning. Sherman has not.
"I'm not going to throw the man under the bus because he did something that's legal, it's acceptable, it's done all around the state," O'Brien said. "If it's legal it's acceptable."
McLaughlin and Hansen vetted the issue through Al Hadeed, the county attorney. "My understanding is that these arrangements are common," he said today, and told them as much.
To McLaughlin, that made the matter moot. "This is completely within the law, it's completely within the intent of the legislature, the legislative intent, I think so, because if it wasn't I think our attorney would have said," McLaughlin said. (Hadeed in the interview did not seek to interpret legislative intent.) McLaughlin said he did not consider it double-dipping, and saw Coffey as an administrator who can "stretch a dollar." The arrangement with Sherman is a matter of being competitive to retain a valued employee.
Commission Chairman Greg Hansen defended Coffey, who he said was "doing a darn good job of running the county, so I support what he did."
Coffey, Hansen said, "wanted to keep the management team in place and that's what he did to do it. If that violates the spirit and the intent of the law, then I guess it does, I don't know." He said he was briefed on the arrangement by Coffey as were other commissioners, and gave his support back then.
Commissioner Charlie Ericksen recalls Coffey's interest in temporary agencies but not the specifics of the Sherman arrangement. "Generally we don't get asked about any hiring things until he's ready to do it, like when he hired the new emergency management guy, he had to bring that to us," Ericksen said. "But anything other than that I don't recall ever seeing." He's caught up on the Sherman matter since, and was uncomfortable with how much of it was done without public vetting.
"I would have preferred that it'd be in the open if in fact it was going to occur, not to give the impression that something is funny about this," Ericksen said. "It caught fairly big headlines. If in fact it wasn't a way to quote get around something, then why didn't we just say this is what we're doing? I can't think of a person who works any harder than Sally Sherman, who I think drives 40-50 miles every day to get here, she's the first person in that building and the last person to leave the building. If it's something that's legal, why do you have to do it sort of out of the sunshine?"
Ericksen said he saw the situation as double-dipping, but legally so, because the law hasn't closed the loophole. "Everything's got rules but people still play with them and massage them," he said. "Every time there's a rule, now the people start thinking how do we get around the rule. On the other side the law is the law, the law was intended to do something and if you do something other than that, then it's not right." Speaking of Flagler government, he noted: "I've never seen a business that's had as many six figures in it for so few a population."