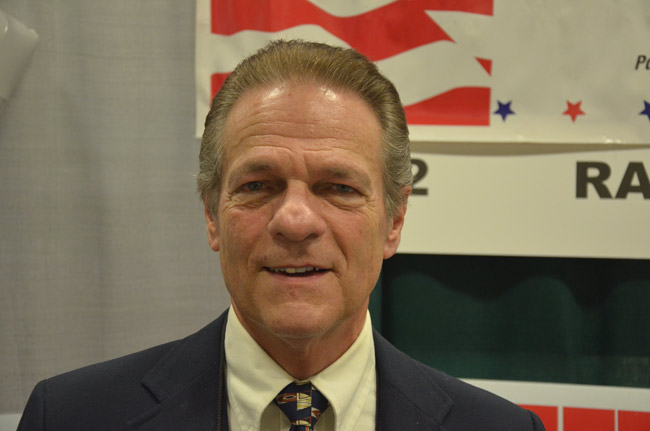 Ray Stevens is a Republican candidate for Flagler County Sheriff, running in the Aug. 14 primary election. He spent most of his career in the Ossining Police Department–Ossining is a bedroom community north of New York City, on the Hudson River–rising to commanding officer of the detective bureau, and at times working narcotics with the federal Drug Enforcement Administration.
Ossining moved to Pinellas County in the early 1990s, where he was a sheriff's deputy. He was also a state investigative specialist before moving to Palm Coast in 2004. He ran for sheriff in Flagler County in 2008, as an independent, finishing third behind Fleming and Jim Manfre.
Three Republicans, including incumbent Don Fleming, and two Democrats, are in the running. The winner of each primary will face off in the general election on Nov. 6.
In these races, only registered Republicans may vote in the Republican primary, and only Democrats may vote in the Democratic primary. Independent voters may not cast a ballot in either.
The sheriff was paid $120,253 in 2011, a salary set by state law but paid out of local dollars.
FlaglerLive submitted 15 identical questions to the five candidates, who replied in writing, with the understanding that some follow-up questions may be asked, and that all exchanges would be on the record. Follow-up questions, when necessary, appear in italics, and may be awaiting answers.

The Questions in Summary: Quick Links

Place and Date of Birth: New York City, Oct. 11, 1948.
Current job: Adjunct professor at Keiser Coollege.
Party Affiliation: Republican.
Website: voteraystevens.com
1. It's a very busy field. What makes you the best qualified candidate for Flagler County Sheriff?
I have the most diversified law enforcement background, training and experience spanning New York and Florida. Nearly all of my law enforcement experience was obtained working in an urban environment. Ossining, N.Y., a suburb of New York City, is a racially and culturally diverse community with a population density of over eight thousand people per square mile. I believe this uniquely qualifies me to effectively deal with what I call, the eruption of "Big City" type crime taking place in many parts of Flagler County.
How do you define "big city" type crimes, and where is that "eruption," considering that the actual crime rate hasn't risen less than 6 percent in the past eight years, and has in fact declined for the past two?
My definition of "Big Type Crime" is Drive by Shootings, Armed Home Invasions, Bank Robberies, and Serious Assaults. The crime rate has dropped nationally, as is the case when there is a downturn in the economy. National studies reveal there is a positive correlation between the economy and crime. It is the type of crime, as described above, that I am referring to, not the frequency.

2. What specifically makes your case for unseating Sheriff Fleming? He's been in office eight years. If you're challenging him, you must think he's not doing the job as well as you could, or that he's failed along lines you wouldn't. Please be specific with regards to both.
A significant number of voters have expressed concern that when and elected official remains in office too long their focus shifts from what do I need to do to enhance the quality of services, to what do I need to do to get re-elected. Sheriff Fleming has fallen asleep at the switch, if you will, when it comes to the drug and gang problem. The proliferation of prescription medication has escalated to epidemic proportions during his watch. I will bring to the office of sheriff renewed vigor and enthusiasm, focusing on the primary mission of any law enforcement agency and that is to fight crime and to serve and protect.
An epidemic suggests that jails and health care providers would be overrun with prescription drug addicts. That hasn't been the case–the jail population has actually declined slightly in the past year–and the Legislature's crackdown on pill mills has significantly reduced the flow of pills along I-95, while Flagler's cities and the county, led by the sheriff, enacted a year-long moratorium on pain clinics to give the state's new initiatives time to kick in. Occasional high-profile busts aside, can you be more specific about that epidemic?

I use the word "epidemic" as it applies to a condition or use of a drug that is extremely prevalent affecting many people. Speaking with a number of Flagler County Deputies who report that an alarming number of calls for service are related to crimes involving prescription drugs. The sheriff, in my opinion, is avoiding his responsibility to pursue the practitioners who illegally and or unethically dispense these medications. I spelled out my plans as to how I would address this problem at the News Journal Forum. Moratoriums are simple, they require little work. One has to be careful not to throw the baby out with the bath water.There are people out there who are not candidates for neck, back, or knee surgery and depend on these medications to live a semi normal life. I do not believe in taking actions that punish the many for the actions of a few.

3. What is the most dangerous thing or temptation about a sheriff's power, and how do you intend to control it?
Preferential treatment of certain members of the community for what ever reason. I will treat all members of the community fairly and equally. And that includes employees of the sheriff's office.

4. What is your greatest weakness in so far as the scope of your leadership is concerned? How has it shown itself? What have you done to address it?
As an administrator I tend to view programs, ideas, and operations on a conceptual basis leaving the details to subordinates to work out and implement. The downside to this is that it requires more follow up on my part. The upside however, provides the employee with a feeling of participation and fosters creativity and team play.

5. As sheriff, what would be your top three priorities for the agency?
Fighting crime, significant reduction of operating expenses and the reorientation of the employees of the sheriff's office that we are here to serve and protect the public that pays our salary.
The brevity is appreciated, but a few specifics would be as well: fighting crime is a given, considering the job title, but what type of crime and with what resources? What specific program or initiatives can you cite that you could cut to reduce the budget? And where would these employees be reoriented?
All crime, with a focus on gang activity and illegal drug sales and crimes against the person. I do not intend to eliminate any programs that enhance the operation. The major "chunk" of most any agencies budget is personnel. I will reduce the number of unessential civilian personnel through attrition and retirement incentives. I will not use public funds to enhance my re election efforts. I will cease with unnecessary promotions. I will opt for the use of fuel efficient vehicles used in regular patrol activity, western part of the county excluded. I will desist in the purchase of gadgets and lap top computers given as gifts. I could go on, but you said to be brief.

6. In your view, what are the three most pressing problems with regards to public safety in the county? Please be specific: for example, if you cite such things as drugs or gangs, please cite documented numbers that show why this is a more pressing problem today than previously.
The proliferation of both illegal drugs and prescription medications. Gang Activity and related crimes, such as the dramatic increase in serious assaults. I am not aware of any means by which to quantify the number of gang members or the number of drug dealers in any given community, the information is anecdotal at best. The number of arrests made is not an accurate barometer either, it is more a reflection of the effectiveness of the agency and not necessarily the number of violators on the street.
How do you propose to make the jump from anecdotal evidence to hard evidence that warrants the sort of response you are proposing? In other words, given the numbers and the evidence available, what's to say that the evidence is anything more than anecdotal–good grist for campaigns, but not necessarily the basis for policy shifts?
Refer to the answer to question one. Then walk the neighborhoods of Flagler County and listen to the personal experiences of crime victims.

7. Assess, from your vantage point, the state of race relations between law enforcement and the public, and how you think minorities are treated (as opposed to the way minorities ought to be treated), generally, by police in Flagler County.
Race relations between law enforcement and the community needs some improvement.
What is needed is a more empathetic approach between law enforcement and the people they serve, with emphasis placed on the African American community because that is where the largest communication gap seems to exist. One such approach, among others, I will implement is a Deputy Cadet Training Program. I believe this program will provide a conduit for a mutual understanding between law enforcement and the people they serve. I am also a strong proponent of neighborhood patrol and Community Policing which will be implemented almost immediately upon my taking office.

8. Do you support the restoration of dashboard video cameras in sheriff's cruisers?
Yes.
9. Explain your stance on civilian review boards in general, whether you would institute one at the sheriff's office, and why—or why not.
Civilian Review Boards are reactive by nature, responding to an incident that has already taken place. I would opt for a more proactive approach, such as a Professional Standards Review Board responsible for making suggestions of a positive nature for improving the operation of the sheriff's office, thereby reducing the possibility of civilian complaints.
Would such a board be inclusive of civilians at large who may not have connections to law enforcement?

Yes.

10. Florida became the focus of national attention after the shooting death of Trevon Martin. His death has resulted in renewed discussion of Florida's stand-your-ground law. Do you support the stand-your-ground legislation? If not, what would you do to support its repeal?
I support the legislation and the right of civilians to defend themselves against an aggressor at home or on the street. As sheriff I will provide training programs and seminars for gun owners to educate them concerning "the Stand Your Ground Law" and the "Castle Law" and what they are authorized by law to do in respect to the above mentioned statutes.

11. Sheriff's offices experience an election cycle every four years where a new candidate will appear who promises to do the job better. Often a candidate's decision to seek office is the result of conversations with agency employees and their unions. This can often result in a quid pro quo relationship developing between some employees and their unions. Explain your current relationship or opinion of local law enforcement unions. And should you be elected (or re-elected), how will you handle these types of relationships?
There is no question that the potential for a quid pro quo relationship between union leaders and members not only exists, it is a reality. It is up to the candidate or incumbent to exercise the strength of character necessary to refrain from making "back room" deals. The promise of promotions, preferential assignments and or any other favors in exchange for votes is not only unethical it is illegal. I support the unions' right to defend and negotiate benefits for their members and as sheriff I will negotiate future contracts in good faith.

12. Describe how you would have handled the Francoise Péqueur matter differently than Fleming and his agency did, from the ground-level response of officers to the sheriff's fielding calls from the husband of the woman who killed Pécqueur (a school board member friend of the sheriff). In your case Sheriff Fleming, explain how, having gone through the matter, you might have done things differently.
The policy will be changed. An alternative policy or policies will be evaluated for implementation. Generally, a deputy will be dispatched to all 911 calls. Any request for medical aid not generated by the injured party, a Medical Practitioner or Medical Facility, a deputy will be dispatched.
The answer is dependant on what the sheriff knew and when he knew it. The sheriff gave at least four different accounts concerning the time, date, and number of phone calls between himself and the driver's husband. Until such time any additional evidence surfaces there are too many possible scenarios in this case for me to give a definitive answer to your question.

13. Deputy Roster was found by an internal investigation to have stolen at least $8,000 by falsifying time sheets, yet he was only demoted, without losing his pay rank, and kept on the force, while in two other deputies' cases involving smaller thefts, they were fired. What message does that send to the rest of the deputies, and what message does that project to the community? How would you have handled the Roster matter based on the results of the investigation, and how will you ensure that deputies are held accountable? (In your case Sheriff Fleming, please explain why Roster was not fired.)
I am not privy to the details of the investigation. However, if the details of the investigation support the allegations against Deputy Rooster he should have been fired. If they do not he should be exonerated. The solution reached does not effectively settle the matter. There is no such thing as being a little guilty. Just as there is no such thing as being a little pregnant. Either you are or you are not. This demonstrates a lack of consistency and displays to both the public and the deputies that a system of preferential treatment exists.

14. Where are the weaknesses of law enforcement in Palm Coast, and how can law enforcement in Palm Coast be improved?
As I see it the lack of neighborhood patrol is a major weakness concerning effective law enforcement in Palm Coast. I believe emphasis should be placed on patrolling the side roads and back streets. Because, after all, that is where most of the burglaries and quality of life issues are taking place, not on Palm Coast Parkway, State Road 100 or Seminole Woods Blvd., but in the neighborhoods where we live. This is in no way a condemnation of the deputies, for the vast majority are dedicated to their profession and well intended. The problem is they are lacking direction, and that starts at the top.

15. Do you consider policing in Bunnell and Flagler Beach what it should be, and would you be supportive of a sheriff's take-over of either?
Yes, they are to doing the job they are equipped to do. It is up to the people and the elected officials of both communities to decide if relinquishing the responsibility of policing their communities should be left to the sheriff's office. If that decision should be made I would be more than happy to sit down with one or both entities and "hammer out" an agreement that is fair and equitable to all concerned.