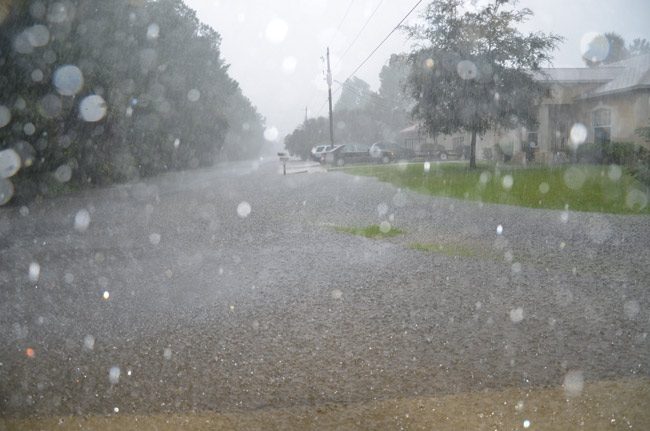 After months of drought conditions that helped fuel nearly 2,500 wildfires across the state (but only a handful in Flagler), Florida has quickly moved deep into its rainy season.
The rain has been welcomed by crews who spent months battling wildfires, which have consumed more than 250,000 acres of state and federal lands, the worst year for fires since 2011. Dry weather had led a third of the state's counties to impose burn bans, Flagler among them. The local burn ban was lifted a week ago. In Flagler, the drought index fell below 80 this week, on a scale of 800, with zero meaning full saturation.
"We feel very good about what these rains have meant in alleviating the severe fire conditions," said Agriculture Commissioner Adam Putnam, whose department includes the Florida Forest Service. "And now, in true Florida fashion, we can go from one extreme to the other and prepare for tropical storm activity."
The dry conditions and wildfires caused Gov. Rick Scott to declare a state of emergency in April. The declaration, the first for fires since June 2011, provided the forest service with assistance from a Florida National Guard Blackhawk helicopter, which had a 600-gallon water bucket, to help fight fires.
There were days in April when more than 100 separate fires were underway, many consuming more than 100 acres. This year's fires have destroyed 49 homes and damaged 64 others, according to the forest service Firefighters saved 5,665 other homes. But no structures other than the odd shed were damaged, let alone destroyed, in Flagler.
As late as May 30, as many as 84 wildfires burned across Florida. On Wednesday, the forest service website showed just a single wildfire, southeast of Starke in Bradford County.
The rains also mean relief for ranchers whose livestock has been grazing on dry, non-irrigated land, and growers, even though most of the seasonal harvests of berries, peppers, sweet corn, potatoes and cabbage are coming to a close.
"Florida is known for its extremes in weather," Putnam said. "If we can get rains without wind, and it appears we are, you're not going hear me complain too loudly. We've been praying for six months for rain, and now we're grateful for it."
But the rains, even with the tropics appearing to be more active than in past years, don't mean Florida is out of the woods as far as drought conditions.
The National Weather Service noted that much of Central Florida remains below normal for rainfall.
From Oct. 1 through June 19, Tampa received 14.16 inches of rain. From 1981 through 2010, the National Weather Service reports the Tampa area averaged 22.17 inches during the same time frame.
Still, the National Weather Service noted heavy rains this month have brought rainfall totals closer to normal.
Statewide, the monthly rainfall averaged 1.59 inches in February, just under an inch in March, and 2.34 inches in April. The state averaged 3.36 inches in May and was at 8.37 inches through the first 20 days of June, according to figures from the Department of Agriculture and Consumer Services.
In Okeechobee County, where 4 inches of rain was reported from February through the end of May, a total of 18.45 inches of rain has fallen in the first three weeks of June.
Nassau County is up to 17.45 inches of rain this month, with Highlands, Martin and Hardee counties each at 14.7 inches.
The rains allow forestry officials to return to regular management services that had been put aside because of fires, while water managers have geared up.
The South Florida Water Management District announced last week, after Collier and Broward counties were hit by rains that dropped 14 inches across the region, that flood-control systems were being prepared to handle additional water from local governments, drainage districts and homeowner associations due to expected summer rains.
–News Service of Florida and FlaglerLive