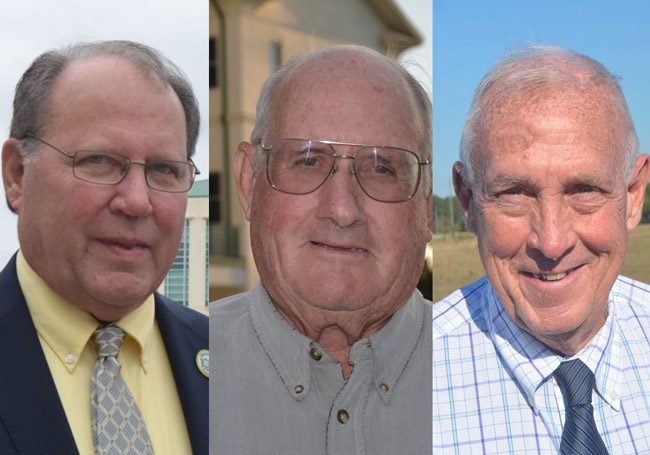 Flagler County government's seesawing between approving and banning the siting of medical marijuana dispensaries in unincorporated Flagler ended for good Monday with an outright ban as residents of a single street in Plantation Bay convinced a bare majority of three commissioners to reject an ordinance that would have allowed dispensaries in a few areas of the county.
As has been characteristic of discussions on medical marijuana, opponents used specious, baseless and outright false information to make their claims, especially when they claimed that medical marijuana dispensaries increase crime: no such evidence exist. But three commissioners—Greg Hansen, who made the motion to ban, Charlie Ericksen, who seconded, and Dave Sullivan, who's opposed marijuana in any form anywhere—never challenged the claims.
Commission Chairman Nate McLaughlin has for the past two years been the commission's surprising champion of liberalizing the county's approach toward marijuana, advocating for medical marijuana as well as for a proposed county ordinance that would have potentially decriminalized the possession of small amounts of pot. But in contrast with previous discussions on the matter—and perhaps with the approach of an election season, with his seat up for grabs—McLaughlin muted his advocacy, replacing it instead with questions that made him seem more skeptical of dispensaries. Commissioner Don O'Brien, who's revealed himself to be a forceful advocate of issues he embraces, also remained silent throughout.
The commission's vote means that Flagler will be a divided county: Bunnell and unincorporated Flagler have banned medical marijuana dispensaries outright. Palm Coast and Flagler Beach have taken a somewhat more permissive approach, approving certain areas of their towns for dispensaries and pharmacies, and closing down others.
The County Commission on Nov. 6 looked as if it were heading for the more permissive side of the issue, in line with the 71 percent of Florida voters who approved legalizing medical marijuana through a constitutional amendment exactly a year before. The commission at that meeting voted to adopt the county administration's proposed ordinance that would have opened up about 500 acres zoned for pharmacies and the like to medical marijuana dispensaries, on the unlikely chance that such a dispensary could be cited there.
The ordinance followed state law, which allows local governments either to ban dispensaries outright or to allow them with no more restrictions than would be imposed on regular pharmacies. Local governments have been critical of the law, saying it hampers local decision-making. In fact, the law is being challenged in court for being too restrictive, though it aims to treat dispensaries the same way as pharmacies are treated because the principle behind the amendment legalizing medical pot is that it is medical in nature, not recreational, and should not be either stigmatized or marginalized: the amendment specifies that access may not be restricted, making such bans as now exist in Bunnell and unincorporated Flagler vulnerable to challenge.
Still, much of the debate around medical marijuana dispensaries and ordinances has been premised on internet-stoked assumptions—not documented evidence—that dispensaries are magnets for trouble and should be treated like, say, strip joints. The amendment had sought to counter that discriminatory approach. It worked in many communities. It failed in a few, and in Flagler, it did so even though the county administration was recommending approval of the zoning approach that enabled dispensaries.
Whether Monday's vote will effectively made a difference is a different issue. There has never been a pharmacy in unincorporated Flagler anyway. There may never have been a medical marijuana dispensary. That sort of business seeks more urban settings. But the vote remains a signal of county government's positioning against the liberalization of certain laws. It may be no coincidence that the three commissioners who voted for the ban, whose average age is 74, were impressionable pre-teens when "Reefer Madness," the U.S. government's anti-marijuana propaganda film, was making the rounds of American post-war society. The film has long been discredited, though its arguments continue to reverberate in debates over pot in any form.
The medical marijuana dispensaries' version of pot to be dispensed is not in smoking form but in oils, and it is with no euphoric potency, making the pot to be dispensed essentially far less of a mind-altering substance than the innumerable prescription drugs dispensed in pharmacies—and blamed for thousands of deaths a year in Florida. (No deaths have ever been associated with marijuana overdoses, let alone medical marijuana.)
At the Nov. 6 hearing of the County Commission, Sullivan had asked that a 500-foot buffer from homes be required around any medical marijuana dispensaries. The county administration decided not to include that buffer because it would, in effect, result in a ban. And it would have to be equally applied to pharmacies. The buffer in the proposal by the administration would have been 50 feet. "Staff recommended that even though we perceived it to be legal, that we'd recommend that if you're going to go that route we'd recommend that you'd just go the ban route," County Administrator Craig Coffey said.
That was the opening the trio of commissioners favoring a ban and residents of that one street in Plantation Bay seized on.
"Please vote no, please vote to ban or mandate a buffer as requested by 135 residents of 1,000 feet," Jane Gentile-Youd, the only Plantation Bay resident who not on Treetop, who addressed the commission, said, citing a petition those residents had handed commissioners. "You could always change your mind tomorrow. If you vote yes, you will be making history irrevocable for the future of Flagler County. Please vote to ban, this is insanity next to houses."
She was preceded and followed by five Treetop Circle residents either favoring a 500-foot buffer or an outright ban. They were worried that parcels along Old Dixie Highway, abutting their properties, would qualify as commercial lands fit for dispensaries. They all saw that prospect as damaging to their quality of life or as a threat to their children and their families. They did not explain why or how, other than to allege that crime would spike if a dispensary were situated there.
"We're very fearful that what could possibly happen could be a danger both to our homes and to people in the neighborhood," Cynthia Kelly said.
Alan Sanderford, who bought the house on Treetop three years ago, said he was not addressing the commission to speak against the medical marijuana amendment, but then proceeded to speak against it being implemented in his backyard. "Statistics show that medical marijuana dispensaries and growing facilities, are one of the most targeted and frequently robbed businesses in America," he said. He did not cite or give a source to those statistics. They do not exist beyond anecdotal gleanings on the internet. But he went on: "One obvious reason for placing pharmacies in a safer urban area where police are close by is that pharmacies are often targeted and burglarized for their drugs." In fact, pharmacies are located in more urban areas because marketing studies lead them where the higher concentration of customers are, and where the competition is.
"Medical marijuana distribution and growing facilities actually have a much higher percentage of being robbed than pharmacies," he claimed again—again, falsely.
While there is a dearth of substantial studies showing a link between marijuana shops and crime, what studies and police department surveys have been conducted since 2009, particularly in Colorado and California, have shown no increase in crime, and if anything, have show a decline in crime after the siting of a dispensary in a given neighborhood.
Treetop residents made much of the fact that most dispensaries operate as cash-only businesses, and that therefore they would attract more robberies. A 2009 Denver Police Department survey conducted at the behest of that city's local government, however, showed that while all storefronts may be targets of robberies, dispensaries' burglary and robbery rates were in line with those of pharmacies, and were lower than those of liquor stores, and substantially lower than those of banks.
A more recent study by the University of California at Irvine looked at the consequences when authorities, through very restrictive regulations, forced the closure of 459 medical marijuana dispensaries in Los Angeles in 2010: crime rose 12 percent. "Contrary to popular wisdom, we found an immediate increase in crime around dispensaries ordered to close relative to those allowed to remain open," said Mireille Jacobson, one of the authors of the study, told Science Daily. The researchers saw similar spikes when restaurants close. "The connection between restaurants and MMDs is that they both contribute to the 'walkability score' of a given area. Areas with higher scores have more 'eyes upon the street' a factor that is proven to deter some types of crime," Jacobson is quoted as saying.
Bruce Tucker, the last Treetop Circle resident to address the commission, put it simply: it's not about facts. It's about what he called "perception."
"When it comes to public opinion, perception is reality," he said. "Our laws specifically give us ways to define reality, and we honor those laws. However, in this situation, our families are seeking the perception that we are safe, the perception that we may hand on to the next generation even a few years down the road the truth that where we live is safe. There exists an opportunity for people with medical needs, currently in Flagler County, to find the help that they need and the medicine that they need. We ask that you will hear the hearts of families who perceive at this moment that our family safety is in question."
The 3-2 vote banning medical marijuana dispensaries reflected those perceptions.