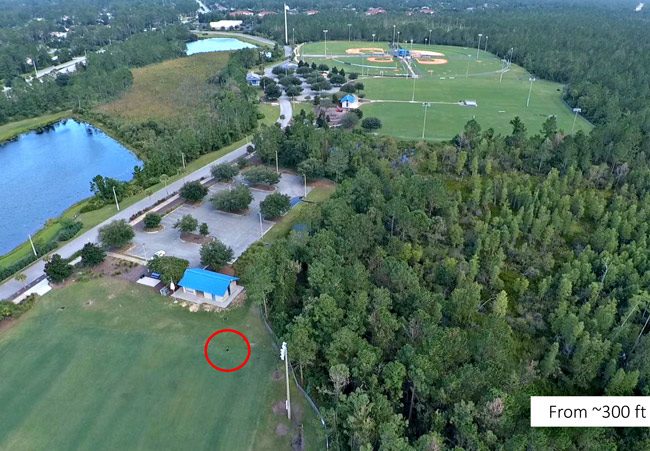 Palm Coast government is getting into drones.
The city says several departments need drones: Information technology, planning, PR. utility, building and construction, and the fire department. But Kladke said they would be used with limits for public safety and to fly over public infrastructure–not over private property: code enforcement, for example, was expressly excluded from the list of departments that would make use of drones, as Interim City Manager Beau Falgout stressed.
"We will use drones to enhance public safety and inspect city infrastructure, but we will not use them to capture images of private property, and we'll make sure that pour city drone pilots are licensed, insured and well-trained," Austin Kladke of the city's Geographic Information Systems said.
That doesn't mean the city will never fly over private property, but its proposed code of conduct requires the drone pilot first to "obtain written permission from private land owners in order to fly on and over their property."
The initial cost of the program will be $8,000, the approximate annual cost will be $4,500, for three drones, Kladke said.
The city administration presented its drones program to the city council Tuesday morning to both explain its breadth and intentions and to reassure the council and residents that the city does not intend to send Big Brother airborne.
"Drones get a lot of interest," Falgout said, "I think it was one of the most popular Christmas gifts last year, so the prevalence of them in both the private and the public sector is rising. So internally we have a drone team here that's been looking at how we use drones and how we operate them and make sure we address some of the public concerns about drone use, so the presentation today is really to try to give you and the public a greater understanding what the benefits of using drones for city operations, and then also how we're not going to use drones, and how we're going to operate them."
The drone program does not require city council approval. Falgout wanted it presented to give the council clarity on its application, however. He got only plaudits. "This is great stuff," Mayor Milissa Holland said.
Palm Coast is looking to join a trend that will likely be a norm within a few years. As of January there were 1 million drones registered with the FAA–878,000 of them by hobbyists, the rest by businesses and government. It's now a billion-dollar industry.
Drones' capabilities include ease of use. They're much cheaper then helicopters or planes, if the aim is to capture imagery of what's below. One person can operate them. They use nothing like the amounts of fuel planes and helicopters use, so they're greener technology. They can be used to survey inventory, inspect roofs, solar panels, they can be used by firefighters to help in rescues and by public works employees to deal with stormwater issues.
For now the city's GIS department uses standard satellite imagery, which tends to be more than a year old, "it does not meet the detailed requirements for many of our projects," Austin Kladke said. Or else it's blurry. The imagery is generally provided by Flagler County overflights.
The difference between standard imagery and drone imagery can be striking, not only by being up to date, but in details rendered as images or video–raising questions of privacy.
All images and videos will have to be preserved within the bounds of the state's public records law, with retention of images ranging from 30 days to five years, depending on the nature of the document.
The city has drafted a code of conduct (yet to be approved). It outlines pilots' training and qualifications requirements, calls for an approved list of employees authorized to fly drones, and lists standard operating procedures, including the logging of all flight hours (a publicly available document).
The code also includes a section on how to react to emergencies and accidents. For example, if objects are thrown at the drone, or the drone is under gunfire, here's what the code states: "The pilot in command should take evasive action, if possible. The drone must be immediately landed in as safe a manner as possible. The remote pilot in command should leave the scene in order to achieve a safe distance. If an object was maliciously thrown at the drone or a firearm was discharged at the drone, the remote pilot in command must call 911 when safe to do so. Such actions are illegal and should be treated with the highest amount of caution. After the pilot's safety is no longer in jeopardy, they should alert the City Manager and the Drone Team about the incident."
Flying drones is not a new job title in the city–not yet. It's only been four or five months since the GIS department started flying drones.
"We've been very strategic about how we approach this, and of course with our partners as well," whether it's the St. Johns River Water Management District or the Flagler County Sheriff's Office or the county airport.
The sheriff's office does not have a drone program. Law enforcement is not prohibited from using drones, but it is severely restricted in their use. For example, it may not use them to conduct surveillance or to snoop around backyards to see who's growing pot, but it may use them in emergency situations, as when searching for a suspect or a missing person, Chief Mark Strobridge–himself a licensed drone pilot who owns a drone–said. The Flagler County school district has a drone at Flagler Palm Coast High School's aeronautics program, in conjunction with Embry Riddle Aeronautic University, said district spokesman Jason Wheeler. With the university's help the district built a drone flying zone, covered with a net, at the east end of campus, so students can practice flying drones even in proximity of the county airport.
Council member Bob Cuff suggested data-sharing with other local agencies that use drones.
The code of conduct includes several prohibited uses. Among them: "To record an image of privately owned property or of the owner, tenant, occupant or licensee of such property with the intent to conduct surveillance on the individual or property captured in the image in violation of such person's reasonable expectation of privacy without his or her written consent."
"To conduct surveillance on individuals exercising their constitutional right of free speech and
Assembly."
"In any way that would violate the Constitutional Rights of any citizen, or in violation of state or
federal statute regarding use of a UAS." (UAS is the acronym for unmanned aircraft system.)
"To conduct personal business of any type. To harass or intimidate any individual or group. As a weapon. Situations where there may be an increased risk of injury to others."
See the full presentation and the complete draft of the code of conduct below.

Palm Coast Government's Drones: Program and Rules (2018)