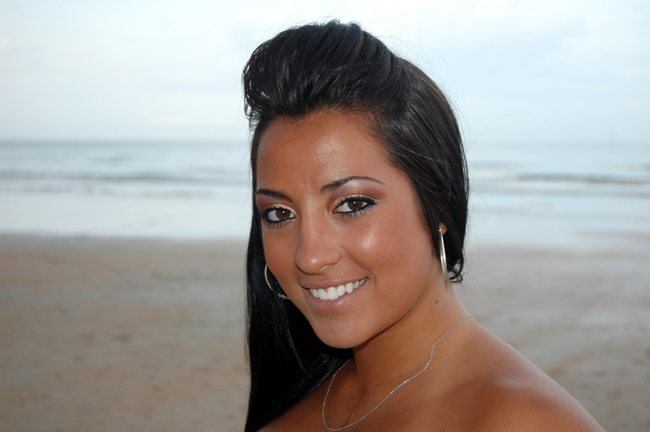 The annual Miss Flagler County Scholarship Pageants have their swimsuit component, because Donald Trump ultimately controls the organization, but in Flagler County, the competition also includes an essay component. It's the Trez Frassrand Scholarship Essay, began in 1997 in memory of Trez Frassrand, whose name from 1972 to 1995 was synonymous with the Flagler Pageant–as it has been since with Zoee Forehand and Elizabeth McLaughlin.
The older contestants, in the 16-23 age category, are required to write an essay of 250 to 500 words on an assigned topic. This year's 11 contestants were asked to write about the effects of the recession on their lives personally, and to give suggestions on how to deal with it. Almost all the contestants' essays showed them to have been hit, and sometimes hit hard, by the recession, through parents' or grandparents' job losses, reduced income and other hardships.
The winner this year was Mia Pagliaricci, who just graduated from Flagler Palm Coast High School, where she was in the International Baccalaureate program. Her essay addressed the issue clearly, specifically and with empathy: her personal response was as persuasive as her global perspective. The essay is reproduced below in full, following the question contestants had to address.
The question: Many economists consider the U.S. to be in the worst economic crisis since the Great Depression of the 1930's. Many causes have contributed to this such as the burst of the housing bubble and the collapse of major financial institutions. How have you personally been affected by this crisis and what changes have you or your family had to make? What lessons can we as a society learn from this crisis and what lessons have you learned as an individual? What advice would you give on the subject?



I was merely a child, too young to grasp the gravity of the situation, when my family went through its deepest crisis. As time passed I was forced to grow up, fast. My mind was mixed with confusion, infinite questions, and a slight sense of excitement. I was immigrating to a new country, an unknown land with foreign people and a new language, but one that promised a much better future.
Recently, much like most families in this nation, mine was drastically affected by this crisis we are now in. Although my family was not one to live in wealth before, we had to reconstruct the way we lived our lives. After having immigrated to this wonderful land of opportunities, we found just that: wonders and opportunities. We were offered the chance to excel and flourish in order to live a prosperous life, and having come from what little we came from, this was golden. After living this way for almost 10 years, we had adapted and were now comfortable and used to living that way. However, after our country went into recession, we again had to adjust. Our income was limited and almost entirely committed to bills, but having experienced a humble life before had prepared me well.
What our country has undergone in these recent years is not the end nor the closing of any door, but the opening of many others–the opening of a smarter, more conserving lifestyle that we all need to adapt. Together we can do it. Maybe this crisis was necessary for our fellow citizens to wake up and confront the situation our world as a whole is in, in a more intelligent way. Maybe this was the opening of many eyes, that with even the slightest effort, we can make a difference together. Either way, this economic fall has left a lesson behind that has made a mark in many lives.
As a society, we can learn the difference between our needs and our wants, and we can learn the value of what we have no matter how little or big. We can learn that every time we turn the lights off as we leave our home, or shut the sink while brushing our teeth, we save energy, water, money, and conserve our earth. Not only does it benefit our own pockets but it also benefits the world. Many of the things our society can learn from this crisis are things that should have been learned long ago, and maybe would have prevented the situation we are in today, or reduced its impact. Most of these things are so minute that we seem to overlook them in our busy lives. Nonetheless, we as a society and I personally, have learned that paying attention to such things is very necessary, and well worth it.
I would advise our entire population to just stop for one minute and analyze our lifestyle. The average family in this country probably has numerous televisions, computers, cell phones, and so on, while the wealthiest of families in other impoverished countries would be considered fortunate to receive enough food for the day.
So first and foremost, we are lucky. We are so incredibly blessed and we should be thankful. When compared to the rest of the world, we are among the top, whether we're in recession or not. We must help each other out and invest in those things that will produce a positive feedback loop, such as education, and once again work toward the top. We must appreciate what little we might have, and put that to our best use.
Our founding fathers built us to such greatness through labor, morals, and discipline. They took pride in their values and little by little, we soared to the top. Our strength was built on those admirable standards. No matter who or what stood in our way, we would stand strong on our grounds. And this we must remember, celebrating in the best of times, and dragging through the worst of times. We must go back to our principles and hand in hand, we will pull through, because together we stand.

Here are the complete profiles for each Miss Flagler County contestant this year, with photo galleries for all:
Little Miss Flagler County 2010 Contestants, Ages 5-7
Little Miss Flagler County 2010 Contestants, Ages 8-11
Miss Junior Flagler County 2010 Contestants, Ages 12-15
Miss Flagler County 2010 Scholarship Pageant Contestants, Ages 16-23