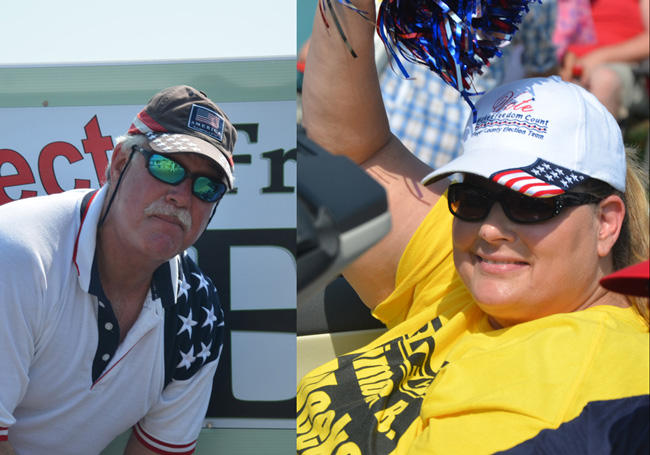 This is the most distasteful piece I've had to write in a while. But I can't justify not writing it.
I was on the phone with Flagler County Commissioner Frank Meeker Monday afternoon, asking him when he'd be sending in the answers to follow-up questions in his candidate interview. Later that evening, he said. I then mentioned the county commission meeting scheduled for 5 p.m., and that I'd heard Kimberle Weeks, the supervisor of elections, might be back to make further issue of the county's campaign sign policy.
"Oh," Meeker said, "the bitch is back." He then immediately said not to use that.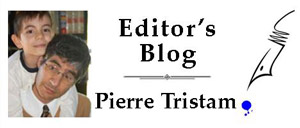 I think I physically recoiled in my seat. There was a very brief pause, the mental equivalent of a double-take. "Frank," I told him, "you can't be saying things like that to me." We had not been off the record—not that abusing that binding standard as a veil for slurs would have made the statement any less offensive.  Not much later I headed to the Government Services Building and spoke with Meeker just before the commission meeting. I asked him what difference there was between his statement and a derogatory statement about, say, a black person, that inappropriately referred to that person's race.
Meeker didn't hesitate. "None," he said. He gets it. He knows. It was, as he said, "a slip of the tongue," a reference to the Elton John song by the same name.  He apologized repeatedly and sincerely, and I believed him. I respect Meeker. His politics aren't mine. But that's irrelevant. He's engaged, he debates, he experiments with ideas, he's immersed in the community, and he always returns calls no matter how difficult the issue, even when he's on the spot. He showed that grace again yesterday, after he spoke those words.
Nevertheless he said an ungraceful thing. We all use foul language in the abstract, and I don't fault politicians for doing so. In its proper context, foul language is poetry. But a four-letter word is not a slur. To identify and characterize a woman as a bitch is, and attempting to justify a slur by confusing it with generic cussing gives the unacceptable a fake pass.
Meeker's phrase was a slur. Whether it's quoting a song or betraying a slip, it was the reflection of a mind a little too unsuitably at ease in an indisputably formal context: I did not overhear the statement at a bar or at a party. He was not among friends. He was speaking directly with a reporter, about Weeks, during a conversation about official business—Meeker in his capacity as a commissioner and incumbent candidate, me in my capacity as a reporter. He made the statement about a constitutional officer (not that saying it about any woman would have lessened the gravity of the phrase). And he did so in the context of an ongoing political controversy involving the commission and the supervisor. The layers of offense—to Weeks, to her office, to women, to me, to any man with sense enough to know that 1950s cooler chat is over—pile up, eliminating whatever hope I'd had of rationalizing silence on the matter.
Meeker justly called out his opponent Dennis McDonald's "negatively charged" method of politicking. It damages discourse and does nothing to advance discussions. But the casualness of Meeker's remark about the supervisor is itself a reflection of the same corrosive attitude. That it was so casual is the problem. It reminded me of the time in 1994 when I interviewed Gaston Caperton, the governor of West Virginia at the time, as he was hosting the National Governors Association convention at the ultra-posh Greenbrier. I asked him why the convention wasn't held at a place closer in style to the West Virginia he was trying to show off. His answer: If the NGA "were being held in New York City, I suspect that it would be held in one of the downtown hotels, not in the middle of Harlem." He had no idea of the racism behind his comment. He didn't think it was news.
Nor did Meeker. And though this sounds ridiculously sanctimonious, Meeker spoke the words with a degree of presumption that also offends me and my profession, beyond the offense to Weeks: that among us he could say such things, as if our knowing each other for several years and having had a perfectly cordial relationship would loosen certain reins of propriety. I have no doubt that many reporters here and elsewhere develop that sort of familiarity with their sources and apply different standards to different people depending on their closeness. They love the clubbiness. They don't want to lose access. It's what rots journalism, local journalism especially (though Bob Woodward is exhibit A in the perils of chummy sourcing at the highest level). Meeker even said what I've heard innumerable sources tell me in one variation or another, usually when they're facing a difficult situation: "I thought I was talking to a friend."
We're not friends. We're in an adversarial relationship, however cordial. Without it no reporter is worth a notepad. That doesn't mean we're waiting for politicians to screw up. It's enough to cover the daily beats to know that there's plenty there to keep us all busy. This election season has been particularly unpleasant in that regard. But we're not here to be protective of public officials, let alone be team players or cheerleaders. We're readers' eyes and ears. We err too, often, though we do so in print, for everyone to see, judge and correct.
I doubt too many people dispute that Weeks can be a royal pain. I just got done criticizing her over it in my last column, and she just got done firing back on the air on WNZF Friday. But a difference of opinion is not disrespect. My guess is that most people will sympathize with Meeker's sentiment, but I hope not his way of expressing it, whatever the context.

Frank Meeker and Kimberle Weeks were invited to provide statements. Meeker provided his last night, and was forwarded to Weeks. Weeks's statement follows Meeker's. 
In my response to FlaglerLive regarding one of my faults, I commented that my biggest fault is "my personal frustration level interferes with my ability to think cogently and wisely when I'm not on heightened alert" and then went on to give some examples.  I didn't mention off handed comments.  It's happened to other folks in glass houses; presidents, senators and house members, movie stars and even basketball team owners.  It came back to whack me while driving back from a meeting listening to Sirius radio's 70s on 7 and returning a call from the editor of FlaglerLive regarding when I'm going to be submitting my response to the second round of questions.  So I go from Eagles and the Carpenters to politics, and during the conversation, he mentioned his belief that the Supervisor of Elections would be coming back before the board this evening, to bring up the subject of signs at the polling stations,…again.  I don't know about you, but I was getting tired of pedantic discussions regarding the SOE and the City of Palm Coast's Community Center, or the SOE and the size of the rooms for early voting, or the SOE and the need to litter public property with more political signs.  In a moment of frustration, thinking I'm being funny, and foolishly taking a line from Elton John blurted out, Oh no, the bitch is back.  Yup, foolish it was, and silly to have said it during what feels like a private, informal conversation with a reporter where we all know nothing is really off the record unless the two agree.  But I said it, and now I'm apologizing, specifically to SOE Kim Weeks, and to any others that would be offended at my momentary lapse in judgment, fueled by my personal frustrations.
–Frank Meeker
Kimberle Weeks's statement:
This email you sent me is very disturbing and shocking because as a former Palm Coast City council member and current Flagler County Board of County Commissioner one should be unbiased, and fair.  Mr. Meeker has been a frequent flyer in the elections office just as other Candidates and all are treated with the same respect and courtesy.  Would Mr. Meeker have made the same comment if the SOE was a man?   This sexist comment apparently came from a man who has a 50's attitude against women, who is prejudiced, and who does not have respect for women. People don't say things they don't mean, so Mr. Meeker's comments apparently are a reflection of his feelings.  It appears that when Mr. Meeker realized that his comments were not going to be kept private between  you Pierre and himself he attempted to cover up the sexist comment by using lyrics from a song; which was a weak cover-up.
Mr. Meeker can call me anything he wants, but he must remember he should be willing to pay the price for what he says.  Mr. Meeker's so called apology was his way of apologizing to the press or Pierre, but he has not apologized to me, Kimberle B. Weeks. People who can't accept females holding public office, and who don't respect women are sexist and make such statements.
It is unfortunate that Mr. Meeker does not have the same regard for our voting rights and doesn't share my belief  that elections should be fair, and voter must be allowed to vote without intimidation, and inconvenience.  Every voter should be able to conveniently and easily access the polls to cast their vote.  Because Florida Statue 101.71(5) allows for tax-supported buildings (not the picking of a room(s) by the City Council or BOCC with or without the threat of a fee, or other conditions on parking limitations etc.) to be made available for use as polling places upon the request of the supervisor. If the current laws and citizens' constitutional rights were respected and followed I should not have to bring issues before the City Council or BOCC in order to carry out my duties and responsibilities of serving the voters and providing to them the convenience and easy access they deserve and are entitled to in order to vote. The provision in Florida Statutes 101.71(5) and 101.715 is confirmation that voting, access to the polls and parking is what the voters are entitled to, and that voting is a priority over bridge games, birthday parties, meetings, etc.
Mr. Meeker is right. I have been before the board many times.  I will continue to go before the board when I feel the voter's access is being limited or impacted in a way that will not allow a voter to vote with convenience and ease or if conditions are preventing elections from being fair.  I was elected by the people, I work for the people, I am accountable to the people, and I will make every effort to provide the voters with the best service possible—even if I have to face those as Mr. Meeker who are prejudiced.
If Mr. Meeker would like to apologize, he can direct a written apology directly to me.  Whatever Mr. Meeker decides, I will continue to treat him with the same courtesy and respect as I have demonstrated in the past, which is also how I treat all others.  I also welcome Mr. Meeker to the elections office, and hope his opinion of me won't prevent him from continuing to be a frequent flyer of this office.
–Kimberle Weeks