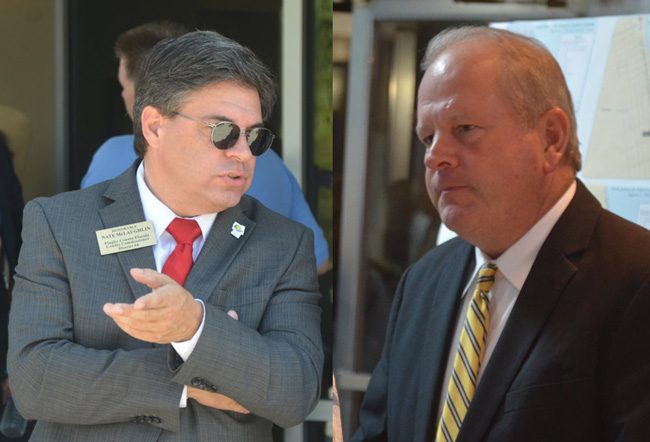 A FlaglerLive Investigation
---
It's no secret that Flagler Beach and Flagler County government haven't been in agreement over who should control management of dune restoration along State Road A1A in the wake of Hurricane Matthew. The county was assuming a primary role. The city thinks the county is assuming too much, and it's had its city manager, Larry Newsom, as its point man, assertively pushing back against county presumption.
That hasn't resonated too well with county commissioners or with County Administrator Craig Coffey, whose only other Alpha male competitor in government until now had been Palm Coast City Manager Jim Landon. He wasn't expecting it from Newsom, though Newsom is merely channeling his commission's intentions.
Last weekend, County Commission Chairman called three Flagler Beach City Commissioners—City Commission Chair Jane Mealy and Commissioners Kim Carney and Marshall Shupe—to talk about the issue. He says he was just wanting to get clarification on their perspective. Mealy said he called to pressure them to change their mind. At least that's how he sounded with her, she says. He disagrees.
Whatever may be the case, during the conversation with Shupe, he brought up something else. He asked Shupe if he'd heard about Newsom wanting to work for Bunnell.
"The only one I mentioned it to was Marshall Shupe when I was talking to him," McLaughlin said. "I said, 'and oh, by the way, what do you think about this.' It was some kind of deal where Larry Newsom does consulting to Bunnell, then Bunnell pays him and he pays back Bunnell. That just—anyways, it's none of my business what they do with their manager, I was just asking him, by the way, what do you think about this."
Newsom was, in fact, looking to work for a day for Bunnell. That was about it.
But both McLaughlin's intervention in the matter and Newsom's moonlighting raise questions of propriety, and some local officials took issue with both: two Flagler Beach city commissioners found McLaughlin's meddling either inappropriate or plain wrong, with one of them accusing McLaughlin of being on a "witch hunt" for Newsom, as a way to undermine him for having been such a strong advocate of the city on beach issues.
---
Another complication in the dynamics between two governments that very much need each other.
---
On the other hand, Newsom's hunt for a stint with another agency raised eyebrows, and not just McLaughlin's, though none so far in Flagler Beach. McLaughlin insists the beach issue and Newsom's matter are completely separate, but his weekend phone calls, by mixing both, have added another wrinkle to the already difficult dynamics in the relationship between the city and the county: if there's been underlying tensions, it's not just been because there are differences of opinion, but because Flagler Beach feels its manager is being undermined.
The facts behind Newsom's alleged moonlighting sound odd. But they're a lot more arcane, dull and innocuous when deconstructed and explained—which only makes McLaughlin's question more perplexing.
Newsom's Pension Issue
Newsom used to work in Escambia County, a government that's part of the Florida Retirement System. Flagler Beach government is not. Newsom's retirement plan was as a pension. FRS gives its participants the option of choosing an investment plan instead. Newsom missed a deadline and never made the switch. To do so, he must qualify as an employee of a government that's part of FRS, even if for just a day, which is all he'd need to open that window, file the necessary paperwork, and accomplish the switch.
"It does happen," said Matt Mitloa, a financial counselor with Ernst and Young, the accounting firm FRS contracts with to provide financial planning to FRS participants. "Yes it's legal," he added, and there are no ethic issues. All a person looking to switch plans would have to do is be employed that one day and file the required papers by 4 p.m. that day.
Newsom had done his own homework. "I consulted with the city attorney and I consulted with commissioners and the mayor to let them known what I was looking into," he said, explaining to them that he was looking to make the switch for his wife's sake. "I feel foolish for not taking care of that in Escambia County but it is what it is. My research was to make sure it was nothing unethical or illegal."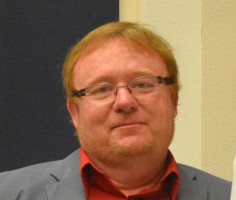 Looking for an FRS government nearby, he approached Dan Davis, the Bunnell city manager, with whom he has a good, professional relationship, and asked if it was possible to be on the city's payroll for one day. "We talked about it like how he would even compensate us," Davis said, "we wouldn't pay him anything, he would have actually have paid us out of his pocket" for any time used to process the paperwork. Davis said Newsom "truly would have been an employee for the city for a day," essentially as a one-day tutor for Davis: Newsom has decades of experience in local government, Davis is barely in his second year as city manager, Newsom would have provided what would have been the most inexpensive one-day seminar on the topic.
Davis spoke with FRS officials and each of the five commission members. Four were fine with it. One was not: John Rogers.
"When I was asked about it, my response was that it may be legal, but I don't feel that it's ethical," Rogers said. "It smacks of cronyism, therefore I am not in approval of it." There was no further discussion. Rogers was under the impression that it was "a done deal."
It isn't, Davis and Newsom say. As soon as Newsom heard that there was no unanimity in Bunnell, he backed off. He said he would not want to work in an agency where there wasn't complete agreement. Nor would Newsom continue his quest for a day as an FRS-qualified employee if his own commission was not in full agreement.
Behind the Scenes
The matter was never discussed at a public meeting in Bunnell, so essentially Davis reported back the five commissioners' positions on the matter to Newsom, which, strictly speaking, could be interpreted as a form of polling outside of an open meeting, but that's a different issue. The matter has not been discussed at a Flagler Beach city meeting, either.
"I don't need to discuss it in an open meeting, I'll discuss it one on one," Newsom said of his conversations with commissioners. But, he added, if he finds an agency willing to hire him for that one day, he would then bring it up at a meeting and ask for the issue to be formally ratified.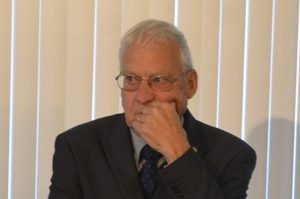 "He mentioned it to me, just once, that he was looking into a situation," Shupe, the Flagler Beach commissioner, said, "but it was not on an official thing of any type. My understanding is it's not anything the commission would have to vote on or anything like that. I do feel that because of the complexity of the whole thing, I think Larry is going to bring it up to us as a commission. He wouldn't do anything behind our back, I know that." But, he noted, "if it's something that would be detrimental to the city, then you know it might be looked on in a different manner, but from my understanding, it's not."
All this had taken place in fall, with word eventually getting to McLaughlin that it had been Newsom's plan. Rogers told McLaughlin about it over lunch recently. McLaughlin told Rogers that he would look into it and ask some members of his staff about it. He asked Al Hadeed, the county attorney, and word made it back to the city manager that in McLaughlin's interpretation the county attorney had deemed the matter improper, though in fact that was not quite the case.
The County Attorney Weighs His Words
Hadeed was aware that it was Newsom who was trying to get back into FRS, but he was not aware as to why.
The question as he understood it, Hadeded said, was "whether a city manager could be employed in another municipality while they were the city manager in order to participate in FRS benefits. I said if the city manager is full-time, and it's without the authorization of that local elective government, no, the answer is no."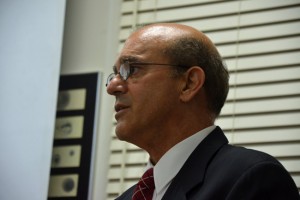 Newsom, of course, was not seeking to participate in FRS benefits, but merely to switch his pension type. He was not seeking to be employed by another agency but for a matter of hours, not to accrue new benefits as he continued to work for his other government. Those details had not been clearly conveyed to Hadeed, who said he was clear when he spoke to McLaughlin: "I stand by what I just told you is the law, I stand by that, but I did indicate to Nate that I wasn't rendering any legal opinion, and certainly no opinion to the involved governments, no matter who it was, whether it was Palm Coast or whoever. When I'm asked to make a legal opinion, and I have to actually do that, I engage in a much more disciplined analysis and get the facts, because I don't know the facts."
Joe Mayer, director of Flagler County's human resources department, said he wasn't aware of the issue, but when asked about the situation arising in his experience, he said switching from one pension plan to another is allowed once in an employee's lifetime, but that he'd never experienced a situation similar to Newsom's—"not in the 16 years that I've been here." He added: "I've not heard of that. I think it's a smoke and mirror thing and I would not advocate that if it were asked of us." (That rules out Flagler County as a potential one-day employment for Newsom: "I guess that helps me to know not to ask the county then, right?" he said. "If the county is not comfortable then I wouldn't ask them.")
Newsom, at any rate, was taken aback by the county commission chairman raising the matter with one of his own city commissioners, and in the same phone call in which McLaughlin was talking about the beach's future.
Linkage or No Linkage
To Mealy, the Flagler Beach commission chair, the linkage, if not the phone call itself, was inexcusable. McLaughlin had not brought up the Newsom matter to her attention, but she was aware of it, and that McLaughlin had brought it up separately.
"I didn't think it was any of Nate's business. I think Nate is on a witch hunt with Larry, and I don't know why," Mealy said.
---
"I'm a leader in the community, I wanted to know what was going on."
---
McLaughlin is almost incensed by the suggestion that was trying to undermine Newsom. "That's a negative way of looking at it," he said. "That's not what I was doing. I just wanted to know. It concerns our community, I'm a leader in the community, I wanted to know what was going on, you know, if there was something, if I could be involved—maybe we shouldn't do this. I think it would be my duty to be aware and to know, you know, these kinds of things going on in the community. I have no straight dog in the hunt, but as a citizen of this community and as a leader, I certainly am concerned that there's stuff like that going on that ought not to be going on."
He pushed back just as strongly when pressed on having brought the two issues in the context of the same phone call.
"They're not related, it's not related, I don't have a thing for Larry Newsom, that's their manager," McLaughlin said. "There's a misread on this unfortunately, unfortunately there's always a thirst for the negative side of everything. I have no dog in the hunt, there's no intention to undermine Dan Davis, Jim Landon, Larry Newsom, and if that's the way it's being taken, then we need to clean that up, because I just asked him, by the way, are you aware of this."
McLaughlin said Shupe "didn't seem to be" aware of the issue when he first talked to him. He added: "I know I wouldn't allow for my administrator to enter in any kind of agreement like that," he said. "But that's between the two cities. I was just asking Marshall what he knew about it. Totally separate, they're not related."
"It's Wrong For Him to Do That"
But Shupe didn't find the reference to Newsom appropriate in the phone call. "I wouldn't have done it. I mean, if it was reversed, I don't feel that I would have done that. That's just not the way I would do things," Shupe said. Asked why he thought the issue was brought up at all, he said: "I have no idea. I don't know what would be the incentive, anymore than if I made a phone call and said, you know, I don't think so and so employee of the county is doing what they're supposed to be doing. I don't know the incentive for that. I can't speak to that."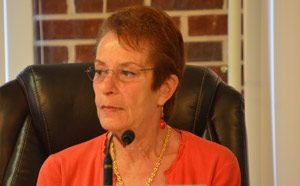 Shupe is concerned about working out issues between the city and the county. The issue over Newsom is interference–and interfering. "We're all supposed to be working together on this," he said, "and to single any one person out out or one commissioner out, or any employee, to single one out and go after that one person for one reason or another I don't really think is appropriate, because here again, the whole key is to make sure that this works for Flagler County and its residents. And I don't know that making accusations against me or anybody else, or me making accusations against anybody—I don't think that's appropriate."
Mealy spoke in even stronger terms about McLaughlin's references to Newsom. "That's wrong," she said. "It's wrong for him to do that. Yes, he's a citizen of the county, like all of us are, but he's the chair of the county commission, and that kind of puts a different—should put a different perspective on it, should have him behave in a different way."
Whatever issue she may have "in my head with Palm Coast or Bunnell or the county," she said, she would not handle it that way. "I just think it's wrong. So I don't know what his aim ultimately is."
Newsom, for his part, said he'll continue to switch his FRS pension, but only if it's reasonably possible. "If nobody wants to do this, that's fine, no hard feelings," Newsom said. "It's my mistake, I should have done it before I left." He's happy with his current job, and won't make the FRS issue a factor. As to McLaughlin's raising the questions, Newsom said: "Nate McLaughlin is entitled to his opinion and I'll leave it at that, to be professional."