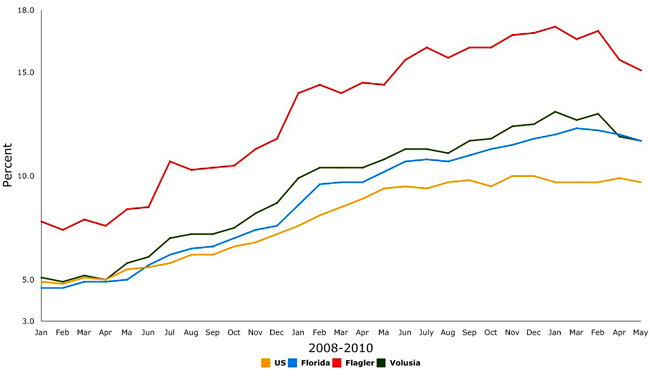 Flagler County's and Florida's job market continued to improve in May as the unemployment rate fell in Flagler to 15.1 percent, the lowest rate in a year, and the rate state-wide fell to 11.7 percent, a slight improvement from the 12 percent rate recorded in April. Florida added 20,300 jobs. Some 1.1 million Floridians are still unemployed.
But by far the largest gain was in government jobs, which added 32,100 jobs, a a 2.9 percent increase over April that reflects, as in the rest of the nation, a surge in temporary, Census Bureau employment. Nationally, employment grew by 431,000 in May, but all but 41,000 of those jobs were attributed to the census surge.
Almost all industries lost jobs in the past month, led by construction, finance, insurance and arts and recreation–the latter possibly the first indication of the oil spill's effects on the west coast. Other than government, one sector showed some improvement: management jobs, which increased by 2,100.
Two numbers are significant in terms of trends: Florida as a whole is still adding to its labor force, which grew 0.9 percent in the past year, or by 81,000 workers. In Flagler, however, the labor force is stalled at virtually the same number it was a year ago, after experiencing rapid growth in the 12 months to May 2009 (4.6 percent) and the previous 12 months (3.1 percent).