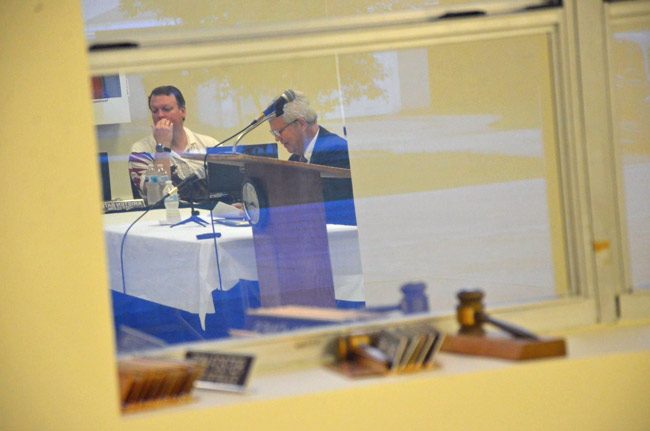 For a job candidate who barely squeaked through with a 3-2 vote, Martin Murphy is making quite the demands in his counter-offer: The prospective Bunnell city manager is asking for $90,000 a year, almost seven weeks' paid vacation, and an immediate start to his health benefits, as opposed to waiting three months as do other employees in the organization.
Murphy has been in contract negotiations with the commission's attorney since last week, when divided commissioners voted to offer him the job. But he's making demands at variance with the offer, prompting a special meeting this evening when commissioners will decide whether to meet his demands, reject them, or move on to different candidates.
John Sowell, the swing vote who gave Murphy the majority he needed to get the offer last week, is making it clear that he's not willing to meet Murphy's demands. "I'm there tonight to negotiate. If he doesn't want to negotiate, then we'll find somebody else," Sowell said.
The job was advertised for $75,000 to $80,000. Murphy was making $77,000 at his last job, according to the figure he provided in his job application. That job ended last October.
"My unique qualifications as an ICMA-Credentialed Manager as well as my designation by the American Institute of Certified Planners bring significant expertise and added value to the position at a time when the City's recent western annexations have created an ideal opportunity for the City to define its own destiny," Murphy wrote the commission on June 28 (by way of the city attorney), even though he was negotiating with the attorney. "For these reasons, I believe my contribution on this job would be worth between $86,000 – $90,000 in compensation."
The job provides for the standard 28 days of paid vacation or personal time off. Murphy wants 33 days. On termination, the proposed contract calls for paying Murphy accrued leave time of up to 40 days. He wants 50 days. He's asking for $1,200 in relocation costs.
For comparison's sake, County Administrator Craig Coffey started at 20 days of "leave" time a year, and now–after 11 years on the job–gets 26 days. Palm Coast's Jim Landon gets 30 days.
"We'll have an interesting discussion at workshop," Commissioner John Rogers said, referring to tonight's special meeting. He and Mayor Catherine Robinson had voted against hiring Murphy. "It's clear that he doesn't know Florida law like he should, so I don't know, I'm going to wait for this meeting tonight and listen to what my colleagues have to say and we'll go from there." Rogers had concerns about Murphy's understanding of Florida-specific laws such as the open-,meetings law, while others had wondered about his lack of a Florida driver's license even though he worked in New Port Richey as an assistant city manager for almost a year. "I need more information at this point and the workshop is going to handle that tonight," Rogers said.
Murphy does not consider himself a permanent resident of Florida, but of New York, where he still has a driver's license and a house. He only rents in Florida "and currently returns to New York on a very regular basis," City Attorney Wade Vose told commissioners in an email last week. But at least one commissioner's concern over the lack of a driver's license–"I couldn't understand why he wouldn't have a Florida drivers license," Robinson said–prompted Murphy to acquire a Florida license last week.
Commissioner Elbert Tucker also found it odfd that Murphy had spent as much time as he did in Florida without getting a license, but was more concerned about the disparity between what the city offered and the number Murphy counter-offered.  "Perhaps he could prove himself before he goes above and beyond what we've offered," Tucker said.
That's what Flagler Beach City Manager Larry Newsom did: he was hired at $92,500, and after shepherding the city through a hurricane, commissioners offered a 30 percent raise.
"I don't know how we can go beyond what we've already offered, we voted on that," Tucker said. He is for negotiating further.
"I'm not going to support 90," Sowell said. "We can't start him there. I'd rather start a new search before we offer 90." Sowell said Tom Foster, the police chief currently serving as the interim manager, is capably managing the city and could continue to do so until the commission found a manager it can agree on. But Murphy also has all the qualifications Bunnell asked for, Sowell said. "He has a decent track record," Sowell said. "Virtually everybody that applied has been fired from somewhere. You've got to expect that from a city or county manager, it's an inherently political position."
As other commissioners noted, Sowell sees Murphy's demands as a negotiating tactic, one aimed at pushing the commission to the upper end of the job's salary range. But for now, commissioners appear to have little appetite to go beyond $80,000.
As for immediate health benefits, Wade Vose, the city attorney negotiating with Murphy and researching various contractual issues, told the mayor that the city's personnel policy would have to be changed to allow for the benefits to kick in immediately for the manager but not for other employees. "Of course," Wade wrote Robinson today, "this does not mean that the City Commission must do this, but it appears to be within the latitude of the City Commission to do if we document it properly in our personnel policies."
The special meeting of the commission is at 6 p.m. at Bunnell City Hall, 201 West Moody Boulevard.