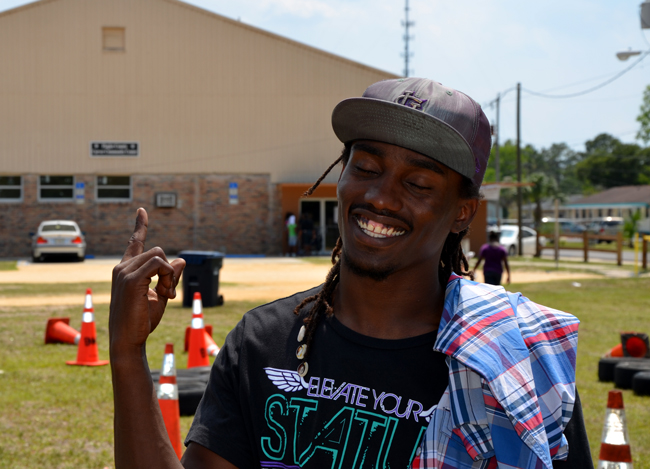 Sept. 10 update: Mardy Gilyard's career with the New York Jets lasted all of five days. He was cut from the team on Sept. 9.
According to the Daily News, which first reported the transaction, cornerback Isaiah Trufant will be activated off the practice squad to take his place.
It's not clear where Gilyard will head next. Another team could pick him up (he may be in discussions with the New Orleans Saints). He could be picked up as a practice player. Or he could head for the Canadian Football League.
Below is the original report on Gilyard's move to the Jets.

Sept. 4, 2011: Mardy Gilyard's days with the St. Louis Rams are over. His days with the New York Jets began this afternoon. Gilyard, who'll be 25 in December, is a 2005 graduate of Flagler Palm Coast High School.
The Rams cut Gilyard on Saturday after a disappointing season for the wide receiver, who played in just 11 games, caught six passes for 63 yards, no touchdowns, and averaged 22.3 yards per kick-off return, placing him near the bottom in that class. He was placed on the inactive list three times during the season. He suffered a ligament injury in training camp before the season.
Gilyard had been a fourth-round draft pick, signing a four-year, $2.32 million contract with a signing bonus of $552,000.
He was one of four players the Rams cut. Donnie Avery, the wide receiver the Rams held on to, has caught 100 passes for 1,263 yards and eight touchdowns in his three years with St. Louis.
A day after Gilyard was cut, the Jets acquired him after cutting outside linebacker Aaron Maybin, a former first-round pick by the Buffalo Bills (in 2009), defensive tackle Martin Tavaseu and cornerback Isaiah Trufant. The Jets also acquired former Dolphins quarterback Kevin O'Connell, former Chargers center Colin Baxter and ex-Cowboys safety Andrew Sendejo.
Gilyard had had a checkered few years since leaving FPC. His years at the University of Cincinnati began with promise, on an athletic scholarship–which he lost after cheating and under-performing in school, and, for a time, living out of his car. He made it back in. No sooner had he started playing for the Rams than he got robbed at gunpoint near the University of Cincinnati campus.
"I knew as soon as I was drafted that I didn't want to become one of those guys like my ex-teammate from Cincinnati, who got a nice big contract but had to take out a loan after his second year in the league," Gilyard told the News-Journal's Michael Lewis in March. "I've been smart with my money, I've put my money up, and I've got a team of good financial people around me who have advised me."
Gilyard visits Bunnell, his hometown, periodically. He was in town for Bunnell's Potato Festival in May, when he held a field day around Carver Gym.
Here's the 53-man roster for the Jets:
Quarterbacks (3): Mark Sanchez, Mark Brunell, Kevin O'Connell
Running backs (5): Shonn Greene, LaDainian Tomlinson, Joe McKnight, Bilal Powell, John Conner
Wide Receivers (6): Santonio Holmes, Plaxico Burress, Derrick Mason, Jeremy Kerley, Mardy Gilyard, Logan Payne
Tight ends (3): Dustin Keller, Matt Mulligan, Jeff Cumberland
Offensive linemen (9): D'Brickashaw Ferguson, Wayne Hunter, Brandon Moore, Nick Mangold, Matt Slauson, Vladimir Ducasse, Rob Turner, Caleb Schlauderaff, Colin Baxter
Defensive linemen (6): Mike DeVito, Sione Pouha, Ropati Pitoitua, Muhammad Wilkerson, Kenrick Ellis, Marcus Dixon
Linebackers (8): David Harris, Calvin Pace, Bart Scott, Bryan Thomas, Jamaal Westerman, Josh Mauga, Garrett McIntyre, Nick Bellore
Cornerbacks (5): Darrelle Revis, Antonio Cromartie, Kyle Wilson, Marquice Cole, Donald Strickland,
Safeties (5): Jim Leonhard, Eric Smith, Emanuel Cook, Brodney Pool, Andrew Sendejo
Kicker: Nick Folk
Punter: TJ Conley
Longsnapper: Tanner Purdum