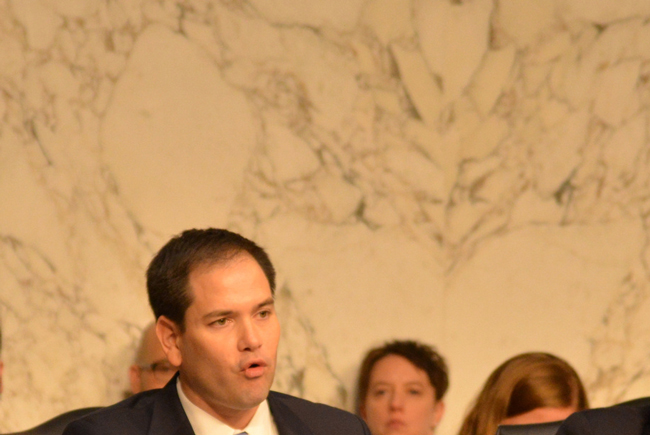 By Andrew Skerritt
Can someone give Sen. Marco Rubio some love? He certainly wasn't getting much at the recent gathering of conservatives in the Washington suburbs despite his tough rhetoric.
Rubio placed a dismal seventh at the Conservative Political Action Conference (CPAC) in a straw poll of likely GOP presidential hopefuls. And he definitely wasn't getting it from League of the South protesters in Tallahassee on Saturday.
Turns out the junior senator from Florida knew why he didn't mention immigration reform in his hard-hitting CPAC speech last week.  That kind of talk doesn't sit well with the GOP fringe, political or lunatic. League of the South president Michael Hill and his foot soldiers for secession wanted passing motorists to know how they felt about Rubio, illegal immigration and amnesty.
"Marco Rubio wants to replace us," the red-lettered signs shouted.
By us, they meant white southerners, the aggrieved, the belittled, the misunderstood, the endangered, the discriminated against, the disrespected.
In Hill's melanin-fueled nightmares, his beloved South comes to resemble Rubio's South Florida. He sees Latin hordes instead of God-fearing Southerners, Pollo Tropical instead of Waffle House.
The Southern Poverty Law Center classifies the League of the South as a hate group, but Hill isn't fazed by name-calling. So what, he said.
"I'm standing up for my people – white Southern people – no one else," he said in a professorial style he must have perfected during almost two decades at the historically black Stillman College in Alabama.

As Hill spoke, passing motorists blew their horns at the protesters, mostly dressed in what I'd call Dixie preppy  — blue jeans, denim long-sleeved shirts, cowboy boots and fedoras. A genteel, civilized, in-your-face group of narrow-minded folks exercising their First Amendment rights.  Anyone expecting an unruly bunch of rednecks waving Johnny Reb flags in front of the Old Capitol Building was sorely disappointed. The only Confederate flag in sight was worn on a lapel pin.
Protesters waved two flags — the state of Florida colors and the Bonnie Blue, the flag of the short-lived Republic of West Florida of 1810.  The same flag, five-point white star against a navy blue background, was flown by the Confederate States of America at the start of the Civil War.
Clever, very clever. The Bonnie Blue Flag doesn't carry the same hateful symbolism as the Confederate "Southern Cross," but the underlying message is the same. Hill, of course, will politely tell you that the Civil War wasn't about slavery.
At the event, one protester looked at me. He saw a black man, an African American who should be sympathetic to the idea that immigration, legal and illegal, is inherently bad because immigrants take jobs black folks want.
However, if he had listened carefully to me, he would have heard a Caribbean immigrant who believes immigrants enrich rather than impoverish our adopted country.  Successful immigrants of color are the best answer to the question of America's racism. Immigration is integral to our American heritage. And that should be Rubio's unapologetic message to Republican conservatives and moderates alike. But of course, he won't get any love for saying that.

Andrew J. Skerritt is author of "Ashamed to Die: Silence, Denial and the AIDS Epidemic in the South." He lives and works in Tallahassee.