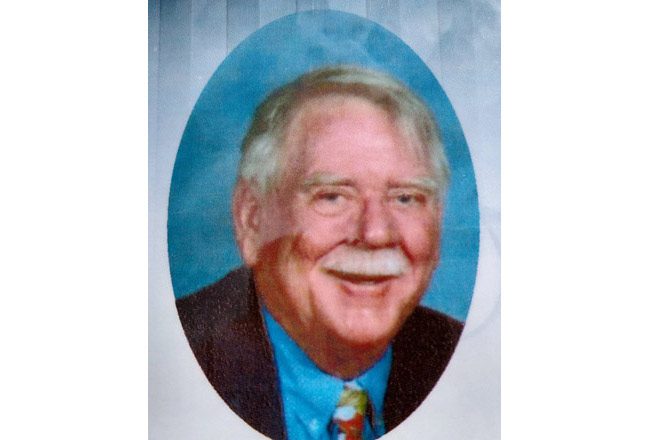 Today: Cooler, showers. Highs in the mid 60s. North winds 10 to 15 mph. Chance of rain near 100 percent. Tonight: Cloudy with chance of showers and slight chance of thunderstorms. Lows in the mid 50s. North winds 5 to 10 mph. Chance of rain 50 percent.
Today's document from the National Archives and the Astronomy Picture of the Day.
Today's tides: at the beaches, at the Intracoastal Waterway.
Drought Index: 271
Merriam-Webster's Word of the Day: polyglot.
The Live Community Calendar
Today's jail bookings.
Today's Briefing: Quick Links


"If you're under 50 and definitely if you're under 40, you have yet to experience how you disappear over the years, especially if you're not a looker and all the more so if you're a woman. Sustained gazes, casual glances and solicitous words go disproportionately to the young. To age is to feel as if pieces of you are falling or fading away, so that you somehow take up less space in the world. So that you're harder to see. But not by restaurants that know and value you. To them you're luminous."
–From Frank Bruni's column, "The Best Restaurant if You're Over 50," The Times, March 31, 2019.
Previously:

Note: all government meetings noticed below are free and open to the public unless otherwise indicated. Many can be heard or seen live through each agency's website.
The Sheriff's daily incident reports and jail bookings are posted here.
The Flagler County Commission meets at 9 a.m. at the Government Services Building, Bunnell. Commissioners will recognize employees with at least 15 years of service with the county and hear a presentation on the county's latest health ranking (see details here). Commissioners will also hear an update on the Design of Graham Swamp Multi-Use Trail and Pedestrian Bridge from Lehigh Trail. Commissioners will also reconsider a request by the sheriff to have the county build two buildings for evidence storage. The commission previously had rejected the request.
A road closure is scheduled Monday through Wednesday or sections of Rickenbacker Drive – between Royal Palms Parkway and Riviera Drive between 9 a.m. and 2 p.m. on those days. These road closures are needed to allow Florida Power & Light to install concrete power poles along Rickenbacker. The work zone will start near the intersection of Rickenbacker and Royal Palms on Monday, then shift toward Riviera as the week goes on. There will be no through traffic during the project. A detour will be provided.
Vacation rentals: The House Government Operations & Technology Appropriations Subcommittee will take up a bill (HB 987), filed by Rep. James Grant, R-Tampa, that would give the state regulatory authority over vacation rental properties, a concept known as "pre-empting" local regulations, an issue of particular interest to Flagler County, where county government won back the authority to regulate vacation rentals in 2014. Noon, Morris Hall, House Office Building, the Capitol.
Beverly Beach town commissioners are sworn-in at 5:45 p.m. at the town hall, 2735 N Ocean Shore Blvd. Newcomer Douglas O'Connor is getting sworn-in along with incumbents Debra Wingo and Jeffrey Schuitema. Mayor Steve Emmett is also getting sworn-in for another term.
No foolin': The Palm Coast Aquatics Center, more poetically known as the Frieda Zamba pool, at 339 Parkview Drive, opens for the season. It will be open 8 a.m.-12 p.m. and then 3-8 p.m. Monday through Friday through Memorial Day Weekend, when it will be open seven days a week for the summer. For a complete list of pool hours and fees, please visit www.palmcoastgov.com/pool or call 386-986-4741.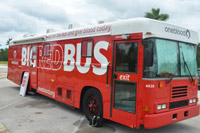 Blood Donations: The Big Red Bus will be at the following locations this week (schedule your donation by going to the website and entering a Palm Coast zip code, then locating one of the venues below):
Saturday: Walmart, 174 Cypress Point Parkway, Palm Coast, 11 a.m. to 5 p.m.
Sunday: Santa Maria del Mar Church, 915 North Central Avenue, Flagler Beach, 9 a.m. to 1 p.m.

Jail Bookings and Last 24 Hours' Incidents in Flagler, Palm Coast, Flagler Beach, Bunnell
Sources: Flagler County Sheriff's Office, Flagler Beach Police Department, Bunnell Police Department. This is Flagler County's only comprehensive, one-stop compilation of all local law enforcement's daily day and night shift commanders' reports.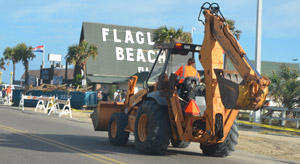 Flagler Beach Is Open For Business: A1A Construction Update:
FlaglerLive is providing weekly updates to year-long construction on and near State Road A1A in Flagler Beach as the Florida Department of Transportation rebuilds a 1.5-mile segment from South 9th Street to South 22nd Street, and builds a sea wall at the north end of town. These updates are provided through DOT or local officials. If you have any relevant information or images, you're welcome to email them to the editor here.
Last Updated: April 1
Segment 2 (South 22nd Street to South 9th Street):
The contractor continues installing a new water main along the west side of S.R. A1A. The contractor is moving north through the project clearing the area and removing existing sidewalk in preparation for the pipe installation. In the coming week, the contractor also will begin taking up the existing roadway to begin installation of the French drains.
Pedestrians are asked to stay within the temporary pedestrian walkways for safety. Residents and visitors also are reminded that all of the dune walkovers are closed, and removing any signage or barricades to access a walkover is unsafe and unlawful.
Segment 3 (North 18th Street to Osprey Drive) Project Update:
The contractor has completed more than 200 of the approximately 1,800 piles that need to be drilled to create the secant wall.
Construction activities will continue during daylight hours Monday through Saturday. The contractor is requesting that spectators stay off the shoulders and out of the work zone for safety. Drivers need to obey the 25-mph speed limit and remember that parking is not allowed on the shoulder.
Recently, DOT received a few questions from residents that DOT wants to answer:
1. Why do some properties have the black silt fencing and others do not?
The silt fencing is an erosion control requirement to prevent dirt and debris from leaving our work area and being deposited into waterways or onto private property. In some areas, the property to the west of our work area slopes up away from the work area, so erosion control is not required.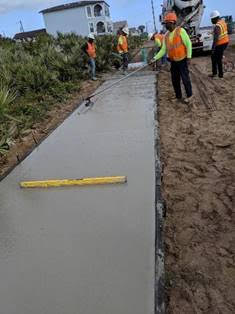 2. Will the contractor repair areas on my side of the sidewalk that have been disturbed?
Residents and property owners can get a general idea of where the department's right of way ends by looking at the placement of the power poles, as well as stakes that have been placed along the project. In some areas, the back edge of the new sidewalk will be slightly farther to the west. For the most part, the back of the new sidewalk will be very close to, or right at, the right of way line.
This project calls for all of the work to be performed within the Florida Department of Transportation right of way. If, however, the work disturbs or damages private property outside of the right of way, the contractor is responsible to make repairs once the work is finished.
Please note that all restoration of conditions within the department's right of way, including landscaping, hardscaping and driveways, is dictated by the construction plans and existing permits.
3. When will the sidewalk be replaced?
The contractor has begun installing the new sidewalk to the south of 19th Street. As the new water main is installed, there are several types of testing that need to be performed on the new line, and the work needs to be accepted by the City of Flagler Beach before the new sidewalk can be placed. The water main installation is expected to continue for the next several months.
Pedestrians are asked to stay within the temporary pedestrian walkways for safety. Residents and visitors also are reminded that all of the dune walkovers are closed, and removing any signage or barricades to access a walkover is unsafe and unlawful.
Caution! Flagler Beach police and and Sherriff's deputies are actively monitoring speed and writing tickets. "I got a warning on north section of A1A before construction actually began so I keep to the 25 limit, but still getting tailgated by cars wanting to go faster," a reader tells us. 
See Also: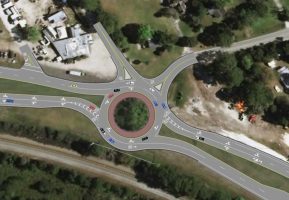 U.S. 1 and Old Dixie Highway Roundabout Construction Updates:
FlaglerLive is providing weekly updates to the planned 15-month, $4.1 million construction of a roundabout at U.S. 1 and Old Dixie Highway. The project started in late January and is scheduled for completion by spring 2020.
The Florida Department of Transportation will be closing Old Dixie Highway and C.R. 325 at U.S. 1 on Monday night, March 4, from about 8 p.m. to 6 a.m. The closure is needed to allow the contractor to make improvements to the crossover at the temporary intersection. U.S. 1 will remain open in both directions.
More details here.
See Also:
I-95 Construction, Repaving: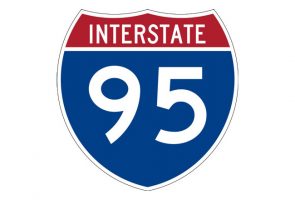 Monday – Friday, 7 a.m. – 9 p.m., single lane closures on NB I-95 from north of Palm Coast Parkway to the St. Johns County line. Monday – Friday, 9 p.m. – 7 a.m., double lane closures on NB I-95 from north of Palm Coast Parkway to the St. Johns County line.
See this week's full Interstate Construction Report for Flagler, Volusia and St. Johns here.

AdventHealth Palm Coast Hosts Colon Cancer Luncheon: In honor of national colon cancer awareness month, more than 70 community members joined AdventHealth Palm Coast for a free community luncheon on March 25 at the Hilton Garden Inn. Led by AdventHealth Palm Coast gastroenterologist Dr. Joseph McKinley, guests learned about colorectal cancer, causes, those at risk and preventative measures. "Colon cancer is the third most common cause of cancer in the U.S. and is the second leading cause of cancer related death," said McKinley. "It is estimated that more than half of all colon cancers could be prevented with regular screening via colonoscopy." During the luncheon, McKinley explained colorectal cancer arises from precancerous growths or polyps that grow in the colon. When detected early, polyps can be removed before they ever become cancerous, preventing the disease entirely. "While early detection of any cancer is important, prevention is powerful," said McKinley. "Many people don't realize that this second‐leading cancer killer is highly preventable." Colonoscopy is the preferred method of screening for colorectal cancer. The American College of Gastroenterology considers colonoscopy the "gold standard" for colorectal screening because colonoscopy allows physicians to look directly at the entire colon and to identify suspicious growths. Colonoscopy is the only test that allows a biopsy or removal of a polyp at the very same time it is first identified. "A colonoscopy is the preferred colorectal cancer prevention test," McKinley further explained. "For most individuals, colonoscopy is a regular recommended screening starting at age 50, and age 45 for African Americans. However, recommendations for how often a colonoscopy should be performed vary for high-risk individuals." Gastroenterologists like McKinley receive special training in colonoscopies. Their training incorporates comprehensive knowledge of the entire GI tract to provide the highest quality endoscopy services. "Although a colonoscopy is the preferred method, there are multiple screening tests," said McKinley. "Speak with your physician about what is right for you and go get screened."
Flagler County Art League's 8th Annual Poetry Competition: All poets are invited to participate in the 2019 Flagler County Art League National Poetry Month Competition, to run concurrently with our April Art Show. The competition will have an open theme. There will be a $25 prize for the first -place poem, a $15 prize for second place, and a $10 prize for third place. Entry fee is $3 for one poem, $5 for two. Winners are announced and can read their entries during our show opening, April 13, 6-8 p.m. Register here. The judge is Benjamin K. Atkinson, PhD, prestigious poet active in Ancient City Poets of St. Augustine and other northeastern Florida venues.

In Florida and in State Government:
Note: Some proceedings below can be followed live on the Florida Channel. Most legislative proceedings can be followed through the Senate or House websites.

CENSUS NUMBERS AT ISSUE: Senate Minority Leader Audrey Gibson, D-Jacksonville, Sen. Bobby Powell, D-West Palm Beach, and Rep. Susan Valdes, D-Tampa, will join the group New Florida Majority at a news conference about the need for an accurate U.S. Census count. (Monday, 10:30 a.m., fourth floor, the Capitol.)
COLLEGE FEE WAIVER CONSIDERED: The House Higher Education Appropriations Subcommittee will consider a proposal (HB 593), filed by Rep. Jay Trumbull, R-Panama City, that would waive out-of-state fees for students attending state colleges that sustained large enrollment losses because of Hurricane Michael. Waiving the out-of-state fees could help the colleges recruit more students who live outside of Florida. The bill could affect Chipola College in Marianna and Gulf Coast State College in Panama City. (Monday, noon, 404 House Office Building, the Capitol.)
CRIMINAL SENTENCING AT ISSUE: The Senate Criminal Justice Committee will consider a proposal (SB 1656), filed by Sen. Tom Lee, R-Thonotosassa, that would address a constitutional amendment approved in November that dealt with what is known as the "Savings Clause" of the Florida Constitution. The bill would require that lawmakers sign off on the retroactive application of any new sentencing laws. (Monday, 1:30 p.m., 37 Senate Office Building, the Capitol.)
BALLOT INITIATIVES TARGETED: The Senate Judiciary Committee will take up a bill (SPB 7096) that would make it harder for citizens and groups to put proposed constitutional amendments on the ballot. The proposal, for example, would require that petition gatherers be Florida residents and would prevent them from being paid based on the number of petitions they collect. (Monday, 4 p.m., 110 Senate Office Building, the Capitol.)
MINIMUM WAGE HIKE ANALYZED: The Financial Impact Estimating Conference will hold a workshop about a proposed constitutional amendment that would raise the minimum wage in the state. The proposal, which could go on the November 2020 ballot, would raise the minimum wage to $10 an hour on Sept. 30, 2021 and increase by $1 each year until it hits $15 an hour on Sept. 30, 2026. The state's minimum wage this year is $8.46 an hour. (Monday, 8:30 a.m., 117 Knott Building, the Capitol.)
—-Compiled by the News Service of Florida and FlaglerLive

To • include your event in this section, please email the details, including date, time, a brief description of the event, contact information, and, if you wish, an image, please use this form.

Keep Up with Donald Trump's attacks on the press through the ACLU's running tab here.
Keep Up with mass shootings in a running database here.

Palm Coast Construction and Development Progress Reports
Here's a summary of the latest city developments as of March 22, 2019, with a link to the full week in review here.
Click to access week-in-review-march-22-2019-developments.pdf

Cultural Coda
Symphony N°25 KV 183 W A Mozart Mozarteum Salzbourg Orchestra
Previous Codas: