Tuesday Briefing: Free Clinic Fund-Raiser, Internet Safety, Entrepreneur Night, Ndaba Mandela, FlaglerCares
FlaglerLive | March 26, 2019
Today: Partly cloudy. A 20 percent chance of showers in the afternoon. Highs in the upper 70s. West winds 5 to 10 mph shifting to the north 10 to 15 mph in the afternoon. Tonight: Partly cloudy with chance of showers in the evening, then mostly cloudy with showers likely after midnight. Lows in the mid 50s. North winds 10 to 15 mph. Chance of rain 70 percent.
Today's document from the National Archives and the Astronomy Picture of the Day.
Today's tides: at the beaches, at the Intracoastal Waterway.
Drought Index: 255
Merriam-Webster's Word of the Day: magniloquent.
The Live Community Calendar
Today's jail bookings.
Today's Briefing: Quick Links



"20 years ago, if you saw something on TV that offended you and you wanted to let someone know, you would've had to get a pen and paper and write, "Dear BBC, I'm bothered." But you didn't do it because it was too much trouble. Now with Twitter, you can just go, "[Expletive] you!" to a comedian who's offended you. Then a journalist will see that and say, "So-and-so said a thing and people are furious." No. The rest of us don't give a [expletive] and wouldn't have heard about it if it hadn't been made a headline. Everything is exaggerated. But everything's also an illusion. No one would talk to you in the street like they do on Twitter. They'd never come up and say, "Your articles stink." They'd never do that because they're normal, but they're not normal on Twitter because there's no nuance, no irony, no conversation there."
–Ricky Gervais, From "Ricky Gervais on Provocation, Picking Targets and Outrage Culture," The New York Times, March 19.
Previously:

Note: all government meetings noticed below are free and open to the public unless otherwise indicated. Many can be heard or seen live through each agency's website.
The Sheriff's daily incident reports and jail bookings are posted here.
Inaugural Sculpture in Town Center: The Gargiulo Art Foundation and Palm Coast government unveil the inaugural sculpture of what will be a sculpture garden in Palm Coast's Central Park in Town Center, near City Hall, at 9 a.m. See details here.

The Palm Coast City Council meets in workshop at 9 a.m. at City Hall in Town Center. The council will hear an update on its 10-year capital-improvement plan, discussions on further improvements at city parks, including Holland Park and Ralph Carter Park, discussion of an economic incentive package for CP Performance (" the world's leading marine mail order superstore for performance boating needs," according to the city's memo on the item), which seeks to expand its Palm Coast operation. CP Performance plans construct the 20,000 to 30,000 square foot facility in Palm Coast's Hargrove Grade Industrial Park. The company's move from California will create approximately 20 new jobs with an immediate capital investment of $3 million. The value of the incentive package is estimated at $35,000 payable paid through economic development incentive funds and only if company meets stated job creation/retention goals.
FlaglerCares, the county-wide initiative to expand the safety net for citizens in need, meets at 1 p.m. in training room 3 on the third floor of the Government Services Building, Bunnell.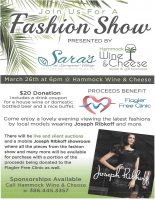 Free Clinic Fundraiser: Two fabulous businesses, Sara's Lifestyle Boutique in European Village and Hammock Wine and Cheese, are partnering for a fun evening – fundraiser for the Flagler Free Clinic. Enjoy a lovely evening viewing the latest fashions by local models wearing Joseph Ribkoff. Call ahead (386) 445-3357 to reserve a table (or become a sponsor), and then purchase $20 tickets at the door. 6 p.m. at Hammock Wine and Cheese, 5368 N Ocean Shore Blvd, (A1A) Palm Coast. Call 386/445-3357. Click on the poster for larger view.
Internet Safety: Buddy Taylor Middle School hosts a parent workshop on "Internet Safety, Social Media, Digital Citizenship," 6 p.m. at the Buddy Taylor Middle School cafeteria.
School Arts: Old Kings Elementary hosts its School Arts Night, 5 p.m.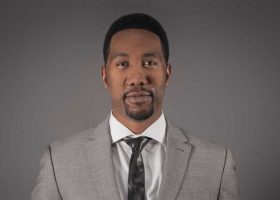 Ndaba Mandela, the grandson of Nelson Mandela, will discuss social justice and experiences he shared with his grandfather, who raised him while his parents were in college, 6 p.m., at Stetson University as part of Stetson's Many Voices, One Stetson initiative. The lecture will be held in the Carlton Union Building's Stetson Room (second floor), 131 E. Minnesota Ave., DeLand. The event is free and open to the public.
Entrepreneur Night, 5:30 to 7 p.m., this month at Lisbon at Night Restaurant and Cafe in Palm Coast's European Village. Entrepreneur Night is always held at venues that best exemplify local entrepreneurship and small business ownership. Since 2011, we've never held this event at a National Chain establishment. You are invited to join fellow Flagler, Volusia and St. John's County startup founders, entrepreneurs, aspiring entrepreneurs, business people, investors and those folks who stand behind entrepreneurs at this event. You will enjoy complimentary appetizers, and an optional cash bar. You are guaranteed to make some new connections, meet interesting people, and have meaningful conversations with Entrepreneurs, Investors, and folks who provide support and services to entrepreneurs. Free to attend, but RSVP here.
Great Organists at Stetson series, Boyd Jones, Stetson University Price Professor of Organ and University Organist. 7:30 p.m. Lee Chapel in Elizabeth Hall, 421 N. Woodland Blvd., DeLand. All concerts are free and open to the public. Call 386/822-8950.
The Daytona State College Foundation's Wisdom in Senior Education (WISE) program: Advanced Technology College (ATC), 1770 Technology Blvd, Daytona Beach, Multipurpose Room (Rm. 109), All About the Embry-Riddle Research Park. Dr. Stephanie Miller is executive director of Technology Transfer and Research Park Initiatives at Embry-Riddle Aeronautical University. The research park is home to the John Mica Engineering and Aerospace Innovation Complex, (the MicaPlex), the Wind Tunnel Laboratory and coming in 2019, the Applied Aviation and Engineering Research Hanger. The MicaPlex houses Embry-Riddle's Tech Business Incubator, tenant flex space, collaborative workspaces, cutting-edge laboratories and business support services, co-located to ensure that technology-focused startups will have every advantage for success. The Foundation created the WISE program to provide continuing education and cultural enrichment activities to senior members of the community. WISE is open to anyone age 50 or older, for $30 for an individual or $50 per couple per year. Find a complete list of spring presenters at DaytonaState.edu/wise. For more information, contact Suzette Cameron (386) 506-4506, or Suzette.Cameron@DaytonaState.edu.
NuMIX Ensemble Concert, Dr. Erin Bodnar and Dr. Andrea Venet, directors. 7:30 p.m., UNF's Fine Arts Center, Building 45, Room 1200. Free admission.
Coffee and Conversation: Talking Religion with Civility. Join the Interfaith Center to discuss the challenges of talking religion with each other, and learn skills to navigate conflict and disagreement. Coffee and tea served. At UNF's Founders Hall, Building 2, Room 1400. Contact Matt Hartley m.hartley@unf.edu (904) 620-5715.
Trans Talks, 4 p.m. at UNF's LGBT Resource Center Building, 1 UNF Drive, 58 East, Room 1111. Trans Talks is a peer led discussion group that allows transgender, nonbinary, and gender nonconforming individuals to meet and discuss a wide range of topics associated with being transgender. This group is open to all individuals under the Transgender Spectrum including but not limited to: Transgender, Genderqueer, Genderfluid, and Agender. Please note that Trans Talks is a peer discussion group and that there is no mental health counselor or other accredited professional available at these events.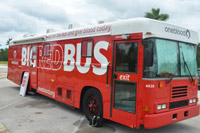 Blood Donations: The Big Red Bus will be at the following locations this week (schedule your donation by going to the website and entering a Palm Coast zip code, then locating one of the venues below):
Tuesday: Palm Coast Elks Lodge, 53 Old Kings Road North, 10 a.m. to 4 p.m.
Wednesday: Moe's Grill, 250 Palm Coast Parkway, noon to 6 p.m.
Saturday: Walmart, 174 Cypress Point Parkway, Palm Coast, 11 a.m. to 5 p.m.
Sunday: Santa Maria del Mar Church, 915 North Central Avenue, Flagler Beach, 9 a.m. to 1 p.m.


Jail Bookings and Last 24 Hours' Incidents in Flagler, Palm Coast, Flagler Beach, Bunnell
Sources: Flagler County Sheriff's Office, Flagler Beach Police Department, Bunnell Police Department. This is Flagler County's only comprehensive, one-stop compilation of all local law enforcement's daily day and night shift commanders' reports.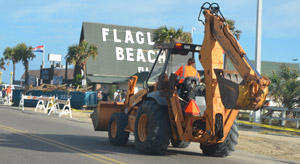 Flagler Beach Is Open For Business: A1A Construction Update:
FlaglerLive is providing weekly updates to year-long construction on and near State Road A1A in Flagler Beach as the Florida Department of Transportation rebuilds a 1.5-mile segment from South 9th Street to South 22nd Street, and builds a sea wall at the north end of town. These updates are provided through DOT or local officials. If you have any relevant information or images, you're welcome to email them to the editor here.
Last Updated: March 25
Segment 2 (South 22nd Street to South 9th Street):
The contractor continues installing a new water main along the west side of S.R. A1A. The work began at the south end of the project and is moving north. The contractor is expected to be installing new pipe between South 19th Street and South 18th Street over the next two weeks. Farther south, the contractor will be preparing to pour concrete for the new sidewalk.
Pedestrians are asked to stay within the temporary pedestrian walkways for safety. Residents and visitors also are reminded that all of the dune walkovers are closed, and removing any signage or barricades to access a walkover is unsafe and unlawful.
Segment 3 (North 18th Street to Osprey Drive) Project Update:
The contractor has completed more than 200 of the approximately 1,800 piles that need to be drilled to create the secant wall.
Construction activities will continue during daylight hours Monday through Saturday. The contractor is requesting that spectators stay off the shoulders and out of the work zone for safety. Drivers need to obey the 25-mph speed limit and remember that parking is not allowed on the shoulder.
Caution! Flagler Beach police and and Sherriff's deputies are actively monitoring speed and writing tickets. "I got a warning on north section of A1A before construction actually began so I keep to the 25 limit, but still getting tailgated by cars wanting to go faster," a reader tells us. 
See Also:


U.S. 1 and Old Dixie Highway Roundabout Construction Updates:
FlaglerLive is providing weekly updates to the planned 15-month, $4.1 million construction of a roundabout at U.S. 1 and Old Dixie Highway. The project started in late January and is scheduled for completion by spring 2020.
The Florida Department of Transportation will be closing Old Dixie Highway and C.R. 325 at U.S. 1 on Monday night, March 4, from about 8 p.m. to 6 a.m. The closure is needed to allow the contractor to make improvements to the crossover at the temporary intersection. U.S. 1 will remain open in both directions.
More details here.
See Also:
I-95 Construction, Repaving: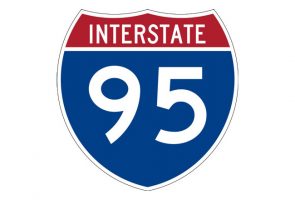 Monday – Friday, 7 a.m. – 9 p.m., single lane closures on NB I-95 from north of Palm Coast Parkway to the St. Johns County line. Monday – Friday, 9 p.m. – 7 a.m., double lane closures on NB I-95 from north of Palm Coast Parkway to the St. Johns County line.
See this week's full Interstate Construction Report for Flagler, Volusia and St. Johns here.


Flagler County Art League's 8th Annual Poetry Competition: All poets are invited to participate in the 2019 Flagler County Art League National Poetry Month Competition, to run concurrently with our April Art Show. The competition will have an open theme. There will be a $25 prize for the first -place poem, a $15 prize for second place, and a $10 prize for third place. Entry fee is $3 for one poem, $5 for two. Winners are announced and can read their entries during our show opening, April 13, 6-8 p.m. Register here. The judge is Benjamin K. Atkinson, PhD, prestigious poet active in Ancient City Poets of St. Augustine and other northeastern Florida venues.
2 Flagler Emergency Planners graduate FEPA Intermediate Academy
: Two Flagler County Emergency Management Planners – Lea Tardanico and Nealon Joseph – recently graduated from the Florida Emergency Preparedness Association (FEPA) Intermediate Academy. "The commitment of Nealon and Lea to expand their horizons for the betterment of Flagler County increases the pride that I already have for our amazing emergency management team," said Emergency Management Chief Jonathan Lord, noting that volunteers and several community partners round out the team along with county and municipal staff. "I am also grateful for the efforts put forth by the Florida Emergency Preparedness Association to better prepare Florida's emergency managers for the future." Tardanico and Joseph – Flagler County's newest emergency managers – spent a week in mid-March the Florida National Guard Camp Blanding Joint Training Center with other like-minded professionals from across the state to dive deeper into practical applications and principals of Emergency Management. The course included more than 60 hours of classroom instruction endured in 12- to 14-hour days to simulate real life emergency deployment and response. "I came away even more motivated to continue my path in emergency management," Tardanico said. "There is still so much to learn, and it is wonderful to get information directly from the subject area experts." Joseph added that nothing tops an opportunity to learn from others' experiences. "It really illustrated that there can be a disconnect between what is happening in the field and the operations center," Joseph said. "It is critical to follow the plans and the planning process to prevent creating a communications gap between the two." The Intermediate Academy course training counts toward the completion of the FEMA Advanced Professional Series certification for Joseph and Tardanico.


In Florida and in State Government:
Note: Some proceedings below can be followed live on the Florida Channel. Most legislative proceedings can be followed through the Senate or House websites.

NEEDLE EXCHANGE PROGRAM CONSIDERED: The House Health Quality Subcommittee will consider a proposal (HB 171), filed by Rep. Shevrin Jones, D-West Park, and Rep. Rene Plasencia, R-Orlando, that that could lead to needle-exchange programs in various areas of the state. The proposal would expand a Miami-Dade County pilot program aimed at helping prevent the spread of HIV and other diseases by intravenous drug users. (Tuesday, 8 a.m., 212 Knott Building, the Capitol.)
EMPLOYMENT REGULATIONS TARGETED: The House Local, Federal & Veterans Affairs Subcommittee will take up a bill (HB 847), filed by Rep. Bob Rommel, R-Naples, that would prevent local governments from regulating employment issues such as job responsibilities and hours of work. The bill would "preempt" such regulatory authority, giving it to the state. (Tuesday, 8 a.m., 12 House Office Building, the Capitol.)
'FRACKING' BAN CONSIDERED: The House Agriculture & Natural Resources Appropriations Subcommittee and the Senate Innovation, Industry and Technology Committee will take up bills (HB 7029 and SB 7064), filed by Rep. Holly Raschein, R-Key Largo, and Sen. Ben Albritton, R-Wauchula, aimed at prohibiting the controversial oil- and gas-drilling technique known as "fracking." Environmentalists have raised concerns about the bills, which they say would leave open the possibility of a drilling technique that uses many of the same chemicals as fracking. (Tuesday, House subcommittee at 8:30 a.m., Morris Hall, House Office Building, the Capitol. Also, Senate committee at 1:30 p.m., 110 Senate Office Building, the Capitol.)
HEMP PROGRAM CONSIDERED: The House Agriculture & Natural Resources Subcommittee will take up a bill (HB 333), filed by Rep. Ralph Massullo, R-Lecanto, and Rep. Sam Killebrew, R-Winter Haven, that would create a hemp program at the Florida Department of Agriculture and Consumer Services and provide a regulatory framework for the hemp industry. (Tuesday, noon, 12 House Office Building, the Capitol.)
PLASTIC STRAWS DEBATED: The House Business & Professions Subcommittee will consider a proposal (HB 603), filed by Rep. Anthony Sabatini, R-Howey-in-the-Hills, and Rep. Randy Fine, R-Palm Bay, that would prevent cities and counties from regulating how restaurants and other establishments distribute plastic straws to customers. (Tuesday, noon, 212 Knott Building, the Capitol.)
DEREGULATION SOUGHT: The House Government Operations & Technology Appropriations Subcommittee will take up a bill (HB 27), filed by Rep. Blaise Ingoglia, R-Spring Hill, that would remove or revamp regulations on numerous types of professions. (Tuesday, noon, Morris Hall, House Office Building, the Capitol.)
TEXTING WHILE DRIVING TARGETED: The House Transportation & Infrastructure Subcommittee will take up a bill (HB 107), filed by Rep. Jackie Toledo, R-Tampa, and Rep. Emily Slosberg, D-Boca Raton, that would make texting while driving a "primary" offense. The bill would allow police to pull over motorists for texting while driving. Currently, it is a "secondary" offense, meaning drivers can only be cited for texting behind the wheel if they are stopped for other reasons. (Tuesday, noon, Reed Hall, House Office Building, the Capitol.)
GENETIC TESTS TARGETED: The House Insurance & Banking Subcommittee will consider a bill (HB 879), filed by Rep. Jayer Williamson, R-Pace, that would seek to block life-insurance companies from using genetic-test results in deciding whether to cancel, limit or deny coverage to customers. (Tuesday, 3:30 p.m., 404 House Office Building, the Capitol.)
SCHOOL SAFETY SOUGHT: The Senate Infrastructure and Security Committee will take up a school-safety bill that includes allowing trained classroom teachers to carry guns as school "guardians." The bill (SPB 7030) is a follow-up to a safety law the Legislature passed last year after the mass shooting at Broward County's Marjory Stoneman Douglas High School that killed 17 people. (Tuesday, 4 p.m., 110 Senate Office Building, the Capitol.)
ABORTION WAITING PERIOD ARGUED: A panel of the 1st District Court of Appeal will hear arguments in a battle about the constitutionality of a 2015 state law that would require women to wait 24 hours before having abortions. The state took the case to the appeals court after a Leon County circuit judge blocked the law. A Gainesville abortion clinic challenged the law as a violation of privacy rights under the state Constitution. Supporters of the law have contended a waiting period would give women more time to make informed decisions before having abortions. (Tuesday, 9 a.m., 1st District Court of Appeal, 2000 Drayton Dr., Tallahassee.)
'SANCTUARY CITIES' BILLS OPPOSED: Critics of legislation (SB 168 and HB 527) that seeks to ban so-called sanctuary cities will march to the Capitol and hold a news conference. The bills are aimed at forcing local governments to cooperate with federal immigration authorities. (Tuesday, march starts at 10 a.m. at Florida People's Advocacy Center, 603 North Martin Luther King Jr. Blvd., Tallahassee. News conference at 11 a.m., Capitol rotunda.)
DUKE UNVEILS SOLAR PLANT: Duke Energy Florida will hold a ribbon-cutting event for a new 74.9-megawatt solar power plant in Hamilton County. (Tuesday, 10 a.m., Hamilton Solar Power Plant, 3974 S.W. 69th Dr., Jasper.)
CRAPPIE MANAGEMENT: The Florida Fish and Wildlife Conservation Commission will conclude a series of public meetings across the state seeking input on a draft plan involving the management of black crappie, a game fish commonly known as "speckled perch" or "specks." (Tuesday, 6:30 p.m., Lake Jackson Community Center, 3840 North Monroe St., Suite 301, Tallahassee.)
—-Compiled by the News Service of Florida and FlaglerLive


To • include your event in this section, please fill out this form.
♦
June 19
: The Flagler County Technical Review Committee meets at 9 a.m. in the First Floor Conference Room of the Government Services Building, Bunnell.
♦
June 19
: The Tourist Development Council meets at 10 a.m. in board chambers at Government Services Building, Bunnell.
♦
June 19
: The Flagler County Contractor Review Board meets at 5 p.m. in board chambers at the Government Services Building, Bunnell.
♦
June 19
: Rhonda Harvey, Chief Operating Officer for SMA Healthcare, is the speaker at the Flagler Tiger Bay Club meeting starting at 11:30 a.m. at the Hammock Dunes Club in Palm Coast. Harvey will discuss navigating the landscape of behavioral healthcare, addiction and recovery and suicide prevention. Under her direction, SMA served over 26,000 clients in 2018 at fourteen locations in the four county area. $40 for non-members.
♦
June 19
: The Flagler Chamber of Commerce and Flagler Beach businesses meet to address short and long-term concerns and solutions to the A1A construction project at 8 a.m at the city commission room, 105 South 2nd Street.
♦
June 19
: The Flagler Beach Economic Development Task Force meets at 4 p.m. at City Hall, 105 S 2nd St.
♦
June 19
: Flagler County Commissioner Joe Mullins hosts a Community Outreach Meeting at 6 p.m. at the African American Cultural Society, 4422 N US Hwy 1, Palm Coast.
♦
June 20
:

The Inspired Mic
, Palm Coast's most daring and unpredictable open mic event, is scheduled for its monthly edition at its new venue at the Hidden Treasures Restaurant, 820 Moody Ln, Flagler Beach. Each month some of the most creative, innovative performances a person could ever hope to experience take place at The Inspired Mic. 14 presenters each month pull out slices of talent and genius to entertain the audience. Each presenter gets 7 minutes to present on a very eclectic blend of their genius. Hidden Treasures Restaurant, 820 Moody Ln, Flagler Beach (under the bridge). Doors open at 6 p.m. and presenters begin at 6:30 p.m. Tickets are $12.50 advance, available at theinspiredmicus.com, or $15 at the door. The ticket includes one drink and entry into a drawing with a prize of $25 cash or a $50 gift certificate to The Hidden Treasures.
♦
June 21
: Urban Surf 4 Kids Surf Camp, South 6th Street on the beach, Flagler Beach, starting at 9 a.m.
♦
June 21
: Senior Summer Celebration Cookout (Senior Special Event), 11 a.m.-12:30 p.m. at Palm Coast Community Center, 305 Palm Coast Pkwy. NE. Celebrate the first day of summer with a cookout at the Community Center. Hot dogs, hamburgers and fixings will be provided. Participants are encouraged to bring a side dish. Sign up at the front desk with the dish you are bringing. $5/person with pre-registration required at www.parksandrec.fun/seniors. More info: 386-986-2323.
♦
June 21
: Dive-in Movies, 8 p.m. at Palm Coast Aquatics Center, 339 Parkview Drive. Just bring your swimsuit and enjoy the show! Dive-in movie nights at the Palm Coast Aquatics Center provides a unique outdoor movie viewing experience for the entire family. Be sure to grab your favorite snack, sit back and enjoy the show! Food and snacks will be available for purchase. This month features "Hotel Transylvania 3" (PG). $1/seniors & youth and $2/adults. More info: 386-986-4741 and www.palmcoastgov.com/movies.
♦
June 22
: New works by JJ Graham fill the gallery walls for the gallery's monthly event. Celebrate with us during JJ's birthday month. A gourmet taco bar and drinks are included with the purchase of admission. Our live musical guest is Jake Cox. 6 p.m., 802 E. Moody Blvd., Bunnell. Admission: $15. Parking: Overflow parking is across the street at the sheriff's operations office.
♦
June 22
: Watson Realty Corp. hosts its annual summer kick-off and family fun day from 11 a.m. to 3 p.m. at 1410 Palm Coast Parkway, with firefighters, sheriff's deputies offering safety tips, games, food and music.
♦
June 23
: Bow Wow Bingo to benefit the Flagler Humane Society, $25 cost includes a fish fry, 2 to 5:30 p.m. at the Elks Lodge, 53 Old Kings Road, Palm Coast.
♦
June 24-27
: Golf Summer Camp – Monday-Thursday, 9 a.m-1 p.m. at Palm Harbor Golf Club, 20 Palm Harbor Drive, Palm Coast. Learn the game of golf during these fun-filled days of short game, full swing, putting, golf etiquette, sportsmanship, and friendly competition. Open to all skill levels. Lunch, snacks, & drinks included. For ages 6-16 years. $150/week. Deadline to register is June 17. Registration required at www.parksandrec.fun/camps. More info: 386-986-2323.
♦
June 24-27
: Tennis Summer Camp (Session 2) – Monday-Friday, 9 a.m-4pm. at Belle Terre Park, 339 Parkview Drive, Palm Coast. Tennis and so much more! Please come with athletic clothes and shoes, swimsuit (for the pool), water bottle, sunscreen, lunch, snacks and drinks. For ages 6-13 years. $175/week. Registration required at www.parksandrec.fun/camps. More info: 386-986-2323.
♦
June 24
: Nar-Anon offers hope and help for families and friends of addicts. Every Monday, 6 p.m., St. Mark by the Sea Lutheran Church, 303 Palm Coast Pkwy NE, Palm Coast, Fellowship Hall Entrance. See the website, www.nar-anon.org, or call (800) 477-6291.
♦
June 24
:

The Flagler County Stamp and Coin Club meets at 4:30 p.m. at the VFW Post 8696 47 N. Old Kings Road. From 4:30 - 6 p.m. the time is used for buying, selling and trading stamps and coins. The club meeting starts at 6 p.m. and ends at 7:30. There is a live auction of stamps and coins at the end of the meeting. The club is open for members, the general public, and all who are interested in stamp and coin collecting and investing. Free stamps and coin evaluations at all our meetings. The club is the only non-profit Stamp and Coin Club in Flagler County. For more information please visit
the club's web site
.
♦
June 25
: The Flagler County Opioid Task Force meets at 6 p.m. at the Flagler County Public Library, 2500 Palm Coast Parkway. The task force will meet the fourth Tuesday of every month at the library through November.
♦
June 26
: A meeting of Facing Grief Together, formerly known as Compassionate Friends, is scheduled at the Vitas Office at 4 North Old Kings Road (across from Kentucky Fried Chicken) in Palm Coast. The meeting begins at 5:30 p.m. Facing Grief Together, a nonprofit self-help bereavement support organization for families that have experienced the death of a child. The meeting is open to all parents, grandparents, and siblings over age 18 who has suffered the loss of a child of any age. For more information, call John Brady at 610-428-3139. To learn more about Facing Grief Together, visit their national website at www.compassionatefriends.org.
♦
June 29
: First Aid and CPR/AED 9 a.m.-4 p.m. at Fire Station 25, 1250 Belle Terre Pkwy., Palm Coast. This class is a seven-hour course (one hour for lunch) designed to meet OSHA regulations and teach administering CPR to children and adults, using an Automated External Defibrillator (AED), using a mask or barrier device, assisting with bleeding, broken bones. $50/person with registration required by 9 a.m. June 27. Register at www.parksandrec.fun/adults. More info: 386-986-2300 and cprcertification@palmcoastgov.com.
♦
June 29-20
: Jr. Lifeguard Camp, 8 a.m-12p.m. at Palm Coast Aquatics Center, 339 Parkview Drive. The Junior Lifeguard Camp offers step-by-step lifeguarding skill development. Learn water safety, lifeguard rescues, and First Aid CPR/AED in a weekend camp. Class attendees will receive a CPR mask, Red Cross whistle and T-shirt. For ages 11-15 years. $70/session. Registration required at www.parksandrec.fun/camps. More info: 386-986-2323.
♦
July 1
: Nar-Anon offers hope and help for families and friends of addicts. Every Monday, 6 p.m., St. Mark by the Sea Lutheran Church, 303 Palm Coast Pkwy NE, Palm Coast, Fellowship Hall Entrance. See the website, www.nar-anon.org, or call (800) 477-6291.
♦
July 3
: Fireworks in the Park: Kick off your Independence Day celebration one day early July 3. Pack your picnic basket and bring your blanket and chairs to watch the free colorful display at Central Park at Town Center, 975 Central Ave, beginning at 9 p.m. Entertainment and food vendors will begin at 6 p.m. A patriotic ceremony starts at 7 p.m.
♦
July 5
: First Friday Garden and Butterfly Walk at Washington Oaks Gardens State Park, 6400 North Oceanshore Blvd., 10 a.m. Join a ranger at 10am for a walk through our historical gardens. Learn about the history of our park while exploring the beauty of the formal gardens, with an emphasis on butterflies. The walk is approximately 1 hour. Please bring water and wear comfortable walking shoes. Meet in the garden parking lot. Garden walk included with park entry. No registration required.
♦
July 5-7
: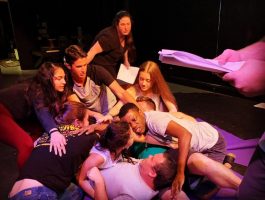 "A Midsummer Night's Madness," a summer workshop production at Palm Coast's City Repertory Theatre. Tickets are $15, Friday and Saturday at 7 p.m., Sunday at 3 p.m.
Book here
.
For events beyond this date, see the fuller Coming Days here.
To • include your event in this section, please email the details, including date, time, a brief description of the event, contact information, and, if you wish, an image, please use this form.


Keep Up with Donald Trump's attacks on the press through the ACLU's running tab here.
Keep Up with mass shootings in a running database here.


Palm Coast Construction and Development Progress Reports
Here's a summary of the latest city developments as of March 22, 2019, with a link to the full week in review here.
<![if !IE]><![endif]>


Cultural Coda
Carl Philipp Emanuel Bach – Symphony in C major
Previous Codas: