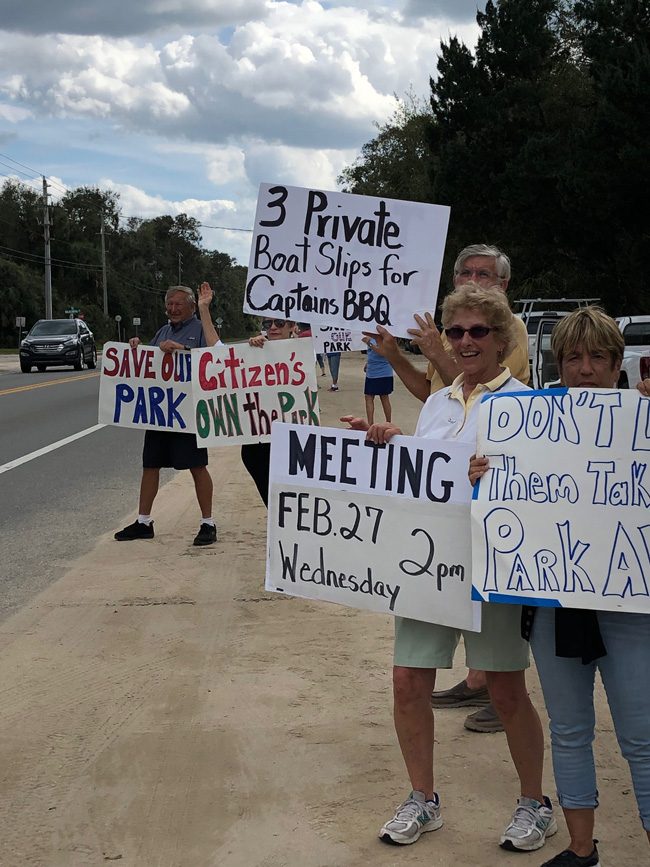 Today:: Patchy fog in the morning. Chance of showers and slight chance of thunderstorms in the morning, then showers likely and slight chance of thunderstorms in the afternoon. Highs in the mid 70s. Southwest winds 5 mph shifting to the north around 5 mph in the afternoon. Chance of rain 70 percent. Tonight: Mostly cloudy with showers likely and slight chance of thunderstorms in the evening, then partly cloudy after midnight. Patchy fog after midnight. Lows in the upper 50s. Southeast winds 5 mph shifting to the west after midnight. Chance of rain 70 percent.
Details here.
Today's document from the National Archives and the Astronomy Picture of the Day.
Today's tides: at the beaches, at the Intracoastal Waterway.
Drought Index: 171
Merriam-Webster's Word of the Day: avuncular.
The Live Community Calendar
Today's jail bookings.
Today's Briefing: Quick Links


Note: all government meetings noticed below are free and open to the public unless otherwise indicated. Many can be heard or seen live through each agency's website.
The Sheriff's daily incident reports and jail bookings are posted here.
The Flagler County Parks and Recreation Advisory Board meets at 10 a.m. in the First Floor Conference Room, 1769 E. Moody Blvd., Bldg. 2, Bunnell.
Bing's Landing and Captain's BBQ: The Flagler County Commission was to meet in workshop followed by a special session to discuss options for relocating Captain's BBQ at Bing's Landing, the county park. Thge meeting was cancelled late Tuesday, reportedly because property owners had not received sufficient notice of the meeting. The restaurant's owners were seeking to move the restaurant north, closer to the center of the park, and enlarging it. The plan drew strong public opposition, which has continued in weekly protests outside of Bings every Sunday afternoon since. The county administration then proposed several other options, one of them to move the restaurant southwest, close to the water, in place of a pavilion. See the background here.
The Blue Power 2020 Action Forum, 12:30 p.m. at the Fair Trade Cafe at Palm Coast's City Marketplace, 160 Cypress Point Pkwy. Come and join other progressive Democrats to discuss local, state and national issues, and propose actions to influence elected leaders. The Forum is open and informal and all opinions and ideas are welcomed. This is your opportunity to meet and lend your voice and knowledge to people who share your values. For more information, contact Mike Cocchiola, palmcoastdemoc[email protected]. The Blue Power forum meets every Wednesday.
A meeting of the Compassionate Friends is scheduled at the Vitas Office at 4 North Old Kings Road (across from Kentucky Fried Chicken) in Palm Coast. The meeting begins at 5:30 p.m. The Compassionate Friends, a nonprofit self-help bereavement support organization for families that have experienced the death of a child. The meeting is open to all parents, grandparents, and siblings over age 18 who has suffered the loss of a child of any age. For more information, call John Brady at 610-428-3139. To learn more about The Compassionate Friends, visit their national website at www.compassionatefriends.org.
Stetson Jazz Ensemble, Patrick Hennessey, director. You can't beat an evening of great jazz in the charming Athens Theatre. 7:30 p.m. Lee Chapel in Elizabeth Hall, 421 N. Woodland Blvd., DeLand. All concerts are free and open to the public. Call 386/822-8950. Admission: $10 adults, $5 youth and students and free for ages 12 and under. Tickets are available at the door or at www.stetson.edu/music-tickets.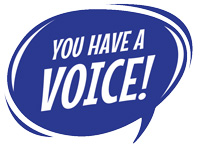 COMMUNITY INPUT SOUGHT ON HEALTH ISSUES (closes Feb. 28): Flagler county residents are being asked to speak up and voice their opinion on a variety of health-related topics through an online survey. The input from the community will be used to create health improvement plans to address community concerns and improve quality of life. The survey is online here countyhealthsurvey.com and is available in English and Spanish. Results of the survey provide the foundation of Community Health Needs Assessments, which are a collection of data used to inform communities and develop goals to improve health outcomes. Once the assessments are complete, they will be used to create three-year Community Health Improvement Plans for both Volusia and Flagler counties. The assessments are being conducted in collaboration with the Florida Department of Health in Flagler and Volusia counties, Flagler Cares, local hospitals and Volusia and Flagler county government. Residents, employers and community partners are encouraged to share this link and ask others to take the survey as well. The survey will close February 28, 2019. Please take the survey here.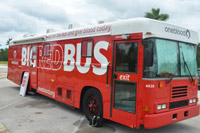 Blood Donations: The Big Red Bus will be at the following locations this week (schedule your donation by going to the website and entering a Palm Coast zip code, then locating one of the venues below):
Monday: Government Services Building, Bunnell, 1 to 4 p.m.
Wednesday: Flagler Palm Coast High School, 5500 State Road 100, 8 a.m. to 2 p.m.
Thursday: Walmart, 174 Cypress Point Parkway, Palm Coast, 11 a.m. to 5 p.m.
Friday: Advance America, 800 Belle Terre Parkway, Suite 212, Palm Coast, 2 to 7 p.m.

Jail Bookings and Last 24 Hours' Incidents in Flagler, Palm Coast, Flagler Beach, Bunnell
Sources: Flagler County Sheriff's Office, Flagler Beach Police Department, Bunnell Police Department. This is Flagler County's only comprehensive, one-stop compilation of all local law enforcement's daily day and night shift commanders' reports.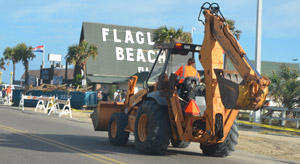 Flagler Beach Is Open For Business: A1A Construction Update:
FlaglerLive is providing weekly updates to year-long construction on and near State Road A1A in Flagler Beach as the Florida Department of Transportation rebuilds a 1.5-mile segment from South 9th Street to South 22nd Street, and builds a sea wall at the north end of town. These updates are provided through DOT or local officials. If you have any relevant information or images, you're welcome to email them to the editor here.
Segment 2: South 22nd to South 9th Street: A significant detour on State Road (S.R.) A1A in Flagler Beach is set to start Tuesday, Feb 26, as construction continues on a project to protect the road from erosion and future storm events. The work is part of a Florida Department of Transportation (FDOT) project to construct improvements along three sections of S.R. A1A in Flagler County. A temporary traffic repair has been in place since the aftermath of Hurricane Matthew in late 2016.
 Fast Facts:
Southbound traffic on S.R. A1A will be detoured onto a local road, South Central Avenue, between South 7th Street and South 23rd Street.
Northbound traffic will remain on S.R. A1A.
The detour will be in place throughout the reconstruction.
Access to all businesses and homes will be maintained.
Access will also be available using side streets.
For those with driveways only on S.R. A1A, access will be available from northbound S.R. A1A.
Since this is a popular destination for tourists and visitors, drivers are asked to obey the posted speed limits on both S.R. A1A and Central Avenue, and to be alert for pedestrians and bicyclists in the area. Due to safety concerns, bicyclists and foot traffic are urged to stay in designated, safe areas throughout the project.
Segment 3: North 18th Street to Osprey Drive: The contractor continues to bring in sand and prepare for installation of the new buried seawall. Residents may have noticed the contractor installing forms near North 18th Street. This is not the seawall itself. These forms will be used to guide the drill and form the new concrete shafts of the wall. These shafts will be about 36 feet deep. The contractor is expected to move its drilling equipment onto the work site this week. This movement is likely to require short stoppages of traffic using flagging operations along A1A.
Dune Walkovers:
The contractor will continue to remove dune walkovers as needed to accommodate construction of the buried seawall. The affected dune walkovers include both public and private walkovers between North 18th Street and Osprey Drive. By contract, all affected dune walkovers will be reconstructed once work is complete to their pre-construction condition. The contractor is carefully removing and storing separately the existing materials for each walkover. Photographs also are being taken to document existing conditions and will be used to assist with reconstruction.
 Please note that the walkovers must remain closed during construction for safety reasons.
The project team has announced that reconstruction of the walkovers is tentatively scheduled to begin in fall 2019. This timeframe is based on the current work schedule. Please note the schedule may be affected by weather or unforeseen circumstances.
The contractor has 300 days to complete the work.
Caution! Flagler Beach police and and Sherriff's deputies are actively monitoring speed and writing tickets. "I got a warning on north section of A1A before construction actually began so I keep to the 25 limit, but still getting tailgated by cars wanting to go faster," a reader tells us. 
See Also: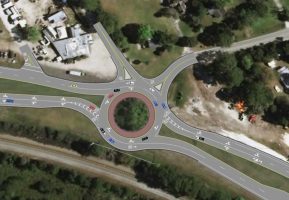 U.S. 1 and Old Dixie Highway Roundabout Construction Updates:
FlaglerLive is providing weekly updates to the planned 15-month, $4.1 million construction of a roundabout at U.S. 1 and Old Dixie Highway. The project started in late January and is scheduled for completion by spring 2020.
This week southbound U.S. 1 will be reduced to one lane and be shifted slightly west onto new pavement. Southbound U.S. 1 traffic heading to Old Dixie Highway will be directed to stay on southbound U.S. 1 and make a U-turn to return to Old Dixie Highway using northbound U.S. 1. Old Dixie Highway drivers heading to southbound U.S. 1 will have to turn onto northbound U.S. 1 and make a U-turn to access southbound U.S. 1. Later this week, northbound U.S. 1 will be reduced to one lane and shifted west onto the existing southbound side of the roadway. Once this shift is made, U.S. 1 will have one lane in each direction through the project area. The speed limit will be reduced along U.S. 1 through the construction zone, and drivers are asked to be alert and use caution when traveling through the work area.
More details here.
See Also: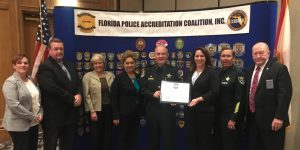 Sheriff's 911 Center is Re-Accredited: The Flagler County Sheriff's Office Emergency Communications Center received its first reaccreditation as an accredited 911 center by the Florida Telecommunications Commission (FLA-TAC) last week. It is one of just eight State-Accredited Public Safety Answering Points in Florida. During the entrance interview, the assessment team took a tour of the Communications Center and spoke with various employees and observed security measures. The assessment team then observed all general orders and operating procedures pertaining to the Communications Center to ensure that the center was in compliance with the requirements of all standards. All observable standards and accreditation files were found in compliance. Upon completion off the assessment, the team met for an exit interview to review the findings. It was noted that the assessment team did not encounter any issues and the FCSO Communications Section is staffed by highly trained professionals. It was also noted that the morale in the Communications Center is consistently high and that all members who were interviewed were dedicated professionals that were proud of the work they perform and the Agency they work for. The FCSO's Communications Center serves as the county-wide PSAP for all 911 calls, answering all emergency and non-emergency phone calls and providing dispatch services for the Sheriff's Office, the cities of Bunnell and Flagler Beach Police Departments, Flagler County Fire/Rescue, City of Palm Coast Fire Department, Bunnell Volunteer Fire Department and the Flagler Beach Fire Department. "Our Communications and Accreditation teams have done a great job in maintaining compliance and exceeding the expectations of the Accreditation Assessors," Sheriff Rick Staly said. "Not only did we meet re-accreditation standards, but some of the policies and training materials were requested by the Assessors to be used as examples for other agencies. That is a huge compliment. I am very proud of our team." Communications Center first earned accreditation in February of 2016.  Along with their role as 911 dispatchers, Communications Specialists complete a variety of tasks in support of law enforcement or fire/rescue operations including monitoring of state and national computer databases.

Engineering Department hosts MalaCompra Basin project update with residents: Flagler County's Engineering Department will host a public meeting from 5 to 7 p.m. Wednesday, March 6 at the Hammock Community Center to provide an update on the MalaCompra Basin Water Quality Enhancement project. Mailed invitations will be sent to property owners who are directly impacted by the project – Marineland Acres, Rollins Dunes, and Seascape. "We want to keep residents informed about the status of the project," said County Engineer Faith Alkhatib. "As always, we will do our best to minimize the impact on the daily life of our residents while we move forward with this health and safety project." The project will accomplish two goals: ease flooding on the northern barrier island; and, prevent untreated stormwater and septic tank leachate from making its way into the Intracoastal and ultimately places like Pellicer Creek headwaters – a pristine estuarine system. Presently, construction for the system outfall improvements is underway. The stormwater treatment facility construction off Bay Drive will begin within the next couple of months. Design work is about 60 percent complete for the side street collection laterals. The construction for that $6 million portion of the project is almost fully funded through a Florida Department of Transportation grant for the 2019-20 fiscal year. Also assisting, the St. Johns River Water Management District in 2016 awarded Flagler County a $500,000 grant as a Rural Economic Development Initiative (REDI) cost-share program project. The District decades ago placed the project in its Northern Coastal Basin Surface Water Improvement Management (SWIM) plan. The Flagler County Board of County Commissioners tracked the problems for many years, and in 2010 agreed to make the project a top legislative priority. The County has spent more than $6 million combined on the design and permitting – through the St. Johns River Water Management District and the Army Corps of Engineers, as well as the acquisition of property for the holding pond and outfall easements. Hammock Community Center is located at 79 MalaCompra Road.

Flagler Beach Citizens Academy: Eight consecutive Wednesdays beginning on March 6, 2019, running through April 24, 2019, from 2 to 5 p.m. Learn all there is to know about the history of your city, how your government works and is financed, and the responsibilities of staff and elected officials. Tour your city's recreational, first responder, library, and public works facilities. Discover plans for the city's future and opportunities for resident involvement. These sessions are open to anyone residing within the City of Flagler Beach. There will be a limit of 20 participants. Registration applications are available at City Hall, Building Department, Library, Police Department, Fire Department and on our City's website (www.cityofflaglerbeach.com). All applications must be received by February 22, 2019. Jane Mealy, Commissioner City of Flagler Beach PO Box 70 Flagler Beach, FL 32136 You will then receive a detailed schedule of the sessions and where each will be held. If you have any questions, contact Jane Mealy at: 439-4811 [email protected].

In Florida and in State Government:
Note: Some proceedings below can be followed live on the Florida Channel. Most legislative proceedings can be followed through the Senate or House websites.

WATER QUALITY ISSUES GET ATTENTION: Florida's congressional delegation will hold a hearing on water-quality issues such as red tide and algae blooms. Speakers during the hearing, which will be chaired by Republican Vern Buchanan and Democrat Alcee Hastings, are expected to include Noah Valenstein, secretary of the Florida Department of Environmental Protection. (Wednesday, 8:30 a.m., 2261 Rayburn House Office Building, Washington, D.C.)
PAROLE CASES HEARD: The Florida Commission on Offender Review, which considers parole cases from across the state, will start a two-day meeting in Duval County. (Wednesday, 9 a.m., Jacksonville Beach City Hall, 11 North Third St., Jacksonville Beach.)
HOMELESSNESS DISCUSSED: The Council on Homelessness, which works to reduce homelessness in Florida, will hold a conference call. (Wednesday, 9 a.m. Call-in number: 1-888-585-9008. Code: 351186925.)
—-Compiled by the News Service of Florida and FlaglerLive

To • include your event in this section, please email the details, including date, time, a brief description of the event, contact information, and, if you wish, an image, please use this form.

Keep Up with Donald Trump's attacks on the press through the ACLU's running tab here.
Keep Up with mass shootings in a running database here.

Palm Coast Construction and Development Progress Reports
Here's a summary of the latest city developments as of Feb. 22, 2019, with a link to the full week in review here.
Click to access week-in-review-feb-22-2018-development.pdf

Cultural Coda
Queen's Bohemian Rhapsody
Previous Codas: