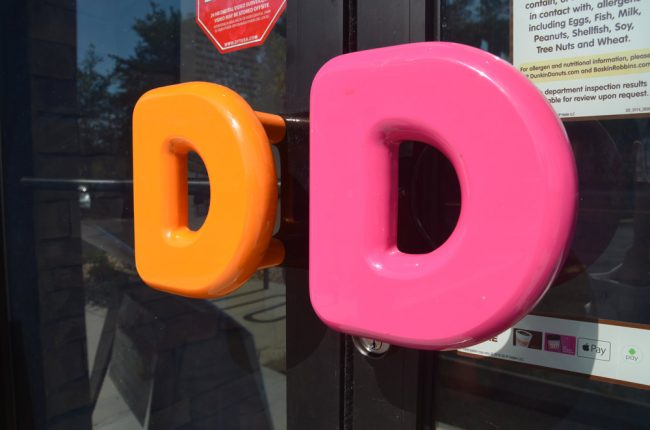 Today: Mostly sunny. Highs in the mid 90s inland…in the lower 90s coast. Northwest winds 5 to 10 mph. Tonight: Mostly clear in the evening then becoming partly cloudy. Lows in the mid 60s. West winds 5 to 10 mph. Details here.
Drought Index is at 452.
Today's tides: at the beaches, at the Intracoastal Waterway.
Today's document from the National Archives.
The OED's Word of the Day: onde, n..
The Live Community Calendar
Today's jail bookings.
Today's Briefing: Quick Links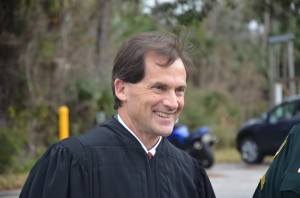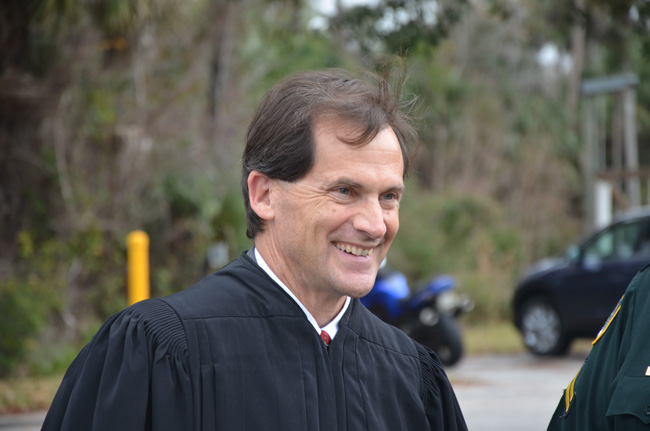 "If I was a woman, I would go to WARM in a heartbeat."
–Flagler County Circuit Judge Dennis Craig, speaking Wednesday to the Public Safety Coordinating Council about Stewart-Marchman's Project Warm at Bunnell's Vince Carter Sanctuary, a 52-bed long-term residential woman for at-risk pregnant women or young mothers. Hear his full statement here.

Note: all government meetings noticed below are free and open to the public unless otherwise indicated. Many can be heard or seen live through each agency's website.
The Sheriff's daily incident reports and jail bookings are posted here.
In Court: Circuit Judge Dennis Craig holds Drug Court at 9 a.m. in Courtroom 401, and pre-trial hearings and one sentencing at 1:30 p.m. County Judge Melissa Moore-Stens hears pleas, docket soundings and arraignments at 9 a.m. in Courtroom 403.
The Flagler County Airport Advisory Board meets at 4 p.m. on the second Thursday of the month, third floor, Airport Corporate Center, 120 Airport Road, Palm Coast.
The Flagler Beach City Commission meets at 5:30 p.m. at City Hall for a relatively limited agenda. The full agenda and background materials are here.
Bike paths and sidewalks: The Bicycle & Pedestrian Advisory Committee of the River to Sea Transportation Planning Organization (TPO) is holding a workshop at Palm Coast City Hall's community hall from 5 to 6:30 p.m. to solicit public input on a bicycle and pedestrian plan covering the urbanized areas of Volusia and Flagler Counties. The proposed Bicycle and Pedestrian Plan is intended to serve as a resource for non-motorized travel on multi-use trails, sidewalks, and bicycle lanes in Volusia and Flagler Counties. The goals of the plan include identifying and mapping existing and proposed facilities; promoting an ongoing education program that will raise awareness, encourage a heightened recognition of safe practices, and improve perceptions and attitudes of motorists, pedestrians, and cyclists; and promoting the enforcement of existing traffic laws as related to bicycle and pedestrian safety. Interested citizens are encouraged to attend one of the following public workshops to review the draft plans and provide feedback.
Thursday, Friday, Saturday, Sunday: Flagler Palm Coast High School Thespian Drama Club's production of its Spring Musical, "Big Fish," lyrics by Andrew Lippa, book by John August, based on Daniel Wallace's 1998 novel, "Big Fish: A Novel of Mythic Proportions." At the Flagler Auditorium May 11-13 at 7pm and Matinee May 13 at 2pm. $12 adul, $8 students and staff. See the video preview below:

Rymfire Elementary School Choir Concert at the school's cafeteria, 6:30 p.m.
Dunkin Donuts on Palm Coast Parkway reopens at 4 a.m.: The Dunkin Donuts that burned on June 11, 2016, re-opened today, as did its drive-in, as did its Baskin-Robbins ice cream parlor. Details here.
New Smyrna Beach Blues Festival, May 11-15. This much-anticipated returning event will feature scores of bands playing at multiple locations around town. Rich with history, tradition and diversity, the New Smyrna Beach Blues Festival will be THE place to get your groove on this summer. Admission is FREE unless otherwise stated; some locations are 21 and up. Details here.

Adult Basketball League, June 5 Through July
Monday and Wednesday evenings from June 5 through July, games start at 7 p.m., 8 p.m. and 9 p.m. at Buddy Taylor Middle School, 4500 Belle Terre Pkwy., Palm Coast. Register as a team for this 5-a-side style play. Ages 18+ Compete for the title of league champions and free entry into next year's league. The league includes eight regular season games, one game played every hour, single-elimination tournament, three FHSAA certified officials per game, game equipment and prizes. Fees are $360 team/$43 free agent for Super Early Bird Registration through May 7; $400 team/$50 free agent for Early Bird Registration May 8-15; and $440 team/$56 free agent for Regular Registration May 16-June 2. Register at: www.palmcoastgov.com/register or call 386-986-2323.

In Florida and in State Government:
Note: Some proceedings below can be followed live on the Florida Channel. Most legislative proceedings can be followed through the Senate or House websites.

The Florida Supreme Court is expected to release its weekly opinions at 11 a.m.
The Florida Transportation Commission will interview five candidates to become state transportation secretary. The interviews will start at 1:05 p.m. and will be conducted using GoToWebinar. The finalists are Ronald Howse, a member of the Florida Transportation Commission; Phillip Gainer, a district secretary for the Department of Transportation; Richard Biter, former assistant secretary of intermodal systems development for the Department of Transportation; Michael Dew, chief of staff for the Department of Transportation; and Gene Conti, former secretary of the North Carolina Department of Transportation.
ASKEW AWARDS PRESENTED: The New Leaders Council of Tallahassee will present the Reubin Askew Progressive Leadership Awards. (Thursday, 6:30 p.m., Sittig Hall, 301 South Bronough St., Tallahassee.)
–Compiled by the News Service of Florida and FlaglerLive

In Coming Days in Palm Coast, Flagler and the Occasional Beyond:
♦ May 12: Love Can Move the World, at Ocean Art Gallery in Flagler Beach, 206 Moody Blvd., Flagler Beach, at 6 p.m. A program on the topic of Love, combining music, visual art and the spoken word. Renowned vocalist and inspirational speaker David Stork offers an opportunity to experience the multi-faceted array of love. Music captures the emotional impact of love in ways that words alone cannot express. As a picture paints a thousand words, music conveys the vibration of a thousand sentiments, moving the heart, invoking memories, inspiring dreams, impelling positive action. Seating is limited to the first 40 people; advance reservations are required. Reservations may be made by credit card at flagleroceanartgallery.com/events or by calling 386-693-4882.
♦ May 12: Movies in the Park, 8:20 p.m. in Central Park at Town Center, 975 Central Ave., Palm Coast. Families will enjoy a family friendly movie on the park's giant outdoor movie screen. This month's feature: Zootopia (PG). Bring your blanket, lawn chairs and snacks and invite your friends and neighbors to join you at this free, monthly family activity offered by Palm Coast Parks & Recreation and Flagler Schools. More info: 386-986-2323 and www.palmcoastgov.com/movies.
♦ May 15: The Flagler Beach Police Department and the local 7-ELEVEN store have partnered to host another edition of "Doughnuts with Doughney" from 8 to 10 a.m. The Flagler Beach 7-ELEVEN convenience store is at 408 South Oceanshore Boulevard. The two hours in that it provide the public an opportunity to meet and speak openly with Chief Doughney about issues or concerns in Flagler Beach. The location of the meeting provides citizens easy access to both the 7-ELEVEN and Chief Doughney, in a relaxed, non-threatening atmosphere.
♦ May 15: Free legal clinics: The Clerk of Circuit Court and Comptroller in partnership with the Flagler County Bar Association is proud to present a four part series of legal clinics free of charge. Come out and speak to attorneys who are experts in their respective field of law for free. These clinics will be held at the Flagler County courthouse in the 1st floor jury assembly room, 1769 E. Moody Blvd. building #1, Bunnell, from 5 p.m. to 7 p.m. Today's class: Family Law: Divorce, Name change, Adoption, Domestic Violence Injunctions etc. See the flyer here.
♦ May 16: The Flagler County School Board holds a workshop at the Government Services Building's Training Room 3B (third floor) on the contract with its new superintendent, James Tager.
♦ May 16: The Florida Judicial Qualifications Commission holds a hearing the the case of Circuit Judge Scott DuPont, who faces several charges of misconduct during his 2016 re-election election campaign. He has admitted wrongdoing. The 9 a.m. hearing is taking place in courtroom 406-7 at the Duval County Courthouse, 501 W. Adams Street, Jacksonville, before a six-member panel: Eugene Pettis, Steven P. DeLuca, Robert Morris, Michele Cummings, Harry Duncanson (a lay member of the commission) and Jerome S. Osteryoung.
♦ May 18: Food Truck Tuesday, 5-8 p.m. at Central Park in Town Center, 975 Central Ave, Palm Coast. Purchase and enjoy delicious cuisine available from food trucks situated along Park Street next to Central Park. Free entertainment is also provided. More info: www.palmcoast.gov.com/foodtruck or call 386-986-2323.
♦ May 18: The Flagler County Sheriff's Office holds a candlelight vigil at 7:30 p.m. at the Flagler County courthouse, followed by a walk to the Sheriff's Operations Center at 7:45 p.m.
♦ May 18: Go Natural Thursday Nature Walk – Thursday, May 18, 8:30 a.m. at Long Creek Nature Preserve, 1050 Palm Harbor Pkwy., Palm Coast. As part of the Mayor's Healthy Community Challenge, join Palm Coast Environmental Planner Denise Bevan for a guided nature walk through the nature preserve. Free, but please sign up at www.palmcoastgov.com/healthy. More info: 386-986-2323.
♦ May 19: Kayaking College Waterway, 8:30 a.m. at Long Creek Nature Preserve, 1050 Palm Harbor Pkwy., Palm Coast. As part of the Mayor's Healthy Community Challenge, join Palm Coast Digital Communications Coordinator Jason Giraulo on a kayaking trip along College Waterway. Free, but please sign up at www.palmcoastgov.com/healthy. More info: 386-986-2323.
♦ May 19: Lunch N' Lecture Series, 11 a.m.-12:30 p.m. at Palm Coast City Hall, 160 Lake Ave: Palm Coast Astronomy Club member and volunteer NASA Solar System Ambassador Lee Bentzley will talk about the total solar eclipse coming Aug. 21. Lee will define what an eclipse is and tell how to protect your eyes while viewing this once-in-a-lifetime event. The lecture and lunch are free, but pre-registration is required (while space available) by 11 a.m. May 17: www.palmcoastgov.com/register. More info: 386-986-2323.
♦ May 20: Walk with the Mayor, 9 a.m. at Central Park, 975 Central Ave., Palm Coast. As part of the Mayor's Healthy Community Challenge, join Palm Coast Mayor Milissa Holland for a walk around Central Park and Town Center. Meet at the main stage area at the Central Avenue front entrance. Free, but please sign up in advance at www.palmcoastgov.com/healthy. More info: 386-986-2323.
♦ May 20: First Aid and CPR/AED Class, 9 a.m.-4 p.m. at Frieda Zamba Swimming Pool classroom 339 Parkview Ave., Palm Coast. This class is a 7-hour course (one hour for lunch) designed to meet OSHA regulations and teach administering CPR to children and adults, using an Automated External Defibrillator (AED), using a mask or barrier device, assisting with bleeding, broken bones. $5/person with pre-registration required by 9 a.m. May 18. Sign up at www.palmcoastgov.com/cpr. More info: [email protected] or 386-986-2300.
♦ May 25: Go Natural Thursday Birding Walk, 8:30 a.m. at Linear Park, 31 Greenway Court, Palm Cosat. As part of the Mayor's Healthy Community Challenge, join Palm Coast Digital Communications Coordinator Jason Giraulo for a guided bird walk. Free, but please sign up at www.palmcoastgov.com/healthy. More info: 386-986-2323.
♦ May 26-28: Country 500 2017, also called "The Great American Music Fest at Daytona," featuring the biggest stars in country music spread over three days and nights, programmed on three huge performance stages-all specially designed and built for the festival. Country 500 will take place on the infield of the world-famous Daytona International Speedway, allowing fans to actually camp out in the infield.
♦ May 27: Wine Walk: Explore interesting wines inside and outside host locations and walk Flagler Avenue in New Smyrna Beach from 1-7 p.m. During the progressive event, taste your choice of more than 100 showcased wines. Wine tasting passports are $25 and are available at the corner of Flagler Avenue and Peninsula Avenue, at the corner of Flagler Avenue and Cooper Street, or at the corner of S. Atlantic and Flagler Avenue. Passports include 20 tasting tickets and a keepsake wine glass. Some locations feature both one- and multi-ticket wines to sample. Those who want to share their 20 tasting tickets with a friend may get an additional wine glass for $5.
♦ June 3: Sample craft beers along historic canal street. in New Smirna Beach from 1 to 7 p.m. Tickets are $20 and include a six-ounce Canal Street souvenir glass and 12 sampling tickets that can be redeemed at 10 locations in the district. The walk is held on the first Saturday of each month. For more information, go here.
♦ June 3: Art Stroll and Gallery Walk, 10 a.m. to 5 p.m.: Artistic vendors set up along the historic Canal Street in New Smyrna Beach. Musical artists play from 11 a.m. – 1 p.m. in Christmas Park, 101 Live Oak Street. Galleries feature solo and group exhibitions and artist talks in the Douglas Avenue area of the district and at the Hub from 4-8 p.m. Admission is free.



Palm Coast Construction and Development Progress Reports
The following is an update of ongoing permitting, construction and development projects in Palm Coast, through April 26 (the city administration's full week in review is here):
Click to access developments-april-28-2017.pdf

Road and Interstate Construction:

Fauré's Requiem, Performed by the Ensemble Orchestral de Paris, Choeur Accentus
Previous Codas: