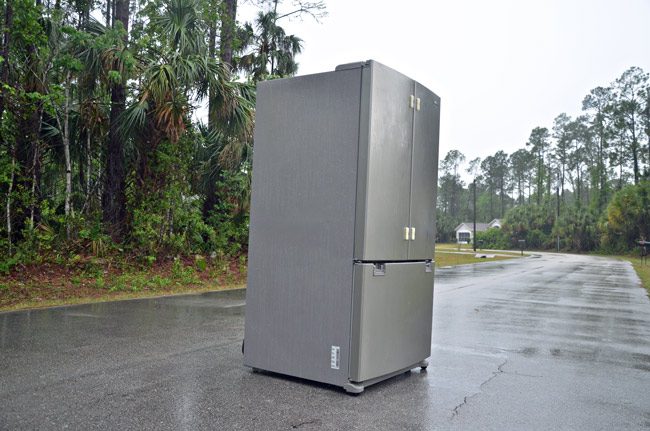 Today: Warmer, with possibly record-breaking temperatures. Partly cloudy. A 20 percent chance of showers and thunderstorms in the afternoon. Highs in the lower 90s inland…in the upper 80s coast. South winds 10 to 15 mph. The historical average for today is a high of 76, a low of 56. The record high for the region was set in 1945, when the temperature reached 93. The highest April temperature was reached on two different days in 1999, when the temperature reached 95 on April 24 and 27. Tonight: Partly cloudy with chance of showers and slight chance of thunderstorms in the evening, then cloudy with chance of showers and thunderstorms after midnight. Lows in the mid 60s. Southwest winds 10 to 15 mph. Gusts up to 30 mph after midnight. Chance of rain 50 percent. Details here.
Drought Index is at 433.
Today's tides: at the beaches, at the Intracoastal Waterway.
Today's document from the National Archives.
The OED's Word of the Day: brujería, n.
.
The Live Community Calendar
Today's jail bookings.
Today's Briefing: Quick Links

"Trump voters almost uniformly don't begrudge someone for being an entrepreneurial success ("If the guy pulls his own weight, I don't care how much he makes" was a typical comment I heard). But they can't stand the book-smart college types who make cushy livings pushing words around in what these voters see as competition-averse professions that reward people who in real life need to call AAA to change a tire. Trump tapped into all of this. His speeches were visual demonstrations of his power over us. We in the press, obediently clustered inside our protective rope line and/or standing mute on a riser in the middle of the hall, would sit looking guilty, like the pampered, narrow-shouldered, overgroomed hypocrites we are, while Trump blasted us as the embodiment of the class that had left regular America behind. Then he'd point to our very presence following him in such huge numbers as proof of our defeat and moral lassitude. Even as we dismissed his campaign in print, we kept flocking to it in ever-bigger numbers. No matter how much we sneered, he insisted, we were slaves to his success. Just as everyone else would be. The Mexicans. The Chinese. ISIS. Everybody."
–Matt Taibi, from Insane Clown President: Dispatches from the 2016 Circus

Note: all government meetings noticed below are free and open to the public unless otherwise indicated. Many can be heard or seen live through each agency's website.
The Sheriff's daily incident reports and jail bookings are posted here.
The Palm Coast Code Enforcement Board meets at 10 a.m. at City Hall in Town Center.
The Flagler County Fair and Youth Show begins today and runs through April 9 at the county fairgrounds, 150 Sawgrass Road, Bunnell. Tonight is student night at the fair. Details here.
Menopause: The Musical, at the Flagler Auditorium, 7:30 p.m.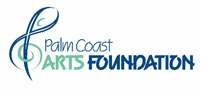 Palm Coast Arts Foundation's Annual Picnics and Pops Concert With the Jacksonville Symphony Orchestra, at Town Center: Tickets for the 10th Anniversary event, on May 7 at 6:30 p.m., are $40 for members of the foundation, $45 for the general public, through March 15. After March 15, tickets are $45 and $50, and a table of 10 goes for $450 for members, $500 for the general public. For tickets go to www.palmcoastartsfoundation.com or call 386-225-4394. See a full flier for the event here.

In Florida and in State Government:
Note: Some proceedings below can be followed live on the Florida Channel. Most legislative proceedings can be followed through the Senate or House websites.

Legislature: The House Appropriations Committee considers the state budget at 10 a.m., the Senate Appropriations Committee does so at 10 a.m.
The House is scheduled to hold a floor session at 2:30 p.m.
An investiture ceremony will be held for Justice Alan Lawson, who was appointed late last year by Gov. Rick Scott to the Florida Supreme Court. Lawson joined the court Dec. 31. (3 p.m., Florida Supreme Court, 500 South Duval St., Tallahassee.)
–Compiled by the News Service of Florida and FlaglerLive

In Coming Days in Palm Coast, Flagler and the Occasional Beyond:
♦ April 6: Critic's Choice Dinner Club, at 5:30 p.m. This monthly event invites "foodies" to visit a new restaurant to enjoy casual dinner while rating food and service. New members welcome. This month's location is Pasta Pasta, 308 S. Oceanshore Blvd., Flagler Beach. Food and transportation are the participant's responsibility. Pre-register by 5 p.m. April 4: www.palmcoastgov.com/register. More info: 386-986-2323.


♦ April 6: Palm Coast Democratic Club meeting, 7 p.m. at the African American Cultural Center, US1 in Palm Coast.The group's new Board of Directors, elected at the March 2017 meeting to one year terms, consists of Mike Cocchiola, President; Mary Lou Keener, Vice President; Viviane LindeOlsson, Treasurer; Nancy Nally, Secretary; and Chelsea Hawk, Membership Director.
♦ April 6: Tom Gargiulo will present a Gallery Walk and a Q&A on the works of 2016 Artist of the Year Judi Wormeck, at 6 p.m. at Ocean Art Gallery, 206 Moody Boulevard (State Road 100) in Flagler Beach.

♦ April 6: Stetson University hosts the 10th anniversary Bernard Weiner Holocaust Memorial Lecture, The Architecture of the Holocaust, at 7 p.m., in Rinker Auditorium inside the Lynn Business Center, 345 N. Woodland Blvd., DeLand, Florida, 32723. This event is free and open to the public. This year's speaker will be Paul Jaskot, Ph.D., professor in the Department of History of Art and Architecture, at DePaul University in Chicago. His lecture is entitled, "The Architecture of the Holocaust" and draws on his research into how the Nazis built their concentration camps using forced inmate labor, as well as the testimonies of surviving laborers. Jaskot earned a Ph.D. in art history from Northwestern University and has written several books, including "The Architecture of Oppression: The SS, Forced Labor and the Nazi Monumental Building Economy "(London: Routledge, 2000). His research has mostly examined the cultural history of National Socialist Germany and its impact on art and architecture.
♦ April 26: Anyone whose child has died is invited to an informal meeting to consider eventually establishing a local chapter of The Compassionate Friends, a nonprofit self-help bereavement support organization for families that have experienced the death of a child. There are some 650 such chapters across the country. The meeting will be from 6:30 to 8 p.m. at Florida Hospital Flagler in classrooms A&B. for more information, call John Brady at 610/428-3139. To learn more about The Compassionate Friends, visit their national website at www.compassionatefriends.org. The meeting is open to all parents, grandparents, and siblings over age 18 who has suffered the loss of a child of any age.
♦ April 29: The People's Climate Movement March, in conjunction with a march scheduled in Washington, D.C., will march locally, meeting at Wadsworth Park at 10 am and marching over the bridge to Veteran's Park in Flagler Beach, where there we will a rally and speakers sharing a wide variety of issues and information on how to get involved.
♦ May 16: The Florida Judicial Qualifications Commission holds a hearing the the case of Circuit Judge Scott DuPont, who faces several charges of misconduct during his 2016 re-election election campaign. He has admitted wrongdoing. The 9 a.m. hearing is taking place in courtroom 406-7 at the Duval County Courthouse, 501 W. Adams Street, Jacksonville, before a six-member panel: Eugene Pettis, Steven P. DeLuca, Robert Morris, Michele Cummings, Harry Duncanson (a lay member of the commission) and Jerome S. Osteryoung.



Palm Coast Construction and Development Progress Reports
The following is an update of ongoing permitting, construction and development projects in Palm Coast, through March 24 (the city administration's full week in review is here):
Click to access development-march-24-2017.pdf

Road and Interstate Construction:

Rimsky-Korsakov, Russian Easter Festival Overture, Op. 36
/strong>
Previous Codas: