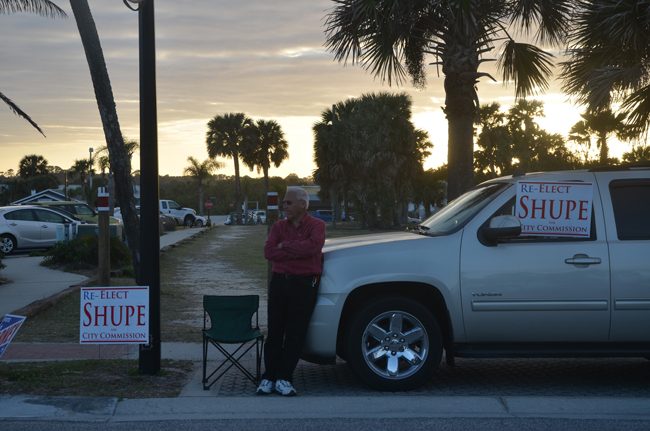 Today: Partly cloudy. A 40 percent chance of showers in the afternoon. Highs in the lower 80s inland…in the upper 70s coast. Northeast winds 5 to 10 mph. Tonight: Partly cloudy. A 20 percent chance of showers in the evening. Lows in the upper 50s. Southeast winds 5 mph shifting to the southwest after midnight. Details here.
Drought Index is at 371.
Today's tides: at the beaches, at the Intracoastal Waterway.
Today's document from the National Archives.
The OED's Word of the Day: herstory, n..
The Live Community Calendar
Today's jail bookings.
Today's Briefing: Quick Links

"We have reached, I believe, a critical mass in that electronic media have decisively and irreversibly changed the character of our symbolic environment. We are now a culture whose information, ideas and epistemology are given form by television, not by the printed word. To be sure, there are still readers and there are many books published, but the uses of print and reading are not the same as they once were; not even in schools, the last institutions where print was thought to be invincible. They delude themselves who believe that television and print coexist, for coexistence implies parity. There is no parity here. Print is now merely a residual epistemology, and it will remain so, aided to some extent by the computer, and newspapers and magazines that are made to look like television screens. Like the fish who survive a toxic river and the boatmen who sail on it, there still dwell among us those whose sense of things is largely influenced by older and clearer waters.".
–Neil Postman, in Amusing Ourselves to Death: Public Discourse in the Age of Show Business

Note: all government meetings noticed below are free and open to the public unless otherwise indicated. Many can be heard or seen live through each agency's website.
The Sheriff's daily incident reports and jail bookings are posted here.
Keep in mind: March is Women's History Month, and March 5-10 is National Procrastination Week. .
Take the Flagler County School Superintendent Survey: The school district is inviting residents, including students and faculty, to fill out this survey, letting school board members know what kind of superintendent you want to replace Jacob Oliva, who is leaving in June. This survey will be live until early March. It takes about 10 minutes. It's anonymous. Fill it out here.
The Flagler County Airport Advisory Board meets at 4 p.m., 120 Airport Rd., Third Floor. No agenda was posted online.
The Flagler Beach City Commission meets in special session at 4:30 p.m. to swear-in the two incumbents who won re-election on Tuesday: Marshall Shupe and Kim Carney. The commission then meets at 5:30 p.m. for its regularly scheduled session. The full agenda and background materials are here.
Mostly useless information: In 1765 on this day Jean Calas is finally, posthumously exonerated. His name, the torture he endured and the state-sponsored murder of which he was a victim would have been lost to history had it not been for Voltaire's indignation about the case, and his campaign on behalf of Calas and his family, to rehabilitate both. The case remains a study in judicial error and religious prejudice. Calas, a protestant merchant in Toulouse, was accused of murdering his son to prevent him from converting to Catholicism, when in fact he had committed suicide because of gambling debts: the family had pretended that he had been murdered to avoid the body's defilement in a society that considered suicide beyond the pale. Jean Calas was tortured on the wheel, was put through a form of waterboarding, and had his limbs broken, on a cross, all the while maintaining his innocence until his death. Voltaire, by then nearing 70 in his hermitage at Ferney, on the French-Swiss border, took up the case as an investigative reporter, writing pamphlets and, eventually, "The Treaty on Tolerance," a seminal work in the development of human rights and the preeminence of free expression. The book helped lead to King Louis XV's vacating the case against Calas in 1764 and the exoneration the following year. "The Treaty on Tolerance" returned to the bestseller list in France in 2015, following the mass murder, by Islamist terrorists, of a dozen staffers of Charlie Hebdo, the satirical magazine in Paris, and others.

Flagler Palm Coast Kiwanis Special Grant Awards: The final application deadline is March 31. Grants submitted after that date cannot be considered. Non-Profit Organizations and Schools that work with children are eligible to receive a grant for their proposal. Awards are given in amounts up to 5,000 dollars. Due to limited resources, not all projects can expect funding. Applications may be obtained on the FPC Kiwanis. Org website. All applications must be completed on the forms provided, though additional pages may be attached. An important requirement is that the grant not be the primary source of funding for the proposed project. Instructions on where to submit the electronic application are on the application letter with the download. The form is not interactive.

In Florida and in State Government:
Note: Some proceedings below can be followed live on the Florida Channel. Most legislative proceedings can be followed through the Senate or House websites.

Mental health funding: Rep. Mike Miller, R-Winter Park, and Rep. Carlos Guillermo Smith, D-Orlando, are expected to take part in a news conference about funding for mental-health services. (10:30 a.m.)
Legislature: The House holds a floor session at 1 p.m., the Senate at 4 p.m.
The Florida Supreme Court is expected to release its weekly opinions at 11 a.m.
Communications tax: The Revenue Estimating Conference will take up issues such as the communications-services tax and gross-receipt taxes. (Thursday, 3 p.m., 117 Knott Building, the Capitol.)
•
–Compiled by the News Service of Florida and FlaglerLive

In Coming Days in Palm Coast, Flagler and the Occasional Beyond:
♦ March 10: Flagler Reads Together event (the Friends of the Library's annual communal reading event that focuses on a single book and encourages everyone in the county to read it: the late Jack Clegg's "The History of Flagler County," in conjunction with Flagler County's centennial celebrations). The March 10 event, at 2 p.m. in the Doug Cisney Room at the Flagler County Public Library on Palm Coast Parkway, is a presentation by Bob Stone addressing the Cattle industry in Florida. Folklorist and media producer Bob Stone's multi-media presentation explores and celebrates the history and culture of the nation's oldest cattle ranching state from the colonial period to the 21st century. You will see and hear all aspects of Florida cattle ranching traditions including material culture such as Cracker cow-whips and unique ranch gate designs, swamp cabbage and other foodways, cowboy church and Cracker cowboy funerals, Seminole ranching past and present, occupational skills such as roping and branding, our vibrant rodeo culture, side-splitting cowboy poetry, feisty cow-dogs, and much more.
♦ March 10: Movies in the Park – Friday, March 10, 7:45 p.m. in Central Park at Town Center, 975 Central Ave., Palm Coast. Families will enjoy a family friendly movie on the park's giant outdoor movie screen. This month's feature: The Jungle Book. Bring your blanket, lawn chairs and snacks and invite your friends and neighbors to join you at this free, monthly family activity offered by Palm Coast Parks & Recreation and Flagler Schools. More info: 386-986-2323 and www.palmcoastgov.com/movies.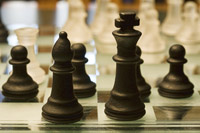 ♦ March 10-12: 2017 Florida State Scholastic Chess Championship, at the Wyndham Hotel on International Drive in Orlando. This is also the qualifier for the Denker, Barber and National Girls Tournament Champions. This year each of these 3 events are awarding a $5,000 scholarship good for any university or college in the Country to the top finisher in each event. The top finishers will also get qualifying spots in the World Youth Tournament. Online entry and more information are available at www.floridachess.org.
♦ March 11: First Aid and CPR/AED – 9 a.m.-4 p.m. at Frieda Zamba Swimming Pool classroom 339 Parkview Ave., Palm Coast. This class is a 7-hour course (one hour for lunch) designed to meet OSHA regulations and teach administering CPR to children and adults, using an Automated External Defibrillator (AED), using a mask or barrier device, assisting with bleeding, broken bones. $5/person with pre-registration required by 9 a.m. March 9. Sign up at www.palmcoastgov.com/cpr. More info: [email protected] or 386-986-2300.
♦ March 11: The Women's Missionary Society of First Church of Palm Coast, pastored by the Rev. Gillard S. Glover, has scheduled the food giveaway from 1 to 3 p.m. at the church, 91 Old Kings Road North, Palm Coast. For further details, call the church at 386-446-5759.
♦ March 12: The Palm Coast Yacht Club sponsors the annual Blessing of the Fleet in the Cimarron basin at 3 p.m. The Blessing of the Fleet is a centuries old tradition that began in the fishing communities of the Mediterranean. More recently, in the coastal communities of Florida, including Palm Coast, the Blessing of the Fleet marks the opening of a new boating season. All captains are invited to bring their vessels to receive the blessing of Father Al for a safe and bountiful navigational season. Any type of watercraft is welcome.
♦ March 17: Lunch N' Lecture Series 11 a.m.-12:30 p.m. at Palm Coast City Hall, 160 Lake Ave. This month's topic: "Can I recycle this?" The lecture and lunch are free, but pre-registration is required (while space available) by 11 a.m. March 15: www.palmcoastgov.com/register. More info: 386-986-2323.
♦ March 18: NCCAA Youth Sports Clinic, 9 a.m. check-in, with clinic from 9:30-11:30 a.m. at Indian Trails Sports Complex, 5445 Belle Terre Pkwy. and Palm Harbor Golf Club, 100 Cooper Lane. 6-16 year olds will enjoy free soccer, baseball, volleyball, basketball and golf instruction offered by professional coaches and collegiate athletes representing the National Christian College Athletic Association. Register online at www.palmcoastgov.com/register . More info: 386-986-2323.
♦ March 21: Food Truck Tuesday, 5-8 p.m. at Central Park in Town Center, 975 Central Ave, Palm Coast. Purchase and enjoy delicious cuisine available from food trucks situated along Park Street next to Central Park. Free entertainment is also provided. Proceeds this month will benefit the Parks & Recreation summer camp scholarship fund. More info: www.palmcoast.gov.com/foodtruck or call 386-986-2323.
♦ March 22: The boy Scouts Council holds its Golden Eagle Dinner at 6 p.m. at Hammock Beach Resort, honoring Bob Cuff, now a Palm coast City council member.
♦ March 28: The Flagler Forum, the discussion group organized by Ed Fuller, hosts a panel discussion featuring Flagler County's local media, including Palm Coast Observer Editor Brian McMillan, Flagler Broadcasting-WNZF General Manager David Ayres, Daytona Beach news-Journal Editor Pat Rice, and FlaglerLive Editor Pierre Tristam, at the Hilton Garden Inn, Palm Coast, at 6:30 p.m.
♦ March 30: The Flagler County Chamber of Commerce's Common Ground Breakfast at 8 a.m. at Grand Haven Country Club features a panel including Palm Coast Observer Editor Brian McMillan, Flagler Broadcasting-WNZF General Manager David Ayres, Daytona Beach news-Journal Editor Pat Rice, and FlaglerLive Editor Pierre Tristam.
♦ April 26: Anyone whose child has died is invited to an informal meeting to consider eventually establishing a local chapter of The Compassionate Friends, a nonprofit self-help bereavement support organization for families that have experienced the death of a child. There are some 650 such chapters across the country. The meeting will be from 6:30 to 8 p.m. at Florida Hospital Flagler in classrooms A&B. for more information, call John Brady at 610/428-3139. To learn more about The Compassionate Friends, visit their national website at www.compassionatefriends.org. The meeting is open to all parents, grandparents, and siblings over age 18 who has suffered the loss of a child of any age.
♦ May 16: The Florida Judicial Qualifications Commission holds a hearing the the case of Circuit Judge Scott DuPont, who faces several charges of misconduct during his 2016 re-election election campaign. He has admitted wrongdoing. The 9 a.m. hearing is taking place in courtroom 406-7 at the Duval County Courthouse, 501 W. Adams Street, Jacksonville, before a six-member panel: Eugene Pettis, Steven P. DeLuca, Robert Morris, Michele Cummings, Harry Duncanson (a lay member of the commission) and Jerome S. Osteryoung.
♦ May 26: The sentencing of Daniel Noble, the would-be shooter of European Village in 2014, is scheduled for 2 p.m. before Circuit Judge Dennis Craig in Courtroom 401, Flagler County Courthouse. Noble in December pleaded guilty to two counts of aggravated battery and a count of aggravated assault. He faces between eight and 35 years in prison.

Gaps in health coverage can be deadly. The GOP's new plan could cause more of them: https://t.co/4GXY6Nwv2d pic.twitter.com/Cibh6JTvF1

— Slate (@Slate) March 8, 2017
Last month was the 2nd-warmest February in the USA since climate tracking started in 1895: https://t.co/BvcOKIm8kJ pic.twitter.com/Vhwh06M2oQ

— USA TODAY (@USATODAY) March 8, 2017
The astonishing rise of Angela Merkel, the most powerful woman in the world: https://t.co/DxycWmg7Sx #InternationalWomensDay pic.twitter.com/OCexxciB6f

— The New Yorker (@NewYorker) March 8, 2017
Islamic prayer reduces back pain, study finds https://t.co/86PcJySBNY

— The Independent (@Independent) March 8, 2017
On the complex causes and consequences of self-harm – @HoumanBarekat https://t.co/EPfyvyx8mS

— The TLS (@TheTLS) March 8, 2017
Donald Trump's rants exemplify a fairly basic, but often highly effective rhetorical maneuver: https://t.co/U6iZo21pA3 pic.twitter.com/XWFmjtpaXU

— The New Yorker (@NewYorker) March 4, 2017
11 essential women writers for today (and tomorrow, and forever). https://t.co/tM3s7M3KCs pic.twitter.com/CY2e7ZOxFk

— Literary Hub (@lithub) March 8, 2017


Palm Coast Construction and Development Progress Reports
The following is an update of ongoing permitting, construction and development projects in Palm Coast, through Feb. 24 (the city administration's full week in review is here):
Click to access development-february-22-2017.pdf

Road and Interstate Construction:

Alicia de Larrocha plays Two Spanish Dances By Granados
Previous Codas: