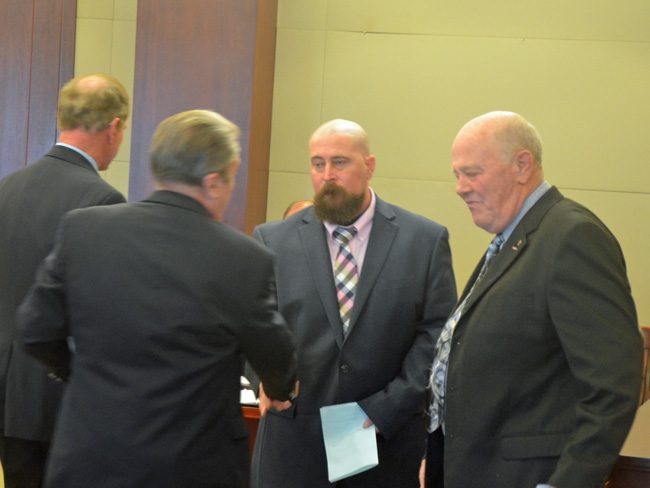 Daniel Noble, the Army veteran of Iraq and Afghanistan who became known as the would-be European Village shooter after he pointed an assault–style-rifle at patrons there almost three years ago–and fired two shots–pleaded guilty to two counts of aggravated battery and a count of aggravated assault this afternoon in Flagler County Circuit Court. He will be sentenced on Feb. 17.
Noble, 39, of 4 White House Drive in Palm Coast, was originally charged with attempted murder. His arrest report described him having an altercation with patrons at a European Village bar, leaving then returning in military fatigues, wielding an Uzi-like assault weapon, and firing two shots before he was wrestled to the ground by three men, the same three men who'd asked him to leave earlier, when Noble was allegedly becoming belligerent.
The charges were reduced to aggravated battery and aggravated assault, relating to the injuries he inflicted, including stab wounds, on the three men— Vassili Mironov, 30, Roman Dubinschi, 25, and Joshua Auriemma, 38. Mironov was in the courtroom today but did not speak. The prosecution is likely to bring him and others back for testimony at sentencing.
Noble faces a likely minimum of seven and a half years in prison, unless the judge finds mitigating circumstances that would allow for deviation from the minimum. He faces a maximum of 35 years in prison if the penalties are stacked consecutively, but that seldom happens.
Noble's military history and his mental state may play a significant role at sentencing. He had been judged incompetent to stand trial for much of the period since the 2014 incident, and earlier this year was granted permission to leave Flagler County for a Veterans Administration hospital in Indiana, where he was receiving outpatient care. His father, also a veteran, lives in southern Indiana, and was in the courtroom today.
His father played a role in the 2014 incident, according to the arrest report: Noble had been at the bar, enjoying himself, from witness' accounts, until he had a conversation with his father, which soured him. His demeanor changed after that, and he claimed to patrons that his father was dying—an allegation his father would later deny. The more violent part of the incident happened subsequently.
This afternoon, Circuit Judge Matthew Foxman asked Noble several questions, as Foxman always does with defendants before him, though Noble repeatedly apologized for not having clear answers.
"I apologize, I'm a bit slow due to brain damage," Noble said, a reference to injuries he sustained in the military.
"You're not slow at all. You're doing fine," the judge said, and he was. Noble spoke clearly as he stood in front of the judge, in an oversize suit that looked fit for his stockier father than for him. John Tanner, his lawyer—and a former state attorney in this district—let Noble speak at length. Noble said he could not remember how long he'd served in the military, putting the figure at roughly six years. But it was to the Indiana facility that he credited his improved demeanor.
"It's one of the best facilities that the VA can offer in the United States," Foxman concurred, saying he'd done some research and, based on what he found out, had agreed to let Noble travel out of state, on bond. The prosecution had sought to keep him in Flagler.
"I can honestly say that throughout my entire life, after all the treatment programs that I have been through and accomplished," Noble said, "I've never been more psychologically, spiritually sound, and I've never been more at peace with myself and truly happy than I am today."
But he said he must remain there for ongoing therapy.
The judge then starkly put the gravity of the issue in perspective: "You're facing basically at this point 35 years," Foxman told Noble, if the punishment is "stacked." Noble understood.
But when it came time for him to explicitly plead guilty to the charges, as he must in a plea agreement, Noble fell silent, prompting Tanner to tell the judge that, in effect, Noble does not recall what had taken place at European Village. "He doesn't have recollection of the events beginning at the point in time before the violence," Tanner said. His memory kicked back in only after he was wrestled to the ground.
"That's not me, I wouldn't act that way," Noble had told his attorney. Nevertheless, Tanner said Noble admitted to the facts laid out, for the purpose of the plea. Foxman says he doesn't accept a plea "unless someone accepts it" verbally before him. "I want to hear the words out of your mouth that you accept those words as true enough at this time," he told Noble.
"Yes your honor," Noble said, essentially pleading guilty. The judge ordered him to remain in treatment at the Indiana facility pending the sentencing hearing–a different order than before, when the allowance to go to Indiana was not a court order.
When Noble's father spoke, he told the court that his son, the youngest of three, had "never been in trouble before," words often heard at sentencing hearings, but seldom weighty enough to make a difference in sentencing outcomes. "It's just one of those unfortunate 20 minutes that changed everybody's lives," he added.
By then Mironov–who's sued Europa, the European Village restaurant where the incident took place, and the Flagler Beach Police Department over his own arrest soon after the European Village incident (the charges were quickly dropped)–had walked out of the courtroom, after getting a nod from the prosecutor.