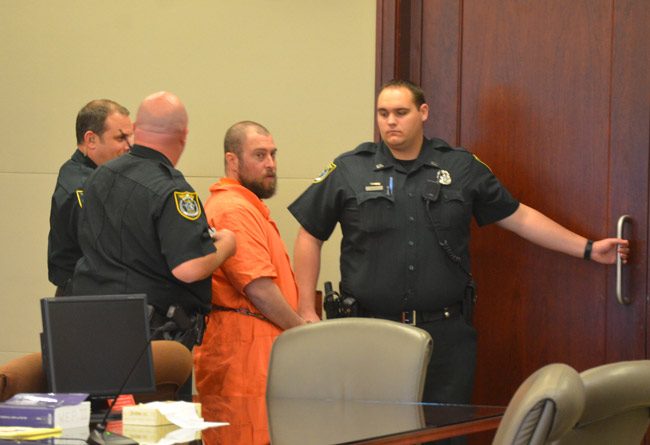 Daniel Noble, the troubled veteran who fired two shots from an Uzi-style assault weapon at European Village before several patrons wrestled him to the ground two years ago, will be allowed to leave Florida for Indiana and seek treatment at a Veterans Administration facility in Indianapolis pending his trial in Flagler County possibly later this year.
Noble served in Iraq and Afghanistan and is among the roughly 20 percent of veterans deployed to those war theaters who suffer from Post Traumatic Stress Disorder. "I can't keep up with what goes on in court," he wrote from the Flagler County jail five months ago, "it's too fast for my brain damage and messes with my anxiety, and I only remember what I write down (which is usually 25% of what takes place)." He also reminds the court he is on 100 percent disability.
He has received treatment at the Indianapolis facility before. "He was having no significant problems when he was up there and in constant contact with them," Noble's lawyer, John Tanner (a former state attorney for the 7th judicial circuit), told Circuit Judge Matthew Foxman in a hearing Monday. Noble was not at the hearing. After he bonded out of the county jail in June he's been getting treatment at the Veterans Administration's Honor Center in Gainesville and at Wekiva Springs Hospital in Jacksonville.
"The VA center in Gainesville is adequate but it's not premium," Tanner said, claiming the center is "oriented to moving people out as soon as possible," whereas the Indianapolis center keeps patients three to six months, rehabilitating them from "battle-induced PTSD."
Christy Opsahl, the assistant state attorney, objected to the move. "My concern is he'd be going so far away," she told the judge. "Gainesville and Jacksonville are one thing, but if he's going to out of state to Indiana, that's my concern, how are we going to enforce these conditions?" She was referring to a set of conditions in his bond order, which require close supervision. He is in the care of his father, Tom Noble. "How are we going to be notified if anything does go wrong? And then if there is a violation, then what?"
Opsahl said if there were a violation, the county would incur additional costs if the sheriff's office had to go to Indiana to bring back Noble. The judge, however, said the U.S. marshal service might be used in that case.
"If it's been determined that he's in this need of treatment, and that's the best facility, then yes," Foxman said, he'd grant the motion over the state's objection.
Foxman also asked Tanner: "The case, where do you see it headed?" Tanner allowed that he was working toward "presenting a rehabilitated, healthy individual who is not going to deny what happened," though Noble apparently doesn't remember what happened. "Truth is that I remember little that day and little of the days a week or more prior to then because I kept black'n out due to complications/side effects" from various medications, he wrote the court in 2014, in a six-page letter that on every page included in bold, "HIGHLY SENSITIVE MATERIAL!!!" and "Judge Walsh's eyes only" (at the time, the criminal-court judge in the county was Judge J. David Walsh.)
Noble has also been adamant in previous correspondence with the court: "You will never, ever get me to plead guilty to anything," he wrote the court in June 2015.
In March 2014, Noble had a confrontations with patrons at Europa, left, and returned with an assault weapon before Vassili Mironov, now 30 (and himself a Navy veteran), and two of his friends–Roman Dubinschi, 25, and Joshua Auriemma, 38–jumped Noble, fought him, took the weapon and neutralized him. Mironov was injured in the eye and both hands in the scuffle, when Noble managed to stab him.
Mironov and his friends have since been recognized for their bravery at the International Peace Festival in Orlando last year, but never in Flagler or Palm Coast: "Mr. Mironov charged the gunman, taking hold of his weapon to route the line of fire away from the crowd," his award citation read. "During the struggle, the gunman stabbed Mironov in the face and cut both of his hands in an attempt to continue his deadly intention. The weapon fired but Mironov kept his hold inspite of his injuries. With assistance from two friends, Joshua Auriemma and Roman Dubinschi, Mironov was able to finally disarm the gunman and save countless lives while risking his own."
Mironov has since hired Flagler Beach attorney Dennis bayer and filed suit against Europa for "negligent security." He is also suing the Flagler Beach Police Department over an arrest soon after the European Village incident, subsequent to which the charges were dropped.
Noble was initially charged with attempted first-degree murder and two counts of aggravated assault with a deadly weapon, and held on $400,000 bond. But in April 2014 the state attorney filed only two counts of aggravated battery and a count of aggravated assault, dismissing the attempted murder charge. The second and third-degree felony charges still expose Noble to many years in prison.
That's assuming he'll be cleared to stand trial, after his stints in rehabilitation.