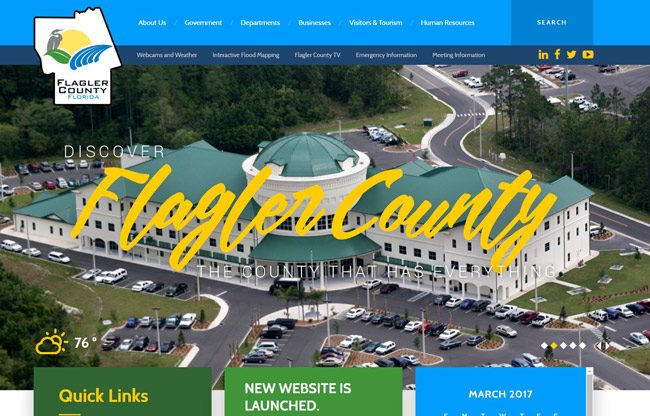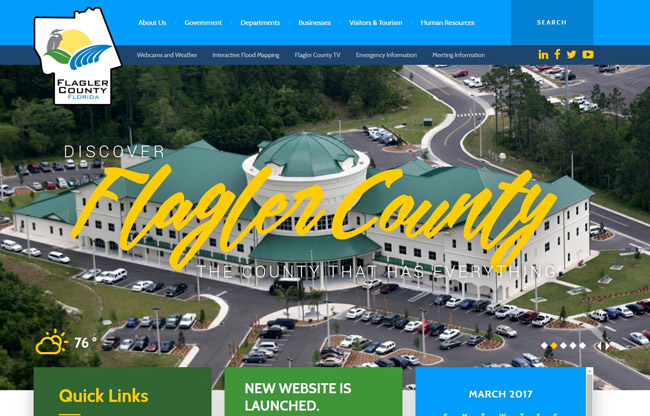 Today: Cooler. Patchy fog in the morning. Partly cloudy with slight chance of showers in the morning, then mostly cloudy with chance of showers in the afternoon. Highs in the mid 70s. West winds 5 to 10 mph shifting to the north 10 to 15 mph in the afternoon. Chance of rain 40 percent. Tonight: Cooler. Mostly cloudy. Chance of showers in the evening, then slight chance of showers after midnight. Lows in the lower 50s. North winds 10 to 15 mph. Chance of rain 30 percent. Details here.
Drought Index is at 342.
Today's tides: at the beaches, at the Intracoastal Waterway.
Today's document from the National Archives.
The OED's Word of the Day: prasophagy, n..
The Live Community Calendar
Today's jail bookings.
Today's Briefing: Quick Links

"[T]here is need for an unwearying, moment-to-moment flexibility in the treatment of facts. The keyword here is BLACKWHITE. Like so many Newspeak words, this word has two mutually contradictory meanings. Applied to an opponent, it means the habit of impudently claiming that black is white, in contradiction of the plain facts. Applied to a Party member, it means a loyal willingness to say that black is white when Party discipline demands this. But it means also the ability to BELIEVE that black is white, and more, to KNOW that black is white, and to forget that one has ever believed the contrary. This demands a continuous alteration of the past, made possible by the system of thought which really embraces all the rest, and which is known in Newspeak as DOUBLETHINK.".
–George Orwell, from 1984 (Signet Classics)

Note: all government meetings noticed below are free and open to the public unless otherwise indicated. Many can be heard or seen live through each agency's website.
The Sheriff's daily incident reports and jail bookings are posted here.
Keep in mind: March is Women's History Month.
Take the Palm Coast Citizen's Survey : City government wants to know how the city is doing, providing services, not providing them, addressing economic development or not, and so on. Fill out the 15-minute survey here.
Take the Flagler County School Superintendent Survey: The school district is inviting residents, including students and faculty, to fill out this survey, letting school board members know what kind of superintendent you want to replace Jacob Oliva, who is leaving in June. This survey will be live until early March. It takes about 10 minutes. It's anonymous. Fill it out here.
Lambert Avenue Residents Drainage Concerns Public Meeting: The City of Flagler Beach and consultants from Gulfstream Design Group invite the residents and property owners in the Lambert Avenue area to attend a public from 4 to 6 p.m. at City Hall. This comes at the request from various property owners with concerns related to drainage in the area. In an effort to better understand the immediate concerns Gulfstream Design Group, a St. Augustine based firm, will be facilitating the city in this discovery phase. The meeting will be an open house format where all in attendance will have the opportunity to make notes to aerial maps, provide comments and hear a 10-minute presentation at 4 and 5 p.m. from Gulfstream regarding this specific projects existing information. If you are not able to attend the meeting but would like to provide any feedback including pictures or other information, you may do so by email [email protected] with subject title "17-005 Lambert Avenue" or postal mail direct to: Gulfstream Design Group Attention: 17-005 Lambert Avenue, 908 Anastasia Boulevard, Ste. A St. Augustine, Florida 32080.
Critic's Choice Dinner Club: at 5:30 p.m. This monthly event invites "foodies" to visit a new restaurant to enjoy casual dinner while rating food and service. New members welcome. March's location is Thai by Thai Restaurant in Island Walk, 124 Palm Coast Pkwy. NE, Palm Coast. Food and transportation are the participant's responsibility. Pre-register by 5 p.m. Feb. 28: ww.palmcoastgov.com/register. More info: 386-986-2323.
It's Dr. Seuss Night at Wadsworth Elementary (at 6 p.m. in the Wadsworth dining hall) and at Rymfire Elementary (at 6:30 p.m.), which is appropriate as today marks the birth anniversary of Dr. Seuss, born Theodor Geisel on March 2, 1904. He did in 1994 in La Jolla, Calif. His books have sold upward of 200 million copies. "And to Think That I Saw It on Mulberry Street," Geisel's first book, appeared in 1937. "Mr. Geisel won the hearts and minds of children 'by the sneaky stratagem of making them laugh,' Richard R. Lingeman wrote in a review in The New York Times," Eric Pace reported in his obituary of Geisel. "He also charmed adults, especially with 'Oh, the Places You'll Go!,' a 1990 book he wrote for adult readers as well as children, which has been on The New York Times best-seller list for 79 weeks."
Flagler Audubon Society Monthly Program, 630 p.m. at Florida Hospital Flagler (60 Memorial Medical Pkwy., Meeting Rooms A & B). Tonight's program: Native Plants: Turn your backyard into a native plant oasis. Learn what and when to plant. If you are interested in learning more, please contact us at [email protected] or come to our Program Meetings. All events are free and open to the public.
Mostly useless information: Mount Rainier National Park, the summit of its dormant volcano rising 14,410 feet above the glaciers and alpine meadows of the Pacific Northwest in Washington, was established on this date in 1899, becoming at the time the nation's fifth national park after Yellowstone, which had been designated in 1872, and Yosemite, Sequoia and Kings Canyon, all designated in 1890. "It was so massive and reverence-inspiring that at first I thought it was part of the clouds and that it wasn't a real mountain," artist Joel A. Lee once said of the mountain. But Mount Rainier is also deadly, with 420 recorded fatalities on the mountain since it became a national park: King Kong never climbed it, but his first film premiered on this day in 1933, because just then the United States, in the midst of Depression, could use yet another onslaught of mayhem. A year and a half in the making, the movie premiered at New York City's Radio City Music Hall in Rockefeller Center and at the 3,700-seat RKO Roxy. Radio City Music Hall had just re-opened in January, as a 6,200-seat theater, and had cost $7 million ($131 million in 2017 dollars), and quickly became the biggest movie blockbuster ever, until then. Rather than climb Rainier, King Kong climbed the newly finished Empire State Building in the movie's most iconic image, thinking the rest rooms were at the top. Donald Trump was very upset that Trump Tower had not been the chosen venue, claiming, through Sean Spicer, that the tower (actually built in 1983) was built before the Empire State Building, and was taller by a huge amount.

In Florida and in State Government:
Note: Some proceedings below can be followed live on the Florida Channel. Most legislative proceedings can be followed through the Senate or House websites.

Former U.S. Treasury Secretary Timothy Geithner is scheduled to speak to the Economic Club of Florida. (Noon, Donald L. Tucker Civic Center, 505 West Pensacola St., Tallahassee.)
Abortion: The Agency for Health Care Administration is scheduled to hold a hearing on a proposed rule that stems from a controversial 2016 abortion law. State officials say the proposed rule would clarify part of the law that requires people or groups that provide information about abortions to register with the state and pay a $200 fee. The American Civil Liberties Union of Florida has filed a federal lawsuit challenging the requirement on First Amendment grounds. (10 a.m., Agency for Health Care Administration, 2727 Mahan Dr., Tallahassee.)
The Florida Supreme Court is expected to release its weekly opinions at 11 a.m.
–Compiled by the News Service of Florida and FlaglerLive

In Coming Days in Palm Coast, Flagler and the Occasional Beyond: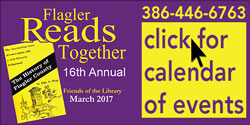 ♦ March 3: It's the kick-off of the annual Flagler Reads Together, the Friends of the Library's annual communal reading event that focuses on a single book and encourages everyone in the county to read it. This time it's as local as it gets: the book is the late Jack Clegg's "The History of Flagler County," in conjunction with Flagler County's centennial celebrations. The month-long Flagler Reads Together kicks off on March 3 at 2 p.m. at the Flagler County Public Library's main meeting room with a presentation by the Flagler County Historical Society's Sisco Deen. It's free.
♦ March 3: Fourth annual Flagler County Job Fair, from 11 a.m. to 3 p.m. at the Palm Coast Campus of Daytona State College, 3000 Palm Coast Pkwy SE, Building 3. There are more than 40 businesses registered, with more signing up daily, offering over 360 jobs. Last year over 400 job seekers attended the event, which was hosted by the Flagler County Department of Economic Opportunity, CareerSourceFV, Daytona State College and the Flagler County Chamber of Commerce. A full listing of companies is available at www.flaglercountyjobfair.com or by accessing the mobile app by searching the app store for Flagler Volusia Job Fair Plus.
♦ March 3: Flagler Beach's 10th Annual Pinewood Derby Race, as part of Flagler Beach's First Friday. Awards will be presented for the fastest and most creative designed cars in the adult and children's categories. Get your kit and then… Design it, build it, race it. Rules are here, and your registration form is here.
♦ March 4: 13th Annual Stamp and Coin Show and Chinese Auction, 10 a.m. to 3 p.m., Elk's Lodge #2709 53 N. Old Kings Road, Palm Coast. Flagler County Stamp and Coin Club, Inc. will hold its 13th Annual Stamp and Coin show This show is open to the general public and everyone interested in stamps and coins. There will be dealers to give free evaluations of your stamp collections and silver and gold coins. Come early and bring your friends. Door prizes every 30 minutes, beginning at 10:30 a.,m. and ending at 2:30 p.m. All proceeds from the Chinese Auction support the FCS&CC youth programs. Hugh variety of items to submit bids. The club is a 501(c)(3) non profit and is the only non profit stamp and coin club in Flagler County. Free parking and admission. Visit the web site for more information and contact.
♦ March 4: First of two kayaking trips organized by Flagler County's Centennial Committee, this one, the Haw Creek paddle, is scheduled for launch at 9 a.m. from Russell Landing County Park. Registrations are needed in advance and registrations for the trip close on February 20th. The registration is $15 and each person registering will get a competition style tee shirt commemorating the County's Centennial. When kayakers arrive at Bull Creek Park a special lunch will be offered for participants who opt for the $11 lunch. Registration for both trips, instructions and detailed directions can be found on the www.flaglercounty.org website or on facebook at www.facebook.com/FlaglerCountyCentennial. Interested kayakers can contact the committee at [email protected]. The second trip is planned for a 9 a.m. launch Saturday April 22 from Longs Landing City Park.
♦ March 6: Teddy Bear Picnic – Monday, Feb. 6, 10-10:30 a.m. at Palm Coast Linear Park, 31 Greenway Court. Children ages 2-5 will bring their favorite teddy bear for story time, game playing or craft and a snack. This month's theme: St. Patrick's Day Gold Hunt and Leprechaun Fun. This monthly program offers a unique experience for toddlers and their parent. Free, but must pre-register by 10 a.m. March 4: www.palmcoastgov.com/register. More info: 386-986-2323.
♦ March 6, 13, 20: Women's Self Defense – Three-week class on consecutive Mondays, March 6, 13 and 20, 6-8 p.m. The March 6 class will be at Palm Coast City Hall, 160 Lake Ave., and the other two classes will be at Frieda Zamba Pool classroom, 339 Parkview Drive, Palm Coast. Women, ages 12+, learn effective methods to ward off attackers from Sgt. Michael Lutz of the Flagler County Sheriff's Office. Become more aware of your surroundings and the methods to protect yourself. Classes are free, but pre-registration is required by 6 p.m. March 4 (while space available) at www.palmcoastgov.com/register. More info: 386-986-2323.
♦ March 7: Bunnell and Flagler Beach hold their municipal elections.
♦ March 10: Flagler Reads Together event (the Friends of the Library's annual communal reading event that focuses on a single book and encourages everyone in the county to read it: the late Jack Clegg's "The History of Flagler County," in conjunction with Flagler County's centennial celebrations). The March 10 event, at 2 p.m. in the Doug Cisney Room at the Flagler County Public Library on Palm Coast Parkway, is a presentation by Bob Stone addressing the Cattle industry in Florida. Folklorist and media producer Bob Stone's multi-media presentation explores and celebrates the history and culture of the nation's oldest cattle ranching state from the colonial period to the 21st century. You will see and hear all aspects of Florida cattle ranching traditions including material culture such as Cracker cow-whips and unique ranch gate designs, swamp cabbage and other foodways, cowboy church and Cracker cowboy funerals, Seminole ranching past and present, occupational skills such as roping and branding, our vibrant rodeo culture, side-splitting cowboy poetry, feisty cow-dogs, and much more.
♦ March 10: Movies in the Park – Friday, March 10, 7:45 p.m. in Central Park at Town Center, 975 Central Ave., Palm Coast. Families will enjoy a family friendly movie on the park's giant outdoor movie screen. This month's feature: The Jungle Book. Bring your blanket, lawn chairs and snacks and invite your friends and neighbors to join you at this free, monthly family activity offered by Palm Coast Parks & Recreation and Flagler Schools. More info: 386-986-2323 and www.palmcoastgov.com/movies.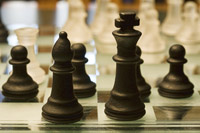 ♦ March 10-12: 2017 Florida State Scholastic Chess Championship, at the Wyndham Hotel on International Drive in Orlando. This is also the qualifier for the Denker, Barber and National Girls Tournament Champions. This year each of these 3 events are awarding a $5,000 scholarship good for any university or college in the Country to the top finisher in each event. The top finishers will also get qualifying spots in the World Youth Tournament. Online entry and more information are available at www.floridachess.org.
♦ March 11: First Aid and CPR/AED – 9 a.m.-4 p.m. at Frieda Zamba Swimming Pool classroom 339 Parkview Ave., Palm Coast. This class is a 7-hour course (one hour for lunch) designed to meet OSHA regulations and teach administering CPR to children and adults, using an Automated External Defibrillator (AED), using a mask or barrier device, assisting with bleeding, broken bones. $5/person with pre-registration required by 9 a.m. March 9. Sign up at www.palmcoastgov.com/cpr. More info: [email protected] or 386-986-2300.
♦ March 11: The Women's Missionary Society of First Church of Palm Coast, pastored by the Rev. Gillard S. Glover, has scheduled the food giveaway from 1 to 3 p.m. at the church, 91 Old Kings Road North, Palm Coast. For further details, call the church at 386-446-5759.
♦ March 17: Lunch N' Lecture Series 11 a.m.-12:30 p.m. at Palm Coast City Hall, 160 Lake Ave. This month's topic: "Can I recycle this?" The lecture and lunch are free, but pre-registration is required (while space available) by 11 a.m. March 15: www.palmcoastgov.com/register. More info: 386-986-2323.
♦ March 18: NCCAA Youth Sports Clinic, 9 a.m. check-in, with clinic from 9:30-11:30 a.m. at Indian Trails Sports Complex, 5445 Belle Terre Pkwy. and Palm Harbor Golf Club, 100 Cooper Lane. 6-16 year olds will enjoy free soccer, baseball, volleyball, basketball and golf instruction offered by professional coaches and collegiate athletes representing the National Christian College Athletic Association. Register online at www.palmcoastgov.com/register . More info: 386-986-2323.
♦ March 21: Food Truck Tuesday, 5-8 p.m. at Central Park in Town Center, 975 Central Ave, Palm Coast. Purchase and enjoy delicious cuisine available from food trucks situated along Park Street next to Central Park. Free entertainment is also provided. Proceeds this month will benefit the Parks & Recreation summer camp scholarship fund. More info: www.palmcoast.gov.com/foodtruck or call 386-986-2323.
♦ March 22: The boy Scouts Council holds its Golden Eagle Dinner at 6 p.m. at Hammock Beach Resort, honoring Bob Cuff, now a Palm coast City council member.
♦ March 28: The Flagler Forum, the discussion group organized by Ed Fuller, hosts a panel discussion featuring Flagler County's local media, including Palm Coast Observer Editor Brian McMillan and FlaglerLive Editor Pierre Tristam, at the Hilton Garden Inn, Palm Coast, at 6:30 p.m.



Palm Coast Construction and Development Progress Reports
The following is an update of ongoing permitting, construction and development projects in Palm Coast, through Feb. 24 (the city administration's full week in review is here):
Click to access development-february-22-2017.pdf

Road and Interstate Construction:

Johnny Cash: Sunday Morning Coming Down
Previous Codas: