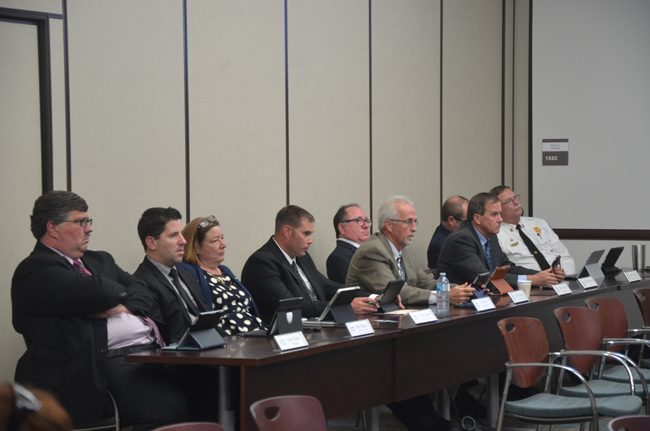 At the very end of Tuesday's Palm Coast Council meeting, City Manager Jim Landon made a 90-second announcement about promoting Beau Falgout, one of nine directors, to assistant city manager. None of the council members reacted. The next day his office issued a release about the new title.
"It came out of nowhere. I had no idea," Mayor Milissa Holland said Wednesday evening. She and Landon meet regularly and discuss city issues in detail. She said he'd never broached the Falgout elevation since the council discussed a much different concept in early January.
To hear Landon, the council had approved the move at a workshop earlier this year. It had not. To hear Landon, it had been the council's idea, or that of a facilitator who had been reviewing the city charter with the council. It was neither. And to hear Landon, the change is a mere "formality," a word he used twice to describe the promotion.
If it is, it's a very expensive one: Landon awarded Falgout a $15,200 raise, to a base salary of $110,000, not including benefits.
He did so without the council's knowledge. He did not tell the council about the raise when he made the announcement Tuesday evening (or that Falgout started earning that new pay on Feb. 25, though Landon never broached the matter at a workshop). He did not mention the raise in the news release. Neither the position nor the raise were part of the budget the council approved last fall.
In fact, Landon told council members last summer in private meetings that he wanted Falgout to succeed him, but they rebuffed him then, not wanting a Landon clone but a complete change at the top (they're in the process of finding a replacement for Landon.)
Since Landon got a clear signal from all council members in July that they would not abide by his "succession plan" with Falgout as his second, Landon, seeing Falgout's days numbered the moment Landon is out of the picture, may be positioning Falgout with pay and a stronger profile on his resume to facilitate his landing a job elsewhere: city managers are often hired out of the ranks of assistants. Giving Falgout the title would ease his way. The move, in other words, has little to do with the city or the council's intentions and more to do with Landon's and Falgout's. Aside from council members' clearly stated feelings about Falgout in interviews last summer, the record of January's meeting shows it.
Based on a review of the workshop Landon himself pointed to as justification for Falgout's elevation, the dissimulation of the raise is only one in a series of mischaracterizations by Landon about how the new position came to be and why.
For Landon, it is also only the latest in a long list of instances where Landon's version misrepresents the facts—whether it's the $200,000 "Palm Coast" overpass, the way he claimed his directors would leave if he were not kept on, his mis-characterization of the mayor's short-lived radio show, or his handling of the controversial FPL footpath in the F Section. And those were just last year. In every case, the council was either aware or made aware of the misrepresentations, which essentially manipulated council members toward Landon's pre-determined conclusions. With the exception of the scandalously-priced overpass, a majority of the council has gone along with Landon signaling to the manager that the council can be easily played. He played it again with regards to the appointment of Falgout.
"During the charter review the consultant suggested that I needed to designate someone in charge when I'm not here and you all agreed with that whole concept," Landon told the council Tuesday. The release put it this way: "During a Palm Coast City Council workshop earlier this year, the need to designate an Acting City Manager was raised by the facilitator guiding the City Charter review process."
Both statements putting the "need" to have a designee on the facilitator are inaccurate, or at least stretch the facts. The charter-review facilitator never said that that's what Palm Coast should do. As she had with all other issues regarding the charter, she had merely pointed to a model charter that provided for such possibilities, leaving it to the council to decide direction.
The context of the January meeting is important, as it is Landon's systematic de-contextualization of that meeting's discussion that enabled him to make the statements he did about Falgout, though even out of context some of his statements are false.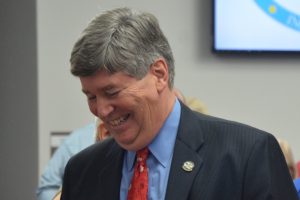 Marilyn Crotty, the facilitator the city hired to shepherd the council through the charter review process, was going through her report point by point at that January meeting and had reached the segment where the charter deals with its two officers—the only two employees the council hires: the manager and the attorney. She and the council discussed the way the two may be removed or fired, then discussed the residency requirements on a city manager. In both instances—as in many instances regarding charter discussion, and in contravention with how charter discussions should be led, since the subject is exclusively in the council's purview—Landon repeatedly interjected or led the discussion, saying the wording of the current charter should stay the same in both of these regards. In other words, the administrator at the table was leading discussion about how the council should handle its administrator—a conflict of interest the council, again, let pass.
Crotty then moved on to the discussion about a "designated acting manager." It was not a discussion about appointing an assistant. The distinction was key, and important to the council, as the council made clear. And at no point Crotty said either a designee or an assistant manager should be named (as Landon claimed this week). But she was explicit regarding the context of why or when an acting manager may be designated.
"In most charters," Crotty said, "there's a provision for an acting city manager, and this is when your city manager has to temporarily be away, either through vacation for a few weeks or more importantly, this again we hate to think of anything happening, if there's an accident, a sudden illness that keeps him away from the office, the manager has already designated someone who will fill that manager's role for that short period of time or maybe longer, so that there's no glitch in trying to figure out, well, who's going to be the city manager while so and so is in the hospital with a heart attack. So it's just a smooth transition, it's on file, you know who the acting manager is, and the provisions in the model charter, if the council doesn't think that's the appropriate person, you can change that person."
If the council doesn't think that's the appropriate person, you can change that person: Landon never gave the council the opportunity to weigh in about Falgout before appointing him.
"The manager reports to the council," Council member Steve Nobile said at that point, underscoring Crotty's point. "I would like to see in policy the manager have someone, a back-up, in that case, but it's our ultimate say who fills that position."
"Right," Crotty said, "page 22 is in the model charter and it says the council can revoke that designation at any time." (That provision is not in Palm Coast's current charter.)
Again she stressed that if it's not in policy, the designation is important for the interim, not as a title. "If he's not able to designate someone," she said, "you just need to know who it is who can automatically move into that designation."
As if to hammer the point, Holland clarified that the matter had little to do with Landon's administration: "We're really discussing our charter, it's not specific to our current city manager or our current lawyer, it needs to be clarified that any city manager has to appoint a designee if he's absent from his roles and responsibilities."
Council member Bob Cuff added his own hammer blow: "It sounds like the only thing we don't have, if we in fact don't have it, is a standing order from the existing city manager as to who assumes the duties, and then it's up to us whether we want to accept that because we hire and fire the city manager."
The point Cuff was making is that an acting city manager in the manager's place becomes a council employee, and therefore should have the council's blessing—or not. A change to the charter would enable the council to make sure that there is a designee, and that the council ultimately has a say as to who that designee is.
That's when Landon intervened, again—as he had with the two previous discussions about charter-based administrative matters—steering the discussion away from the council's direction, to his own, ensuring there'd be no such change to the charter. He even began by stating clearly that he disagreed with the council. Never mind that Holland had said this was about how to write the charter, not how Landon specifically manages.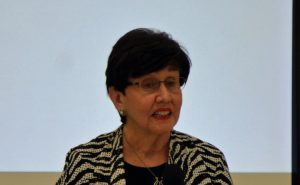 "I have a whole different philosophy, it's not a very common philosophy, but it's my management style," Landon said. "When I leave town and I know I'm leaving town I don't designate somebody as a boss. All the directors are the boss. I don't need the fire chief telling the public works director what to do when I'm gone, it doesn't make any sense. They all know what they're supposed to be doing. And in today's world, I am a phone call, an email away, and within a couple of hours of any place I am. Now if I was to go someplace where you couldn't get a hold of me then I would make sure there was something more formal."
"That's all we need is for the legality structure," Nobile said.
"If I get in that car accident or fall out of a plane and in a hospital bed and nobody can, you know, then you as city council, in my opinion, needs to designate an acting city manager," Landon said. "I don't think I should be the one appointing a city manager."
Nobile wanted a written policy, a written letter or a recommendation clarifying that step.
Then Landon moved in to lay out his actual intention, again making it clear that this had nothing to do with the charter facilitator or even the council. "The other thing is, and I've been thinking about this, most places already have an assistant city manager, what you're really talking about is me designating—because if you have an assistant city manager, it's automatic," Landon said.
But Holland spoke about how the wrong such appointments can misfire in that designee position, remembering one such appointment at the county commission. Landon ignored the remark.
"We probably are at that stage where I need to have an assistant city manager," he said. "I've been thinking about that and this conversation is actually headed in that direction."
The conversation had not been heading in that direction until Landon had steered it away from the council's direction.
"So there is somebody there I know in charge if I'm not here, but that assistant city manager won't have supervisory authority over the directors," Landon continued.
"It'd be somebody just reporting to you, and it doesn't have to be a position, it could just be a designation, somebody who's already a director." Nobile said.
"I would not create a new position, no," Landon said.
"Somebody who's already in the organization. And that sounds perfect." Nobile said.
"So we're not going to bring back something" for the charter, Bill Reischmann, the city attorney made sure. No, they would not.
"Not for the charter, just a policy," Crotty, who'd been silent since her general statement about the issue, said. But there was no such policy presented, either.
"Good conversation, thank you." Landon said, his aim accomplished.
The news release Landon's office issued this week twice refers to "the Council's discussion about designating an Assistant City Manager," including in a quote of his own, again a misleading rendition of the council's discussion. The release also describes Falgout's elevation as a promotion to a new position, but says no new position has been created.
On Tuesday, Landon prefaced news of his appointment as "a little announcement," and proceeded to frame the matter as originating with the charter-review facilitator and the council. He also noted: "it's quite unusual for our city our size and a city manager not to have an assistant city manager, you almost don't see that."
You didn't in Palm Coast, either, until the Landon years. There was an assistant city manager position in the city. Landon eliminated it in 2009. He did not include that context in his remarks Tuesday.
Landon, now in his 11th year as manager, is well known for his insecurities, a description a few council members and other local officials who have interacted with him have used to describe him over the years, and to explain why he'd been reluctant to deputize someone in a position that could threaten his own. Falgout does not: Thanks to Landon's meetings with council members in July, he had clear knowledge of the council's feelings about Falgout, an amiable but not commanding director, and one who'd never challenge Landon's authority. In that sense, the appointment is quintessential Landon.