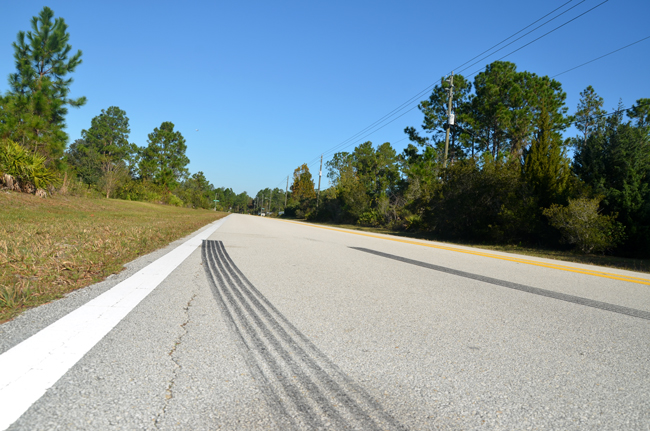 Josefina Reid, a 54-year-old resident of Palm Coast, was either jogging or walking south on a straight stretch of Sesame Boulevard in Seminole Woods Wednesday afternoon just after 4 p.m. It was a clear, sunny afternoon. She was killed by a driver who struck her while driving south, becoming the sixth fatality on Flagler County roads in 20 days, and the second pedestrian fatally struck by a car in a residential neighborhood.
According to the Florida Highway Patrol, Antonio Castanheira, 35, of Palm Coast, was driving south in a 2008 Mazda. He had two children in the back seat. He was distracted by them. Just south of Seven Wonders Trail, Castanheira told an FHP investigator, "he was distracted by the passengers in the rear," according to the report, and "looking back towards them."
That's when he struck Reid from behind with the Mazda's right front, sending Reid on to the grass shoulder of the two-lane road. Sesame Boulevard has no sidewalk. It has a broad, grassy shoulder, about a dozen feet wide along the southbound lane, and a narrower shoulder along the northbound lane.
Castanheira and the children in the Mazda were not injured. The car sustained damages estimated at $5,000. Charges are pending.
It has been a deadly month on Flagler roads. The day after Thanksgiving, Theresa Woodfin, a 28-year-old mother, was killed when her car was rear-ended by a fully-loaded logging truck on State Road 100. A week earlier, two people were killed on the same day in separate wrecks, one in a head-on crash on SR 100, one on I-95, after he rear-ended a semi truck. A day earlier, a 21-year-old woman and recent graduate of Flagler Palm Coast High School was killed on U.S. 1 when the car in which she was a passenger went out of control and she was ejected.
The other pedestrian killed this month was Francoise Pecqueur, 76, who was walking the evening of Nov. 10 on Columbia Lane in an apparent hit-and-run, with Jamesine Fischer, 55, the wife of school board member John Fischer, at the wheel of the PT Cruiser that struck Pecqueur. It was about 12 hours later that the Fischers informed the sheriff's office that the car had been involved in the accident.
On Sept. 27, another pedestrian, Alex Taylor, who was walking along SR100 near the Government Services Building before sunup, alongside his bicycle, was killed in an unsolved hit-and-run. And on Aug. 26, Kirt Smith, a 15-year-old boy riding the bicycle he'd received for his upcoming 16rth birthday, was killed by a passing pick-up truck while riding south on Seminole Boulevard, along the darkened road that evening.
The Seminole Woods section of town is notoriously dark at night and has no sidewalks, though in the case of Wednesday's fatality, clarity of light was not an issue. Absent sidewalks may have been.