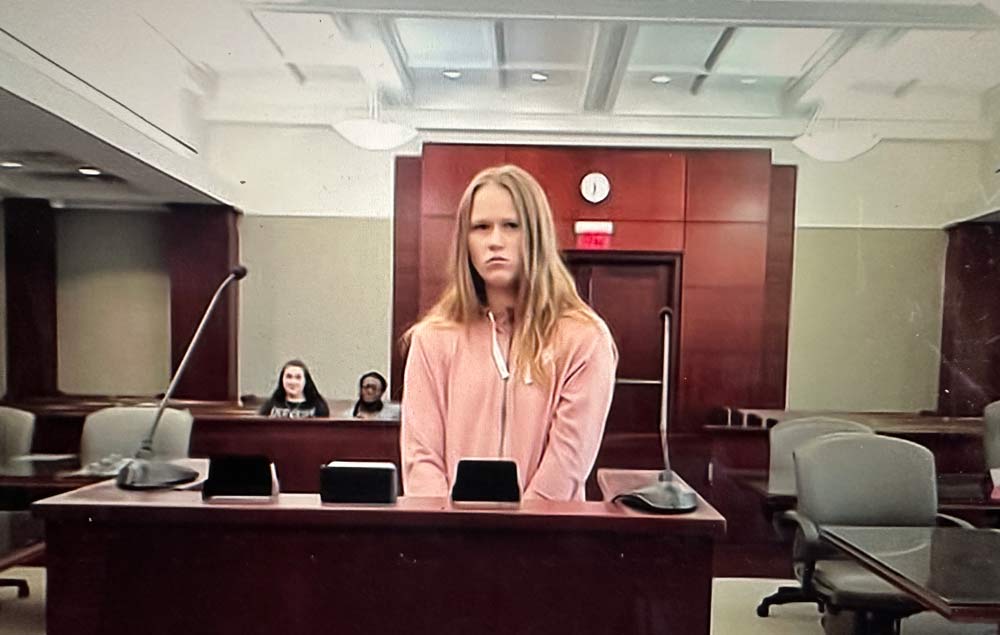 Two years ago during class at Matanzas High School, Reba Johnson, a severely autistic student in a special education setting, became so upset with her teacher that she began cursing her and threaten to "punch [you] in the f— face, pull your hair and beat your f— ass." When the teacher turned around, Johnston punched the teacher in the back.
Johnson was arrested and charged with battery on a school employee, a third-degree felony and an adult charge: Johnson had just turned 18.




This morning, Circuit Judge Terence Perkins dismissed the charge.
The resolution contrasts sharply with the ongoing case against Brendan Depa, the former Matanzas High School student who attacked a paraprofessional employee there last February, knocking her unconscious, and has been incarcerated since while acing a first-degree felony charge.
Like Johnson, Depa is a severely autistic student. He was 17 at the time of the assault. Like Johnson, he lived in an ECHO group home for mentally disabled students (East Coast Habilitations Options). Like Johnson, he was evaluated for competency to stand trial. Johnson, a slight, white, bond woman, was found incompetent to proceed. Depa, an oversized Black male, was found competent, even though the two students' settings in school and in their group home, and their ordinary behavior, were indistinguishable.
Johnson was given a $1,000 bond, which she posted, allowing her to return to live at her group home, where she remains to this day. The Flagler County Sheriff's Office initially charged Depa as a juvenile, but the State Attorney's Office charged him as an adult. He was held on $1 million bond. He was first incarcerated at a juvenile jail in Duval County, and since August, when he turned 18, was moved to the Flagler County jail, where he remains, awaiting trial.




Johnson's case had been lingering since the time of the assault, after which–at least according to what she said in court today–she was moved to Flagler Palm Coast High School and allowed to continue her schooling, though she said she doesn't like it. The reason for the delay had been her incompetency to stand trial, with additional evaluations since.
A court-appointed psychologist conducted one of the most recent evaluations on Aug. 1, finding her again incompetent to proceed. Assistant State Attorney Tara Libby, who was prosecuting the case, was not satisfied, and requested a second evaluation. Johnson had come to the courthouse with staff from the group home. She stood at the lectern as her case was discussed, her arms crossed defensively, almost belligerently, making it very clear she was not interested in being there.
That evaluation concluded that the "restauration training" was exhausted, and that "additional restoration training is not going to help," in Perkins's words.
The second evaluation, by a different psychologist, did not alter the results. "There was multiple reports filed by the competency training program. They have consistently indicated that she would not score in attaining competency and I think the doctors relied on that in their ruling," Assistant State Attorney Jason Lewis, who was handling the case for the prosecution, said today.




As on Aug. 3, Johnson stood at the lectern alone, her arms not crossed this time, but no less out of her element. The judge asked Johnson whether she would stay at the group home once she turns 21, next February. "I don't know," she replied, with the kind of tone adolescents use when they wonder why they're being questioned at all.
"Would you stay there?" the judge asked her.
Johnson then seemed well aware of what would happen next: "No, if my charge in the competency gets dropped then I don't have to. I was going back to my auntie," in Alabama. "I wanted to do it when I'm 20."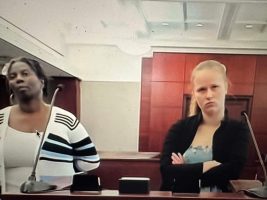 Lewis asked her if she was in school. She is. He asked her if she was not wanting to stay until graduation. "I don;t want to," she said.
"And you'd be graduating from?" the judge asked her.
"Flagler Palm Coast High School," she said.
"Would that result in a high school diploma for you?" the judge asked her.
"I don't know."
"That would be a good thing if you could get it, right?" the just asked.
"I don't want to."
"Not a good thing for you to have that education?"




"Uh-uh," she said. The judge dropped the question, then explained to her that he was dismissing the charge, now that the state is willing to drop the charge. Lewis explained that Assistant Public Defender Regina Nunally under the law was in her client's right to make a motion to that effect. Nunnally will, since "restoration is not likely," she said. After three such years, the defense can move to dismiss. (The incident took place a year and five months ago.)
The state may refile the charge if and when Johnson regains competency. But that's unlikely. Johnson will no longer be involved in the competency-restoration program. "That's not really helping and they don't see you progressing much beyond where you are now," Perkins told Johnson. There is no mechanism in place, no further scheduled court proceedings or competency orders–which would be necessary before any such step–that would lead the state to re-file the charge. Effectively, the case against Johnson died a quiet death today.
"Bye," Johnson told the judge after he told her that she could always stay in contact with Nunnally.
The hearing had lasted all of seven minutes, ending a case that had taken up over two years for law enforcement, the court, psychologists and competency-training professionals. But Johnson's case had all been almost entirely out of public view but for one previous article here. Unlike the Depa assault on the paraprofessional, Johnson's assault was not recorded on video. There was no footage for law enforcement to release, or, as happened with the Depa assault, to go viral around the globe and inflame public opinion.
The Johnson case was handled as have been handled other, similar cases that fly below radar, as with John Willford, yet another special education student with behavioral challenges who lived in an ECHO home. In 2019 at Flagler Palm Coast High School, Willford attacked three teachers and administrators and was arrested on a felony charge. He pleaded out and was sentenced in February 2022 to 18 months on probation, which he has just satisfied without additional issues. Perkins withheld adjudication on Willford–who, like Johnson, is white–so he will not carry the brand of a felon the rest of his life.




Depa meanwhile awaits his next pre-trial hearing at the county jail, where he was recently disciplined over a Sept. 9 confrontation with Jason Burns, a 48-year-old inmate arrested in early August on a stalking charge. Burns had been harassing his ex-wife with letters and on July 31, left her one in her mailbox with a white powdery substance and the words, "heart attacks happen." He'd also rigged her bedroom with a spy cameras after they'd divorced.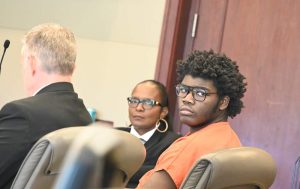 According to an incident report, Depa and Burns got into a fight, and Depa admitted to being the aggressor. A corrections deputy asked him why. Depa answered: "We were talking about my case, and he said I'm going to prison. A large Black man attacks small white woman–guilty. So I attacked him." Both Depa and Burns were disciplined, the incident report states.
Burns five days later was found guilty of the stalking charge and in a plea, was sentenced to a year on probation and released from jail.