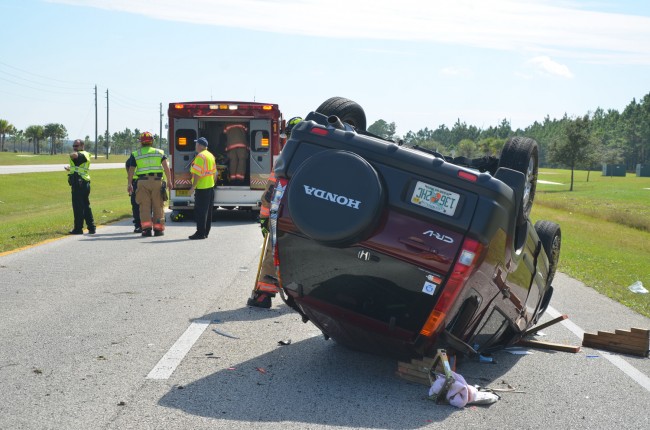 A woman and a teen-age boy sustained minor injuries when their Honda SUV careened out of control on US1 this afternoon, flipping several times and ending up on its roof. Taylor Griffith was at the wheel, and his mother, Kathyann Parris, residents of Palm Coast's W Section, was a passenger. Griffith, whose left arm was bandaged at the scene, and Parris were taken to Florida Hospital Flagler.
The Honda was northbound, but it ended up fliping across the median and coming to rest facing south, across the two southbound lanes
The wreck took place a half mile south of US1's intersection with Matanzas Woods Parkway–an intersection notorious for wrecks, but not in this case. US1 was shut down from that intersection south at 1:25 p.m., and remained shut down until 2:45 p.m.
Gayle David Bradshaw, a resident of Ponte Vedra, was riding his motorcycle north on US1 moments before the crash. He was a distance behind the Honda.
"There was a car between me and them, so I didn't see what caused them to lose control," Bradshaw said. "They just started flipping across the median and ended up over there up side down."
Fresh scrape marks arced across both northbound lanes at the point where the Honda began losing control, continuing into the median with a deep, clearly violent gash at the edge of the pavement on the inside lane, then another near the middle of the pavement. Vehicle debris traced the path of the burgundy vehicle.
"There was a car that was right behind them, but they went so quickly across, it didn't endanger him either," Bradshaw said.
"I didn't know what they did. I almost am thinking maybe they went this way then she overcorrected, and eventually started rolling. It must have gone at least four or five times." By the time Bradshaw got to the Honda to check on its occupants, he said, both occupants "were both crawling out. From the way they were talking, I think it's a mother and son."
Other cars started stopping as Bradshaw attempted to control traffic (he'd left his cell phone on the other side of the highway, with his motorcycle). Another passing motorist called 911.
"She said she was OK, he was hurt," Bradshaw said. Nevertheless she was transported to the ambulance on a backboard.
The Palm Coast Fire Department, Flagler County Fire Rescue and the Palm Coast Fire Police responded, along with the Flagler County Sheriff's Office. The Fire Rescue ambulance took both victims to Florida Hospital Flagler, but without its sirens and lights activated, suggesting the injuries were minor. The Florida Highway Patrol was called at 1:39 p.m., but was not able to respond, according to the Flagler County Sheriff's Office, which worked the crash. Saxon's, the Bunnell wrecker, towed the vehicle.
All lanes reopened to normal traffic at 2:45 p.m.