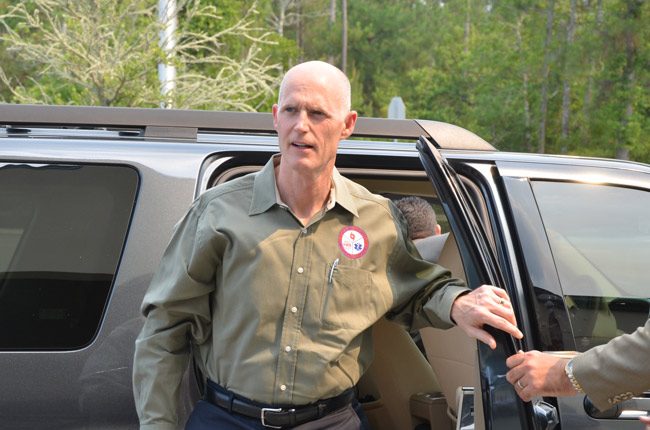 There was something hysterical about Gov. Rick Scott putting on his emergency he-man act and hyping the imminent "landfall" of what was little more than a summer storm on Florida's west coast Monday. As it turned out, the most damaging onslaught was from his office's drizzle of press releases masquerading as "updates" to a non-event. But Scott played it up as if it were a hurricane. He must've needed some B-roll for his coming campaign ads.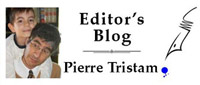 Any amateur Weather Channel surfer could tell what this morning confirmed: that Monday's storm was no different than any old front but for a bit of kicked up wind and a little extra rain, which the state could always use. It'd be well off shore in the Atlantic by morning, and it was. Scott played it up anyway. There'll be a cost. It's the sort of hype that fosters apathy when more dangerous storms hit. So don't be surprised when an actual emergency unfolds and residents shrug.
Threat inflation is all over the place these days. Weather is not only not immune. It's the template. Click into the Weather Channel's click-bait-rich website any hour any day of the week and you're certain to see blaring headlines about the end of the world somewhere. (Just now: "Strongest Storm on the Planet Likely to Become a Serious Threat." That's Typhoon Noru. Click on the link, and the first thing you learn from the automatic video assault is that the typhoon is actually weakening and heading north, where it will weaker further, but! "Still, though, a very powerful typhoon.") The same threat inflation has infected reactions to named storms (a naming protocol the fanatically sober National Hurricane Center has nothing to do with). The moment they're named, the fever shoots up.
But there's a big difference when weather channels and media outlets play the game for clicks and ratings and when a governor joins in to score cheap points. That was Scott's sleazy move on Emily. Even the storm cried foul: look at how fast she high-tailed it out of the state.
Here's what we started getting from the governor's office in the last 24 hours: "Governor Scott is traveling to Tallahassee to be briefed and to monitor Tropical Strom Emily at the State Emergency Operations Center." (That's what passes for "news" releases in the supposedly non-fake news world of a governor's schedule.) "Governor Rick Scott issued Executive Order 17-204 declaring a state of emergency in 31 counties…" (Double-take from Panhandle to Keys.) Later Monday: "Today, Governor Rick Scott received a full update on Tropical Storm Emily at the State Emergency Operations Center." (That one sounded like Gen. George Patton receiving the latest from Bastogne.) This morning: "The State has remained in constant communication with local emergency management officials and state agency leaders to ensure all needs are met and appropriate response to any impacts from Tropical Depression Emily." There were no needs. Not even for a governor's overbearing meddling.
Throughout those breathless releases the National Weather Service was issuing cool-headed updates that stood in embarrassing contrast with the governor's hysterics: some rain, sure, even a few gusts of wind, the usual summer-storm power cuts here and there, but nothing out of the ordinary. Except Tropical Storm Rick, who can't resist the chance to channel John Wayne on TV. A phony channeling a phony.
Residents can tell when their intelligence is being insulted. But the real damage from this storm—from the governor's handling of this storm—is yet to come. Watch for apathy ahead, at the worst moment.

Pierre Tristam is FlaglerLive's editor. @pierretristam.