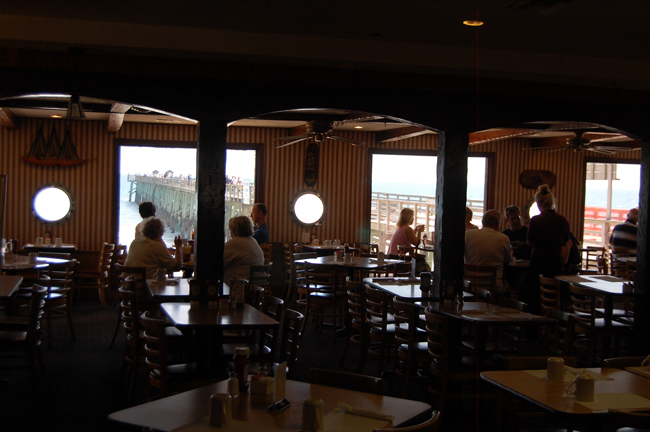 When Ray Barshay agreed to a long-term lease take over Flagler Beach's beleaguered Pier Restaurant last June, he had until today to opt out of the deal if something went awry. So did Flagler Beach, the property's landlord. It was the so-called "drop-dead" date beyond which both parties would be joined for a very long-term lease: 10 years, with three five-year renewals.
Two days ago, Kaitlin Meyer, the current owner of the Pier Restaurant, and Barshay, who also owns the River Grille in Ormond Beach and Sloppy Joe's in South Daytona, walked into the city offices in Flagler Beach and signed. (Barshay will own the Pier Restaurant with Edward Menard.) Barshay will pay Flagler Beach $3,000 a month for two years, with slight annual increases after that, plus 2 percent of gross sales above $1 million after the second year.
Meyer's lease doesn't expire until March. The restaurant is still operating under her ownership, and may yet remain open that way for several months, with Barshay's blessing, Flagler Beach Acting Manager Bruce Campbell said. "I'm sure he's going to probably want her to stay in there until he gets all his permitting issues taken care of, especially the deck thing with the pier extension," Campbell said.
Permitting takes time. The restaurant will undergo a makeover. Barshay has agreed to invest tens of thousands of dollars, according to his business plan (see below), including $75,000 in interior renovations and $65,000 in exterior renovations, and not including the $50,000 the Tourist Development Council approved for Flagler Beach to pay for a deck extension that will bring outdoor dining to the Pier Restaurant. Barshay will build the deck. The city will reimburse him for up to $50,000.
That deck is one of the crucial permits Barshay and the city are waiting on. It's to be issued by the Division of Environmental Protection. DEP originally said it would not issue the permit because building a deck that extends toward the ocean would cross the high water mark, and would therefore be impermissible. But DEP was willing to play a word game: if the deck was termed an extension of the pier, it could very well be extended, since it would be part of the pier, and piers naturally extend over waterlines. That's how the city applied for the permit: as an extension of the pier, rather than as a restaurant deck.
"They gave me every indication the application is acceptable," Campbell said. But there's another bit of paperwork-in-waiting as well: the Florida Fish and Wildlife Conservation Commission has asked for a lighting plan. It doesn't want the restaurant's lights to interfere with turtle nesting season, for example. "With those two things beings said I believe they're going to press forward and it looks favorable from what I can tell," Campbell said the of the state agencies, "but no guarantees."
So it'll be a few months yet before you are able to eat at the new Pier Restaurant. But it is a done deal.
When you are, it'll feature casual dining with fresh seafood, pastas, steaks, paellas, dinner salads and other regional cuisine. Lunch will feature soups, salads and sandwiches. Breakfast will be the traditional breakfast fare. "Bar operation," the business plan reads, "will offer a full bar/drink menu featuring specialty drinks, craft beers and assorted wines. It is intended that dining and drinks can be enjoyed inside or al fresco on the new deck so as to enjoy the atmosphere. It is envisioned that music/entertainment element could enhance the operation and experience at the restaurant. This would be done on some limited basis most likely located on the outside deck. The vision is that the entertainment would be mostly single individuals or two and three person combos performing easy listening numbers that would afford background music to people eating, talking and enjoying a good time at the restaurant."
"It's great for the city we believe Raymond is a great restaurant operator and if we can have something similar to River Grille down in Ormond."