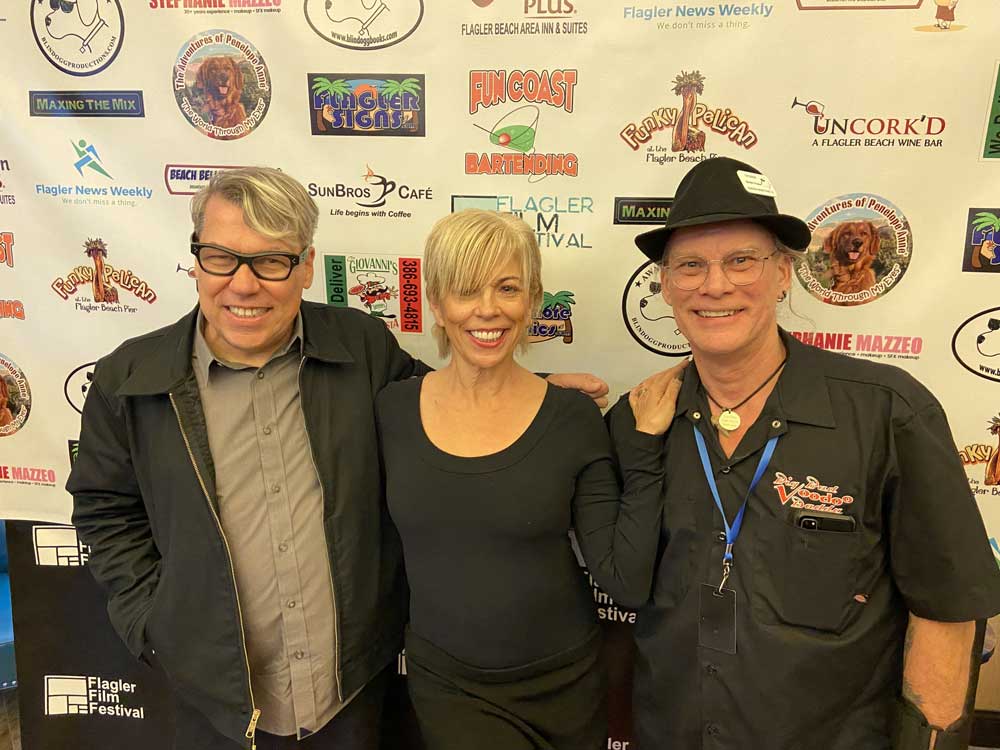 Flagler County residents John Byner – yes, that John Byner – and his wife, actor-dancer Annie Gaybis, finally got to work together on a film. Only, as Gaybis said after the couple watched themselves star in the indie movie "D.O.A." at this past weekend's revitalized Flagler Film Festival, the couple didn't get to work together.
"We've done a couple of home and family specials on television, one in Hawaii and a Christmas special shot in the studios at Universal," Gaybis said during the Q&A session following the Saturday screening of "D.O.A.," which won Best Overall Festival, Best Director – Drama for Kurt St. Thomas, Best Supporting Actor for Byner and Best Supporting Actress for Gaybis.
Like each of the 44 independent, mostly short and mostly small-budget films featured at the festival that ran Jan. 20-22, "D.O.A." (see the trailer here) was shown in a small conference room at the Best Western Plus Flagler Beach Area Inn & Suites in Palm Coast.
However, Gaybis and Byner, who married in 1992 and moved to Flagler County from Los Angeles in 2004, "didn't have one scene together or one day together" on the set," Gaybis said.
Directed by St. Thomas and written by Nicholas Griffin, "D.O.A." is, says the film's promo materials, "a loose remake of the classic 1950 film noir" of the same title. The black-and-white film, shot in St. Augustine where Thomas currently lives, stars John Doe, co-founding member of the Los Angeles punk band X, as the private detective Frank Bigelow. When he's hired by a wealthy socialite, played by Gaybis, to secretly investigate her possibly philandering husband, he discovers some missing iridium and encounters the affable gangster Majak, played by Byner, a siren nightclub singer, a sadistic thug and other shady characters. This is, after all, a film noir, which is French for "dark film," but a Hollywood genre with a rich and wry history.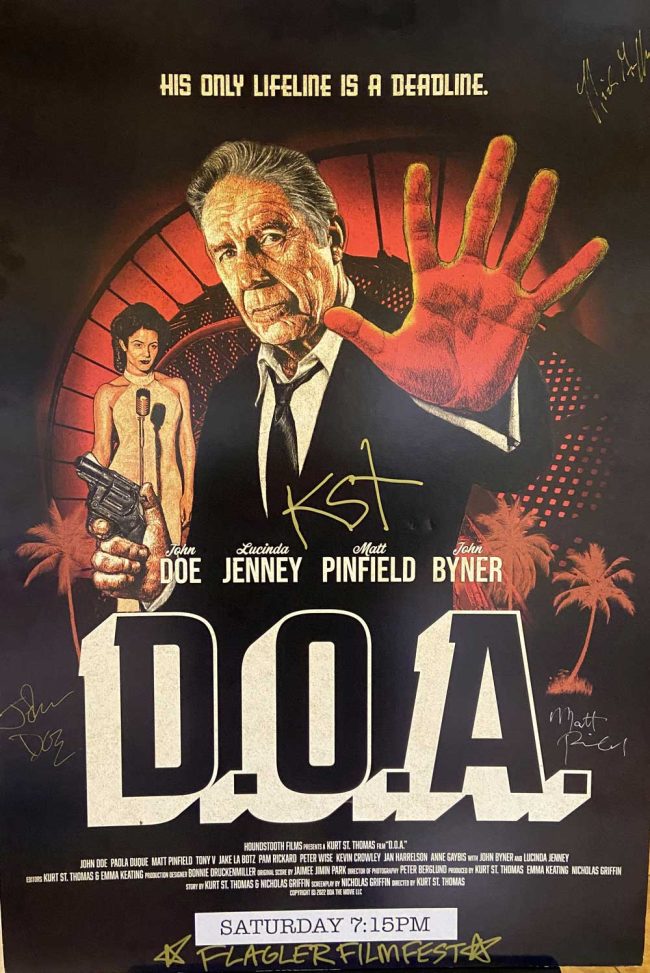 Oh, yeah – Bigelow discovers he's been fatally poisoned and has only hours or days to track down his killer.




"We were so lucky to have the opportunity to do a film with such professional people," said Gaybis, who played a hooker in the 1984 Tom Hanks comedy "Bachelor Party," a Chicken Ranch girl in the film version of "The Best Little Whorehouse in Texas," a nightclub dancer in "Twin Peaks: Fire Walk with Me" and a Cheetah Dancer in Paul Verhoeven's notorious 1995 movie "Showgirls." On television she's appeared in "Baywatch," "Sliders," "Married With Children" and other series.
Since moving to Flagler, Gaybis has found a home with City Repertory Theatre, where she's starred in "Pygmalion," "Bus Stop," "Blithe Spirit" and other productions.
The 84-year-old Byner first made his name in show biz as an impressionist in the 1960s, including his impressions of Ed Sullivan – on "The Ed Sullivan Show." His lengthy TV credits include "Get Smart," his own 1972 series "The John Byner Comedy Hour," "The Odd Couple," "Soap," "The Carol Burnett Show" and many more.
St. Thomas, during the Q&A session attended by some 30 fans and fellow filmmakers, looked at Byner and said, "This is Mr. One-take right here."
Byner responded: "We did that scene in the steam room (at St. Augustine's Lightner Museum) and Kurt said, 'I thought we were going to be here for four days, and it took one.' "
Byner and Gaybis, as well as local film fans, will likely have fleeting future chances to see whether private eye Frank Bigelow captures his killer, which points to the very raison d'etre for the Flagler Film Festival and hundreds of similar festivals across the U.S. While the big boys such as Sundance and Cannes attract marquee film directors and stars, and movies that, though often outside Hollywood's studio system, can hardly be considered "independent" of that system, the Flagler fest and others like it serve a different role.
"It's really important for small filmmakers to have their works seen," said Tim Baker, who, when asked his role with the festival, laughed and said, "I guess I'm the de facto director."




Kathie Barry co-founded the festival with her husband, Jim, in 2014, and served as its director. However, the festival went on hiatus even before the pandemic, but neither Barry, who attended the festival Saturday night, nor Baker could pinpoint when the event was mothballed before being revitalized this year. (A check of FlaglerLive's archives indicates 2018 was the last year the fest was held before this year's return.)
But the festival's mission, as trumpeted on its website, flaglerfilmfestival.com, remains the same: "The Flagler Film Festival was formed to showcase the work of new and emerging filmmakers as well as more experienced filmmakers. We believe there are many creative and innovative artists who deserve recognition for their efforts, especially those constrained by low budgets. We believe that sometimes even more creativity is required when a filmmaker has little or no budget with which to create a film. We believe these films should be seen and be recognized for the efforts of the teams that put them together . . . ."
Baker said this year's festival received 76 applications after opening the submission process on May 1, 2022.
"We narrowed it down to 44 films, which was a task in itself," Baker said.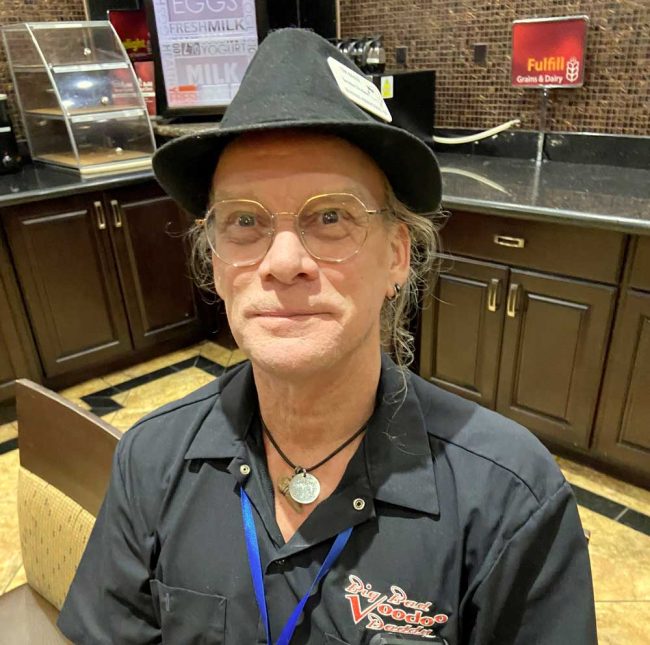 Those films included such "micro shorts" as the four-minute "My Smoking Movie" and the five-minute "Death and Magic Castles." The former, by writer-director Hilary Gaber, is a comedy in which, according to its website synopsis, "a woman discovers the difference between the glamorous image and the mundane reality of smoking."




Filmmaker Kari Barber attended the festival to present "Death and Magic Castles" which, according to the event's website, was spawned after her 5-year-old son Zizou "fell to the ground and died when his heart suddenly stopped." Barber's film uses expressionistic animation to confront what she calls "the cold reality of America's complicated relationship with death" and to explore "traditions of mourning and loss in different cultures" while seeking to "bring death and life closer together in a culture where mourning is taboo and the goal is to live forever."
While that film won Best Animation, Barber's feature-length film "Battles Beyond the Horizon" won Best Documentary.
Foreign films included Canadian Jean-Sebastien Busque's "The Merry Makers," which won Best International Film, and "Supper" by Hungarian filmmaker Andor Berényi, an 11-minute drama, with English subtitles, about a couple hoping to adopt a child.
First-time filmmaker-director Janelle Bosek attended the festival to present her 39-minute documentary "Good Things Will Come," which profiled two Cuban-Americans, now accomplished adults, who came to the U.S. in the early 1960s as part of the clandestine Operation Pedro Pan. With Castro rising to power in Cuba, the program brought more than 14,000 Cuban children to the U.S. – without their parents — through secret airlifts coordinated by the Catholic Church, the U.S. State Department and Cuban citizens.




Bosek was inspired to make her film by the experiences of her mother, who attended the screening and was one of the "Pedro Paners." Ric Prado, a retired CIA officer, author of the book "Black Ops: The Life of a CIA Shadow Warrior," and one of the documentary's subjects, attended the screening and fielded questions after the showing. Five other Pedro Paners, all Florida residents, were among the 50 viewers who crammed into the screening room.
Kevin Alexander Boon, a Tampa native and professor of English and Media Studies at Penn State University, presented "That Kiss." His 20-minute drama told the story of a white woman who leaves her husband-to-be at the altar to track down and confess her love for a happily married, Black female friend from their college days.
In the Q&A session following his screening, Boon was unflinching when a viewer asked him to address how passion and profit intertwine for independent filmmakers.
"The reality is that the film industry has changed drastically in the last 15 or 20 years," Boon said. "Because of digital filmmaking, anybody can get a camera and make a film, which I think is great. It used to be . . . a tremendous amount of technical work. At that time festivals didn't have like 9,000 entries. Now everybody in their backyard does it. Every single community has filmmakers in it, and they are making films and sending them out there."
While the dynamics of mainstream Hollywood movie-making have changed, Boon said, "Just making your own little film and getting it up there is virtually impossible. It's very, very difficult. So what happens to all of us? We do festivals, which I think are great. People get to have an audience see their film.
"You do not know until an audience sits there and watches your film what you have. You may think you do. You may go 'Oh I love it.' Or you may think 'Oh my God I bombed!' But until an audience sits there and responds, you really have no idea."




Making a profit on independent filmmaking is extremely rare, Boon said, noting that his feature films typically cost around $20,000 to produce, "and I'm fortunate if I make about half of what I spent. I'm not doing it because I think I'm going to make money. Unfortunately, you have young filmmakers and they're excited and they make this movie and they get their parents to give them all their savings, and they overspend and they come up with this film and whether it's good or not is irrelevant. They go out to a few film festivals and they think Sundance (one of the world's most renowned film fests) is going to jump up and down and give them massive amounts of money. And it doesn't happen."
Filmmakers who make a splash at Sundance and other major festivals will "have like 15 people who are friends who are all associated with the industry. They're not nobodies out of, pardon the language, Little Piss, Arkansas, who decided 'Oh I'm going to make a film.' That almost never happens.
"I've seen brilliant films made by young filmmakers for a $3,000 total budget. They should get huge, but they're not. They don't have the traction, they don't have connections."
Baker, who noted that he and Flagler Film Festival staffer Stephanie Mazzeo are working on a film together, said, "Let's face it: 75% of the films we've watched this weekend you'll never see anywhere else but festivals. A lot of them are local. These people put their heart and souls into their work. It's just not right for it to not be seen."

Here's the list of winners at the 2023 Flagler Film Festival:
* Best Overall Festival: "D.O.A." (director — Kurt St. Thomas)
* Best Director – Drama: "D.O.A." — Kurt St. Thomas
* Best Director – Short: "Take My Hand" — Alan J. Levi
* Best Actor: "D.O.A." — John Doe
* Best Supporting Actor: "D.O.A." — John Byner
* Best Actress: "How She Didn't Die" — Marie Dinulsecu
* Best Supporting Actress: "D.O.A." — Annie Gaybis
* Best Original Story: "Chat History" — Fred Zara
* Best in Florida: "D.O.A." — Kurt St. Thomas
* Best Dark Comedy: "It's Sunny Outside" — Michael Robert Kessler
* Best Dark Drama: "Keep Digging" — Oswmer Louis
* Best Short Thriller: "Free Me" — Graham Zielinski
* Best Light Comedy: "All for Naught" – T.L. Westgate
* Best Mystery: "Martingale" — Jeremy Berg
* Best Production Design: "Undertaker" — Chris Esper
* Best Documentary: "Battles Beyond the Horizon" — Kari Barber
* Best Cinematography: "Dance for Me" — John Vonmutius
* Best Visual Effects: "Missiya" — Dale Metz
* Best Animation: "Death and Magic Castles" — Kari Barber
* Best International Film: "The Merry Makers" — Jean-Sebastien Busque (Canada)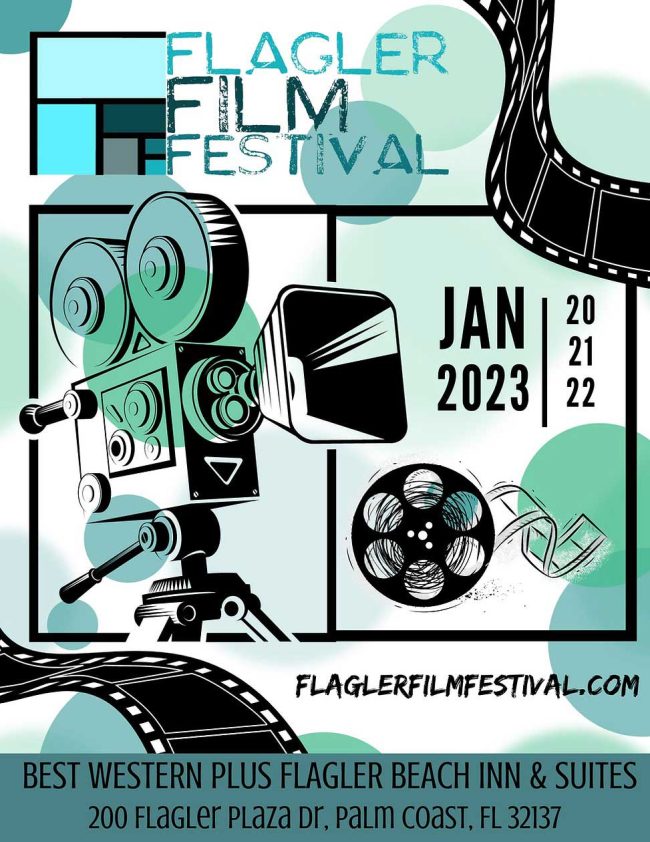 Reader Interactions