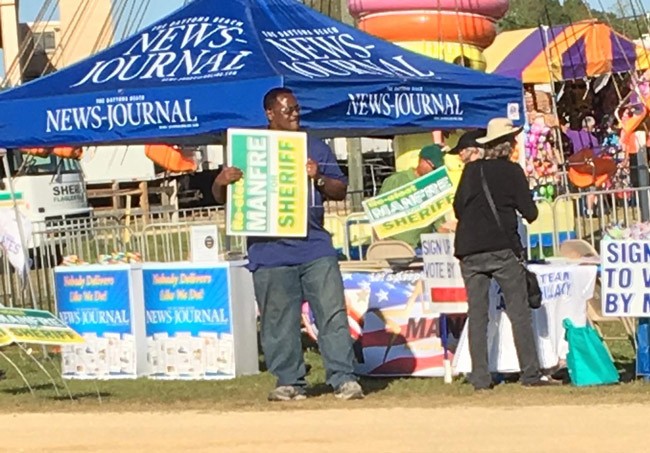 A FlaglerLive Investigation
---
Earlier today Eric Josey went to Flagler County Sheriff Jim Manfre and told him he was resigning after less than two months on the job, and less than two weeks in training on road patrol.
"I didn't want to create a hostile environment with my presence," Josey said in an interview today, a statement that encapsulates the strains behind a hiring with some political ramifications that quickly led to documented concerns about Josey's abilities to meet basic physical challenges of the job and questions about why he had made it that far into the process. To Josey, the blowback against him was "nonsense" driven by "individuals that do not want to see me on the force" because of his past work and experience, and because of his support of Manfre.
Manfre, at any rate, did not accept his resignation, telling him instead to think about it, and that there may be a different spot for him on the force. And Jim Troiano, the sheriff's chief spokesman, said Josey made it through every hurdle despite some criticism in his file: at no point was he recommended for termination by anyone except in an investigative report before his hiring, which recommended against hiring.
Josey's hiring illustrates the various steps an individual goes through to become a deputy. It also shows to what extent subjective interpretation of documented findings may play into a recruit's chances. Because Josey's brief odyssey took place during an election season in which he chose to make his support of an embattled sheriff explicit, his story is inevitably tainted by a political undercurrent that can both veil and sharpen the more problematic issues at the heart of Josey's evaluations.
Eric Josey's CV
Josey, 49, was no ordinary recruit. For starters, he says he's known Manfre since before Manfre first ran for sheriff in 2001, though he didn't move to Flagler County until much later: from 1991 to 2006, Josey was a cop with the New York City Police Department. His tenure ended there because he went on disability, and lost a legal action against the department to be employed in a capacity that didn't involve physical strain. He was also a vice president at the Flagler County branch of the NAACP until he resigned to take his $33,000 job (raised four weeks later to $35,300) with the sheriff's office. He's led highly critical campaigns against the school district's handling of disciplinary matters, some of them leading to direct criticism of sheriff's personnel.
And Josey is an avowed Manfre fan and campaigner in the coming election: Josey was campaigning for Manfre as recently as this month's county fair, as public employees are in their right to do as long as it's off the clock and out of uniform (it was). But it's unusual that a cop just beginning his probationary term for the job would so openly campaign politically for his employer. Josey got in a verbal scrap with one of the fair's organizers over campaign signs while Manfre was there. The organizer declined to speak about the matter.
Josey's role as a supporter is likely minor compared to what he represents in a larger sense in the coming election. Manfre is facing a primary election challenge from Larry Jones, a long-time deputy who retired in 2014 after 30 years in the department. Jones is black, very popular locally, and would be expected to appeal to the black vote, which is crucial to Manfre's chances—not just in the general election, but now in the primary. It doesn't take a Machiavelli to figure out the advantage of a hire like Josey, so prominent in the NAACP, as a means of clawing back some votes from Jones, assuming Josey has that kind of pull with the NAACP.
"It was only when they found out that I supported the sheriff that things went south real fast," Josey said of the reaction he's been getting inside the department.
But Josey's application was also a problem, with strong indications in his initial training that he was incapable of carrying out basic physical demands common for a deputy. Much of that record, including his own application, a background investigation, his own physical performances in the field, the conclusions of his field training officers and some observations by fellow deputies all pointed to the same conclusion by Detective Nate Koep in a Feb. 23 memo to the department's employment director: "Based on the background information obtained, I believe that Mr. Josey should not be considered for hire with the Flagler County Sheriff's Office."
Yet he was: Josey was hired on March 1. The next day, he was featured alongside seven other recruits in one of the sheriff's office's periodic news releases announcing new hires. Troiano said three top-level officials at the sheriff's office disagreed with Koep's conclusion—Chief Deputy Jeff Hoffman, Senor Commander Steve Cole and Human Resources Director Ken McClinton. (A previous version of this story incorrectly listed Cmdr. Paul Bovino rather than Cole among the trio.)
Discrepancies, Lies or Honest Errors?
Koep had found that Josey had misrepresented the end of his employment with the NYPD. He'd said in his application that he'd "retired." He hadn't: he'd gone on disability. Troiano said Josey did not lie, he simply said "retired" rather than "disability retirement," which did not rise to the level of falsifying the record. Josey put his final salary at $95,000 as a cop in New York. Koep, checking the record, found that it had been a third less than that. Again, not a falsification of records, Troiano said, ascribing the difference to perhaps overtime. He also listed employment with the New York Fire Department, a record of employment Koep could not find. Josey ascribes the absence of records to the accurate fact that he had been a paramedic for an EMS entity in the 1980s that was absorbed by the fire department in 1996, when records may not have been shifted properly.
For all that, he was cleared, as he was by a medical evaluation conducted by a nurse practitioner, a drug evaluation, a psychological evaluation, and a voice stress test that's the equivalent of a lie detector test, conducted after his application was in, when he clarified some of the discrepancies to his interviewers' satisfaction. In his "oral boards," a verbal interview conducted by those three top officials, Josey was rated average overall, but also cleared to go forward.
His physical abilities, and lack of abilities, quickly became apparent, however. He could not run, even short distances. He had difficulties climbing stair. He had trouble crouching and getting up, getting in and out of a patrol car. He never mentioned in his application that New York had determined that a medical board had deemed him "not qualified to perform the essential duties of a police officer." But that became apparent in the field in Flagler. (An officer on disability in new York may after 20 years from his start date at that job seek employment elsewhere without affecting his retirement pay.)
Much of the revelations in Josey's training documents is objectively difficult to dispute: he could not meet basic requirements in training, and had several other issues to boot—including a lack of professionalism, inattention with his own firearms, and even a couple of "traffic complaints" Those findings are documented at length in two memos to Josey's file by Paul Bovino, a highly respected commander through the ranks—and highly respected by Josey himself: "I do recognize your legitimate observations and concerns," Josey wrote Bovino.
Documented Failures
On March 4, Bovino and another training deputy "both observed Deputy E. Josey struggling to complete any exercise or qualification course in which he had to kneel/sit or go to the ground and then return to his feet. Deputy E. Josey needed to use the shooting cover (plastic barrel) to assist himself to his feet on most occasions. One time it was observed that he was so unstable returning to his feet that he stumbled, fell into the barrel and was unable to keep his firearm pointed in a safe direction. It is visibly clear that he has a limp when walking at his normal pace and after observing him in this environment; I am concerned in his ability to complete the physical requirements at a level of proficiency as outlined in the current FCSO Deputy Sheriff Job Description." That's the same job description on which the nurse practitioner ostensibly based her recommendation to clear Josey for employment.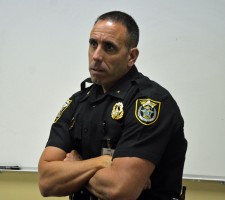 In a subsequent memo, Bovino documented additional issues: "Josey failed to meet the proficiency qualification needed to be issued a patrol rifle." That's not a disqualifying issue, Bovino noted, but during training, Josey had shown negligence by forgetting one of his firearms at the gun range. "Weapon security is of the utmost importance and I found this behavior to be extremely careless," Bovino wrote. On March 16, he was unable to run during an exercise "and spent the majority of the time at the "resting" position at the traffic trailer. He is not in good physical condition and is obviously struggling with this issue. It is apparent that after a very short amount of activity he is physically unable to continue." In an exercise on April 7, he was "so physically stressed by this run," a training officer reported to Bovino, "that at one point I observed him tripping over his own walking footsteps and lose his balance to where he almost fell down." He even had trouble climbing stairs, prompting Bovino to conclude: "In my opinion navigating a simple stairwell is a very simple task and should be a minimum requirement for a law enforcement officer."
"I'm very physical in stature," Josey said in an interview today. "I get around very well, I do what I do, I'm probably more physically capable than some of the deputies on the force. I've been on patrol for the last couple of weeks now, out on the job. But you have people looking for something." He said a lot of the criticism about his physical difficulties was "embellished."
Traffic Issues
Then there were the traffic issues. Twice deputies reported to Bovino that they'd seen Josey speed—53 in a 35 in Bunnell, 85 to 90 on U.S. 1 between Royal Palms and White View Parkway. "Receiving traffic related complaints on a member while in training is very concerning and could signify a propensity to abuse [one's] authority," Bovino wrote in a memo that went to Josey's file.
---
Difficulties on and off the training field.
---
Josey rebutted the claims in a memo of his own, saying the allegations were emailed to the commander in one case nine days and in another five days after the alleged incident, which "at the very least undermines the credibility and legitimacy" of the claims. But then Josey said that "it has not gone unnoticed that both alleged traffic incidents against me was reported after a record request was made for my agency personnel file by the local media." In fact, FlaglerLive's request for that information—the only media request for Josey's file, Troiano confirmed—was placed on April 13. The traffic complaints' emails were dated April 9 and April 11.
On his first day of the Field Training Program, on April 13, Josey showed up unshaven, prompting his training officer to send him home to clean up, and lose pay over it.
Josey noted in his memo: "In my former law enforcement career [] I enjoyed numerous specialized assignments and highly competent evaluations. I never have been accused of disrespecting law enforcement in their uniform or agency vehicle."
Motives
As his training unfolded and word spread through the department of his observed inabilities to meet basic training challenges, some deputies began to grumble that his retention was due only to his former position in the NAACP—that, in the words of deputies who asked for anonymity, his was a case of "reverse bias" and "negligent retention."
Troiano bristles at the suggestion. He notes that when Josey applied as a reserve deputy two years ago, he was rejected after failing his written exam . He was friends with Manfre then, too, so any suggestion that he is being shown any favoritism is contradicted by what happened two years ago, Troiano said. "Other than the discrepancies in Eric's application, there's really nothing that I know of that would have precluded him from hire," he said. He acknowledges issues through training, but stresses that, at every step, he was cleared to go forward—several deputies have issues during training that are worked on and improved—and there's been no documented issues so far in the last two weeks of his field training.
"Where are the documents that show he is being negligently retained, where is the comment saying he can't proceed forward, I'm not allowing him to get to this stage?" Troiano said. "When you start speaking of negligent retention, we'd better have our ducks in a row."
As for training deputies worried about recommending against Josey for fear of repercussions, since Josey is close to Manfre, "Absolutely not," Troiano said. "They have a duty and responsibility, nobody is holding a gun to their head saying you can't write anything. Obviously they have." He was referring to the Bovino memos.
To Josey, the criticism is "from individuals that do not want to see me on the force because of my work with the NAACP and stuff like that, so they're putting this information out in a sort of nefarious way."
Just last fall, for example, after John Landi, the school resource deputy at Matanzas High School, arrested an 18 year old student on a felony assault charge in an altercation with a faculty member, Josey got involved and wrote a blistering letter to Superintendent Jacob Oliva, charging "false arrest" (four months before the more recent and highly publicized false arrest that Manfre acknowledged) and blaming the deputy for singling out the student and aggravating the charge. The charge was eventually reduced to simple battery and prosecution deferred in an agreement with the court. Josey has also been at the center of renewed criticism over disciplinary issues two months ago.
The "firestorm" of criticism over his own application at the sheriff's office, Josey now says, is partly a result of that criticism, partly the result of the ranks feeling "intimidated."
"Police work is what I do, what I've been doing since I retired from the New York Police department," Josey said. "A lot of people are intimidated by who I am," he said, describing his past as an investigator, a member of the SWAT team and other special assignments. "I did a lot of things from a big city, then I come down here."