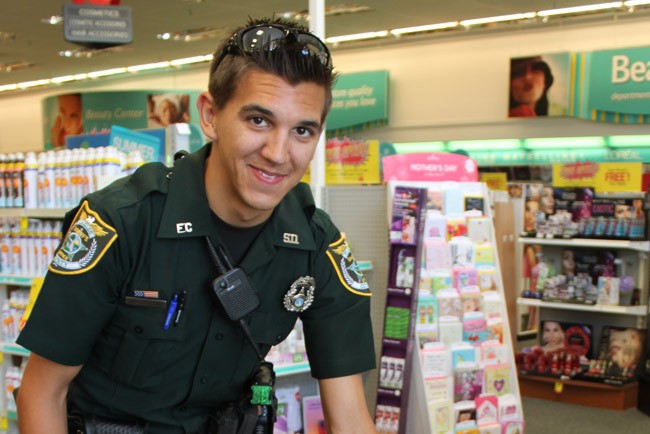 James Gore, a Flagler County Sheriff's deputy who two weeks ago was disciplined in an unrelated matter, was suspended for three days without pay and charged with "unsatisfactory or incompetent performance" as a result of his investigation that led to the false arrest of an 18-year-old Bunnell resident late last month.
Dakota G. Ward was arrested on March 26 for failing to appear in court on a summons regarding an alleged battery that took place on Dec. 15. Ward was not involved in the battery. Rather, it allegedly involved Chad Cox, the victim, and De'Coda Ward. Gore responded to battery incident. De'Coda Ward was gone by then. Cox gave De'Coda's name to the deputy, and wrote it down according to its proper spelling. The deputy instead entered the name "Dakota" Ward in a law enforcement database, and thus started ensnaring the wrong Ward in the system.
The suspension is the result of an internal affairs investigation the sheriff's office released this evening–after improperly withholding the document, a public record, hours after it was requested so a press release casting a light more favorable to the sheriff on the incident could accompany the documents. It is not unusual for public agencies to release sensitive or discrediting documents Friday afternoon or evening, when the public is least attuned to the news cycle. (The Sheriff, who is attending his son's wedding, has not had a good day: the Florida Ethics Commission this morning upheld a recommended stiff fine against him and a public censure and reprimand stemming from a protracted case dating back to 2013.)
The press release also stunningly and explicitly attacks Josh Davis, the attorney who represents Ward and his family, blaming Davis for refusing to "participate in this investigation after being asked on several occasions to provide testimony," even though it is not unusual for attorneys, who are under strict ethical guidelines to protect attorney-client confidentiality, to decline to participate in such proceedings.
The release also states, as if Davis himself were under investigation: "Davis stated to the media that he made several contacts with the Sheriff's Office and got no resolution for his client. That statement was not corroborated and Davis declined to speak with the internal investigator." Yet the internal affairs investigation itself names a deputy to whom Davis had spoken of the false arrest on the 31st.
"I have one responsibility and that's to represent my client zealously," Davis said in a brief interview this evening, after the sheriff's office had issued the release. Referring to Kim Davis, who conducted the internal affairs investigation, Josh Davis said: "I talked to Cpl. Davis, we spoke, and that's what I told her, that I wasn't in a position right now, especially with the upcoming litigation to be speaking to her on any of those matters. My obligation is to my client and that's what I'm charged with by the Bar. Whether they know how to do police work or not is up to them."
Notice has already been sent that the sheriff's office will be sued over the issue, Davis said. "That could have been interpreted to be against the best interest of my client," he said of participating in the interview. "I err on the side of holding up my ethical obligation, so my ethical obligation is to Dakota Ward, period."
The investigation documents that the sheriff's office did not know of the false arrest until Jonathan Simmons, the Palm Coast Observer reporter, contacted the sheriff's office on March 31 to inquire about the mistaken identity, having himself been contacted by Josh Davis at the end of March. (Davis contacted several local media outlets, including FlaglerLive). By then, Davis had already carried out what he wryly referred to as 10 minutes' worth of investigative work to clear up Ward, by getting the individual whom Ward was accused of battering to sign an affidavit swearing that Ward was the wrong man.
Dakota Ward had gone to school with De'Coda and had routinely been subjected to false disciplinary accusations and measures that his mother had to clear up time after time. This was the first time he had faced a criminal allegation because of the confusion.
Three and a half months elapsed between Gore's report on the initial battery, when the seed of the false identity was planted, and the day he was contacted by the State Attorney's office to alert him about the mistake. The internal affairs investigation reveals that Gore, who has been with the sheriff's office since October 2011, claimed he had received an email from the State Attorney's office on March 31 alerting him to the "a supplement and a different name for a case he said he was unfamiliar with," the investigation report states. Gore responded "that he was out sick and that he would be back on Monday." The 31st was a Thursday.
In fact, Gore had received the email from the State Attorney's Dominic Piscitello two days earlier, on the 29th, telling him explicitly that "we are being told that, Dakota Ward, was not the person who was there. Instead, the person's name is spelled Decotah Ward. Do you have information regarding this case? Do you recall being given a spelling for the name yet." (Gore would tell an investigator that he did not recall reading that email.) On the 31st, Piscitello wrote again to request a supplemental report "if there is a different name."
Meanwhile, Liz Williams, the Flagler Beach detective, starting on the 29th, was urging the State Attorney's office for any information she could pass on to Ward, whose family she knew, regarding "what efforts are being made to clear this matter up."
In his interview with Cpl. Davis, the internal affairs investigator, Gore explained that he searched for Ward's name in a law enforcement database base, going on the common spelling for "Dakota." He came up with a hit on "Dakota G. Ward." The alleged victim of the battery had written a statement about the incident and used the correct spelling of De'Coda's name, but Gore did not notice. He said he usually skims over such statements. "He said he didn't recall if he used the statement or the verbal from Chad Cox [the alleged victim] to complete the case report." He also could not remember if he'd asked Cox and another witness for a description of the alleged assailant.
Cox had told Gore that his alleged assailant lived at Capri Trailer Park. But Gore did not go to the trailer park after taking Cox's statements because, he said, according to the investigative report, "he wasn't going all the way down to Bunnell for a misdemeanor to make contact with all the parties." Rather, he would send the charges to the State Attorney's office." When Gore saw that the address for Dakota Ward (the falsely arrested one) in the database did not match the address Cox had given for De'Coda, the deputy assumed Dakota Ward had not updated his driver's license. "Deputy James Gore disregarded the [database] address for Dakota Ward and took the victim's word and completed the Charging Affidavit," the investigative report concludes.
The investigation also found that Gore neglected several steps that deputies are expected to take when developing a suspect, such as confirming the suspect's identity with the alleged victim, locating all parties involved, and reviewing the alleged victim's written statement.
On February 17, a criminal summons was issued for Ward to appear before County Judge Melissa Moore-Stens on march 22. He did not do so, of course. On March 22, Moore-Stens signed a warrant for his arrest, and on March 26, he was arrested.
The sheriff's office began correcting the mistake on April 1, when Dakota Ward's booking image and information was removed from the jail's website.
Gore, who has 10 days to appeal his suspension, had been disciplined on March 30 by being removed from the Field Training Officer program–in which deputies supervise and evaluate new recruits–and suspended from the SWAT team "for attendance and performance issues." The day when that suspension was handed down corresponded with one of the days Gore said he was sick.
The investigative report has mistakes of its own, listing some incidents on its timeline as taking place on April 31, 2006. The sheriff's office on Saturday sent a corrected copy of the report.
"The Sheriff's Office has nearly completed administratively expunging this arrest record and any related reports. His arrest photo was immediately removed from the sheriff's Web site April 1," the release states.
The release leaves silent the fact that Ward still has a criminal record in the court system, and that that record may not be removed without formal expunging proceedings, which can be costly, take time, and are afforded an individual only once in his lifetime.
"This was a terrible mistake and we offer our sincere apology to this man and his family and we are doing everything in our power to rectify this matter," Manfre is quoted as saying in the release. "It's clear from this investigation that this was an isolated incident and had standard criminal investigative procedures been followed, these mistakes would have never occurred."

James Gore Internal Affairs Investigation.
<![if !IE]><![endif]>